Dear Friends,
I hope you are safe and well, as we enter the second year of the pandemic. At least now we're gradually getting vaccinated and a semblance of normality seems to be on the horizon.
Thank you so much for your interest in our monthly eletter. We love bringing you all kinds of new Dharma offerings month after month, and it's mainly due to your kindness that we are able to do so. So I want to thank you again for your recent year-end donations and your even more recent Chötrul Duchen contributions. We rejoice in your generosity and remain here at your service!
Lamrim Year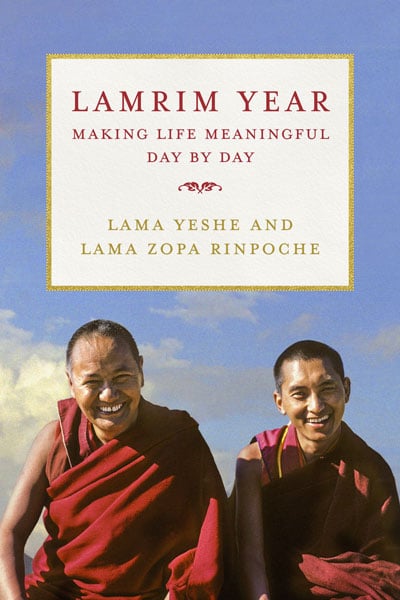 Our next free book, Lamrim Year: Making Life Meaningful Day by Day, is nearly ready and we're really looking forward to sending it out far and wide to all who'd like to receive it. Lamrim Year presents the entire path to enlightenment in the form of a 365-day study program for anyone who wants to experience the essence of this ancient and powerful set of Buddhist teachings.
The text has been selected from both published and unpublished teachings of Lama Yeshe and Lama Zopa Rinpoche, and offers a taste of their teaching style and scope. This book is an essential guide for meditators who want to develop their mind in the graduated path to enlightenment (lamrim). You can read an excerpt in this month's eletter teaching below. You can also view and read sample pages here.
If you would like to help us make this book freely available all over the world, please make your contribution here. Thank you so much. This is going to be an incredibly beneficial book!
FROM THE VIDEO ARCHIVE: The Empty Heart and the Sleeping Mind
This month from the video archive we explore a discourse given by Lama Zopa Rinpoche in 1998 at Maitreya Instituut in Amsterdam. In this opening excerpt Rinpoche discusses the method of filling our empty hearts with satisfaction and fulfillment and the wisdom of understanding the sleeping mind of ignorance by recognizing the heavy hallucination of inherent existence.
Visit and subscribe to the LYWA YouTube channel to view dozens more videos freely available from our archive. See also the FPMT YouTube channel for many more videos of Lama Zopa Rinpoche's teachings.
On the LYWA Podcast: The Eight Benefits of Practicing Refuge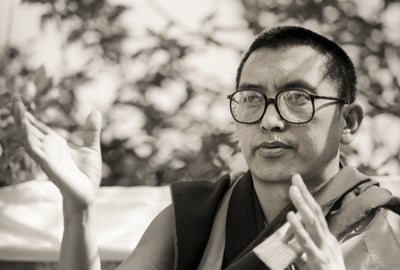 So this time I must receive full enlightenment, that which is free forever from samsara, for the sake of the sentient beings.
—Lama Zopa Rinpoche
This month on the LYWA podcast are teachings given by Lama Zopa Rinpoche in 1992 prior to a refuge ceremony at Jamyang Buddhist Centre, London. In this session, Rinpoche explains the eight benefits of practicing refuge and leads the students in prostrations. Follow along with the transcript here.
The LYWA podcast contains hundreds of hours of audio, each with links to the accompanying lightly edited transcripts. See the LYWA podcast page to search or browse the entire collection by topic or date, and for easy instructions on how to subscribe.
WHAT'S NEW ON OUR WEBSITE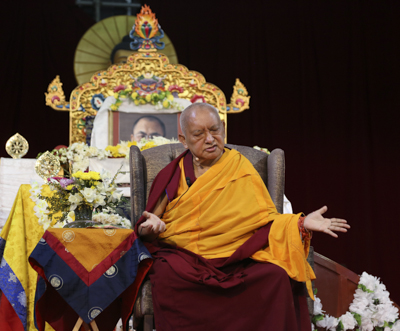 This month we have posted
Meditations on Rejoicing
, instructions on how to think during the section on rejoicing in
Lama Chöpa
. The teaching was given by Lama Zopa Rinpoche at a retreat in Bendigo, Australia, 2018.
This month in our featured short video from FPMT's Essential Extracts series, Lama Zopa Rinpoche explains that all our happiness and suffering come from the mind, and if there is no anger, there is no external enemy. Rinpoche advises that the essence of Buddhism is compassion for all sentient beings, and the purpose of establishing Dharma centers is to teach and practice compassion. You can find links to the video here, or visit FPMT's Essential Extracts webpage to browse the entire collection.
Recently we received reprinted and updated versions from Amitabha Buddhist Centre in Singapore of two books by Adrian Feldmann.
A Leaf in the Wind: A Life's Journey is a biographical account of the travels that led Adrian Feldmann (Venerable Thubten Gyatso) to Buddhism, and The World and Ourselves presents the classic framework of Buddhist mind and mental factors. Print copies and ebooks are available for each title.
We also have new additions to Lama Zopa Rinpoche's Online Advice Book to share with you:
What People Are Saying About Big Love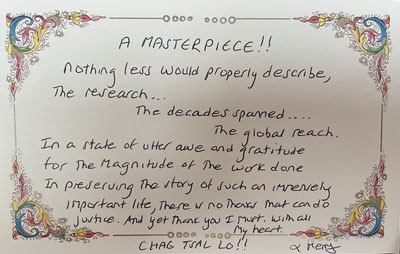 We are delighted to share with you the wonderful feedback from readers who have been sending tributes, observations and thanks to the author, editors and others who have contributed to the production of Big Love. Please enjoy a few of our readers' comments below.
A masterpiece! Nothing less would properly describe the research … the decades spanned … the global reach. In a state of utter awe and gratitude for the magnitude of the work done in preserving the story of such an immensely important life. There are no thanks that can do justice. And yet thank you I must, with all my heart. Chag tsal lo!
 – Merry Colony
Lama Yeshe was the powerful glue of our dependently originated good fortune. He made it possible for us to have meaningful lives.
 – Fabrizio Pallotti
Am a quarter way through Big Love. Can't put it down. You've all done a brilliant job. Congratulations. The detail, the care that's gone into the structure, writing, pictures, and presentation is superb. I love the way the stories are interwoven with Lama's teachings. Lama has emerged even more extraordinary than I ever imagined.
 – Vicki Mackenzie
Visit here to read more about what people are saying about Big Love, and please share with us your thoughts on it too by emailing info@lamayeshe.com. We'd love to hear from you!
As always, thank you so much for all your support and generosity, and remember, if you'd like to support the amazing Lamrim Year, please do so here.
Big love,

Nick Ribush
Director
GuruDevotion
THIS MONTH'S TEACHING: Lama Yeshe on Guru Devotion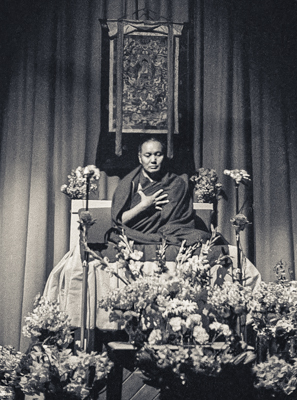 Lamrim Year: Making Life Meaningful Day by Day
Day 59
A dry, intellectual approach to spiritual matters leaves our heart untouched and unaffected
—Lama Yeshe
A common problem for all of us is that our knowledge of so-called spiritual matters is often just in our head, not in our heart. We are proud of how much we have studied and learned about the world's religions and may even have mastered the vocabulary of their philosophy and meditational practices, yet we remain basically unsubdued and deluded.
What is lacking is the proper inspiration, or blessing, in our mind. We have to be convinced by some kind of heartfelt, living experience of the existence and effectiveness of a potent spiritual reality both inside and outside ourselves. Otherwise our wisdom-eye remains closed and we are incapable of perceiving this profound reality no matter how much we might have studied.
It is the guru who provides this necessary inspiration, this link between our consciousness and the actual experience of transcendence. In the behavior of our own guru we can see for ourselves the beneficial effects of training the mind in love and wisdom. By thinking of our guru's lifetime devotion to others and their lack of self-cherishing, as well as upon the many other excellent qualities our guru embodies, and then by dissolving and absorbing the entire lineage of gurus into our heart, we are enabling these enlightened qualities to take root deep within us. It has been the experience of generations of gurus and disciples that the repeated practice of such visualizations, done in conjunction with the letting go of our concrete conceptions of self, has a profound effect on the mind and can transform dry, intellectual knowledge into an organic experience of insight.
Our knowledge of so-called spiritual matters is often in our head, not our heart
We need the blessing of a heartfelt living experience that opens our wisdom-eye
The guru is the link between our consciousness and the experience of transcendence
Day 59 is an extract from the forthcoming Lamrim Year, a book of daily contemplations drawn from the teachings of Lama Yeshe and Lama Zopa Rinpoche and based on the lamrim outline. Compiled and edited by Alison Murdoch, with Sandra Smith. Visit here to learn more.