If you would like to help us make Lamrim Year freely available all over the world, please make your contribution here. Thank you so much. This is going to be an incredibly beneficial book!
To donate any amount, simply type the desired whole-dollar amount (no decimals) into the Qty box and click Add to Cart. You may also skip the shopping cart and donate any amount directly through PayPal.
Lamrim Year is nearly ready and we're really looking forward to making it available far and wide to all who'd like to receive it. Keep an eye on our monthly eletter for news about when you can order your copy.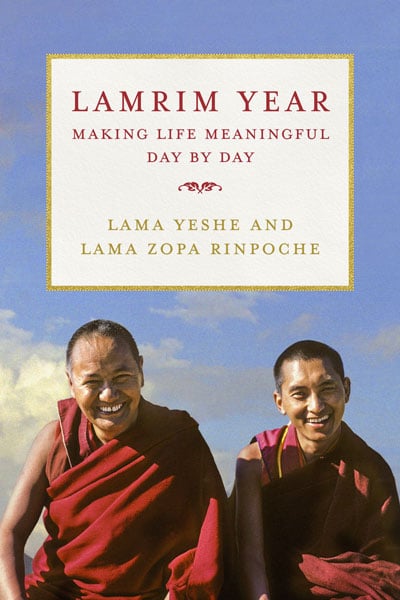 Lamrim Year presents the entire path to enlightenment in the form of a 365-day study program for anyone who wants to experience the essence of this ancient and powerful set of Buddhist teachings. The text has been selected from both published and unpublished teachings of Lama Yeshe and Lama Zopa Rinpoche, and offers a taste of their teaching style and scope. This book is an essential guide for meditators who want to develop their mind in the graduated path to enlightenment (lamrim).
By becoming a donor, you are helping the Archive continue in our work of preserving, editing and publishing the teachings of Lama Yeshe and Lama Zopa Rinpoche, and other great teachers of our time. The support we receive from you makes it possible to fulfill our mission and enables you to share directly in this amazing work for the benefit of all.
The Lama Yeshe Wisdom Archive is a 501(c)(3) tax-deductible, non-profit corporation dedicated to the welfare of all sentient beings and totally dependent upon your donations for its continued existence. The Archive was established with virtually no seed funding and has developed solely through the kindness of our many supporters.
Thank you so much for your support!