Adele Hulse
GIVE THE GIFT OF BIG LOVE
Last year we published Big Love: The Life and Teachings of Lama Yeshe, the official, authorized biography of Lama Yeshe. The two-volume set contains personal stories of the lamas and the students who learned, lived and traveled with them, excerpts from teachings, and more than 1,500 photos dating back to the 1960s. This immense project has made a significant contribution to preserving the history of Tibetan Buddhism in the West.
In gratitude for your support of our work, we are making a special offering to donors of our 2021 year-end appeal:
If you would simply like to buy a copy of Big Love, from now until the end of January 2022 we are offering it for only $48 plus shipping and handling. That's a $37 discount! To order your copy, click on "Add to Cart" on this page.
It is only through your kind and generous support that we have been able to do all this beneficial work for the sake of all sentient beings.
Please help us make our 2021 year-end appeal a success. If you contribute $125, you will receive a special year-end gift of Big Love, or you can make a donation of any amount. 
About Big Love
Big Love, the official, authorized biography of Lama Yeshe contains personal stories of the lamas and the students who learned, lived and traveled with them, as well as more than 1,500 photos dating back to the 1960s.
This book tells the story of Lama Yeshe, how he met Lama Zopa Rinpoche and how they created the Foundation for the Preservation of the Mahayana Tradition (FPMT), one of the world's largest Tibetan Buddhist organizations. It begins in Tibet, where Lama was born, and moves to Buxaduar refugee camp in West Bengal, where Rinpoche became his student, to other parts of India and Nepal, and finally to the entire world.
The author, Adele Hulse, one of Lama's earliest students, highlights his special connection with early Dharma seekers and skillfully weaves their intimate stories with details of where Lama went, the teachings he gave and the centers he started. It brings to life how special he was and how he connected with people from all over the world and all walks of life. If you knew Lama, you will be reminded of his wisdom and charisma; if you did not, this is the perfect introduction.
Order your copy using the "Add to Cart" button on this page. Read more about how to order here.
Please enjoy this sample of comments from recipients of Big Love:
The photos are BEAUTIFUL! Turning a page, and seeing Lama, melts the heart! And their placement! At end of the first volume, you can hear him say, "Now let's have tea, dear." Big fun; big joy! You did a big good! Thanks!
 – Professor Jan Willis
The publication is an indispensable addition to any substantial library of Tibetan Buddhism.... Lama was a gift to the world who just keeps on giving, a wish-fulling tree that continues to fulfill the wishes of thousands of enlightenment trainees around the world.
 – Glenn Mullin
Somehow this book really connects the early 1970's and the 21st century, and shows us how, due to this dedication and devotion to the spiritual path, to the lineage, to Lama Yeshe and to Lama Zopa Rinpoche, one is able to look beyond the material world to something powerful and profound. This book is a great cause for all of us to rejoice in everything we have done, and in the accomplishments of our own paths, and this lineage, and to dedicate. I think it's really wonderful.
  –  Yangsi Rinpoche
Lekso, Lekso, well done. Big Love just arrived and it's fantastic. So many color pics! It really tells the story of the early days and how Lama worked so hard to tame our minds, feisty disciples that we were, and to maintain the Buddhadharma in exile. Thank you so much for your hard work on these two volumes. They're a treasure.
 – Ven. Thubten Chodron
Thank you so much for Big Love, which arrived yesterday. It is a truly beautiful expression of the big love of Lama Yeshe's students for him and of his big love for all beings.
 – Dr. B. Alan Wallace
Visit our What People are Saying About Big Love page to find many more readers' comments. You can also watch this short video, The Big Love of Lama Yeshe, for an overview of this historic publication, and visit our Big Love Resources page to find links to excerpts from the book, a Mandala magazine article by Laura Miller, a special image gallery of rare photos and Adele Hulse's dramatic readings on the LYWA YouTube Channel.
---
How to ORDER BIG LOVE
Order your copy using the "Add to Cart" box on this page. Due to the weight of the set (10 lbs / 4.5 kg) we are limiting orders to a single copy only through our website. To order multiple copies, and to receive the best rates for shipping, please email info@LamaYeshe.com.
There are a limited number of copies that will be available at our distribution sites that can be shipped at a discounted rate. 
Update (September 10, 2020): We are now offering a discounted shipping rate for customers in Australia, Europe and the UK.
FPMT center bookstores, LYWA Members and IMI Sangha will receive a 50% discount off the retail price. Please email info@LamaYeshe.com for details.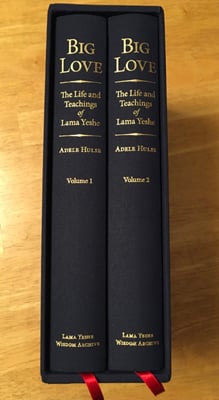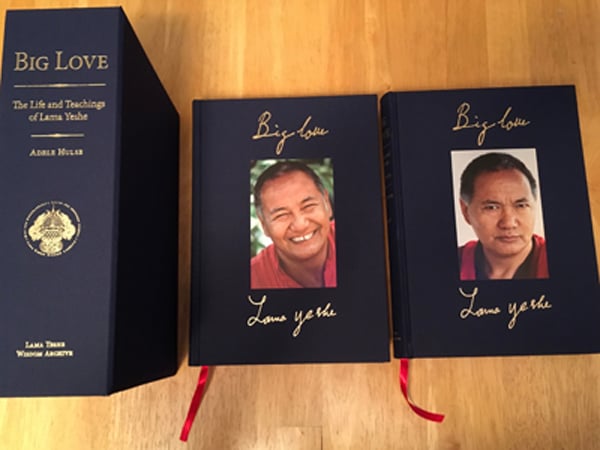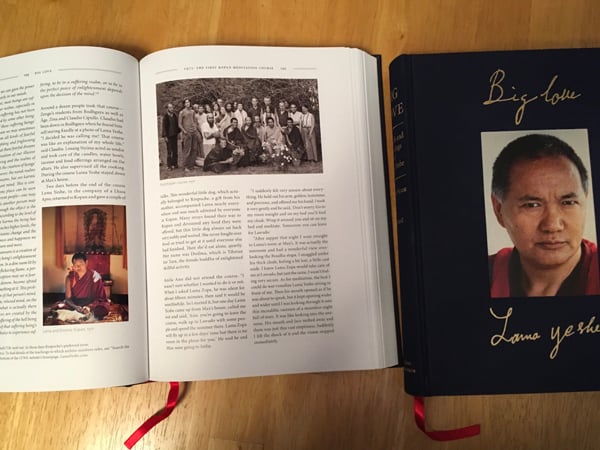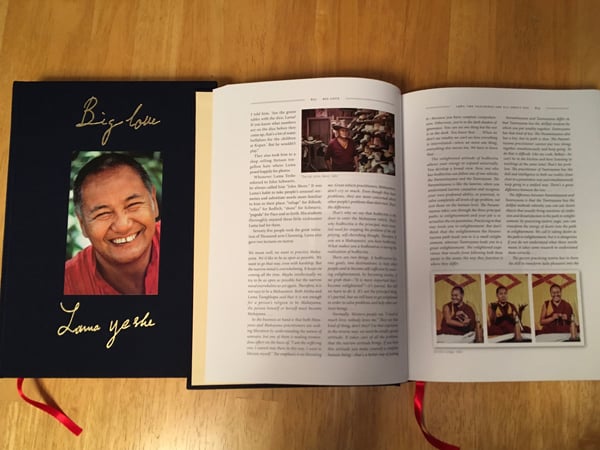 Specifications
Big Love: The Life and Teachings of Lama Yeshe is published as a set of two 700-page hardcover volumes in a slipcase with over 1,550 photographs, maps and other illustrations, full color throughout. Special offer until the end of January 2022: Only $48 plus postage.