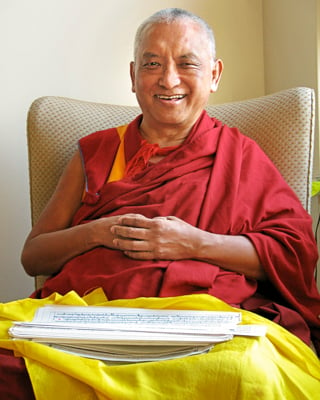 Dear Lama Zopa Rinpoche: Answers to life's problems from a Buddhist master.
Welcome to the Lama Yeshe Wisdom Archive online book of Lama Zopa Rinpoche's free advice on a wide range of topics in the form of letters and short talks.  
TABLE OF CONTENTS
Benefiting Animals
Buddhist Practices
Compassion and Bodhicitta
Contemporary Issues
Death and Transitions
Emptiness
Family and Relationships
Holy Objects
Lineage Lamas
Meditation and Retreat Advice
Negative Emotions
Path to Enlightenment (lam-rim)
Sangha (Monks and Nuns)
Sickness and Health
Sutras, Mantras and Root Texts
Working for the Dharma
Rinpoche receives thousands of letters every year from people seeking guidance on a variety of issues. His advice is made available here in the Online Advice Book, so it may be of benefit to others.  
You can browse through the topics listed in the Table of Contents above, view and search the advice book, starting with the most recent additions, or go to our Teachings menu to refine your search. We've done our best to categorize the various advices given by Rinpoche, but the advice often relates to more than one topic. Use the tags and search function to find what you are looking for.
This online book is a work in progress, and new advices are compiled, edited and added here each month. Our special thanks to Ven. Holly Ansett, Michelle Bernard and Sandra Smith for their work in compiling and editing these advices.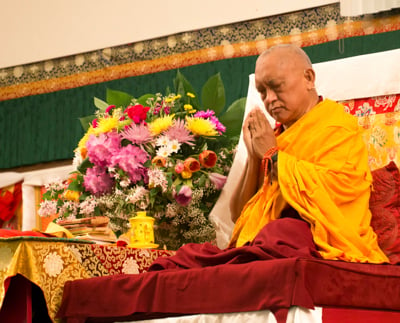 Please Note: Lama Zopa Rinpoche gave these pieces of advice to specific individuals for specific situations. All of the names have been changed to respect each individual's privacy. We encourage you to consult a qualified lama before applying the advice. We don't guarantee that these practices will help you in your specific case and can't be held responsible if they cause harm or do not bring the result you expect. They are provided for informational purposes only; apply them at your own discretion. 
Nevertheless, Rinpoche has suggested that we make these advices available to give a general idea of how we can help others. Also, sometimes people are in distress from, for example, spirit harm, and don't have a lama to whom they can turn, and experience has shown that when some have employed Rinpoche's advice, it has helped. Rinpoche has said that sometimes people see a piece of advice and have a strong feeling to try it and that this is the Buddha's action guiding the person toward the correct method to help them. 
The health advice provided on the LYWA website is not a substitute for medical advice, diagnosis or treatment from a doctor or health care professional. Always contact your health care professional if you have health concerns. Do not disregard medical advice or delay seeking it because of information on this website.  
You are also encouraged to visit the Lama Zopa Rinpoche Advice page on the FPMT website, which is updated regularly with advice on a variety of topics and practices. A selection of these advices was published by Wisdom Publications under the title Dear Lama Zopa. You can see their website to order a copy.
We welcome your feedback. Please email the webmaster with your comments and suggestions. Thank you so much.