Preserving the Precious Archive for the Future
There is a wealth of images, audio recordings, video and transcripts in the Lama Yeshe Wisdom Archive collection. We now have the opportunity to preserve these precious teachings and the lamas' entire multimedia legacy through a digital asset management system called AssetBank. Our intention is to create a deeply searchable database which will house all of the audio, video, transcript and image archives of Lama Yeshe and Lama Zopa Rinpoche and which will be made available to editors, teachers and students, and ultimately to the entire world.
We invite you to continue to partner with us in this massive undertaking which has been decades in the making, and which will protect the lamas' legacy of Dharma teachings for future generations. So if this inspires you, please take advantage of this meritorious project to make your donation and continue to help us preserve these essential Dharma teachings for interested students and seekers the world over. 
The Lama Yeshe Wisdom Archive: Who We Are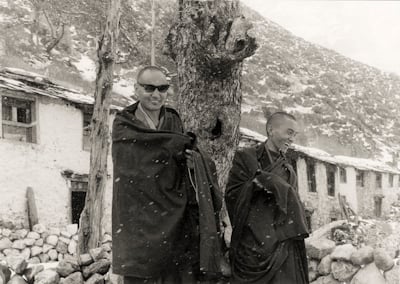 The Lama Yeshe Wisdom Archive is the definitive collection of teachings of Lama Yeshe and Lama Zopa Rinpoche—in essence, the life's work of both Lamas. For practitioners of Tibetan Buddhism in general, and students of Lama Yeshe and Lama Zopa Rinpoche in particular, the Lama Yeshe Wisdom Archive is an invaluable resource for authentic teachings from some of the greatest lamas of our time. 
The Lama Yeshe Wisdom Archive (LYWA) is the archive of the Foundation for the Preservation of the Mahayana Tradition (FPMT), the largest international Tibetan Buddhist organization in the world. The FPMT was founded in 1975 by Lama Yeshe and Lama Zopa Rinpoche, two of the most influential lamas in the spread of Tibetan Buddhism around the world. Lama Zopa Rinpoche founded the Archive in 1996 to steward and share the collection of teachings.
Lama Yeshe and Lama Zopa Rinpoche began teaching at Kopan Monastery, Nepal, in 1969. Since then, their teachings have been recorded and transcribed. At present the Archive contains well over 16,000 hours of digital audio and some 90,000 pages of raw transcript. Many recordings, mostly teachings by Lama Zopa Rinpoche, remain to be transcribed, and as Rinpoche continues to teach, the number of recordings in the Archive increases accordingly. 
The Work of the Lama Yeshe Wisdom Archive Falls Into Two Categories:
Archiving and Dissemination:
Archiving requires managing the recordings of teachings by Lama Yeshe and Lama Zopa Rinpoche that have already been collected, and collecting recordings of Lama Zopa Rinpoche's on-going teachings, talks, advice and so forth as he continues to teach for the benefit of all. Incoming media are catalogued and stored safely while being kept accessible for further work. We organize the transcription of audio, catalog the transcripts, and make them available to editors or others doing research on or practicing these teachings. Other archiving activities include working with video and images of the Lamas and digitizing Archive materials.
Dissemination involves keeping up with evolving technology and making the Lamas' teachings available through various avenues including books for free distribution and sale, ebooks and audio books, edited transcripts on our website, online multimedia presentations, social media and online video. Irrespective of the medium we choose, the teachings require a significant amount of work to prepare them for distribution. To date we have over 100,000 books in print, tens of thousands of website visitors each month, and over 140,000 followers on our various social media and online publishing platforms.
Our Founder and Our Spiritual Director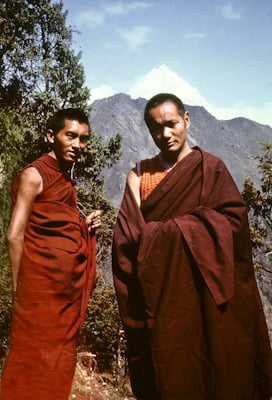 Lama Thubten Yeshe was born in Tibet in 1935. At the age of six, he entered Sera Monastery, Lhasa, where he studied until 1959, when the Chinese invasion forced him into exile in India. Lama Thubten Zopa Rinpoche was born in Thangme, Nepal, in 1945. At the age of three he was recognized as the reincarnation of the Lawudo Lama and studied in local monasteries until he went to Tibet in 1956. In 1959, he too fled Chinese oppression and continued his study and practice at Buxa Duar refugee camp in West Bengal, India, where he met Lama Yeshe, who became his principal teacher.
Together, the Lamas began teaching Buddhism to Westerners at Kopan Monastery, Kathmandu, in 1969 and in 1974 began traveling the world to spread the Dharma. After an intense decade of imparting a wide variety of incredible teachings and establishing one FPMT activity after another, Lama Yeshe passed away in 1984. He was reborn as Ösel Hita in Spain in 1985. Lama Zopa Rinpoche continues to teach and develop the FPMT in an amazing variety of ways.
The Lama Yeshe Wisdom Archive is Unique
Lama Yeshe's and Lama Zopa Rinpoche's teachings are exceptional and unique. For more than four decades they have been extremely effective in turning people's minds towards the Dharma, bringing great benefit to the entire world. The teaching style of each Lama is unique and extraordinary; together, their teachings present the most profound aspects of Buddhist philosophy in both an easily accessible traditional format and an equally accessible contemporary format based on the truths of universal psychology. 
The Dharma taught by Lama Yeshe and Lama Zopa Rinpoche is pure. It comes to us through direct oral transmission by way of an unbroken lineage of teachers going back to the Buddha himself. These teachings are truly a solution to all the world's problems because they confront suffering and problems at their source—the ignorance, greed, anger and other afflictions that plague the human mind.
These teachings are even more precious because they come from not only the Lamas' extensive scholarship but also their personal experience. And because the Lamas teach in English, the power of their transmission is not lost in translation. Thus, while firmly rooted in traditional Indian Buddhism, these teachings are not dry, academic discourses but living, contemporary teachings that transform suffering and dissatisfaction into happiness; they are practical, living advice for everyone, the efficacy of which is being experienced daily by thousands of people around the world.
The Contents of the Archive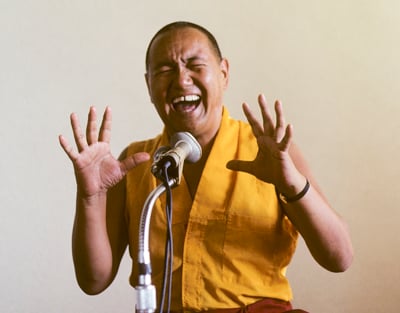 All LYWA materials—audio files, transcripts, images and archival video—have been carefully stored and cataloged. At present, the Archive contains recordings from over 2,100 teaching events encompassing approximately 16,000 hours of audio, more than 25,000 transcripts and hundreds of video recordings. 
The Archive's massive photo collection includes images dating back to the 1940's and has been assembled over the last twenty years from contributions by donors from all over the world. Including all the peripheral images, duplicates, scans and work files for publication, our Lightroom database holds over 140,000 image files. Of this there are approximately 50,000 unique, historically relevant images which document the Lamas' travels and teaching events, the origins of international Dharma centers, as well as activities of the many Sangha members, students and friends.
The LYWA collection was organized and enhanced in support of the publication of Lama Yeshe's biography Big Love: The Life and Teachings of Lama Yeshe, which consists of two 700-page hardcover volumes containing stories, teachings and more than 1,550 images drawn from the Archive's collection. The FPMT also stewards a collection of 50,000 images from the past 30 years, and manages the ever-growing collection of recent images of Lama Zopa Rinpoche and the myriad of projects and social service programs around the world supported by the FPMT.
Our Digital Asset Management System: AssetBank
In 2016, LYWA and FPMT joined forces to merge our collections into a single digital asset management system called AssetBank. Previously, LYWA's collection of audio recordings, archival video recordings, images and transcripts and FPMT's collection of contemporary video, images and edited transcripts were stored, managed and accessed in systems which were independent of one another. As we migrate our collections into AssetBank, we will be able to see the incredible benefits of storing all our digital assets in a single system:
Improve preservation and management: Our entire collection will be stored in a supported, documented and secure system which positions us well for preserving these precious resources into the future.
Locate materials more easily: The system will enable editors and teachers to find all kinds of related files in one place. No more looking in one system for transcripts, another for images, and yet another for video.
Eliminate duplication: Duplicate collections of images, audio and video are often being stored in multiple systems. As our collections of digital assets are categorized in a single system, we avoid and eliminate duplication. 
Expand the Archive: AssetBank offers us the opportunity to catalog much more than just our traditional "archive" materials (such as audio, video, image and transcript). Looking ahead we can catalog book and magazine design files, education department materials, advices, mantras, articles and other publications.
Meet the future of publishing: As new forms of digital publishing emerge, such as multimedia presentations, having all transcripts, images and video related to the teachings of Lama Yeshe and Lama Zopa Rinpoche categorized, tagged and organized in a single system makes it easier for editors and designers to locate materials quickly for publication.
Increase access to the collection: Moving forward we will be able to offer teachers and book editors the ability to deep dive into unpublished archival material as a resource. And, we will have a vehicle for sharing the nearly 100,000 images in our combined collection to FPMT students worldwide.
Our ultimate goal is to make Lama Yeshe's and Lama Zopa Rinpoche's teachings as easily accessible and widely available as possible. LYWA serves primarily students of Lama Yeshe and Lama Zopa Rinpoche but also students of Buddhism from all lineages and traditions. From introductory students and those simply curious about Buddhism in general to more advanced students looking to explore and research topics on their own, all can appreciate the breadth and depth of the teachings we have made available and have yet to make available.
The Migration Process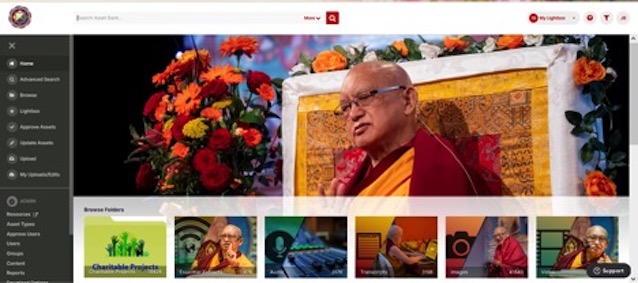 The process of migrating our collections into a contemporary system requires significant preparation and careful transmission of each file along with the "metadata" for each: date, location, teacher, photographer, transcribing details, etc. Our project can be broken down into 7 areas:
Workflow Planning: Develop and document technical procedures for migrating assets and metadata.

Asset Preparation: Evaluate collections of digital files to remove duplicates and select the latest or best versions to migrate; ensure that original media is properly catalogued and preserved.

Asset Migration: Run processes to upload the files and metadata to AssetBank.

Verification: Verify that the files and metadata migrated properly.

Training: Train Archive and FPMT staff (editors, administrators, transcribers) to search and update the collection.
The grant funds received from the Italian Buddhist Union, in partnership with our friends at FPMT Italia, have helped us to greatly accelerate the migration process. We have succeeded in developing, testing and documenting our migration procedures for each file type (audio, text, image and video) and have progressed to migrating batches of files. By the end of 2021 our team at LYWA will have uploaded more than 3,100 audio recordings and 3,100 transcripts, 900 videos, and nearly 2,000 images. 
In the coming months we will continue our work to migrate the entire collection of more than 18,000 transcripts and 24,000 audio files from our outdated legacy systems. And, our image editor will continue to delve into our image collection to select the best versions of each image to upload to AssetBank.
Once our collections are migrated and we are fully operational on the new system, we will turn our attention to opening up access to the collection to the wider FPMT community of teachers and students. AssetBank provides greater options for selecting assets that would be useful to community members and securing access to them, and provides a user-friendly interface to do so. 
In the years to come, this project will ensure that the precious words and images of our teachers be well cared for, preserving the teachings of the Tibetan Buddhist tradition, and ultimately making its benefits available to all. Please work with us to realize this goal and make your contribution today. Thank you!