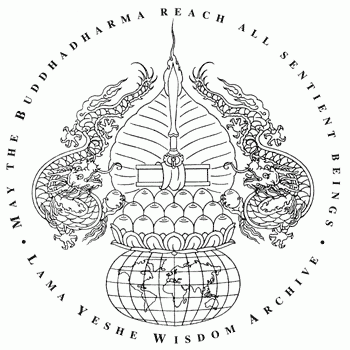 For practitioners of Tibetan Buddhism in general, and students of Lama Yeshe and Lama Zopa Rinpoche in particular, the Lama Yeshe Wisdom Archive (LYWA) is an invaluable resource for authentic Buddhist teachings, uniquely positioned to present these teachings in a variety of multimedia formats, prepared by highly qualified editors with decades of experience.
The work of the Lama Yeshe Wisdom Archive falls into two categories: archiving and dissemination.
Archiving
Archiving requires managing the audio recordings of teachings by Lama Yeshe and Lama Zopa Rinpoche that have already been collected, collecting recordings of teachings given but not yet sent to the Archive, and collecting recordings of Lama Zopa's ongoing teachings, talks, advice and so forth as he teaches for the benefit of all. Incoming media are then catalogued and stored safely while being kept accessible for further work.
We organize the transcription of audio, add the transcripts to the already existent database of teachings, manage this database, have transcripts checked, and make transcripts available to editors or others doing research on or practicing these teachings.
Other archiving activities include working with video and photographs of the Lamas (see our Image Gallery) and digitizing Archive materials.
Dissemination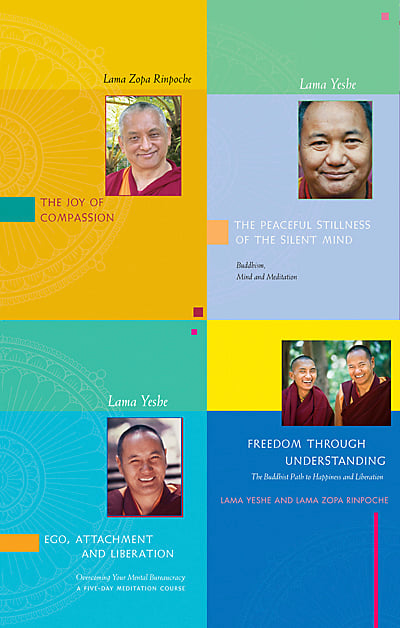 Dissemination involves keeping up with evolving technology and making the Lamas' teachings available through various avenues including books for free distribution and sale, ebooks on a wide range of readers, multimedia, audiobooks, podcasts, lightly edited transcripts and free audio on our website, social media, a monthly e-letter, DVDs and videos on our YouTube channel, articles in Mandala and other magazines and on our website. Irrespective of the medium we choose, the teachings require a significant amount of work to prepare them for distribution.
This is just a summary of what we do. The Archive was established with virtually no seed funding and has developed solely through the kindness of many people, most of whom we mention and thank sincerely on our website. We are indebted to you all.
To become familiar with all of the offerings on our website, see our Getting Started page. To order our books and ebooks, see our Online Store.
You are welcome to view our brochure and read our five-year plan starting in 2014. In early 2008 we conducted a survey about our work. See below for the results of this survey.
Read more about ways to support the work of LYWA here. Thank you!
---
LYWA E-letter Survey
April 2008
We recently asked Archive friends and supporters via our monthly e-letter to give us some feedback about our work by inviting them to respond to a brief online survey.
Below are the responses to the open-ended request for comments about our work. They have been lightly edited for punctuation, typographical errors and syntax; people's names removed except for FPMT teachers, where used with permission. Comments in square brackets added by LYWA.
• I treasure the free books that have come my way and they sit amongst all the books I have purchased, some very expensive. The value of them is the same, as they all contain the same message of the precious teachings. I have also been able to give some of the free books away to people who have an interest and may not have the funds to purchase some of the more expensive books. They are of great value.
• The best way for new people to connect with the FPMT and to understand Lama Yeshe's vision.
• Beneficial, especially for beginners who don't know or are not sure about Dharma and are unlikely to spend money to buy books. Free books help to reach out to more people.
• PRECIOUS, WONDERFUL, INSPIRING, HELPFUL, A JEWEL.
• Absolutely wonderful; if it wasn't for these books I would not have found the Dharma in this lifetime. I donate to FPMT centres but do not know if it reaches the Archive. [LYWA: probably not!] Maybe a donation box at FPMT centers just for supporting the free books might help the cause.
• Dear Nick and all who work so devotedly to publish these wonderful teachings. Firstly, thank you. I appreciate occasionally receiving the free books and I have passed them along to others whom I feel will appreciate them and benefit from them. Secondly, I think you can and should focus on both free books and making your books for sale. I think both avenues are possible and likely will reach different readers. Personally, I don't think the value of a book is diminished by receiving it as a gift. I love to receive gifts and I love to give them. It is always a highlight when I receive a gift from you. One suggestion would be to make sure you do not duplicate gifts. I believe once I received two gift packets—but then I had more to give away. Our lamas teach us generosity is beneficial, so I encourage you to continue and I dedicate and rejoice in the great merit you create. Again, many thanks…and I should now send you a small contribution so you can continue your great work to benefit all beings. Please email me your current mailing address! LD.
• I love to receive these books and keep them in my own library for reading and reference. They are very useful. May be we could publish free books selectively on more important topics that have fewer publications available.
• I absolutely love the free books, though I often try to make a donation. I am of the opinion that LYWA should consider charging a small fee for the books, for example under $5, as a suggested donation or more. I believe it is our duty to provide this Dharma material and if we become aware of a person who would benefit and would enjoy the readings these texts that we try our best to provide these free of charge if at all possible.
• I suspect Buddhists would respect a book of teachings in a similar way, whether it was free or they paid for it. I don't think this would apply to the general non-Buddhist population. I appreciate very much the access to free books and mainly pass them on to people. In my experience, most Buddhists make a donation for "free" LYWA books anyway, when they get them from Buddhist centres. Thank you all for your great and hard work.
• I have been on a disability pension for 15 years. I also look after many animals that have come to me through mistreatment. The free book that I have received has increased my understanding of Buddhism and increased my faith in humanity. It is my favorite book. I love it very much and am so grateful that it was sent to me. Thank you so much. I wish to send much love to Lama Yeshe and Lama Zopa They are good kind people. TK.
• My experience is more on the LYWA free books that we translate into French and also distribute free of charge. I did not notice that people have less respect for those. I did notice that people are very pleasantly surprised and very grateful. My opinion is that it's good to keep a balance between free books and books for sale. Thank you for your beautiful work. TN, FPMT France translation office.
• Very informative, very helpful and well done.
• Free books are very important because people many times can not pay for a books and have a strong desire to learn or study, that's why free books are indispensable, absolutely necessary.
• The free books are a true blessing. I think there are many benefits to publishing free books and books for purchase. It's difficult to say which would be more beneficial. Just keep publishing Dharma.
• I could not be more pleased with the free books that I have received. I am on a very tight budget and these free books have allowed me to have access to the Lamas' works and share them with others. Without the books being free, I personally would not have ever had the opportunity to read these wonderful books. I have shared them with others and they are valued by them as well. The books are wonderfully written, inspiring, easy to follow, and great reference materials. I greatly appreciate them and believe that the free books have done the same for others also in my financial situation. Thank you so much!
• They are wonderful, I look forward to reading as many as I can.
• OK, I can afford to buy books but I don't always do it…. I can afford to give bought books…but I don't do it as often as I should. There have been so many occasions when I have so easily passed on one of your books to someone and possibly/probably changed their lives! At the centre it is fantastic to have free books to pass out to people. It changes people's attitudes—both those that receive and those that give them. I really rejoice in what you are doing and encourage you to keep going forever!
• I think they are a fantastic way to reach people who need the teachings but may not otherwise read them, perhaps due to financial hardship. The length is user-friendly for newcomers, who may be daunted by a voluminous text, and for us "oldies." They are concise and manageable with all the other day to day demands on our time.
• I've been planning on sending for some and hope to do so soon. Thanks!
• They are simply amazing and beautiful. Every book is a pearl of wisdom and truth. I constantly read and re-read the books I have received from LYWA. I have even given some to friends. These books have affected my life in the most profound way and I can honestly never repay the debt I owe to Lame Yeshe and Lama Zopa Rinpoche. I simply try to be compassionate towards all and make life a better place for every being. Thank you for everything you have given and continue to give. You have no idea how deep my heart has become because of the work you do.
• I really appreciate the books being available and value the effort you are all doing. We have ordered many for our study group in Mexico; my only question is: how do we order free books in Spanish? [LYWA: the only way we know is to contact Ediciones Dharma, in Spain.] Whenever I go to the link for these books it never seems available. Please advise. Thanks again.
• I and others have benefited greatly from LYWA books. Thanks for your work.
• I worked in one of the FPMT center bookstores in California—the free books are GREATLY appreciated by the visitors, Dharma students, and guests. I can say firsthand that receiving and reading a set of free books myself prompted me to become a Dharma student and to donate to the LYWA. Most people who receive free books in the bookstore are delighted and grateful.
• Really enjoyed the free books. In appreciation I would like to contribute as regularly as possible so that many readers would have access to the books.
• I have downloaded free books from your website. I deeply appreciate having access to such teachings. It is a lifeline to a rather sparse area of the country (Kentucky). I have purchased some books by and about both men, as well. Peace to all. DG.
• I think they explain in a very simple way the teachings and are easy for people to understand.
• I work as a volunteer in our centre and when I offer visitors a free book they are so grateful and touched by the generosity. I think free books are a very valuable addition to our centre. However, I also believe paying for books is very important…both are crucial. Thank you so much for your energy and commitment.
• Your free books are welcome. Currently reading one of them.
• I'm a poor student, new to the Dharma and LOVE and VALUE free books. Can only speak for myself; not sure about others in regard to reading free books. Thank you!
• I only learned of them recently! Very useful and I feel grateful to have received some of them. And I won't buy less because of free books.
• I think it is a good thing, because there are people that cannot afford to pay for the books. These people need to be able to have the opportunity to study also.
• The free books are like a cup of cool water to a parched throat. It is wonderful for an organization to care enough to still publish free books.
• The books are immensely helpful in sorting out the Tibetan Buddhist path. By putting them out there it is as putting high spiritual energy into the Divine Circulatory Flow. Freely entered, freely flows the Light of Wisdom. There is no higher service than mediating the flow of the qualities of Light and Love to a thirsty humanity.
• Having volunteered in an FPMT center and sent a free book to each person who joined the center, I think that the books are very important. It gives the person who is new to Buddhism an extremely easy to understand and approachable way to learn. If they had to buy a book they would likely choose something else and miss the Lama's wonderful words. A book of Lama Yeshe's brought me to Buddhism, so I know the power of his words.
• My name is Christie and there have been many book that I have received from you for free. See, I am disabled and live on limited income. I don't have the money to buy books and this has been the way for me to learn and grow in Buddha. You have helped me learn how to live life with my suffering and to look past the pain and for this I thank you, because without your free books I would still be suffering.
• I am in the low socio-economic bracket of my country. I have and will continue to spend some money on my Dharma activities when possible, however it is important also that I house and feed and educate my children and study temporally to obtain good work. I have a good mind but am still very poor spiritually. All of my worldly responsibilities make it impossible for me to access all the teachings and texts I would like or should immerse myself in—without LYWA's free texts, I would be much poorer still. I greatly appreciate your service to all sentient beings. I myself have seen a great many people whose first Dharma book was a gift from LYWA; many of those have gone on to study the Dharma in earnest. So the service is valued, important and definitely needed.
• I think it is great to publish free books. It is the preserving of Buddhist teachings, Tibetan culture, and great spiritual practices of knowledge and liberation. Thank you so much, for I had the chance to download audio speeches of Lama Yeshe to listen to (I read his Introduction to Tantra some fifteen years ago). Thank you again for making these teachings available. M.
• I love them immensely and support the Archive because I strongly believe based on guidance from His Holiness the Dalai Lama that for Dharma to flourish in the West it must be made freely available at all levels. His Holiness stated clearly that whatever activities we do should be free as much as possible and where we must charge it is our responsibility to ensure that the charges are in accord with the costs and that no profit is made.
• They're helping me a lot while I'm finding my teacher to guide me. They're my refuge.
• Your kindness and compassion are evident in all that you do and I, for one, cannot thank you enough. With regard to the free books I have been privileged to receive, they have been of immense help to me. They have provided me with objects of contemplation, have clarified some of my earlier teachings, and have provided me with many realizations in my practice. And for these, I cannot thank you enough. May you all have good health, happiness, and may your accumulation of merit continue to benefit all kind, mother sentient beings.
• Buying books can be rather expensive; as it is attending teachings. Giving access to electronic books for free and free access to the teachings through the Internet is true equanimity and creating the causes and conditions for those who have the karma to find the Dharma in this lifetime to do so. Also, when and if people come up with the economic means, it gives them the opportunity to practice dana and extend this precious gift to others. Free printed books are relevant in countries where there are difficulties in having access to the Internet. Because of LYWA, Lama Yeshe's teachings are reaching and benefiting people like me that never before even heard of him. Because the way his teachings make a difference in my mind, I believe in what you do; in the way you do it; and when I had the chance I became a member. Please keep this the way it is.
• The possibility of free Dharma books in the rich countries is maybe not that important. Still, a lot of people start to fall out of the system and having free books available makes the Dharma not something for the established ones and are therefore very important. The argument that people respect paid-for books more is an argument I remember from esoteric group leaders to increase their price and like on the stock market, be more valued. Of course, this is true, from their point of view. I for my sake can say one of my most valued books, Path of the Heroes: Birth of Enlightenment, was a free book (donation).
• I was lucky enough to find Lama Yeshe's free publications available when I was beginning my spiritual path almost eight years ago. This was a time of great change for me and the teachings reinforced the belief that a spiritual life was the answer. I was living on state benefits and supporting three children alone, so spending money on books was a luxury. I am very grateful for the opportunity to own and read and incorporate the teachings into my life. I still have the editions I was sent and I have them placed on a high bookshelf as suggested in the books themselves. I treat them with respect and re-read them. Namasté.
• We think the work you have been doing is truly extraordinary. Each book that is published, even if it is a reprint, inspires joy and it is like holding a precious jewel. Please continue to keep up the marvelous work for many years to come. The great thing about these books is that they are suitable for Dharma students and non-Buddhists alike.
• There are many people who cannot afford to purchase Dharma texts; the world doesn't consist only of upper-middle-class to rich people. The world is losing sight of the fact that many very intelligent people who are hungry for Buddhist knowledge are poor, financially.
• Free books are good as they provide an avenue to people who cannot afford to buy them. Right now, the cost of living had been raised everywhere. People are having the difficulties to even sustain the basic needs such as food, shelter, education and medicine. Spending money to get Dharma books would be a great opportunity cost to people who are in the lower income group. It is not because they are not earning more but it is the spending power had reduced. Right now, the wealth distribution gap had widened, the rich becoming richer and the poor becoming poorer. I am not against selling the books at a price and I am not worried about the price because I know that the money would be used for spreading Dharma. I am a little concerned that if a selling price were set on all the books, then the lower income group would not get the benefit of hearing the Dharma. Hope my feedback helps.
• Who represent you in Tel Aviv? [LYWA: nobody…yet! But we send books anywhere in the world.]
• I have just started to read Lama Yeshe's presentations and I would like keep on reading his works (from presentations and writings) to expand my knowledge in Buddhism.
• Personally, I hold these books more dear than those I have purchased! It's like they come directly from the Lamas themselves and not through the publication system. No, it's actually more like they are the very voices of the Lamas speaking to me, to us—not through any medium but like they are present to me; I hold the Lamas themselves in my hands, not just their words, not just the books their words are written in. For some reason this is more the case with the free books than with those I have purchased, even those by the same Lama.
• The Dharma is for everybody and LYWA allows this to be so.
• I have found that the free books seem to come when I need them the most. I can never thank you all enough for the work you do. Thank you.
• I enjoy the books very much.
• I think the free books are a real gift. The generosity of the Dharma is so important and publishing free gives so many people the chance to create merit. My feeling is people still prefer books to screens, so small accessible books are invaluable ways to spread the Dharma, especially to those new in the Dharma, and so useful for centres to give out. Podcasts too are good if the quality is good enough but catching the talk can often be tricky and demand a lot more concentration.
I'm so grateful for the free books. I feel it exemplifies prosperity in that we are able to offer them to anyone who would like to use them. Maybe we can suggest a donation if they enjoy and benefit from it. This will probably bring a helpful return to the fund. I loan them to friends who are unfamiliar with Buddhist teachings, in need of guidance and for myself when I want a concise study or entertaining read. Thanks for all your work. I don't think I've donated directly to the Archive fund but will do so soon. E.
• I am new to Buddhism and I intent on taking the Discovering Buddhism at Home course. I am in nursing school and do not have a lot of money. Reading the free books is what helped me clarify my intentions by finding this site and sign up for the class because it is reasonably priced. Also, you have reasonably priced malas. I understand that retreat centers have to make money and no one is turned away for not having any. But I still felt like I could not contribute what was asked and it discouraged me from participating. I live very near Land of Medicine Buddha, where I now know Lame Yeshe spent some time. Thank you for the free books; please keep publishing them.
• I am one of those in-between people…not really poor but most of my paychecks are spent on bills and things that I need to live. I appreciate the free books and downloads because they give me access to the Dharma. In return, I give $20 here and there when I am able. I would not have access to as much Dharma as I have now if the books were for sale. I just couldn't afford the expense of $12 (or more) per book.
• My wife and I love them, however I'm biased.
• Although I have not yet ordered one of your free books for myself to read, I look forward soon to this generous opportunity to begin my teachings in Buddhism. Thank you for your consideration.
• I have so far about 50% of these books and they are just wonderful. Just received the DVD on tantra and it is also amazing and wonderful!
• I value books, regardless of whether they are free or not and am very happy to pay. It is a shame if people take the books and do not make a donation, but then for those who have little money it is a way for them to access the Dharma—so maybe a balance of books for sale and some basic books free.
• I always pass them on to others with a brief message that objects of great value are things to be given freely—a very important message in our world today.
• When I was working at the Liberation Prison Project and prisoners would write to us, I lost count of the times I would think to myself, Lama Yeshe is going to blow this guy's mind. And then letters would come back saying how much they enjoyed the book and can they have some more. Being able to send those books to prisoners is just HUGE. It was my first introduction to the teachings of Lama Yeshe as well.
• Just finished reading Teachings from Tibet that Snow Lions Publications sent me with an order. Great book! This is how I learned about this organization and web site. Added you to my browser's bookmarks.
• These books have been invaluable to everyone that I have given them to. Sometimes these books are the connection to Buddhism for some people even when they don't know what it is they are searching for. Thanks for all your great work! I belong to Milarepa Center in Vermont and also attend teachings at Kurukulla Center in Boston.
• These can reach the masses and help them in many ways. More and more people can have knowledge of Buddhism and its concepts.
• In Eastern Europe, for example, there are extremely few Dharma books in bookshops, especially authentic translations, and people can ill afford to buy books, so the availability of free books is a blessing. We already have Wisdom to publish books for sale. As long as there are sponsors for free books, they should be produced. Uldis Balodis, teacher at Ganden Centre, Riga, Latvia.
• Keep up the good work! They're GREAT!!!
• I am very happy to give people a chance to meet our precious teachers teachings. At our FPMT center we give them out to people who have some interest in Buddhism.
• As a centre, they are a great resource to give to new students or people who are investigating Buddhism. It is a manner of cultivating generosity and increasing the accessibility of teachings by our lamas. There are many free publications from the Theravada tradition where the language and presentation style can be an obstacle to Westerners. Lama's and Rinpoche's teachings are brilliant for a Western audience. I think this is one of the most important projects of our organization. Just wish I could support you more. Kaye, Maitreya Inst., Holland.
• Nicely done and with more quality every new edition.
• I enjoy reading them and appreciate the growing library of books that I have to study Buddhism.
• I think they are wonderful. Please keep up the good work. When my finances improve I would like to be a benefactor.
• I greatly appreciate the continuation of the tradition of providing the Dharma for free. This tradition is quickly disappearing in the world and especially in the West. Thanks so much for all your efforts. This is a great service to spread the Enlightened One's teachings throughout the universe.
• They are ESSENTIAL for the operation of FPMT Dharma centers as they help us to practice one of the four means of gathering disciples as soon as someone enters the door. THANK YOU FOR LYWA BOOKS!
• They are wonderful. Not everything should be at a price. More precious because they are free.
• As the only member of my wider family being involved with the Dharma, the free books have acted as a "bridge" when certain members have requested information. Though in its early stages I believe the free books are a wonderful mechanism for spreading the Dharma. Keep up the great work! Om Svasti!
• It warms my heart to see Dharma so compassionately and kindly spread by the manifestation of living bodhicitta.
• It is wonderful to make these precious teachings available to a wide audience of readers. The aspect of generosity in distributing these books free tells us something about the exceptional quality of our teachers as well.
• I think you perform an invaluable service for the Dharma by publishing these books and preserving and spreading the true teachings of the Buddha and the Gelug lineage. Well done!!!
• I have read more than one of the free books at Dharma centers or with Dharma classes and gained a lot from them. I have tried searching the site for materials and never really been successful in finding anything I was looking for, even though the material was somewhere on the site. This has reduced my enthusiasm for supporting the site. [LYWA: We are in the process of totally restructuring our website to make it much easier to navigate and find what you're looking for.]
• I believe in the power of "free" books when they are a gift from someone. For example, when I began exploring the Dharma a friend gave me some of his books. The teachings were the more powerful because of the personal relationship. I'm not sure if that same effect happens if the readings come from a website or more formal organization. I also understand that the Dharma is free to all and there should be no profit on the truth. Perhaps the Archive could give the first book free and charge a nominal fee for processing for subsequent books. Or perhaps give basic intro texts for free, more advanced for a nominal charge, but all available for download for free. It is a difficult position, but I am sure that the answer is not "all books free" or "all books for sale." [This is, in fact, what we are now doing. Most of our books are introductory and free; more advanced books are for sale but at lower than normal prices. We also prepare books for Wisdom to publish and sell.]
• I like them better when they don't have that HUGE space between lines. We have a bowl in front saying "by donation" so people can give something—that way it doesn't look like we are throwing them away but that they have some value. [The larger-than-usual space between the lines of our free was suggested by Lama Zopa Rinpoche to improve the books' legibility. Our books for sale have normal leading.]
• I love LYWA free books.
• Great quality of publications, being free books!
• I became a benefactor because of those free books—so much value and so many have benefited from them. And people do appreciate them. There are lots of books for sale already; lots of Dharma books for sale. It's good to have some out there just for the asking.
• I am an old student of Lama and Rinpoche and I value very much the books. I am from ILTK.
• I have found them invaluable and turn to them as a source of Dharma, especially since I can't afford to purchase many books. In regards to valuing something that has come free, I fully understand the philosophy but find that I value my Dharma books because they contain the Dharma and not because of a price sticker on them. And while I have downloaded some of the publication in PDF format, I do notice that when it comes to reading them, I would say I turn to the physical books 90% of the time and the PDF only 10%, even if the physical book is one I'm re-reading rather than something new in soft copy. I strongly value the work of the LYWA and refer many to it, especially newcomers to Buddhism.
• The books are an amazing gift for all of us. Thank you so much for making them available in the past.
• People on a low budget are fortunate, or will be fortunate, to attain Lama Yeshe's and other lamas' teachings, where they could not if they were sold too expensively. Somehow a Buddhist website "selling" things doesn't seem right, except for CDs. I do think of Lama Yeshe Archive's books as sacred and important and put them into bookshelves with doors, to keep them safe. I think most people honestly studying Buddhism will naturally donate as much as they can when requesting books.
• It is all about balance and putting the right materials into the hands of those who need them. This altruistic aim and the continuing effort to find the right balance to achieve it is what sets FPMT apart. I have seen you, Nick, Lama Zopa Rinpoche, Ven. Roger, Ven. Holly and others within the FPMT mandala in enough situations that it is apparent where motivations lie. Your free books reach many who, like myself, may pick a couple up in a center, put them on a shelf and pick them up a year later, when their life and mind is ready for them. Without the free books, they might not have this opportunity. Buddhism encourages simplicity, moving away from consumerism, and not focusing on lucre (going for just the big bucks). It may be hard for those who keep their lives simple and live modestly and frugally to pay for books. This consideration about free (i.e., sponsored) books is "where the rubber meets the road" in considering how we would wish people to integrate ALL the teachings into their lives and whether we only want people of means to have study materials. I think I know what the FPMT and your answer to this would be. So, I think a different tack may be called for to give more encouragement to people with means to contribute to the books while still making them available to those without means and perhaps to centers as you have in the past. I don't know at this moment what that would be, but you could give it some thought. At any rate, I applaud and encourage you for what you have done and are doing. It is obviously a labor of love and that and the product of it is not lost on us out here. When I once volunteered my almost infinitesimal skills to support what you were doing, it was only because of what I observed of your aims and motives. Thank you so much for what you have given us. Whatever way you decide to go, you have my support because I know it will be with the best of motivations. Best wishes to you. RH.
• I have found the free books extremely valuable. I have usually made donations to the FPMT centres where I have obtained the books. I have passed these books on to people who have been troubled by various things and the books have helped them. I think it's important to charge for some things but to also have Dharma books available for free distribution. I think this is very important to make the Dharma accessible to all and also to dispel the feeling some people might have that others are trying to make money from selling the Dharma. Some people become very suspicious if everything involves money.
• They are excellent in both content and style.
• It is very important, if not indispensable, that this wisdom reaches everyone; if we focus on selling, it will become just one more business to run. I believe that every one gives gladly any amount of money suggested if they can, in order to keep things going—this is giving for others that do not have the means to do it—and as I see it, it is the core of Buddhism. My opinion is that books should be free; if it is needed, the amount should be kept to the very minimum, with a suggested one for people who can afford it. E-books should be also made available in case one has the means to print them, because I have tried reading over the computer but this is very harmful to our health, and one cannot take notes or highlight text for further study. I think we should not forget people in peripheral places, often alone trying to improve themselves; this is the reason for Buddhism on the Internet. Those people cannot meet the Lamas face to face, so it is very important that they may hear and read their words and see them on DVD. All your work has been wonderful and is continuously helping many, but please do not forget your purpose as the organization grows. Thank you.
• I think the books are excellence bordering on brilliance and can't thank you enough. EM A HO
• Have found them just right to pass on to friends who show interest in Buddhism.
• There are a few things that I want to mention about free books here. There is no single answer for this so I will list the issues etc. here. Free books are definitely good! Once in a while, when I talk to someone interested in Buddhism, I want to give him a book to start with. Sometimes I buy a Dharma book and give it to him; sometimes I give a free book to him. I know that they have different effects. Firstly, the author will generate merit in any case, but the chance to create merit for others and how they appreciate it will be as below:
(a) If it is a free book, the people who donate and work free for the publication of that book will generate a lot of merit. Of course, this includes those people who spread the Dharma and give the book away. However, the level where the book is appreciated may be not as great as a priced book since it is free (contaminated human nature), but this also depends on how you explain the thing to the receiver to make him treasure it though (that is why we need to understand the Dharma better ourselves, otherwise we are not able to effectively help others).
(b) If it is not a free book, the person who buys the book and spreads the Dharma will generate merit, and the receiver may, however, appreciate it more since it is not free! He will think that you spent money to buy this book and give it to him.
(c) However, if the free book is to be received by someone who wanted to study Buddhism further after knowing the basics etc., that will be very great. In my case, taking myself as example, if I get a free Dharma book that I really want to read (in fact, I almost want to read everything on the Lama Yeshe website), then I will donate the money I saved on that book for others that are not fortunate. I also keep giving the Lama Yeshe Wisdom Archive website link to friends when there is a chance to talk about mind transformation etc. If there is no such good site as that containing all those teaching online, it will make the spreading of Dharma in these 20th centuries not as efficient! That is my comment. BN.
• I am very grateful for the books you send and also to the folks who do all the work and those who support those who do all the work to send these precious teachings out into the world. I wish that I could help more. I have offered to help in any way that I could but have been told that the only way I can help is to send money. [LYWA: We deeply appreciate the many offers of non-financial help we receive but editing and even transcribing are rather skilled activities and we have found over the decades that few can do them well.]
• I have with me at this very moment Teachings from Tibet and plan to read it during my free time today. We were given the book through our teacher, which was the first time I knew about the website, the teachings and the books. I think they're fabulous!
• I love the free books and donate some, so it probably comes out about even. You are doing an excellent job. Don't change much. Keep it up!
• Useful; free books are very beneficial.
• Hi. I believe that free books are very important. There are people who will not buy a single book about Buddhism but [through the free books] will discover teachings by Lama or Rinpoche and be completely changed. Let's not give up on these people. This must have been an original intention of the LYWA, and I believe this bodhisattva aim, or promise perhaps, should not be forgotten or given away lightly. That said, this aim should not stop LYWA from publishing books for sale. While I have no evidence of this, I believe that the free books that really help people are those that are short, concise and basic. Books that deal with more scholarly topics, or books that are voluminous compilations, will appeal to a different group of people. These books can form a "scholarly" series, which the LYWA should certainly sell. Instead of trying to split the pie, I would suggest making a bigger pie: LYWA holds true to its original intentions of offering free publications, and establishes or builds a separate focus, perhaps a separate identity, in commercial publication. This commercial operation would be a social enterprise that generates the money for LYWA's original work. If we are to give up a good thing to do some other good thing, are we really making any progress? So I'd say stick with the free books but come up with a somewhat different identity and enterprise for selling publications. My two cents. Wishing you and everyone at LYWA much, much blessings. V. [LYWA: As mentioned above, we are now publishing both free books and books for sale, but under the same LYWA imprint. We feel that this is the way to reach the widest possible audience while ensuring the financial viability of the Archive.]
• I felt very blessed and excited when I received them in the mail, and after reading them I gave them to others interested in the Dharma.
• We need to think about reaching out to those who are not exposed to Dharma yet. Offering free books is a good way to reach them. Doubt if paying will encourage them to buy those books. Based on past experience it's those free books that first attract a person to read more about or to be first in contact with "new" or things they are not exposed to before. So keep up the good work and thank you for helping to preserve those precious teachings of our gurus. Rejoice!
• For new people interested in Dharma not yet ready to buy a book it is a great outreach. For older students a free Dharma gift is greatly appreciated when most books are so costly.
• I and everyone I know who has read them think they are wonderful, fantastic and very worthwhile. Keep up the good work.
• As a member I value your free books and have the same attitude in reading/studying just like the books written from my direct Spiritual Guide. Having said that I would also be more than happy to pay for them so more free books could be distributed to those who may not have the financial resources to purchase them. In summary, I would be happy with whatever decision you make and will continue to support LYWA.
• Before I met the Dharma and in the very beginning of my practice access to free books and online teachings made all the difference. I think that if someone is sitting on the fence one free book may be all they need to decide to wake up or continue their sleepwalking. Much love. G.
• I believe that FREE books spread the word more than those that we buy. As to the latter, we tend to keep those for our personal libraries whereas FREE books are more easily given/lent to others to read, who then themselves pass them on. This is my experience.
• Excellent. I appreciate all the hard work.
• I think [free books offer] a good possibility, especially in countries not so rich, to get in contact with Dharma books and also a good possibility to sponsor Dharma when people die.
• We have translated some of them and we always give one of the books to the students or people coming to Lama Tzong Khapa Institute for the first time. We have the feeling that it is always appreciated as a kind gesture. At the end, some of them come back to know something more about Buddhism!!! If it is for free, and they are not interested, they have no problems to give it to somebody else. Thank you for your job.
• When I downloaded a few books last year I sent in a small donation without expecting anything.
Yesterday, when I got home, I found a little package waiting for me. Since I didn't expect any packages from anybody I was curious who would have mailed me something, so I opened the package. To my complete surprise there were two new (free) books for me. I cannot describe the happiness I felt. And gratitude too; a deeply felt one. This simple gesture from Lama Yeshe Archive prompted me to order another book and make a donation too (even if only a small one—that's all I could afford this time). I also wanted to tell Nick Ribush and everybody there: I love you all and thank you very, very much. MS, Toronto, Canada.
• They have made a huge impact on my life. Thank you very much!
• Chandrakirti Meditation Centre in New Zealand has been receiving LYWA free books for several years. These books have served us in many ways: as reading material for the courses we run, as an introduction to Buddhism for new people, as something Buddhist to read for first time visitors, and as study material for more familiar students. We have distributed these books freely in our community with the result that many people have read them and understand a little more about our centre and our teachers. We have them in our libraries, youth hostels and post out to remote folk within our community. We have found the free books an excellent adjunct to our centre giving us the opportunity to give a free present to folks while helping them to understand more about our philosophy. We have found people love to take a book and often come back for more—or the next one. We wholeheartedly endorse continuing the free distribution scheme and feel it does allow people who might otherwise never have the opportunity to access the teaching.
• Hi. The thing is, the audiences for free or for sale books are different. When we at Maitreya Inst. give away books, people are grateful and feel sometimes honored because they feel that they are being singled out for a special gift. They are impressed that we/you have the generosity to give the books away, and this is positive. Selling them would diminish both those feelings. If selling is to be a success, it would depend on good distribution, and would need to reach a different audience than the freely distributed books, so it's like comparing apples to pears. To be honest, I cannot remember whether I am a member or a benefactor, sorry. Love, Paula. [LYWA: Thank you, you're a member!]
• My experience is that people easily give free books as presents to others (those who have showed some interest in Buddhism). It is great that these books have been published in the past. I tried to keep one book of each and I used it regularly in order to guide others.
• It is these books that we tend to give to others who are interested in the Dharma but don't know where to start. Without reliable free/by donation books we would probably have to give web printouts and photocopies, which are more likely to be stored badly. Bravo to free Dharma—as it should be!
• [Free books] are a wonderful resource for centres to introduce people new to Dharma to Buddhism. Great as a teaching aid—we can base introductory sessions on any of the books, then recommend the book to those who are interested to follow up.
• I have not received the books yet.
• Wonderful! I visited Kurukulla center in Medford, Massachusetts, and they gave me several free books. One of my friends was interested in Buddhism and I gave him a copy of Becoming Your Own Therapist, by Lama Yeshe, and he loved it! It is amazing what you are doing; please continue!
• Generally people who want to have access to Dharma but do not have the money should not be kept away. But in a consumer culture, people do value things that they pay for, including Dharma. What if there was a way in which people could apply for a discount or free books, explaining their situation? That way the rest could be sold.
• I just love them! They look beautiful, attractive, and contain the teachings of our lamas. I read them over and over again. I get never tired of them; only want more.
• They are gifts of love. Thanks.
• I find the information in the free books I have received to be very useful in my daily life and practice. When rent, electricity, fuel, etc. take precedence over other expenditures, I am deeply grateful that there is still a source for practical Dharma teachings that won't be denied me. Bless you all.
• What Lama teaches, though related a long time since the recordings were made and released, like all Dharma and other teachings, they still apply today as when Lama Yeshe discovered the state of the world. The books make one think about our current track in life; and if the information is realized with other facts you may just have a chance to turn your life around. Keep up the good work. G.
• Our study group, Tse Pag Me, has really appreciated the free books. The members are often on a very limited budget and can have these books for just a dollar donation (that we send back to LYWA). They would otherwise not be able to read his great teachings.
• A number of them have been helpful to me personally. Perhaps more importantly, they've been great to give to people who are new to the Lamas, helping them to connect and learn about Dharma in an accessible way.
• I am fairly new and just starting to study Buddhism, so I am not sure how to obtain the free books. I do value the free books just as much as the ones that I pay for, though.
• I am reading one at the moment that is extremely helpful. I am on a very low income and it gives warmth to my heart when I think of the kindness of those who have given me this book. I have also bought books but the free books enable me to study more and I am very grateful. I can then pass these books on!
• I received a free book with the Discovering Buddhism at Home study materials and was very impressed that the book was for free. Also, I have searched the Archive on the website and read books. I greatly appreciate the possibility of being able to access these teachings for free but I can understand that the work is costly and that not everything can be for free. Most important to me is that the teachings of Lama Yeshe and Lama Zopa Rinpoche are preserved and archived. As I prefer to read and think about what I have read, I do not pay such a great emphasis on DVDs, but if they turn out cheaper to produce than a book than maybe they should be for free and the books could be sold at cost price.
• I never had the pleasure of reading one of your books
• Spreading the Dharma is beneficial to the giver and the receiver. It is a way to introduce people to our lamas and the FPMT since distribution of the free books is the doorway. Keep up the amazingly good work. These books touch many lives. Thank you so very much.
• I think it a wonderful cause. It also show the layman that this is truly about spreading the word of the Dharma and not making a profit. I would also like to add that although I have not donated money at this time, I will in the near future.
• They are great, but I would purchase them anyway.
• They are wonderful.
• I just joined this website and am thrilled that I have access to some of these books. I am going to start reading them. I am so grateful. Thank you.
• I love you guys…keep up the good work. AND how wonderful it would be if we had our very own westernized Lam-rim text that would be a basis for a cadre of Western teachers. We need to encourage Western students to teach. The free books are terrific but I do wonder how widely they are distributed. Are they given away on the Internet? Does Wisdom Publications offer them free?
• Becoming Your Own Therapist/Make Your Mind An Ocean was enjoyable and a learning experience. I will read it again.
• To allow more people access to Dharma books the better. As introduced to Dharma books, many would then buy other Dharma books.
• I think your free books are extremely valuable resources. As an FPMT teacher, I find that they provide a wonderful medium through which new students, who have never met Lama Yeshe or Lama Zopa Rinpoche, can connect with these two incredible teachers. Students who may not be attracted to the ritual aspects of Tibetan Buddhism or to the more philosophical teachings are often captivated especially by the teachings of Lama Yeshe in your free books. My only problem is with the centers that do not easily 'give up' their boxes full of free books and may not immediately order more when their supply runs out. Many more would be distributed if they were on prominent display and offered to all new students and visitors to the centers. Some centers do this readily; others are more reticent. Please don't ever stop making free books! Big love, Thubten Yeshe (FPMT teacher and general lay-about).
• I have just discovered the Lama Yeshe Wisdom Archive through FPMT and Discovering Buddhism at Home. I will be using Lama Yeshe Wisdom Archive more in the future and when finances permit, will be a benefactor. You website and materials are of tremendous benefit. Thank you.
• Free books are a good thing because they remove money as a barrier to Dharma. They may drain your resources excessively. A good balance is needed. I was recently in a hotel and I always check to see if there is a bible in the bedside table drawer. Imagine my surprise and joy to see not only a bible but a book of Buddha's sayings as well!! I think that is a good use of free information.
• I think [free books] are wonderful. Especially in class situations—where it can be cost prohibitive to buy books for every student or if the student is footing the cost—they ease the barrier to their decision to become a student.
• I think these books are great! Most of us are poor folk and it's great to see the Dharma is still free in some places as it should be. Keep up the great work!
• Free Dharma books are a Buddhist tradition. Care should be taken with regard to the material that is distributed free. I think free material should be clear, profound, free of jargon and something that people from Western culture could pick-up, read and find meaning related to their life as a practitioner or non-practitioner. For example, I have a copy of the little book on Vajrasattva practice. This is not something a person new to Dharma practice and study would appreciate. A person who does appreciate this little book and practice would therefore gladly pay cost price for it. I think that free books/booklets should be encouraged and continue at some level. The free books should have content that is widely accessible. Books for sale should go deeper and should be at a modest price from the Wisdom Archive in my opinion. Thank you. LH.
• I did not know about the on-line books until I received the LYWA survey request on the Discovering Buddhism at Home mailing list. This is a site I will visit often!
• I think it is wonderful. Free books are deeply appreciated, and the gratitude is such that people like me will naturally want to support these efforts and so will follow up by purchasing or donating.
• I use them and appreciate them.
• These books have deepened my understanding and practice, which I would not have had if my reading were limited to the books carried in bookstores.
• As a person who has pledged $2,000 to LYWA, I wanted to let you know what motivated me to do that. First and most importantly, I have been fortunate enough to give copies of free LYWA books to friends and people who visited our small center. The books are clear and well written. Secondly, the way that that the Lamas have been able to make the Dharma so well suited for us has made me very supportive of the LYWA and the FPMT despite the fact that my center is not part of the FPMT. Please continue to distribute free books.
• Free books often end up in the hands of people who otherwise would never have considered buying the book, thus reaching a far wider audience.
• I have had the opportunity to receive a copy of one of your free books as a gift from a member of Jewel Heart in Ann Arbor. I am on a very fixed income and have ordered many items from the Foundation Store and will become a member next month and continue my studies and practice. What you are doing has been very eye opening and a life changing experience for me. I live in eastern Kentucky now and there is virtually no place to obtain true Dharma; your website with the audio and the podcasts has become my daily source for knowledge. I downloaded the Good Search toolbar and will use it many, many times daily. I am available for any service that might be needed. I am an amputee of my right leg below the knee and have lots of time that could be used in service. I include prayers to His Holiness the Dalai Lama, Lama Zopa Rinpoche and all of you at the Foundation.
• The gift of rain upon dry earth. Thank you so much.
• All excellent, as is the whole LYWA facility.
• I discovered the Lama Yeshe Wisdom Archive before I knew anything about the Foundation. Because at the time of my discovery I was still helping my kids raise their children I was able to receive many wonderful teachings that I probably would not have been able to buy. The free teachings were a blessing for me and I'm very grateful to the FPMT for making them available. I'm in a different financial position now and am fortunate to be able to afford your At Home study courses. I apologize. I guess I didn't realize that the Lama Yeshe Archive was funded from a different source. I would be very honored to pay back the great kindness that was afforded to me when I needed it. Do the donations to the Lama Yeshe Archive need to be done through that particular website? Please let me know. I'm new to this whole Internet scene and still need lots of help from the grandkids to maneuver around, and I'm brand new to the FPMT and am still learning how it all works. Once again, thank you. And please let me know how I can help pass on this great Dharma blessing. EG. [LYWA: Thank you…yes, you can donate to LYWA through our own website or by mail, as you have done!]
• I use the LYWA books for my own Dharma development and they are my main source for connecting students to the FPMT lineage. It is of great benefit to be able to offer the books free and it is also of great benefit for people to practice generosity by offering what they can when they receive a book. I usually point out that if they can offer more than cost price then they create the means for people with little money to have a copy as well. I have never seen a LYWA book simply thrown away. I like the format and I greatly appreciate the editing, which transforms the transcripts into readable form. I think the quality of the editing is a major factor in people appreciating them as much as they would appreciate a book they had paid for. We have Wisdom Publications to produce Dharma books for sale. By the way, it would be interesting for you to ask people to rank order question 6. Chonyi Taylor (teacher, Vajrayana Institute, Sydney).
• Your free publications are great. They helped me when I was discovering Buddhism but had few resources and little money.
• It isn't so much a matter of how many people get them or whether they respect them more or less, but the karma you are creating by freely putting out your Lamas' teachings to the world is amazing, something very few Westerners appreciate. Your guru devotion is an example that constantly inspires and reassures me that there are some good disciples in this world.
• Maybe selling the books at cost or a nominal fee—that way people don't take the books for granted, yet they're accessible for people. For example charging, say, $4–5 for Making Life Meaningful. I appreciate the books because on some of the DVDs I've purchased through FPMT the sound quality is really poor. Example, I purchased, The Power of Mantras and Holy Objects and it's very difficult to hear Rinpoche. So a physical book would be great to have.
• Publishing free Dharma books allows all of us who participate in contributions to the Archive to accomplish the generosity of giving Dharma. Without this opportunity, those of us who have not yet manifested true bodhicitta/realization of emptiness cannot easily do so and this generosity is the MOST important generosity to manifest. Additionally, there is nothing to prevent those who wish to donate to the Archive from benefiting themselves by offering material generosity. There are many people who are NOT Buddhist who I personally am able to benefit by giving away these beautifully published materials; otherwise these people would not read them. Web-based free teachings are NOT the same; they cannot be easily kept and reviewed over and over again. I am unsure as to why somebody would think that because a spiritual teaching is free it is not respectable. There are multiple faiths in multiple nations that publish free materials, so others understand that Dharma is NOT for sale. The FPMT texts (not Archive ones) that earn money to sponsor good works, feed monks and nuns, etc. also show this deeper meaning, as the organization is non-profit and the website explains where these monies go. It is important that BOTH kinds of Dharma books be published. The Archive publishes primarily entry-level Dharma texts that can also be reviewed by longtime practitioners who are hoping to teach others. Those who are already deeply interested in Dharma are willing to purchase items from FPMT and actually are aware of what kinds of materials to purchase. Beginners who are just tasting Buddhism in their search for meaning may order free Dharma just on minimal interest in how the title or author sound to them. This is another reason why we need to continue to distribute materials for free.
• LYWA has made the Dharma accessible to many who would otherwise have not been able to afford a book. It is truly amazing.
• In general, very good. However, you may want to branch out and include some new themes/subjects.
• They are my lifeline to the Dharma and, specifically, to our precious Gurus. FCG, Montana.
• Keep going!
• Free books are important (for the time being)! They provide a way to teach and spread Dharma to people who might otherwise not be interested. It proves to be advertising (for lack of a better word) "from the side," not the direct, overbearing stuff that young people aren't interested in. That said, I believe that in ten to twenty years all people will get their reading/educational material from the net.
• The free books are good because they help more people access them. Publishing a lot of free books depends on how many donations are made. One way to make those books accessible is to publish them on the webpage of the FPMT, where people can download, read and eventually print the books by themselves on their home printers. Thank you.