We are delighted to share with you some of the wonderful feedback from readers who have received their copy of Big Love. Please enjoy our readers' comments below:
The photos are BEAUTIFUL! Turning a page, and seeing Lama, melts the heart! And their placement! At end of first volume, you can hear him say, "Now let's have tea, dear." Big fun; big joy! You did a big good! Thanks!
 – Jan Willis
Thank you and congratulations! We received a copy of Big Love and are in love, swimming in an ocean of love, with the reading and learning about Lama Yeshe. The writing, layout and graphics are all exquisite—every aspect. Your care and attention to detail and accuracy are evident with every page. We are deeply grateful to you for your protective force-field and nurturing around this project of love. It will be a blessing of light and warmth to this world that is so desperately in need of love and wisdom. Love and blessings,
 – Gary Freeman
Lekso, Lekso, well done. Big Love just arrived and it's fantastic. So many color pics! It really tells the story of the early days and how Lama worked so hard to tame our minds, feisty disciples that we were, and to maintain the Buddhadharma in exile. Thank you so much for your hard work on these two volumes. They're a treasure.
 – Ven. Thubten Chodron, Sravasti Abbey
The Lama Yeshe Wisdom Archive in Boston has outdone themselves with their newest publication, Big Love: The Life and teachings of Lama Yeshe. This amazing work, written by Adele Hulse under the editorial eagle eye of my old friend Dr. Nicholas Ribush, comes in a boxed set of two cloth covered volumes that are beautifully printed on art paper, with hundreds of photographs documenting the landmark events that were pivotal in the unfolding of the mandala of the FPMT Dharma centers around the world. Big Love tells the story of the life, work and teachings of that great teacher. Adele Hulse put many years into research and writing, and Dr. Nick similarly spent many years collecting photographs of Lama in the various phases of his miraculous "turning of the wheel of Dharma." Lama Yeshe was instrumental in bringing the Dalai Lama School of Tibetan Buddhism to the West, and in many ways also was instrumental in the international popularity that the Dalai Lama himself later achieved. One might even say that Lama Yeshe has done for Tibetan Buddhism in the West what Padmasambhava did for Indian Buddhism in Tibet. The publication is an indispensable addition to any substantial library of Tibetan Buddhism. And for many Western Buddhists who were participants in the work of transmission of Dharma to the West during the twenty years or so that Lama Yeshe taught around the world, Big Love is a veritable mine of precious treasures. On a personal note, I am honored to be able to count myself as one of the thousands of Westerners who were deeply inspired by Lama. I had the great pleasure of meeting with him on numerous occasions and attending his teachings. Looking over the photos in the book, I personally spotted over a hundred of my old vajra brothers and sisters. Indeed, Lama was a gift to the world who just keeps on giving, a wish-fulling tree that continues to fulfill the wishes of thousands of enlightenment trainees around the world.
 – Glenn  Mullin
I have got my copy of Big Love. It is fantastic, it is beyond words. Thank you to all for such hard work and dedication.
 – Martine Darrou
My copy of Big Love arrived today. I have to tell you directly it is wonderful. The stories bring back sweet memories of Kopan and Lama Zopa for me. Lamrim in the shed, with burlap bags on the ground. I started in 1987 there so missed the great man in that form. He was on his tricycle at Kopan then. It also reminds me of the old Tushita and the pack of barky little dogs of Lama's. Good times. With scorpions and giant spiders. The printing, binding, sewing and paper are also a pleasure. The type just large enough for my old eyes. Many thanks to you and the whole team.
Later: I would add, now that I am eagerly reading it: I am some ways through the first book and it is awe-inspiring. It gives me even more faith in the power of this lineage and the Buddha's path. I am amazed by the detail of both Lama Yeshe's life and practice, but also many of our beloved lamas through terrible hardship. It is the perfect perspective for me to hold in these times. A true teaching love story on the kindness of others.
 – David Garbacz
Thank you so much for the extraordinary Big Love volumes. Lama Yeshe's stupa is a daily reminder of his teachings. Big Love is a dream come true! I have started the journey. A fantastic undertaking. THANK YOU! I can't express how fabulous this life of Lama Yeshe is! It is written so people can understand it. FABULOUS EDITING! I am so enjoying the first volume. Love the way it is edited. You have done GOOD. OUTSTANDING! Nick, it is a masterpiece. The pictures alone are so remarkable and are worth a million words.
Later: Big Love is like a bible, but better than a bible. The clean, clear writing makes it easy to comprehend yet captures all the wonderful elements of Buddhism. The photographs bring everything into perspective. You have created a once in a lifetime journey with so much meaning. Thank you for all you have accomplished in Big Love.
 – Hawk Furman
I just wanted to let you know that I received Big Love today. It's beautiful. Thank you!
 – Steve Duba
Enraptured as I read through various parts of Big Love this morning, I am remembering more moments experienced with Lama. How deep this takes me back in to my love for the so precious connection and the wonderful ways Lama interacted with all he met.... We are so grateful, eternally grateful for our connection. Thank you dear Dr. Nick, Peter and Adele for pursuing this to completion over so many years.
 – Sharon Gross [Read Enraptured, Sharon's reflections on Lama Yeshe.]  
I just received my copy of Big Love! And, of course, I immediately sat down to start reading it. I may not do anything else for the next few days! However, before I get lost in that joyous task, I want to thank all of you most sincerely for your generosity of time and energy and money and your dedication to this project for three+ decades to bring to life the memories and teaching of a most remarkable human being. He had a profound impact on my life, as he did with many, many others, those who had the good fortune to meet him in person and those who have met him through his teachings and the memories of the students who knew him, and the unfailing dedication and effort of Rinpoche in perpetuating the Dharma. I hope all of you are healthy, safe and sane in these very challenging times. With big love from me,
 – Cecily A. Drucker
Hi Dr. Nick, I have to call you like that after having received Big Love! Because this is how you were called at that time in Kopan 1975 and 1976! It is a beautiful book, the whole boxed set, the two hard-covered books, the pictures and the few passages I read so far. I just wanted to say thank you. Even for someone like me that had the privilege of being just a little around Lama for around one year, it brings back so many good memories! I can just imagine what it brings to you and the old and close Sangha. The impact of being in Kopan with the Lamas was strong and directed my life. All the best.
 – Ronaldo
I received my set yesterday and could not put it down for hours! Congratulations to all who contributed to this "tour de force"!
 – Kalleen Mortensen
Big Love arrived! A quick dip into some pages proved to be so informative and interesting. Thank you so much for your incredible perseverance to ensure the manifestation of this valuable document.
Later: I am just a quarter way through Big Love, Vol. 1. It has been immensely interesting and informative to read about the early students and their incredible experiences with Lama Yeshe and Lama Zopa Rinpoche. My immense gratitude to each one of them for their hardships and part in making FPMT happen. I have never met Lama Yeshe, but Big Love makes me feel I had. I laugh at his original methods to teach Dharma and stand in awe of his wisdom and care for all who met him.
 – Oi Loon
I can totally understand how Big Love took so many years more than you had originally anticipated! Just imagining having to complete the single task of compiling the sea of photos and then selecting where—in the sea of pages—each one should go boggles the mind. It's so wonderful how many photos fill the book. And feeling the very fine quality of the paper between my fingers as I turn each page makes the experience of turning and finding what comes next even more delightful. There must be another, bigger, more encompassing word than congratulations to applaud the success of your endeavors! Big Love is a testament, too, to the very BIG love you had for Lama Yeshe. I am so happy for you. May any postpartum issues (!) be assuaged by knowing that the result of your enormous efforts and love will keep Lama's spirit and words alive in the minds of so many people for generations to come. Thank you! Much love,
 – Therese Miller
Thank you all so much for the creation and distribution of this beautiful book.
Later: I am enjoying reading the book, and at times I have a hard time putting it down when I need to do other things. Even though I have yet to meet any of the people in the book, I feel connected to many of the people in the book. I live far away from a center, but I am hopeful that one day I will be able to have more direct and in-person contact with people associated with the book. I have not completed the book, but I am confident it is a book I will read over and over again. It is well written with many headings for easy referring back. Having notes on the same page is very helpful. The content is wonderful and helpful and valuable.
 – Tenzin Saldron (Sharon Sickles)
Just to let you know the Big Love encyclopedias arrived yesterday. I'd better start reading them soon or I may not finish them this life. Even though I'd seen the photos of them with Rinpoche, somehow the scale didn't become apparent until I picked them up from courier drop-off. Incredible job by everyone at LYWA to get the project completed. Please specifically send my thanks to Adele and Nick.
 – Brian Hart
The Big Love books arrived at the post office yesterday and today went to pick them up, and firstly thank you to all those who did all the hard work of getting these books published. It was a mammoth task and you have all done it justice. It is a beautiful production and will be treasured and passed on to the next generation of our family. Thank you, can't wait to read it, have only flicked through so far but it brought a smile to my face! Tashi Delek shu!
 – Terri Carfoot
Thanks immensely for the work that you, Adele and your team have put into this feast of treasures and details about Lama's life. I feel I can wander in memories and inspiration for years to come.
 – Dr. Peter (Karuna) Fenner
Just to let you know that Big Love arrived a few days ago. Nick and everyone must be very happy and proud of the result—it is fantastic.
 – Ven. Thubten Dondrub
Dear, dear Adele, I'm wordless, but full of gratitude and admiration. You have done your turn beautifully, girlfriend, big love to you and the gang.
 – Jennifer Abbott
It is very strange, but after I have read some of each day, I get to understand something in a deeper way. It even woke me up one night.
 – Sandra Kinread
Thank you so much for the wonderful gift that was delivered this afternoon. What an amazing offering! I'm so looking forward to immersing myself in Lama's energy and wisdom—particularly at this time. MUCH love
Later: Dear Adele, Congratulations on your Magnum Opus. The timing is perfect, while we are slowly going mad in lockdown! I am loving it. (Arrived on doorstep last Saturday), and have immersed myself in reliving those days [while off work ]. You write very well, and you certainly brought Lama back. Well done, and thank you once again.
And: Am really enjoying living in the 70's again, and reliving Lama's energy, and remembering all the old gang.
 – Diana van Die
Thank you, Adele Hulse. Everything about this book is Big Love—Lama Yeshe, your devotion to years of meticulously accurate research, the collection of photographs and your very readable style of writing. Best of all it is wonderful to meet Lama Yeshe and walk with you through his extraordinary life.
 – Marie Cook, Tara Institute
Wonderful, wonderful books! So grateful to Adele for her dedication in writing a recount of Lama Yeshe's incredible life that now can benefit so many others. Many, who perhaps like myself never had the chance to meet him. You took me there Adele. Thank you.
 – Kimberly Salaj, Tara Institute
Reading it I feel like I am there. The hardships willingly endured by the lamas to keep a spiritual tradition alive as well as themselves, has affected me deeply. I have such gratitude to these teachers and the original students who, against all the odds, started up Dharma centers all over the world. I really feel like I am there when I'm reading it, it's so alive. Just amazing. I wish it was even longer. Thank you, Adele.
 – Sandra Kinread, Tara Institute
This delightful book is very aptly named. Not only is it absolutely HUGE, you can literally feel the love emanating from each page. I never met Lama Yeshe and have always had a somewhat wistful feeling of having missed out on the hippie scene and those early days with the lamas. The experience of reading this book makes you feel like you are actually there. Meticulously researched and with teachings of Lama Yeshe interspersed throughout this is very much a Dharma book while at the same time a compelling and entertaining read.
 – Ingrid Uhlherr, Tara Institute
Amazing Adele, the book is just out of this world. I can't believe it, what a mammoth achievement. I haven't even started reading it yet, I just keep opening the book in wonder at random pages. I feel like I need to go on retreat and immerse myself in Big Love. You must have been living it for years. I hope it's not too much of an anticlimax now. But congratulations again and I hope you're acknowledged properly by everyone who sees or reads it.
Later: We are delighted with the book! It's so well constructed and beautifully written, with amazing photographs on each couple of pages. I'm about 400 pages in and feel absolutely immersed in Lama's love. I was so fortunate to know him and he made such an impression on so many lives. It's better than I could have ever imagined.
And: I'm almost at the end of volume one of Big Love and I'm in raptures. It's so well constructed and written, reading it is an absolute joy and the pages (and hours) skip by. I was reading until 2am a couple of nights ago. And I never expected photos on every page! It's better than I could ever have imagined. And reading the back stories of old friends and people we knew at Kopan in the early days, just mesmerizing. I keep thinking of Lama and now I'm dreaming of him, and the memories keep coming, of the many weeks living at Mummy Max's house and printing the Wish-fulfilling book, putting in a few hours at the Gestetner every day. And of time spent at Bea's house with Lama, him cooking for us and all the little anecdotes. I wish I'd been a bit bolder (and older) and brave to carry through some of his suggestions. But I think Lama knew I had to wait my time and look after the children. And then I became director of Tara Institute when the time was right. Oh, I can't imagine my life if we hadn't met and been at Kopan. With much love, and gratitude.
 – Alison Ribush
Goodness! Wow and wonder! Sitting on the kitchen table. Is this what I think it is? Thank you. ( I am also concerned that I haven't paid nearly enough.)
Later: I am taking Vol. 1 to bed with me. I am one of the people whose life has been changed by Buddhism coming to the West. I changed. Receiving these volumes reawakened that knowledge today. With gratitude,
 – Helen Ponder
It is beautiful! So clearly a work of love, with such quality. I intend to devour it slowly!
 – Jeremy Tatman
Big Love is a most extraordinary tribute to the Dharma and to the beautiful and successful efforts of Lama Yeshe to expand the reach of the Dharma. Thank you for sending me the book. I shall cherish it. With love,
 – Freddy (Frederick English)
In March 1980, Lama Yeshe had given me the spiritual name Yeshe Özer (Radiant Light of Exalted Wisdom). I was very happy with that name .... [Read Hermes' reflections on Lama Yeshe here.]
–  Hermes Brandt
Congratulations to Adele-la. I am sure this contribution of your hard work will be written in golden letters in Buddhist history of the world. Thank you and tashi delek.
 – T.
Thank you so much for your generosity, for all the work of so many people, for the photos. I am deepy impressed and touched! This is a BIG step for our lineage!
 – S. 
For many years I was wondering what was taking Big Love so long and now I know. The design and art direction are breathtaking. Words lead us through pictures, across maps, around footnotes. It lives and breathes. Not a text but a journey: an actual, walkable path. What an amazing experience you have given us! Great gratitude and big love to you all.
- F.
I'm finding Big Love amazing and compelling, although sadly had to ban it from a recent mini-retreat because it meant I never got to sessions on time, or to bed at a sensible hour. It's an incredible act of homage to Lama, as well as a record for posterity. 
- A.
Thank you so, so much, totally amazing, mind-blowing efforts and results. Please rejoice more than extensively in this life work.
 – A.
My favourite bedtime reading! Every single night I absorb only a few pages and frankly, that's because I don't want it to end! It's the journey I never went on and I'm so grateful I get to experience it secondhand in this lifetime. It is filling my mind, my heart and my soul with inspiration and gratitude. Much love and big thanks to you all.
 – N.
What an extraordinary book, it is fascinating and enthralling, the photos are just captivating, and the extracts of the teaching the lamas gave so succinct and insightful. I have learnt so much, and I am only on page 308 of Volume 1. It is also very revealing with the experiences of interactions with Lama Yeshe and Lama Zopa, and the occasional comment from the lamas. Zopa Rinpoche, as he was then, responding to Massimo on page 213 saying "I have realized these teachings," and the comment Rinpoche has never been heard to repeat anything like it ever again. And Jon Landaw's observations on page 285 about Lama Yeshe and His Holiness that "it was as if their true essence, their essential being, was formless and their physical body was just an afterthought, something they manifested for our sake. They often appeared to be more fluid than solid." These insights are just gems of Dharma to continue teaching the reader and training our mind all these decades on.
 – C., Langri Tangpa Centre
I've been wanting to reach out and express my deepest gratitude to you [Nick] and the LYWA team and Adele for this precious masterpiece of Big Love. I got it a couple of weeks ago. I don't think I've ever wanted to thank people this much for a text before, this is really an extraordinary offering you all put together so beautifully. Thank you, I'm so very grateful.
 – J.
It's quite amazing! I've been way too busy to spend much time with it but it is quite the labor of love and I for one am so appreciative of all the time, effort, and expense taken to make such a loving tribute to Lama Yeshe. I will look forward to immersing myself in it when the time allows.
 – D.
It is a truly incredible achievement.
 – G.
My books arrived this morning and when I opened the parcel, I was moved to tears by the absolute beauty of what you've produced. Books are such treasures and the two volumes of Big Love are just so lovely it makes my heart sing. And that's the outside! I know I'm going to learn a lot from these. Thank you so much for all your hard work to make this happen. I am truly grateful. With gratitude,
 – V.
Such a good job, thanks a lot. How lucky we were and we still are, having met Lama. And for those who didn't, Adele's and your work will do the job. 
 – E.
... your beautiful gift to the world! Thank you so much.
 – S.
Absolutely loving your book, Adele. Haven't "devoured" a book since first entering the Dharma. I have cried and laughed. I feel like I am with Lama Yeshe, and surrounded by the buddhas. Thank you sooooo much.
 – S.
Beautifully written and skillfully constructed, so the reader never feels buried in detail. And it conveys such a lovely up-close feel of Lama without ever being cloying. A wonderful achievement.
 – A.
The book is phenomenal! But stirring up many memories, feelings and emotions and learning a lot I didn't know before. Huge congrats!
 – C.
Imagine my delight to receive a copy of Big Love today. My thanks to you all and to Adele. So much work and love has gone into this, it is just wonderful. I have been unwell in recent years and hoped that I would live long enough to see the completion of the Great Stupa and this publication. So I am overjoyed that I have lived long enough to see both. Winter is on its way here and with the COVID-19 restrictions, what better way to spend time than in a chair in front of the heater reading Big Love. As one who never met Lama but benefited enormously from his work I look forward to diving into these books. Once again my grateful thanks to all of you.
Later: I have nearly finished Vol. 1 and am even more impressed and in awe of the quality of the work.
 – H.
Thanks so much I feel like the holy grail has arrived. It's beautifully done, packaged, and I believe they will be with me always. Thank you so much.
 – N.
The book is amazing—very wonderfully bound and presented—it's an heirloom. Thank you so much for the years of dedicated work and patience. The stories are great to dip into.
 – P.
I'm thrilled to report that we received our copies of Big Love. What a wonderful, sumptuous production. Huge congratulations and gratitude to all who are/were involved in the process! Needless to say, it has been very well received.  – R., Atisha Centre
A fine job. Truly epic. Worth the wait. I hope I live long enough to read it from covers to covers.
 – T.
I got a copy of Big Love yesterday and have been eagerly reading since then. What a BIG LOVE effort it is. Quite remarkable! Just the quality of the two volumes themselves (the paper, the layout, the amazing photos). But also the writing (Adele's tireless work over some years) and all the photos and all the background research and all the extra resources. WOW! What else can one say. I can really feel the great love you all have for Lama Yeshe and Lama Zopa too, and all the other teachers connected to their offerings in the world. I'm only just entering the full story (and already fully immersed), but for sure it will need a good review for Amazon and other places. I'll get on to that in a while when I've fully digested this new iteration of Lama Yeshe's boundless love and energy. Congratulations—a tour de force!
 – T.
How lovely to receive the beautiful double volume of Big Love yesterday! I had to hug like it was Lama, first off and was inspired to read the moving forward by His Holiness and wonderful description of Lama Zopa Rinpoche investigating Lama Yeshe and Gen Jampa Wangdu. Adele, it is a joy to see your incredible effort and skill in gathering and compiling and persevering, finally in tangible form. Congratulations! Your talks on the book and printed extracts were great. What a stoic effort! To finally have the hard copy brings me a great feeling of hope, love and also sincere appreciation you, Adele, and the team. Lama was right to choose you Adele, to write for him—who else would have stuck with it through thick and thin as you have done. Well done Adele, Nick and Peter for your vision, perseverance and commitment to seeing the job through. I feel Lama Yeshe is with us and very, very happy.... May Big Love help the Dharma to flourish all over the world for a very long time and totally fulfill Lama Yeshe's wishes in no time at all. I rejoice and thank you!
 – T.
Wow! Nick, you are giving birth in your garage—this is miraculous—and I really mean it! I held and had a chance to behold the volumes you brought over, and I knew instantly that they encapsulate a career of work for you—and so much more. Many congratulations on the release of this wonderful work into the broader world. You must be so very happy and proud. As I opened the first volume—felt the pages, the binding, the end papers, noticed the typography, the weight, and smelled the fresh ink—I felt so happy for you and your team. Clearly you've invested yourselves deeply in this work. I started thumbing through the pages at first, and after some scanning, I felt that scanning wasn't what this work was about. I look forward to sitting with these volumes and giving them my full attention. Thank you for this remarkable gift. My heart is full for you and your collaborators. Congratulations on this significant accomplishment, and may it go out into the world and bear fruit. With utmost appreciation, gratitude, and a full heart.
 – C.
Just opened the package. It was beautifully wrapped. I will open it carefully in the morning. This is a gift of joy in this madness. Feels like I am welcoming Lama into my home. Thank you! And Big Love.
Later: Stage Two and removed the wrap. Waited few hours. And removed the precious text oh so carefully. Removed them from the casing. My wife admired the texture of the text. And so I began perusing. And the first page the text opened to was your ordination certificate. I really feel you sent Lama Yeshe to me. Thanks.
 – A.
I've been waiting for the right moment to open this unbelievable treasure. The time is now. Tremendous thanks to Adele, Lama Yeshe Wisdom Archive, Peter, Nicole, Nick, and ALL those involved with this. I almost can't believe it's in my hands.
 – C.
This morning, we released Big Love from quarantine. It is magnificent! I went through the first volume, reading some, scanning some, looking at every photo and caption. Fascinated by the book and look forward to hearing more about this story. Congratulations and admiration to all who created this tome.
 – B.
The Big Love book set you sent arrived the other day. Thank you so much. It is really well put together and really interesting, the writing and the photos. Thank you again.
 – B.
We received our copy of the spectacularly beautiful Big Love. Wonderful, wonderful, wonderful job! Everything about the box set is absolutely beautiful! And, I have only just picked it up. I can't wait to start reading it. I'm sure it is a huge relief and brings much satisfaction to see this out in the world. Congratulations! Let me join the chorus of thanks, that I imagine is singing around the world, for your and the rest of the teams inspiring work! Warmly,
 – D.
The new book is gorgeous, amazing—production values and design, all top-notch. And so many great photos so well-reproduced.... Such a treasure and such a valuable record of the life and times of a modern true bodhisattva. We are indebted to you and Adele and to everyone, so many people, whose efforts made it happen. What an accomplishment. You must be so pleased.
 – D.
Although I've only just begun the reading, it feels like I'm going on a magical journey. Truly appreciate your years of dedication to making Big Love happen. With big love,
 – D.
I got mine last week and even though I was quite busy, when it arrived I couldn't resist stopping to open the package and then look through the two volumes. It is absolutely amazing!
 – E.
Amazing and beautiful, and thank you.
 – J.
We just received Big Love and we send Big Love to you and everyone who worked on this incredible life and teaching of Lama Yeshe. The photos and story of Lama are very interesting for all to read, but for those fortunate ones, who had the special karma to have met Lama, all I can say is wow! With folded hands, much gratitude!
Also: The photos in these two books are beyond words. Soooo appreciative.
 – J.
The dedication to Lama's biography is so moving: "... If you never met Lama, then come with us—walk up the hill to Kopan and meet Lama Yeshe, as thousands did, without knowing anything of Buddhism or Tibet. That came later." Thank you, thank you.
 – K.
Wowza! Big Love and lots of it, indeed! So much gratitude and appreciation for your great continuous noble efforts in bringing this remarkable and inspiring Lama classy life story to completion, and so buddhifully!! ... Emaho. Marvelous, heart-touching.
 – S.
Wow, wow, wow, wow, wow. Thank you so much. Impeccable body of work. I rejoice. The Big Love books are beautifully done; the paper stock, colored photos, binding, looking over the pages, wow.
 – M.
I received the two-volume set of Big Love: The Life and Teachings of Lama Yeshe. I am looking forward to meeting Lama Yeshe through the pages of these books. The production of the books, from the packaging, to the page layouts with many invaluable photos, right down to the "weight" of the set. It is substantial and top-notch. Congratulations to you [Nick], Peter and Adele. I am honored to be doing my part to contribute to Lama's legacy.
 – N.
Yesterday I received a package containing the two-volume Big Love: The Life and Teachings of Lama Yeshe. What a pleasant surprise! ... I highly appreciate the meritorious work of Lama Yeshe Wisdom Archive.There is no doubt that the sublime teachings embedded in these volumes will definitely help alleviate the sufferings of innumerable sentient beings, in general, and will become an elixir for those particularly affected by the psychological trauma and physical discomfort in this challenging and uncertain time of COVID-19. Thank you so much once again and stay safe.
 – P.
Big Love arrived in my apartment. Amazing. I sat down, to look at a few photos in Volume 1. When I stood up, it was two o'clock in the morning. My tea was still on the kitchen counter with some food that I started to eat. So far, the book is very professional and well-done. Thank you to everyone.
 – T.
Thank you for all the hard work and visionary effort to make this happen. The flip thru is spectacular.
 – T.
Adele and others have made this such interesting, happy and holy. PERFECT, like Lama Yeshe himself. I can't put down!
 – Anon.
Fabulous. I've never read a book like it, but I'm still on the first book. My gratitude to Adele and everyone else who made this as happy and holy as Lama himself, knows no bounds. The photos and maps alone, are incredible. I'm not one to rave over much, but wow!
 – Anon.
Such beautiful books! I'm sure the contents of the books will be such a blessing to my dim and dull mind. Am really grateful to have them although I am not sure what karma I have created to receive such a treasure.
 – A.
I have received the twin pack of Big Love this morning. Wow! Huge books. Thank you so much and the wonderful people working behind. Skies of merits for the team.
 – S.
What an accomplishment—such an incredible amount of work in editing and putting that together. Wonderful to see all the photos of the people I knew so well in those days gone by—and looking the way that I remember them as looking.
 – A.
Thank you so much for everything. Oh, and please express my gratitude to everyone that has made the project possible.
 – P.
Much gratitude forwarded to every Dharma-doer making bigger the greatest teachings of wisdom and method transforming our unlimited mind's potential. I see Big Love now everywhere when I read. The courses started again immediately upon opening Big Love; I smile a lot reading and my Guru, Lama Yeshe, feels stronger inside my perfect human form. Qualities of my inner wisdom wake up clean-clear understanding, the kindness of my teacher giving the gift of freedom from attachment. The limitless power of love from Lama Yeshe steps on. Very grateful.
 – D.
---
Enraptured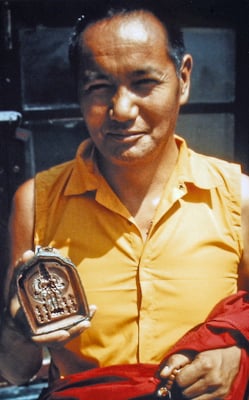 by Sharon Gross
Enraptured as I read through various parts of Big Love this morning, I am remembering more moments experienced with Lama. How deep this takes me back in to my love for the so precious connection and the wonderful ways Lama interacted with all he met.
When Louie and I first went to Nepal, it was because Louie wanted to climb mountains. I was the tag-along wife. As we traveled overland by train and bus through Turkey, Iran, Afghanistan, Pakistan, we would stop in various places and it was not unusual to meet travelers you had seen in other spots along the way. One such presence, Owen as I recall, was tall and had curly red hair, reminiscent a bit of Carrot Top in his exuberance. When we arrived in Nepal, we encountered him at Aunt Janes extolling the poster he had seen for a course with two Tibetan lamas two Tibetan lamas: "Oh man, it will be so cool, a full moon, groovy lamas and it only cost $30 for a month." His excitement passed on to us and our inquiries and eventual attendance at that, the fifth course.
Following the course, we had asked to meet with Lama, but somehow had been missed. Also, there was some meeting of a group, which we had not heard about. Through Anila Ann, we were able to come back up the hill and meet with Lama. When we entered his room it was very dark, we shared with him our story and he encouraged us to do Vajrasattva retreat, as one would be taking place soon, but with quite a stern attitude throughout the meeting. He told us to go to Anila Ann and discuss with her, then come back. We shared with her that we were out of money, had been gone a long time and while we wanted to do it, did not think that we could make it happen then. She was a compassionate listener, then said, "Well, just go back and tell him that."
Returning to his room, it was light-filled, he was joyous and laughing as we entered and we just told him our conversation and had some tea. He seemed to know that we would not have been able to keep that commitment then, even as he told us to do it. Then he said, "You going to Bodhgaya, take teachings from His Holiness?" Louie said, "No, Lama, we are going trekking." Lama again with the stern look said, "You going Bodhgaya, take initiation, circumambulate stupa three times, take you all the way to enlightenment." Louie and I looked at each other and realized we had just been given an instruction, not asked a question, and we said, "Oh, yes Lama." Then he said, "You can do Vajrasattva retreat later." This was 1973.
While in the intervening years I had had many teachings, initiations, done several long retreats, etc., I had not completed the Vajrasattva retreat, and I needed to do that. Returning to Vajrapani around December 1983, I was able to secure the Zome kitchen [a small structure repurposed as a meditation space] to do the three months' [retreat] and set to begin in January.
With the help of several people I was able to set up and gather all that I needed and began on an auspicious day. I was grateful to be able to undertake this promise to do it at last. After some weeks in retreat, Shasta would come and in the afternoon break we would go for walks together, at which time I shared with her some of my experiences and she shared with me the situation with Lama. I was torn between staying in retreat and going to see and help with Lama but felt that I really needed to complete this retreat, so opted for that. I would see Chuck also when he came back from helping at Lama's house, and he was fairly clear that it would not be long before Lama passed. I was not supposed to be out of my retreat until April, and continued in that situation, having dreams and visions of Lama, which I shared with Shasta on our walks.
When in the wee hours of March 3rd a knock on my door came from John McKay, and he told me that Lama had passed, I was so sad, in tears and continued on to finish that session. What was most astounding were the winds at that moment. They were the most unusual configuration of sound and movement, causing all the trees to join in the howling, as if a lamentation, bending vigorously. But it was not sad, just a presence. You could feel Lama's energy. I don't really know how to capture that, but all of us had the same experience, which we shared when meeting in the gompa to practice together.
This morning as I was enchanted and taken back in time with Lama through the reading of Big Love, as I finished my reading session a similar wind came up around my house, just for a few moments, allowing me to thank Lama once again for his great kindness to me and to us all, his fledgling Dharma students. We are so grateful, eternally grateful for our connection. Thank you, dear Dr. Nick, Peter and Adele for pursuing this to completion over so many years. [Return to tributes]
---
Reflections 
by Hermes Brandt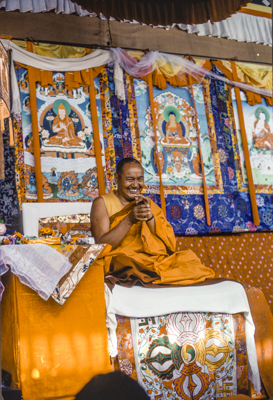 In March 1980, Lama Yeshe had given me the spiritual name Yeshe Özer (Radiant Light of Exalted Wisdom). I was very happy with that name. When I was ordained in Kopan, eleven months later, Lama Thubten Zopa Rinpoche was the abbot. It is the tradition that an abbot gives two names to a new monk, the first one always being the same as his own first ordination name. So I would normally be a Thubten Something.
Lama Yeshe was present during my ordination, as were Lama Lhundrub and a number of geshes (learned monks, not geishas). When the moment came that Rinpoche was about to give me the ordination name, I quickly asked if it could not be Yeshe Özer. And Lama, although knowing it was not possible, said to Rinpoche: "Maybe he can keep that name, Yeshe Özer." But Rinpoche, like a judge banging his gavel when pronouncing a verdict, immediately said in a very firm tone, "Thubten Lodroe." But that was so sweet of Lama.
I kept a diary between 1978 and 1981 written on loose pages, which I sent regularly to my mum. I just had a look at those pages to check some dates and read something I had completely forgotten. Early 1980 there was a kind of theater evening at Kopan Monastery. I was sitting behind Lama, who suddenly turned around, saying: "You make translation!" I had no idea what Lama was talking about but wrote it down in my diary. A few months later I spent two and half months with Geshe Wangchen in Happy Valley. This extremely kind teacher taught me Tibetan every day except Sunday. Later I studied Tibetan (and Buddhist philosophy) with Geshe Rabten in Switzerland. And then Lama's prophesy came out. I have translated quite a few texts from the Tibetan into English, and nowadays into French too.
… My diary mentions Lama turning around toward me a first time and telling me: "Next time you make theater." I took that to mean that Lama wanted me to be the organizer of the 1980 theater event. So I arranged for me to be the organizer. People could come to me with propositions, and each nationality was entitled to one act. There were about ten different acts. The location was the meditation tent that was used in the seventies [at Kopan Monastery, Nepal].

In the year between the two shows, I read a little book in the Kopan library with stories about Aku Tönpa (Uncle Teacher), who is said to be a manifestation of Avalokiteshvara, using very unusual teaching methods. I had so much fun reading those stories, I felt I had to share them with others. And what better occasion than the yearly theater event? Since I was the organizer, I did not have to show a proposition to anyone, I just scheduled myself into the program and chose the story that had made me laugh the most. So when the evening came, Lama Yeshe and Lama Zopa Rinpoche were there, as well as maybe 150 Westerners and dozens of monks.
When my turn came, I started reading the story. Aku Tönpa had disguised himself as a nun and managed to be admitted to a nunnery. He showed the abbess how to sow penises in a field in order to harvest lots of big penises. He also impregnated many of the nuns. Although concentrating on reading the story well, I noticed that nobody was laughing, even at some passages that I had found exhilarating. In fact, apart from my voice, there was total silence.

Then Lama asked me to stop. I looked up and saw that Rinpoche, who was sitting next to Lama, had completely lowered his head to his knees, hiding his face. Lama asked me to come to him and told me that, although in absolute reality there are no problems at all, in relative truth there can be things that can be disturbing to beings. I was myself feeling quite disturbed: I had the most incredible sinking feeling, as if the earth had opened up wide and swallowed me whole. For hours afterwards I walked around Kopan like a zombie while everybody else had a good time.

As I had always worn the same kind of Nepali trousers as Bir Bahadur, a Nepali working for the monastery, the small Kopan monks had given me the nickname Bir Bahadur. But from that evening onwards, they called me "Aku Tönpa." Years later, during the Geneva dinner mentioned in Big Love on page 1189, I was sitting next to Rinpoche. At some point Rinpoche elbowed me, saying, "Do you remember when you told the Aku Tönpa story?" and burst out laughing, and laughing. [Return to tributes]