Dear Friends,
I hope you are all staying safe and well. Thanks to all of you, our community of supporters, our year-end appeal is going really well and we are humbled by your support and generosity. You are amazing. Thank you! If you have not yet given and would like to, please contribute here.
While 2020 will be remembered for any number of national and global tragedies, for LYWA it will always be remembered as the year we published Big Love. It was an unparalleled joy to see it in print, and all who have seen it rejoice in the many years of loving effort that brought it to completion. You can read what people are saying about Big Love here. Recently we heard from Richard Gere about it and here's what he had to say:
What a pleasure! What a joy to have Lama's story told by those who were there, and who love him so deeply. Few spiritual teachers have combined Lama's light touch, skill, joy and profundity. His generous heart continues to move mountains.
We hope you have had a chance to read it, and if not, you can still order a copy. It is also a precious gift to give over the holidays.
LYWA Multimedia: The Advantages of Monastic Life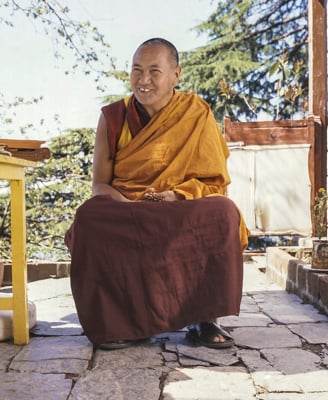 We should repeat over and over, ''I am the servant of others, I am the servant of others....''  —Lama Yeshe
Our latest multimedia presentation illuminates an excerpt from a series of talks offered by Lama Yeshe to his growing Western Sangha at Tushita Retreat Centre in Dharamsala, India in April, 1982 during the first Enlightened Experience Celebration. In this excerpt Lama Yeshe speaks frankly about the challenges and opportunities facing Western Sangha and elaborates on the purpose for the establishment of Nalanda Monastery. These talks were published by LYWA in Advice for Monks and Nuns.
The full range of events during the first Enlightened Experience Celebration, including the teachings found in this multimedia presentation, are described in exquisite detail in Big Love, Volume 2, Chapter 20, "1982: A Celebration of the Enlightened Experience." You can also read Lama Yeshe's very first talk to his Western Sangha in Volume 1, p. 303. May the Sangha flourish in the ten directions for the benefit of all sentient beings!
On the LYWA Podcast: Pervasive Compounding Suffering
Letting go of desire is not losing; it is only gaining. It is freeing ourselves from the prison of samsara. We are put in the prison in chains but by letting go of desire we are released; we are free. —Lama Zopa Rinpoche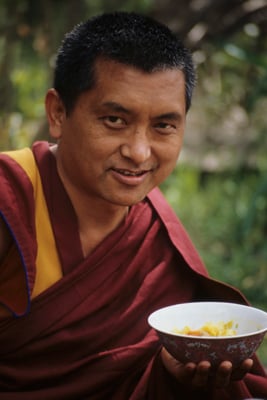 On this month's podcast we present another session from the series of teachings given by Lama Zopa Rinpoche at the 36th Kopan Meditation Course, held at Kopan Monastery, Nepal, in 2003. In this session, Rinpoche teaches on the shortcomings of desire and how the path to liberation must start with renunciation. Rinpoche also explains the three scopes of practice and emphasizes that all three must be practiced in tandem throughout the graduated path to enlightenment. Read the transcript of these teachings here.
The LYWA podcast contains hundreds of hours of audio, each with links to the accompanying lightly edited transcripts. See the LYWA podcast page to search or browse the entire collection by topic or date, and for easy instructions on how to subscribe.
WHAT'S NEW ON OUR WEBSITE