Dear Friends,
Tuesday May 29 is Saka Dawa, one of the four great holy days of the Tibetan calendar, commemorating Shakyamuni Buddha's birth, enlightenment, and parinirvana. Any actions done on this day, both auspicious and harmful, are magnified in their power. Karmic results are multiplied by one hundred million, as cited by Lama Zopa Rinpoche in the vinaya text Treasure of Quotations and Logic.
A great way to create skies of merit on Saka Dawa would be to contribute to LYWA's Publishing Fund in order to help us spread the teachings of our amazing gurus, Lama Thubten Yeshe and Lama Zopa Rinpoche.
You can find recommended practices by Lama Zopa Rinpoche on the merit multiplying days here, including advice to recite the Sutra for Remembering the Three Jewels. 
From the Video Archive: Questions and Answers with the Lamas
This month, in two new additions to the LYWA YouTube channel, we offer you the joyful experience of watching and listening to both Lama Yeshe and Lama Zopa Rinpoche conversing with students in their immeasurably skillful ways.
In the first video, Lama Yeshe answers questions from Australian students in 1976 on various topics including shunyata and the difference between the absolute and relative guru, and gives advice on how we should start each and every day.
This rare film of Lama Yeshe was discovered by Chenrezig Institute librarian, Hilary, who found the movie reel buried in a cupboard at the center along with other artifacts. The Chenrezig Institute archive team was thrilled to learn that the film reel contained this unique footage of Lama Yeshe during a visit to the Dandenong Ranges, Australia, on a rainy day in July 1976.
In the second video, Lama Zopa Rinpoche is interviewed by Christina Lundberg in 1999 about the benefits of building the Maitreya Statue, about Universal Education and how our bodies are made to be gentle. 
New LYWA Podcast and multimedia news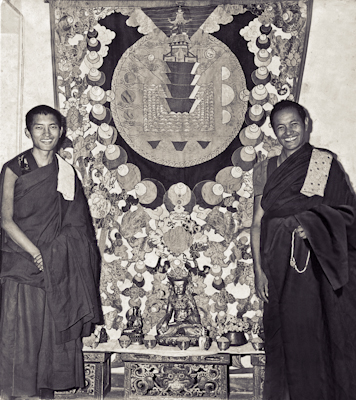 In this month's podcast, Lama Zopa Rinpoche gave this Dharma talk in Madrid, Spain on June 10, 2009 and explains how compassion is our best and most reliable friend and will never cheat us, that compassion is the most powerful purification we can practice and that compassion should be our practice in every moment of our everyday life. You can listen to the entire talk and also follow along with an unedited transcript of these teachings.
And don't forget to check out our new multimedia series Guru Puja is the Heart Practice based on teachings given by Lama Zopa Rinpoche at the Light of the Path retreat held in North Carolina, USA, in 2009. Two titles are completed in the series so far, The Importance of Practicing Guru Puja and An Introduction to the Chanting Lineage of the Guru Puja, with the third title, The Seven-Limb Practice, coming out next month.
WHAT IS NEW ON OUR WEBSITE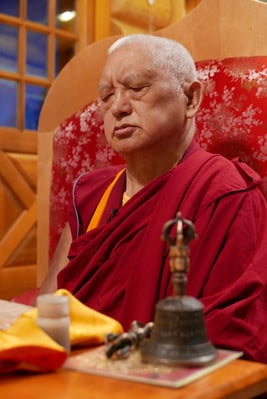 This month's new additions to Lama Zopa Rinpoche's Online Advice Book include:
As always, you can see a list of all the newly-posted advices on our website.
New Translations into German, Vietnamese and French
We are happy to share with you new German translations by Sylvia Wetzel which are available for download as pdfs:
Denken Und Sein. Geist und geistige Prozesse. This book is based on a mind and mental factors teaching given by Lama Yeshe at Istituto Lama Tzong Khapa in 1978 and includes in the appendices teachings by Geshe Rabten and excerpts from a book by Jeffrey Hopkins.

Leben mit Würde und Weisheit. This book is both in German and in English and is a compilation of teachings by Lama Yeshe on topics ranging from non duality, bodhicitta, nature of the mind, karma and understanding emptiness. You can find links to more German translations on our website.
We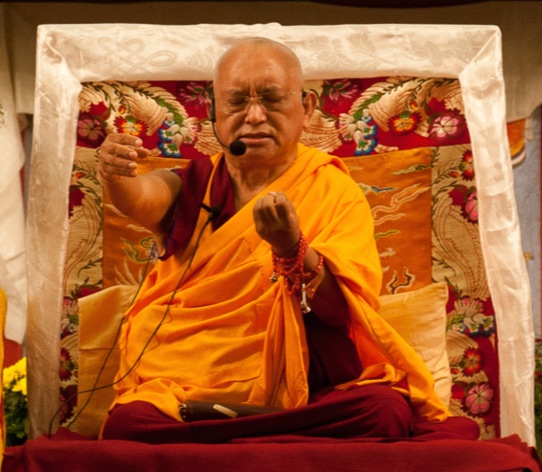 also have new Vietnamese translations by Hong Nhu of teachings and advice given by Lama Zopa Rinpoche such as advice on daily practice, benefits of sutra and mantra recitation and tong-len practice. They are available as pdf files here on our website.
The LYWA multimedia presentations of Lama Zopa Rinpoche's Bodhisattva Attitude series is currently being translated into French by FPMT's French Translation Services with three chapters translated: Everything Depends on Your Attitude, Cutting the Concept of Permanence and Give Up Stretching the Legs. These titles are presented in a multimedia format that weaves together all the assets found in the Archive. The book is also available in French for order in print or as an ebook, or you can download a PDF file. 
We are grateful to work with so many amazing translators who make our publications and transcripts available in languages other than English. Please see our website for links to translations in sixteen languages.
And now an update to our privacy policy...
If you're like me, your in-box is filled with notices to review a vendor's Privacy Policy or resubscribe to an email list. These notices are related to the EU's General Data Protection Regulation (GDPR), which took effect on May 25th. If you are a resident in the EU, this policy applies to you, and LYWA is making all efforts to comply with the regulations. We have updated our Privacy Policy with all the details, but in short we want to note that:
If you create an account on our website when placing an order or making a donation, you can modify or delete your personal information by logging in and clicking on the My Account link at the top of any page.
If you want to stop receiving communications from us at any time, there is an unsubscribe link at the bottom of all our eletters.
If at any time you want a report of any personal information we have collected from you, or if you need any assistance in changing or deleting any personal information, please send an email to privacy@LamaYeshe.com and we will be happy to help.
Thank you so much for your interest in and support of the Archive. This month we leave you with a teaching Lama Yeshe gave on his first visit to Spain, taken from Big Love: The Life and Teachings of Lama Yeshe, forthcoming this year from LYWA. This amazing book and all the other work we do is possible only through your kindness, so please take advantage of this special time and make your donation so that together we can bring the world many more teachings by Lama Yeshe and Lama Zopa Rinpoche. Thank you!
Much love,

Nick Ribush
Director
This Month's Teaching: Accepting reality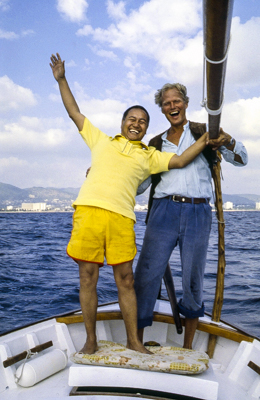 When we talk about impermanence and death we're not talking about some outrageous thing. It's human experience, our own experience. We're talking about our own experience. Our existence on this earth really boils down to the movement of our breath, in and out. That's life; that's all there is to it. The day we exhale and don't inhale is the day we die. When our breath goes out and doesn't come back in, that's what we call death, the separation of our consciousness from our physical nervous system. That's it. We're not asking you to believe something outrageous, something supernatural.
Buddhism says that the ego is a wrong conception and that it perceives things incorrectly; that's why we call the world we see a fantasy, an illusory phenomenon. That doesn't mean, however, that there is no cause and effect. Karma does still exist. But the way our ego interprets beauty and ugliness, good and bad, people's reputations and so forth, all such discriminations are fantasies that have nothing whatsoever to do with the reality of phenomena.
Why do we say they are fantasies? Because when we look at others, for example, we see them as concrete, fixed. Men see concrete beautiful women; women see concrete handsome men. Not only that. We see all sense pleasures as concrete: sunshine, beaches, Ibiza itself—it's all a fantasy, a flavored hallucination, with no reality to it at all.
Thus, we're always disappointed because we expect permanent pleasure based on our previous experiences of belief in solid pleasure. Expectation causes disappointment. That simply means we are not in touch with reality, or, to use Buddhist terminology, we are deluded—we do not see things as they are. Between reality and our view of it there is some kind of polluted projection.
Not to accept the reality of impermanence, change and death itself means we're living in a fantasy of our own making—we're hiding from reality; we're afraid of it. The West thinks that people who do not look at impermanence and death are intelligent, advanced. They are not.
Ask yourself, why are you afraid of the reality of death? Individually we have to question ourselves: "Why am I afraid of death?" The answer has to come from within, not from somebody else.
When Western people experience the lamrim teachings on impermanence and death, they understand their purpose. They're intelligent; they're smart. They understand why Tibetan Himalayan monks say that they should have a positive fear of death. If you are too afraid to even hear about this topic, whose problem is it? Is it God's problem, Buddha's problem, reality's problem or what? Whatever, it's a problem!
The reason we don't understand that our lives are in the nature of impermanence is that we are concerned with only the temporal pleasures projected by the concrete imagination of our ego and are constantly grasping at those. This obsession also prevents us from being aware that the time of death is unpredictable. We have no idea when our death will come. When we get over this and understand the impermanent nature of our lives, that understanding becomes knowledge, wisdom, which liberates us from the fear of death. It's a misconception that constant awareness of the certainty of death will make us afraid. It's the opposite: it frees us from fear and helps release us from always grasping at the sense world. Understanding impermanence frees us from ego-grasping.
Look at the Tibetan depictions of the wheel of life. You can see that all six realms are in the grip of Yama, the Lord of Death. The purpose of that drawing is not simply to make people afraid. It's a symbolic representation of the entire universe of our relative, impermanent existence, from which we have no escape if we do not understand it.
Actually, I say it's Tibetan but in fact it was not made up by Tibetans. This pictorial representation of cyclic existence was created by the Buddha himself more than 2,500 years ago and can be found in his Vinaya teachings. He commissioned it on behalf of his supporter, King Bimbisara of Magadha, who was looking for a suitable gift for the powerful King Udrayana, who attained liberation when he came to understand the impermanent nature of samsara by meditating on the meaning of this painting.
You see, the Western idea of intelligence is different from the Buddhist one. When Westerners hear Lord Buddha's explanation of impermanence and death they think he's trying to make them afraid. That's poor-quality understanding, a lack of penetrative wisdom. When we understand reality correctly, we have less fear. In fact, death can be a blissful experience rather than a complicated one.
Superficial Western people think life is fantastic. "The sun is shining, I'm eating bread, cheese and spaghetti, I'm beautiful, my friends are beautiful, everybody's happy…." It's a completely wrong conception. You're not happy. First of all, what is beautiful? If you are beautiful, then everything is beautiful. Your interpretation of your object of beauty is an illusion.
Lama Yeshe gave this teaching in Ibiza in 1977. Edited from the Lama Yeshe Wisdom Archive by Nicholas Ribush.