All the previous holy beings of our tradition also did this Guru Puja as the heart practice. It has few words but encompasses so much. It has great blessing and the profound vital points.
- Pabongka Dechen Nyingpo quoted by Lama Zopa Rinpoche
In these teachings, Lama Zopa Rinpoche emphasizes that the Guru Puja is the very heart of our practice, just as it has been for generations of great masters and yogi-practitioners of the past. Rinpoche also introduces chanting and the lineage of chanting to be used for the Guru Puja within the FPMT.
The multimedia series is based on six sessions taught by Lama Zopa Rinpoche at the first Light of the Path retreat in North Carolina, USA, 2009. These teachings are supplemented by other multimedia material taken from similar teachings given by Rinpoche at retreats around the world, along with links to related materials. 
Click on the chapter links below to experience these teachings, or visit multimedia.lamayeshe.com to browse the entire collection of LYWA multimedia titles.
---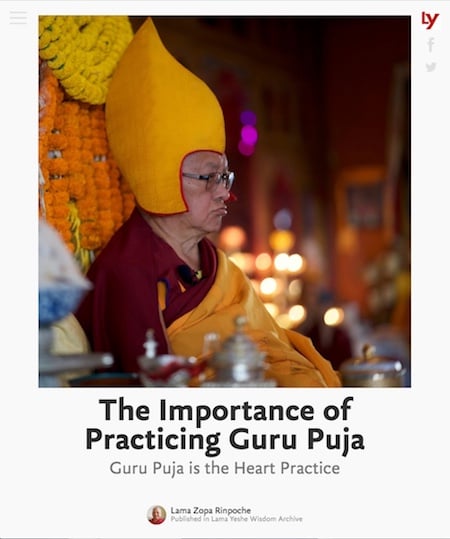 The Importance of Practicing Guru Puja. The first part of this teaching introduces the Guru Puja and explains why tantra is such a quick path to enlightenment. Rinpoche continues with a commentary on Pabongka Rinpoche's heartfelt advice regarding the importance of practicing the Guru Puja and why all our meditation should be integrated into the lamrim.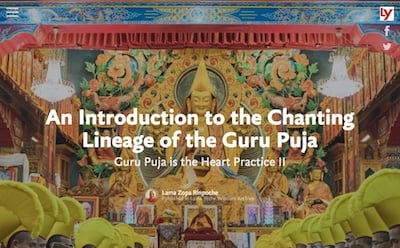 An Introduction to the Chanting Lineage of the Guru Puja. In this teaching, Rinpoche discusses the importance of learning the chanting, different lineages, the motivation for chanting, and how to set about learning the chanting. Rinpoche then begins teaching three different speeds of chanting to be used for the Guru Puja. This presentation features audio from the Light of the Path retreat in USA, 2009, and video from the Lama Zopa Australia retreat in Bendigo, 2014.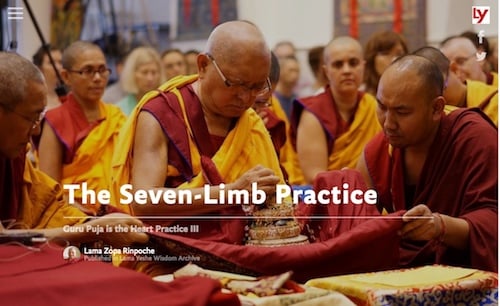 The Seven-Limb Practice brings together instructions by Lama Zopa Rinpoche on the chanting and practices for the seven limbs in the context of the Guru Puja. These seven limbs—prostrations, offerings, confession, rejoicing, requesting to teach, requesting to live long, dedication—contain all the practices needed to accumulate extensive purification and merit before entering the main body of the practice.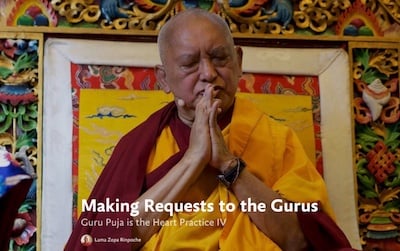 Making Requests to the Gurus brings together video, audio and images to accompany Rinpoche's teachings and commentary on the Guru Puja's series of requests for the guru's blessings that follow the seven-limb practice and long mandala offering in the Guru Puja, culminating in the Special One-Pointed Request, Receiving the Blessings of the Four Empowerments and with a replica of the guru buddha entering our heart. 
The following multimedia titles in this series are forthcoming:
Part Five: The Tsog Offering (restricted)
Part Six: The Lamrim Prayer to the Verses of Auspiciousness