Big Love, the official, authorized biography of Lama Yeshe contains personal stories of the lamas and the students who learned, lived and traveled with them, as well as more than 1,500 photos dating back to the 1960s.
The book tells the story of Lama Yeshe, how he met Lama Zopa Rinpoche and how they created the Foundation for the Preservation of the Mahayana Tradition (FPMT), one of the world's largest Tibetan Buddhist organizations. It begins in Tibet, where Lama was born, and moves to Buxaduar refugee camp in West Bengal, where Rinpoche became his student, to other parts of India and Nepal, and finally to the entire world.
The author, Adele Hulse, one of Lama's earliest students, highlights his special connection with early Dharma seekers and skillfully weaves their intimate stories with details of where Lama went, the teachings he gave and the centers he started. It brings to life how special he was and how he connected with people from all over the world and all walks of life.
If you knew Lama, you will be reminded of his wisdom and charisma; if you did not, this is the perfect introduction.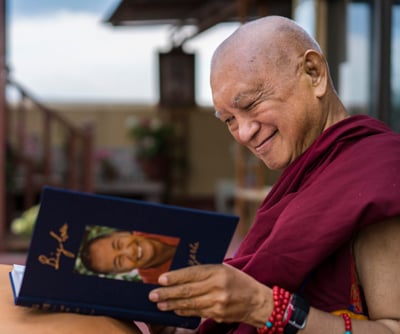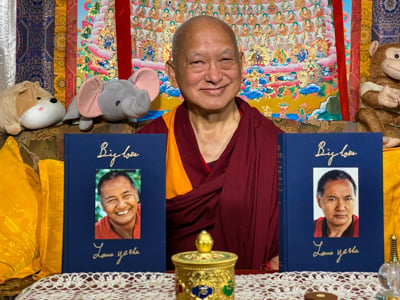 ---
How to order big love
You can now order your copy of Big Love! We are happy to report that all shipments of Big Love have now arrived at our global distribution points and the books have been delivered to recipients, or will be soon. Thank you for your patience and support.
Order your copy using the "Add to Cart" box on this page. Due to the weight of the set (10 lbs / 4.5 kg) we are limiting orders to a single copy only through our website. To order multiple copies, and to receive the best rates for shipping, please email info@LamaYeshe.com.
There are a limited number of copies that will be available at our distribution sites that can be shipped at a discounted rate.
Update (September 10, 2020): We are now offering a discounted shipping rate for customers in Australia, Europe and the UK.
FPMT center bookstores, LYWA Members and IMI Sangha will receive a 50% discount off the retail price. Please email info@LamaYeshe.com for details.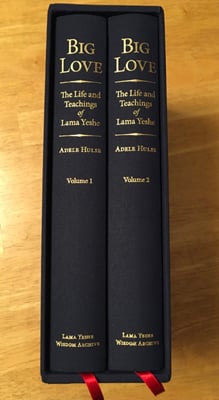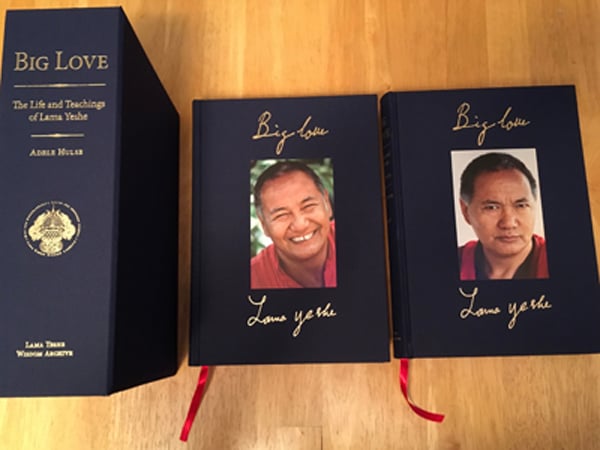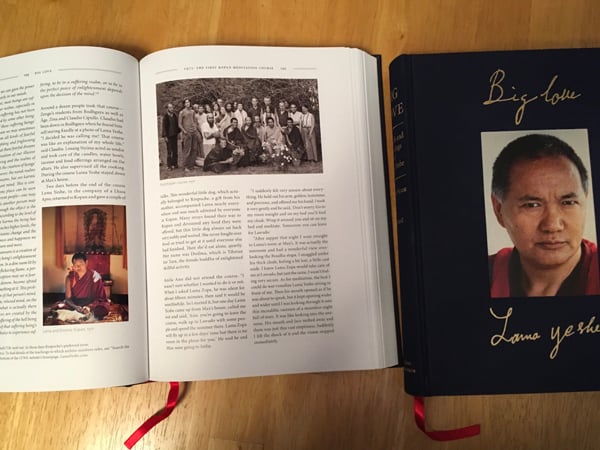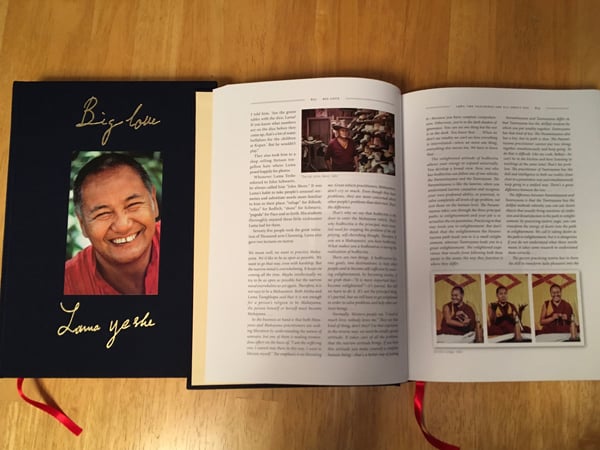 Specifications
Big Love: The Life and Teachings of Lama Yeshe is published as a set of two 700-page hardcover volumes in a slipcase with over 1,550 photographs, maps and other illustrations, full color throughout. Only $85 plus postage.
Big Love Resources
Go to our new Big Love Resources page to find links to Chapters 2 and 7, a Mandala magazine article by Laura Miller, a special image gallery of rare photos and Adele Hulse's dramatic readings on the LYWA YouTube Channel.