Dear Friends,
Happy Chokhor Duchen, the Festival of Turning the Wheel of Dharma! Today, August 1, is the Buddhist holy day of Chokhor Duchen, the day on which Guru Shakyamuni Buddha gave his first teaching on the Four Noble Truths at Sarnath, India.
On these holy days, the power of any meritorious action is multiplied by 100 million, as taught in the vinaya text Treasure of Quotations and Logic. Please see Rinpoche's advice on practices that are most beneficial to do on multiplying days.
Chokhor Duchen is also the day on which FPMT celebrates International Sangha Day, a time when we rejoice in the merits and offer our support of FPMT ordained Sangha members. You can find out more about FPMT's community of monks and nuns here at the International Mahayana Institute (IMI). You can also learn more about what prayers and extensive offerings are being made to Sangha members on Chokhor Duchen here.
What's Coming Up: A New book & Web App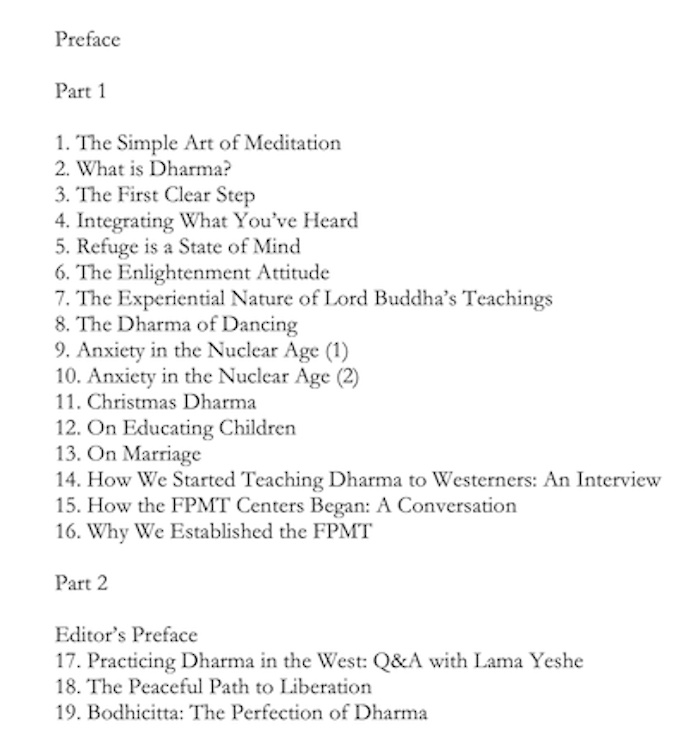 We hope to be sending our new Lama Yeshe book, Collected Talks, 1972–83: Volume 1, to our designer soon, expecting to publish it this fall. Here's a sneak peek at the table of contents. Please contribute to the publication of this wonderful book on this special day here. Thank you so much.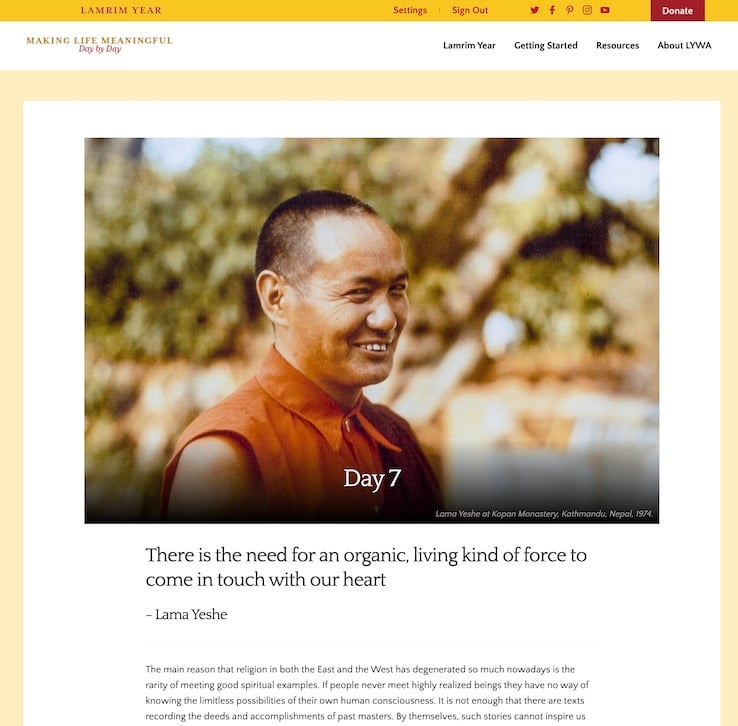 We are putting the finishing touches on the forthcoming FREE web application based upon the very popular LYWA free book, Lamrim Year, which we published in 2021. The Lamrim Year web app will enable you to easily access your daily lamrim contemplation anywhere on a web browser, whether on your phone or on your computer. It will help you keep track of your progress through the lamrim outline, send you a reminder email when you complete each Day that includes a handy link to the next Day's contemplation, give you the ability to review previous Days at will, allow you to take personal notes as you go, and provide easy access to all related Lamrim Year resources for more in-depth study. We expect to launch the Lamrim Year web app in the next few weeks.
FROM THE VIDEO ARCHIVE: The Wisdom That Knows Better 
This month from the LYWA video archive, Lama Zopa Rinpoche explains how the false self tricks us but how our wisdom will not be fooled by this false appearance. This is an excerpt from teachings given by Lama Zopa Rinpoche during a retreat hosted by Thubten Kunga Ling Center in Boca Raton, Florida in November, 1998.
Visit and subscribe to the LYWA YouTube channel to view more videos freely available from our archive. See also the FPMT YouTube channel for many more videos of Lama Zopa Rinpoche's teachings.
On the LYWA Podcast: The Compassionate Buddha Never Gives Up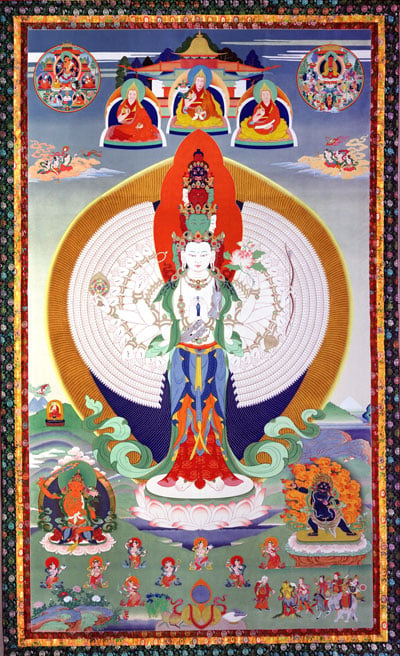 The Buddha of Compassion is the embodiment of all the buddhas' great compassion that embraces and never lets go, never gives up on sentient beings even for one second. —Lama Zopa Rinpoche
This month on the LYWA podcast, listen to Lama Zopa Rinpoche recite OM MANI PADME HUM and give teachings on the benefits of reciting the Compassion Buddha's mantra. Rinpoche also reassures us that no matter how low we may go, we can trust that the Buddha of Compassion will never give up on us. You can read along with the transcript on our website.
The LYWA podcast contains hundreds of hours of audio, each with links to the accompanying lightly edited transcripts. See the LYWA podcast page to search or browse the entire collection by topic or date, and for easy instructions on how to subscribe.
WHAT'S NEW ON OUR WEBSITE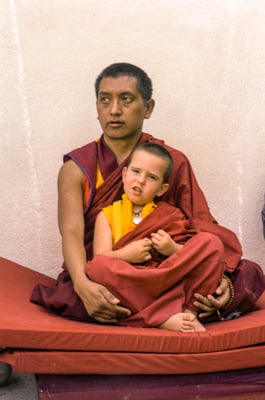 This month we have posted The Qualities of Lama Yeshe and Recognition of Lama Ösel, a teaching given by Lama Zopa Rinpoche at Kopan Monastery in March 1987. Rinpoche discusses the qualities of Lama Yeshe's holy body, speech and mind, the search for Lama's incarnation and the confirmation of Lama Ösel as the incarnation. Edited by Ven. Ailsa Cameron. Read more about the recognition of Lama Ösel and see rare photos of young Ösel in the Epilogue of Big Love: The Life and Teachings of Lama Yeshe.
We have a new Google Audio book to share with you, Teachings from Tibet. Our audiobook catalog includes free audiobooks from Google Play, as well as titles for purchase from Audible. As our collection of audiobooks continues to grow, we are pleased to announce a new way of locating audiobooks in our store. Simply go to "Refine Search" on our shop webpage and tick the Audiobooks category.
We are continuously improving the way our website functions, so you'll be happy to know that our Site Search has recently been enhanced. You can now refine your search by simply adding quote marks to a phrase. We've also improved and expanded the teaching tag search results.
We also have new additions to Lama Zopa Rinpoche's Online Advice Book this month to share with you: