Dear Friends,
We are deeply grateful to all of you who have already contributed to our annual year-end appeal that we launched last month. To date we have raised over $37,000 towards our goal of $50,000. Thank you! With your help, we know we can meet our year-end goal.
Read on to get another sneak peek at the forthcoming Big Love and to see how your contributions are used to turn the wheel of Dharma every day to bring peace and happiness to the world!
LYWA 2019 YEAR END APPEAL: DHARMA EVERY DAY
We are all busy preparing for Big Love's arrival and arranging for distribution around the world now that it's at the printers! Nonetheless, the team at the Archive continues our ongoing work of preserving, transcribing, editing and publishing the precious teachings of Lama Yeshe and Lama Zopa Rinpoche, and focusing on the projects we look to complete over the next year.
Our next big project is to publish Lamrim Year, a book of daily contemplations drawn from the teachings of Lama Yeshe and Lama Zopa Rinpoche and based on the lamrim outline. Looking further ahead, we will turn our attention to completing the work on Lama Zopa Rinpoche's lamrim teachings, and editing and publishing more of Lama Yeshe's teachings.
Our epublishing and social media maven Megan Evart will be hard at work converting Big Love into ebook and multimedia versions. We will also be exploring options for creating an electronic version of Lamrim Year so that it can be an easily accessible tool for daily contemplation and study.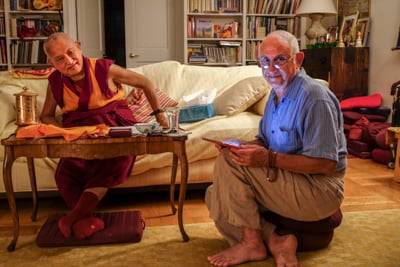 Our ongoing work of preserving and spreading these precious teachings far and wide every day continues apace: every month we are adding new teachings and advices to our website; posting new audio to our podcast, and new video to our YouTube channel; sending our stock free and for-sale Dharma books and ebooks to centers, bookstores and individuals around the world posting daily pictures and quotes to various social media sites, reaching tens of thousands of people every day; and cataloguing and organizing the digital collection of tens of thousands of audio, video, image and transcript files into a modern digital asset management system, so that these precious recordings are preserved and accessible far into the future.
We couldn't do all this without your support of and commitment to our mission. As 2019 draws to a close, we invite you to make your year-end contribution today.
A Sneak Peek at Big Love: Kopan's Beginning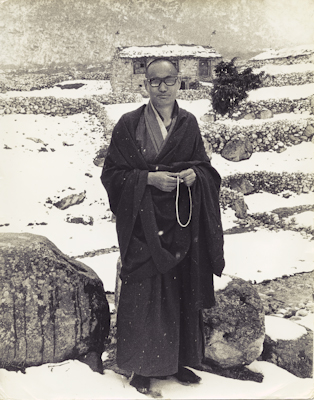 We are delighted to offer you another taste from Big Love: The Life and Teachings of Lama Yeshe. This chapter is drawn from Volume 1 and begins in 1969 as the lamas and their early Western students go on pilgrimage to Lawudo and begin to establish Kopan Monastery. The author, Adele Hulse, one of Lama's earliest students, skillfully weaves the intimate stories of these early Western Dharma seekers with details of how special Lama was and how he connected with people from all over the world and all walks of life.
For more information on project sponsorship or to sign up to be on the list to receive a notice when Big Love is ready to be ordered, please see our website.
WHAT'S NEW ON OUR WEBSITE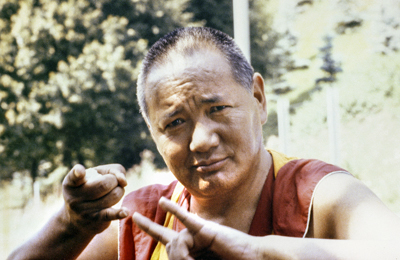 We have just posted The Enlightenment Attitude, a complete teaching by Lama Yeshe about bodhicitta, the essential attitude which can transform our mundane lives into the path to enlightenment. The teaching was given when Lama Yeshe was bestowing bodhisattva vows at Chenrezig Institute, Eudlo, Australia, on September 14, 1979. Edited by Nicholas Ribush. 
This month we have new additions to Lama Zopa Rinpoche's Online Advice Book to share with you:
your incredible support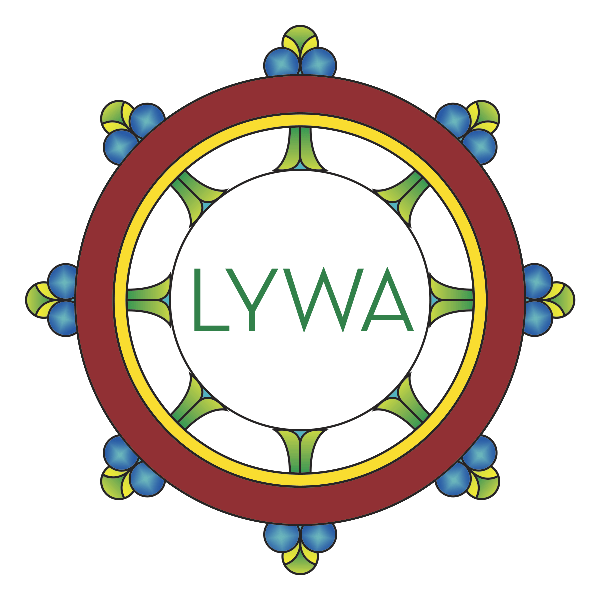 It's clear that every day our myriad activities—outlined above and supported by you, our precious contributors—continuously reach those newly interested in the Dharma and the teachings of Lama Yeshe and Lama Zopa Rinpoche, while at the same time serving current students and the entire FPMT family as well.
We cannot do all this without you. As we embark on another year of this important work, we invite you to join us in our mission to bring peace and happiness to everyone, everywhere, every day. Thank you so much!
Big love,


Nick Ribush
Director
This Month's Teaching: The Importance of bodhicitta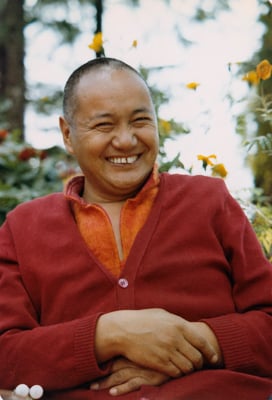 The bodhisattva vows were requested when I was at Chenrezig Institute two years ago, but I was unable to give them at that time. Now you have asked again and I'm very fortunate to be able to give them, and you people are also very fortunate in having come to the conclusion that you would like to take them.  These vows can be taken in either of two ways: one is the wishing way, where you think that you would like to actualize bodhicitta as much as possible, understanding that this is the best way to live; and the other way is by taking the vows—the eighteen root vows and the forty-six branch vows—in a serious way. I am sure that you understand this, I am not going to go into the details.
The thing is, from the Buddhist point of view, that it is very important for us to have the enlightenment attitude. It is an important thing. The reason is, I think I can say, that without some kind of attitude or thought with which to transform the actions of our daily life, life seems to be a disaster. If you are living in a couple relationship, or even if you are just a single person, you still have to relate with human beings. Even if you go into the Himalaya mountains, you still have to relate with sentient beings, human beings. There is no place that you can go where you don't have to relate with human beings, so it is very important to have this attitude, because all actions, both good and bad, depend on it. You know—I'm not going to tell you that, you know already. So in order to transform our lives, to live in the best way, we desperately need to have constantly such as the divine quality enlightenment attitude, bodhicitta.
Otherwise, you can see in the West, that people dedicate their entire lives or most of their lives totally to sense pleasure, sense pleasure. Can you imagine? It is obvious why human beings in the West are easily depressed and kill themselves—it is because their purpose, goal or destination of life is so narrow. So narrow. "If this man or lady cannot give me satisfaction, there is nothing worthwhile in this earth." Can you imagine that? This is the life, this is the life. It is a completely cold, narrow mind. They particularly mention, "If this lady, this man does not give me satisfaction, then I'm not worthwhile." It just isn't true. There are so many millions of ladies and millions of gentlemen too, but such a neurotic attitude, such a wrong view, so fanatical, such a self-cherishing thought, not seeing beyond the limitation. You can see, life is so empty, so empty.
So you see, the West is unbelievable. They try so hard to make themselves happy by putting material possessions into different perspectives. "Maybe if I put it this way, something interesting; maybe I put this way, something interesting; maybe I put this way, something interesting; maybe I put this way, something interesting; maybe if I put this way, something interesting." [Lama turns his body in all different directions.] All those things are not true—can you imagine? This way, this way, and this way—what difference? I mean, of course relatively there is some difference, but that doesn't make you satisfied, does it? Yet they try so much, unbelievable.
It is very good to see the reality of Western life, or the Western way of living life, to check up historically. If you do you will really get a bit of a hard shock, I tell you. It is not happy; Western life is definitely not a happy life, I can say. I'm sorry. Even though you think your life is happy, it's not true. I'm not saying that I have investigated each individual and discovered that each is unhappy; I am not saying like this, but I am just looking at it sort of generally. It is a very difficult life. And also, people in Western samsara have some kind of instinctive attitude. I don't know, perhaps I can say instinctive—there is no checking, no observation, they just do things, just spinning, just doing things instinctively, instinctively, spinning themselves. This makes me so afraid. No observation, no checking what's going on. That's dangerous.
I can see when Western people start to meditate, when they begin to observe their attitude, then they can see, "What has been happening to me?" At some point they really become crazy. Why? Because before they were just going round and round like this, then suddenly [Lama circles his finger round and round in the air and suddenly brings it up to his eyes indicating that people first circle around until they suddenly see themselves for the first time] so the nervous system is shocked. So, instead of becoming better by meditation they get worse. But it is much better to question for a minute, rest in this way, than just spinning around; you do not become worse.
So it is good to learn how to change the instinctive behavior in order to transform the Western life. It is the instinctive attitude that leads to certain actions. Any movements of the body and speech result from attitudes of the mind, and in order to transform that, you need quite a lot of effort, observation, and penetration on the motivation.
This teaching was given by Lama Yeshe when he was bestowing bodhisattva vows at Chenrezig Institute, Australia, on September 14, 1979. Edited by Nicholas Ribush. To continue reading this teaching visit our website here.