Dear Friends,
We reached our year-end goal! Through your generous support we raised $50,000 to get our new year off to a great start. Thank you so much! We look forward to another year of bringing the precious Dharma teachings of Lama Yeshe and Lama Zopa Rinpoche to everyone, everywhere.
Read on for news of our latest free offerings of video, audio, teachings and advice!
From the Video Archive: The Urgency of Realizing Lamrim
Watch this wonderful teaching by Lama Zopa Rinpoche given during an extended lamrim retreat at Vajrapani Institute in 2006. In this excerpt Rinpoche impresses upon us the urgent importance of concentrating all our efforts on realizing the stages of the path to enlightenment. Look for more footage from this retreat coming to LYWA's Youtube channel in the months to come. 
You can listen online to the entire teaching and read along with the unedited transcript on our website. Scroll down to see where the transcript for this video begins. You can also view video of the entire teaching on Land of Medicine Buddha's Media Lab on Vimeo.
New on the LYWA Podcast: Cultivating the View of Impermanence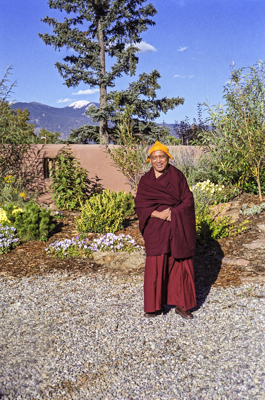 In this podcast Lama Zopa Rinpoche helps us understand how the wrong view of permanence is the cause of so much of our negative karma and creates so much fear and gives profound teachings on how all things are merely imputed by the mind. Rinpoche further explores how to realize gross and subtle impermanence which cultivates courage and is an essential part of realizing the Four Noble Truths. 
These teachings were given during the 33rd Kopan Course held in 2000 at Kopan Monastery in Nepal. Read along with the transcript on our website, where you can also read transcripts from nearly 30 of Kopan's annual courses. Many have accompanying audio, and the 24th course (1991) has been published as an ebook series.
What's New On Our Website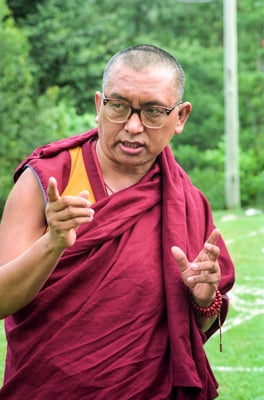 We have four new Spanish translations of short teachings by Lama Yeshe and Lama Zopa Rinpoche to share with you, translated by our friend in Colombia, Felipe Ángel. See our Spanish Translations page for links.
We are also happy to announce two translations recently published of Rinpoche's The Perfect Human Rebirth, in French and Chinese. See the book's Translations page for links.
We have posted another two discourses from Lama Zopa Rinpoche's Teachings at the Kadampa Deities Retreat in France, 2003. The fourth discourse includes a story about Rinpoche's visit to the Potala in Tibet, and an explanation of the many benefits of reciting the Chenrezig mantra. In the fifth discourse, Rinpoche outlines the principles of Universal Education and explains why we must practice compassion and the good heart. An excerpt is included as this month's eletter teaching below.
This month's new additions to Lama Zopa Rinpoche's Online Advice book include:
• Remedy for Obstacles, Fear and Worry: Advice about transforming problems, given to a student who was experiencing many difficulties.
• The Ultimate Goal of the Center: In this extensive advice, Rinpoche discussed the importance of the center and the need for compassion, the ultimate good heart.
• When the Center Director is Changed: Rinpoche wrote this letter to a student who was no longer director of a center.
• Feng Shui at the Center: This advice about the benefits of feng shui was given by Rinpoche to all FPMT center directors. 
As always, you can see a list of all the newly-posted advices on our website.
Prayers for Rinpoche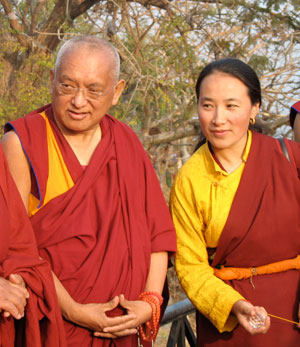 As many of you know, last year Ven. Roger Kunsang, on behalf of the FPMT organization, checked with Khadro-la (Rangjung Neljorma Khadro Namsel Drönme) to determine what practices should be done to help create the conditions for Lama Zopa Rinpoche to have good health for the coming year. The prayers Khadro-la advised are the Vajra Cutter Sutra and the Dependent Arising: A Praise of the Buddha (Tendrel Topa). Links to these prayers are available on the FPMT website.
FPMT are planning to offer Rinpoche the total number of prayers that were recited over the past year for Tibetan New Year (Losar) on February 16. If you would like, you may report your recitations to us, which we will in turn report to FPMT as an offering from the LYWA community. Please send your counts to jen@LamaYeshe.com by February 13th.
Thank you again for your incredible support, and we join together to fulfill our mission to make these precious teachings available to all in myraid ways. Please enjoy this teaching from Lama Zopa Rinpoche.
Much love,



Nick Ribush
Director
This Month's Teaching: the one who does work for all the sentient beings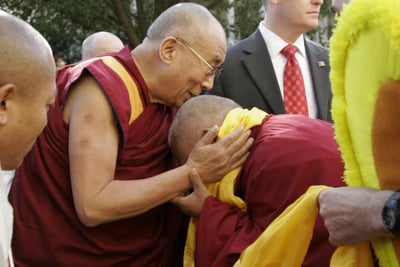 Last time I went to Tibet, to the Potala, I was making pilgrimage to the Potala, and there are five or six shrine rooms, which they normally don't allow people to see. They are locked, but this time they allowed us in because the monks there knew us. One monk was Geshe Sopa Rinpoche's disciple and there were also a few other monks. We met when I went there ten years ago, so they remembered that. Anyway, they showed us about five or six rooms which are secret and are not shown to the people. These are the rooms where His Holiness received teachings from His Holiness Ling Rinpoche or did retreat or different things, where His Holiness did different activities. There was also one main room where His Holiness would meet the officials and things like that on special occasions. 
There was one very good monk, a senior Namgyal monk there, and he recited His Holiness the Dalai Lama's long-life prayer. Usually I think there's danger to say it; you can't even have photos of His Holiness. But he led the prayer and also the prayer for the independence of Tibet, he chanted that. Then there was a camera, like the supermarkets in the West where there is a camera in the shops to see whether people are stealing or not. There was a camera in that room, but I'm sure the monks knew there was a camera there. Anyway, he did all these prayers.
People are not allowed to have photos of His Holiness, but there was a throne. His Holiness's throne was there and on it was the dagam, His Holiness's coat. The monk had put this on the throne because he couldn't have His Holiness's photo. I don't know how he got our Maitreya Buddha picture, the dream to build the 500-foot Maitreya Buddha statue in India; I don't know how he got that picture, but instead of putting His Holiness's photo there on the throne, he had put the picture of the Maitreya Buddha statue, our Maitreya Buddha picture, there in the coat. I was surprised to see it there in the Potala, in that secret room.
Anyway, after that he told us some stories about His Holiness. He told us about the day when Keutsang Rinpoche checked the reincarnation of the Thirteenth Dalai Lama on the Palden Lhamo lake [Lhamo La-Tso Lake, Tibet]. I think he spent maybe seven days at the lake checking about His Holiness's incarnation, the incarnation of the Thirteenth Dalai Lama. He checked there in the Palden Lhamo lake for many days.
And then after that he saw everything in that lake—the house, which place, everything, the parents and the child—then, disguised as a beggar, he went to Amdo to the family's place. So he told us this story. How the child, who is the present Fourteenth Dalai Lama, His Holiness the Dalai Lama, how that child immediately recognized the lama, Keutsang Rinpoche, even though he was disguised as a beggar. The child recognized the malas and put them on his head, and recognized the walking sticks and everything.
So the monk told those stories, then at the end he told us that this little child, His Holiness's incarnation, said, "I'm the one who does work for all the sentient beings." The Namgyal monk told us this child said, "I'm the one who does work for all the sentient beings." I don't remember seeing that in a book, anyway, the last thing the monk told us was that. When I heard that, I broke [into tears.] I couldn't bear it and it made me cry so much after hearing that. The old monk tried to clean my nose and my eyes, that old monk tried to help clean the tears. [Rinpoche laughs]
Anyway, the story that he told us exactly fitted, because that's what His Holiness does all the time. That's what he is, what he does, all the time.
Nowadays, even though Buddhism spread to the West not so long ago, we have a very close connection [ with His Holiness.] We receive the actual Compassion Buddha in human form in the West again and again, and we hear teachings so many times, as well as the Kalachakra initiation and so forth. His Holiness, the Compassion Buddha, is not only the special deity of Tibet, but also for us, for all the Western people, who receive guidance from him. So you can see the Compassion Buddha, there's a special connection for everyone who receives guidance from His Holiness, who receives teachings, who has this great fortune. We are guided and taken care of by the Compassion Buddha.
Continuously, from Chenrezig's side, there are all the qualities, all the skills to guide us—perfect omniscience, power, understanding, compassion, everything, all the qualities to guide us. From our side we just need to continuously put effort into following the path shown by the Compassion Buddha.
There is also a story that if we pray one time, if we make a prayer to Compassion Buddha one time, if we ask for guidance one time, then all the time in our future lives we will be guided by the Compassion Buddha. However, I'm not going to go through that story tonight.
If we request guidance; if we make a request one time, then in all our coming future lives the Compassion Buddha will definitely guide us. There is a kind of promise; it's like a promise.
Excerpted from the 4th lecture from Lama Zopa Rinpoche's teachings at the Kadampa Deities Retreat held at Institut Vajra Yogini, France, from 18 April to 11 May 2003. You can read more from these teachings on our website.