Dear LYWA friends and supporters,
Welcome to our August eletter and thank you so much for your kind interest in the LYWA.

Our New Book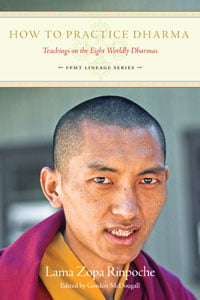 We have finished sending out How to Practice Dharma: Teachings on the Eight Worldly Dharmas to our Members and certain Publishing the FPMT Lineage supporters as well as to all FPMT centers, projects and services, and FPMT board members. And the feedback we're getting is great, thank you so much.

For example:
"Thank you! My copy of Lama Zopa Rinpoche's book, How to Practice Dharma, arrived at my office address yesterday. It is simply beautiful--from the gorgeous photograph of Rinpoche that graces the cover to the stellar glossary in the back! A real triumph!! I can hear Lama Zopa's early discourses at Kopan: 'If you mix Dharma with worldly dharma, then it is not Dharma.' How wonderful to have this precious teaching--to hold in one's hands and to take to heart. Thank you and LYWA for your great work!"

"I just received the wonderful new book How to Practice Dharma from the FPMT Lineage Series. I started reading it and it is simply amazing. Thank you for all your great work and for making these marvelous mind-blowing teachings available."
Make sure you get your copy soon! The book is available to order on our website for $10. It has also been published on Amazon for Kindle for $5.

Making the Dharma Available to All: Our Free Books
We can hardly forget the importance of our free books to our mission to make the dharma available to all. We regularly receive letters of gratitude for these books from our readers, like these letters recently received from prisoners who benefit from the distribution of our books to inmates and prison chaplains:
"The purpose of this letter is to thank you very much. I have been incarcerated for over a decade, and am serving 'life' in prison in maximum security for my violent past. This single cell, locked in the cell 24 hours a day, is actually a very decent and peaceful environment. Over the years I have enjoyed studying many religions and spiritual belief systems. I tell you these things so that you can know how much I appreciate you sending these books. They are wonderful. Thank you."

"I now have a better understanding and respect for all of the ways and examples discovered in Lama Yeshe's book Becoming Your Own Therapist… I was so taken in with all of the chapters, each one practically identified with much of the trials and situations experienced… I really grasp and meditated on all that was being said by Lama Yeshe… all these years I've been limiting my mind to other ways of thinking… I now feel that I am able to understand and check my mind… I am serving 2 life sentences, and I have started to find that peace within, thank you so much…"
Our free books are so important because they reach people who might otherwise not have access to the teachings: those without computer access, with limited incomes, or who are incarcerated. They also provide an easy way for people to get introduced to the teachings. Having our books freely available at FPMT centers helps newcomers who are curious about the Dharma walk away with a tangible connection. And each year we send out hundreds of copies of our "Starter Pack", a collection of 4 of our most popular titles, primarily to new visitors to our website.
Even given the rapid rise in popularity of ebooks (of which we distribute thousands per month), the distribution of our free books in print remains robust. Since 2001 we have printed over 600,000 free books, and have distributed them to FPMT Centers, bookstores, prisoners and chaplains, and individuals. On average we send out 50,000 free books every year, around the world.
In 2008 we conducted a survey to gauge the importance of our free books to our customers. Nearly 80% of respondents indicated it was very important that we publish Dharma books for free distribution. You can read the heartfelt responses of those who feel a deep appreciation for the impact of these books.
We regularly run out of our most popular titles and printing new copies of our free books is an annual activity. Your donation to our book printing fund directly supports this mission of making the dharma freely available to all. Some of our most popular free titles are low in stock: Lama Zopa Rinpoche's Making Life Meaningful and Daily Purification: A Short Vajrasattva Practice; and Lama Yeshe's Peaceful Stillness of the Silent Mind, The Essence of Tibetan Buddhism and Life, Death and After Death. We also are planning a redesign and republication of Teachings From Tibet, our collection of teachings by many great Tibetan lamas.
Please help us reprint these precious books that help so many around the world. Just visit our Donations page and direct your donation to our book printing fund. Thank you so much.
Photos for Lama Yeshe's Biography Big Love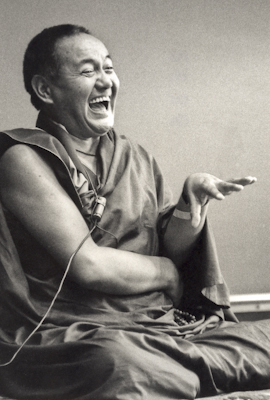 We are getting near the end of our four-year editing on Adele Hulse's official Lama Yeshe biography, Big Love. Over the years, many people have sent us their precious historic FPMT photos and we are currently going through these making selections for the book.
As we go along, we are adding selected images to our online Image Gallery. Our latest addition is a series from 1978, of Lama Yeshe teaching at University of California Santa Cruz, donated by the photographer, Jon Landaw. This fabulous series truly captures the energy and personality of Lama as he is teaching.
We know there are more pictures out there! If you have any photos of Lama Yeshe, Lama Zopa Rinpoche or FPMT centers and activities, please get in touch with me at nick@LamaYeshe.com. We are especially looking for photos from the late 1960s to 1985. Thank you so much.

New Teachings on our Website
Listen Online to Lama Zopa Rinpoche's teachings from the One Hundred Million Mani retreat held at the Institut Vajra Yogini, France, in May 2009. These are excellent recordings, and topics covered include the benefits of reciting Om Mani Padme Hum and how to set one's motivation for retreat.
We have also just posted three Dharma talks on Training the Mind in the Path to Enlightenment given by Rinpoche at Kim Seng Bowl, Singapore in October 1990. Edited by Ven. Ailsa Cameron. An excerpt from these teachings is our featured e-letter teaching for this month.
New Advice from Lama Zopa Rinpoche
Our Online Advice Book keeps growing! We added 15 new advices, including:
... and many others. See all the new advices added to the Online Advice Book this month.
Remember, Lama Zopa Rinpoche's official homepage on the FPMT website is also a wonderful resource for more information and lots of helpful advice.
Lama Zopa Rinpoche at Sera Monastery
Lama Zopa Rinpoche begins a series of oral transmissions at Sera Je Monastery of five volumes of texts and practices related to Most Secret Hayagriva, 27 October to 2 November, 2012. This is an incredibly precious opportunity, as Lama Zopa Rinpoche is one of only three living lamas outside of Tibet who holds these complete transmissions intact.
These five volumes, three of which are compositions by Mongolian lama Kalka Damtsig Dorje and the other two compilations from various great Indian and Tibetan masters such as Vairochana Lotsawa and the Great Fifth Dalai Lama, include commentaries on the root tantra, retreat manuals, sadhanas, puja manuals, self-initiation, details of the origins of the practices and more. See this flyer for more details.
Meditation Survey
We also want to spread the word about a survey being done by Vajrapani Institute in California, as they explore developing an online program to support meditation practice between retreats and teachings. Many practitioners struggle to maintain a meditation practice, especially in this busy, fast-paced world. Vajrapani Institute would appreciate your input as they develop this program. Respondents are automatically entered in a drawing for a gift certificate to the FPMT Shop. Please consider helping them out.

This month we leave you with a teaching Rinpoche gave in Singapore in 1990. Thank you so much for your interest in and support of the Archive. We couldn't do it without you.
Much love, 



Nick Ribush
Director
This Month's Teaching: Mind, Consciousness, and Buddha Nature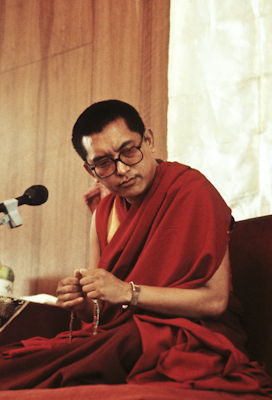 When we think about the mind, or consciousness, it looks as if there is a real mind, a real consciousness, existing from its own side. It looks as if there is an unlabeled mind, an unlabeled consciousness. However, that mind, or consciousness, from its own side doesn't exist at all. First of all, the mind that normally appears to us and that we normally apprehend doesn't exist at all. Not even the slightest atom of that mind exists.

Now, what is the consciousness? It is the phenomenon that is formless, colorless, shapeless, is clear in nature, and performs the function of perceiving objects. Because such a phenomenon exists, it is believed that there is a mind. Because of the existence of this particular phenomenon, it is believed that there is a mind. When this phenomenon meditates on the path, on loving kindness, compassion, patience, and so forth, it is believed that the mind is meditating.

The consciousness of the eye, in dependence upon the sense base of the eye, focuses on just the form aspect of an object; it perceives just the aspect of form. So, the phenomenon that perceives just the aspect of the form of an object is called "the consciousness of the eye."

It is because of the consciousness that today we can remember what we saw yesterday, and we can remember what happened last year or in past lives, and we can see the future. The consciousness that carries the imprints left by karma and continues from life to life is the consciousness of the mind. Because such a phenomenon exists, it is believed, or merely imputed, that there is a consciousness of the mind. It is believed that the consciousness of the mind carries imprints and continues from life to life.

Mind is merely imputed in dependence upon the existence of the shapeless, formless, colorless phenomenon that is clear in nature and able to perceive objects. In dependence upon this particular phenomenon, mind is merely imputed. Mind is just a concept; it's merely imputed. The way the mind exists is being merely imputed by the mind in dependence upon this particular phenomenon. Therefore, when we hear about the mind or think about the mind, we are labeling "mind." At that time our mind is labeling that particular phenomenon, "mind," and we then believe that there is a mind.

Therefore, there is no unlabeled mind; there is no mind existing from its own side at all. That is completely empty. A real mind, an unlabeled mind existing from its own side, is completely empty. So, that is one meaning, the real meaning, of the clear light nature of the mind. That is the absolute, or ultimate, nature of the mind. This clear light, the ultimate nature of the mind, is buddha nature.

By developing the wisdom that realizes buddha nature, the ultimate nature of the mind, we are then able to completely cease our obscurations, both the disturbing-thought obscurations and the subtle obscurations. The subtle obscurations definitely have to be ceased with the skillful means, or method, of the Great Vehicle, bodhicitta, and with wisdom. When, by developing wisdom possessed by the skillful means of bodhicitta, you are able to cease even the subtle obscurations, the continuation of this consciousness then becomes omniscient mind. The omniscient mind, or full enlightenment, means cessation of all the faults of the mind and completion of all the realizations. At that time the continuation of consciousness becomes the actual holy mind of a buddha, an enlightened mind, the bodhimind, the dharmakaya.

The wisdom realizing the emptiness, or ultimate nature, of the mind, this buddha nature, then carries you to enlightenment. It makes you go beyond the obscurations, beyond samsara, to enlightenment.

Also, in emptiness there is no my mind and Buddha's mind; there's no emptiness of my mind and emptiness of Buddha's mind. In emptiness, there is no this and that. Everything is of the same taste.

Having buddha nature is what makes it possible to achieve enlightenment. Because the mind is a dependent arising, dependent on cause and conditions, because mind exists in dependence upon its base and the thought labeling it, mind is empty of existing from its own side. So, this is the ultimate nature of the mind, and this is buddha nature.
This is excerpted from a series of three talks Lama Zopa Rinpoche gave in Singapore in October 1990. Edited by Ven. Ailsa Cameron. You can read the rest of this teaching and the entire series here.