This collection is drawn from teachings given by Lama Thubten Yeshe in the 1970s and 1980s, when he and Lama Zopa Rinpoche traveled the world, teaching extensively. Lama Yeshe was a pioneer in bringing the Dharma to Westerners and the teachings in this book demonstrate his understanding of the Western psyche and his ability to express profound truths in simple terms.
Lama Zopa Rinpoche has described Lama Yeshe as a great, hidden yogi, with high attainments that weren't revealed to others. As well as showing the path to enlightenment to his students, Lama was like a parent, giving advice and happiness. Rinpoche said, "Lama's particular skill was to know exactly what was needed right at that particular time, so even with just a smile or a few words he made others happy and gave them hope."
In Part 1 of this book, Lama Yeshe advises how we can transform our lives by developing warm-­heartedness and "knowledge-­wisdom," while maintaining a relaxed attitude to our practice. He discusses the principal aspects of the path to enlightenment and gives general advice on relationships, educating children and a range of other issues. Part 1 includes Integrating What You've Heard, an edited transcript of the earliest recorded teaching given by Lama Yeshe at Kopan Monastery, Nepal, in 1972.
Part 2 features three discourses given by Lama Yeshe at the sixteenth Kopan meditation course, held at Kopan Monastery, Nepal, in November–December 1983. These were Lama's last public teachings before his health suddenly deteriorated and he was rushed from Kopan to Delhi and then to the United States for treatment. Tragically, Lama passed away in March 1984, so these three teachings have a special significance. In these final teachings at Kopan, Lama offers essential advice to students on how to integrate Dharma when they return to the West. He gives an overview of refuge, the five lay precepts and bodhisattva vows, and teaches on bodhicitta, advising students to hold others dear and benefit them as much as possible.
The teachings in Part 1 of this collection are edited by Nicholas Ribush and include new material. The complete discourses are published here for the first time. Excerpts from these discourses were previously published in the ebook series, The Enlightened Experience: Volumes 1–3, online at Lama Yeshe Wisdom Archive and in other publications including Mandala magazine. Uldis Balodis edited Lama's final teachings at Kopan, presented in Part 2 of this book. The editor of The First Clear Step is not known.
The archive numbers for these teachings are: 011, 025, 046, 072, 147, 224, 337, 395, 443, 447 and 711. To access the teachings online, go to LamaYeshe.com and search by teaching title or by entering the archive number using the Search the Archive Database link on the home page. A comprehensive glossary of the Buddhist terms in this book can also be found on the Lama Yeshe Wisdom Archive website.
Please enjoy these precious teachings, which contain essential and practical advice for both new and old students. Lama consistently encouraged students to recognize and develop their limitless potential, and his dynamic teaching style means that these teachings are as relevant and accessible today as when first taught. As Lama said, "Be wise. Treat yourself, your mind, sympathetically, with loving kindness. If you are gentle with yourself, you will become gentle with others."
Sandra Smith
Palmwoods, Australia
August 2022
---
Editor's Preface: Part 2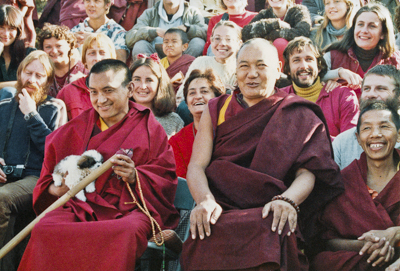 The transcripts of Lama Yeshe's final three teachings offered here were extensively edited to eliminate repetitions and to present the teachings in reasonably fluid English according to Lama Zopa Rinpoche's instructions. However, I have attempted not to lose the characteristic qualities of Lama Yeshe's method of presentation entirely.
Due to incorrect hearing and interpretation, there may be errors of meaning and the responsibility for these is borne solely by the editor. It is hoped that this book will bring inspiration and a deeper understanding of the Dharma to those who were unable to attend the course and those of us fortunate enough to share that month on Kopan Hill.1
Finally, I wish to thank the many kind people, too numerous to mention, for their dedicated work of transcribing the manuscripts and for their suggestions and encouragement.
The merits created through the effort that has gone into this publication are dedicated for the long lives of His Holiness the Dalai Lama, Lama Zopa Rinpoche, Tenzin Ösel Hita and all Dharma gurus and their students and for the flourishing of all centers of study and practice. May every living being rapidly attain the sorrowless state.
Uldis Balodis
Den Nyi Ling retreat centre
Drusti, Latvia
July 2020
---
1 An edited transcript of the entire sixteenth Kopan course (and many others) may be found at LamaYeshe.com [Return to text]