Dear Friends,
Thank you for reading our monthly eletter. Please feel free to share it on social media or anywhere else. We would love more people to see it.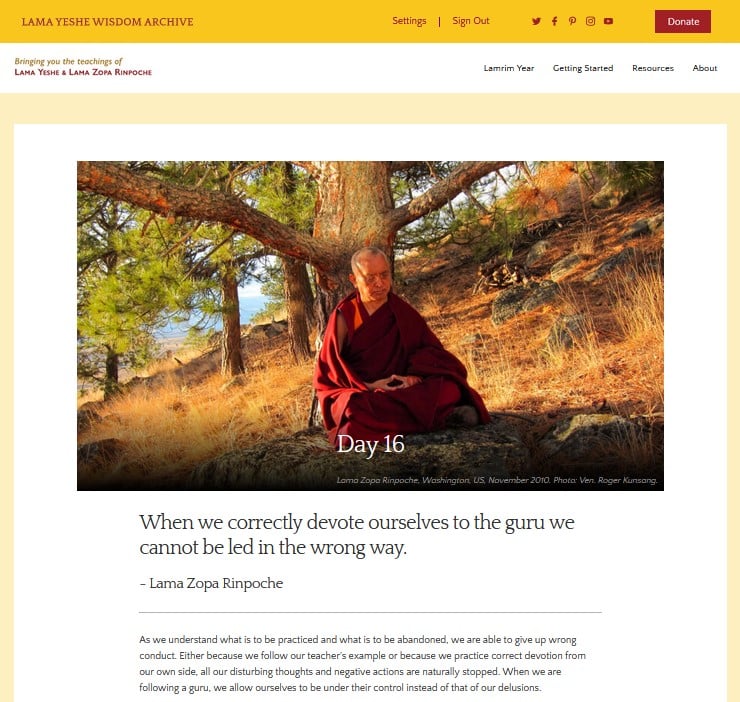 The very popular LYWA free book, Lamrim Year, which we published in 2021, is soon to be released as a FREE web application! This means that you will be able to easily access your daily lamrim contemplation anywhere on a web browser, whether on your phone or on your computer. This forthcoming free web app helps you keep track of your progress through the lamrim outline, sends you a reminder email when you complete each Day that includes a handy link to the next Day's contemplation, gives you the ability to review previous Days at will, allows you to take personal notes as you go, and provides easy access to all related Lamrim Year resources for more in-depth study.
We expect to launch the Lamrim Year web app in the next few weeks. And on Tuesday, May 31, the holy month of Saka Dawa begins. During this month, and especially on the full moon day, June 14, merit created is greatly multiplied, as explained by Lama Zopa Rinpoche, when talking about Buddhist holy days. We welcome your donation in support of this project. Stay tuned for news of the launch!
FROM THE VIDEO ARCHIVE: Enlightened Experience Celebration Illuminated
This month from the LYWA video archive we bring you rare footage from the first Enlightened Experience Celebration (EEC1) held in India from January to June 1982. The EEC1 report notes that it was a gathering of the monks and nuns of the International Mahayana Institute (IMI) and lay students, to continue the process of bringing Buddhadharma to the West. Big Love: The Life and Teachings of Lama Yeshe devotes a full chapter to describing the activities offered during EEC1.
The first video in this series is a long-life puja for the lamas, as described in Big Love: "On the morning of April 28, just a couple of days before the Enlightenment Experience Celebration ended, a long-life puja was offered to Lama Yeshe and Lama Zopa Rinpoche at Tushita Retreat Centre." In the second video Lama Yeshe gives a wonderful farewell teaching to students at the conclusion of the long-life puja. Lama Yeshe says: "I'm very satisfied and convinced that we are all working together to share the Dharma with the Western community."
The third video depicts a student performance offered to Lama Yeshe at the end of Lama's farewell address. Big Love recounts: "Three young women had prepared an 'entertainment offering' that definitely went beyond the bounds of Tibetan tradition." Cat Wilson on guitar and vocals sings "Don't Know Much About Emptiness" to the tune of a contemporary song, while Paula Nyingje Chichester (in black) and Mo Wilke (in red) dramatically enact aspects of the teachings.
Visit and subscribe to the LYWA YouTube channel to view more videos freely available from our archive. See also the FPMT YouTube channel for many more videos of Lama Zopa Rinpoche's teachings.
On the LYWA Podcast: The Label is not Enough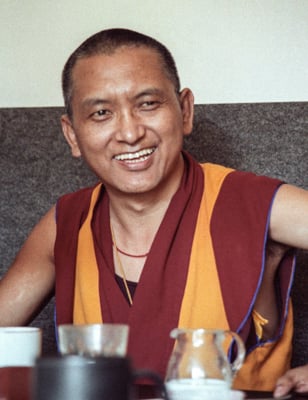 Do not be confused by people who try to disprove the existence of objects of faith like reincarnation or karma by simply labeling them as nonexistent.
  - Lama Zopa Rinpoche
This month on the LYWA podcast, Lama Zopa Rinpoche addresses how some people try to disprove the existence of reincarnation and other objects of Buddhist faith by labeling them as false views or heresy. Rinpoche demonstrates how labeling something is not enough to make the labeled phenomena function according to that label. In a similar way, we should not be confused by people who label our objects of faith as nonexistent. Instead we should rely on our faith and apply our wisdom in meditation to experience their functional phenomenal existence. Rinpoche gave these teachings during a lamrim course at Maitreya Instituut, Emst, in August 1990. You can read along with the transcript on our website.
The LYWA podcast contains hundreds of hours of audio, each with links to the accompanying lightly edited transcripts. See the LYWA podcast page to search or browse the entire collection by topic or date, and for easy instructions on how to subscribe.
WHAT'S NEW ON OUR WEBSITE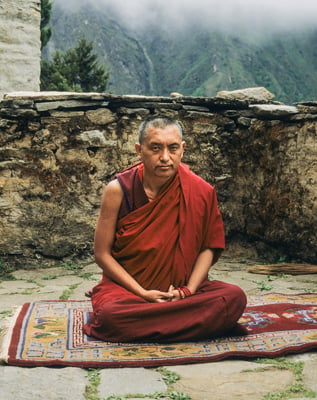 This month we have posted the 26th Kopan Course, lamrim teachings given by Lama Zopa Rinpoche at Kopan Monastery, Nepal, in 1993. Highlights include teachings on tonglen (taking and giving) in Lecture 4, a meditation on emptiness in Lecture 8, and teachings on karma and the four suffering results of nonvirtuous actions in Lecture 11 and Lecture 14. You can read these teachings online or download a PDF of the entire course.
We also have new additions to Lama Zopa Rinpoche's Online Advice Book this month to share with you:
You can always find a list of all the newly posted advices from Lama Zopa Rinpoche on our website.
Alternatives to High Shipping Costs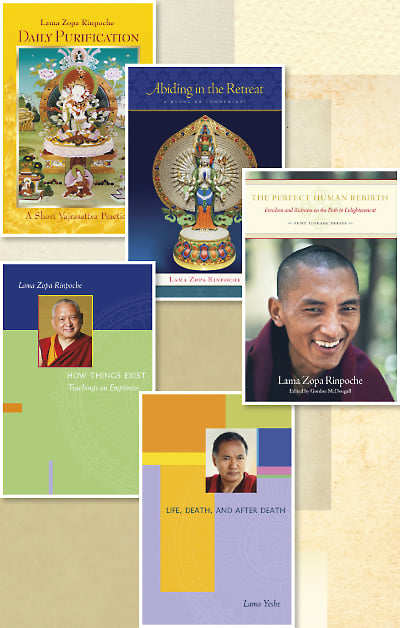 We've been noticing an increasing number of incomplete orders on our website, and have heard from some of you that the shipping costs are too high. We've seen postal rates rise steadily, especially for orders shipping outside the US. Fortunately, there are many alternatives!
Read Online: All of our free books are posted on our website, and you can download a pdf to read offline.
Ebooks: All of our titles are available from a variety of ebook vendors.
Audiobooks: Four titles are available on Audible, and seven titles are available for FREE on Google Play, with more to come!
Print-on-demand from Amazon: Ten titles can be ordered directly from Amazon, and US and Australian customers need only pay local shipping!
You can find links to all these resources on each book's page in our online store.
More good news for our Australian customers: a sea shipment is on its way with orders from local centers for our titles, so if you live near a center you can pick up some of our titles there. For those of you without a center nearby, we are replenishing stock of Big Love, Lamrim Year and Nectar of Bodhicitta for our volunteer distributor, so you can order these titles from the LYWA website and pay much lower shipping.
We encourage centers in other parts of the world to organize a larger shipment of books (even it's just one box) for interested members who may be able to split the cost of shipping. And, we are always happy to help arrange for the printing of our titles locally – just ask us to send you print-ready files!
If you ever encounter an issue on our website, or would like more information on any of the options above, please send an email to Jen.
LYWA Community News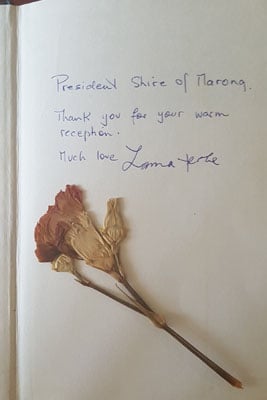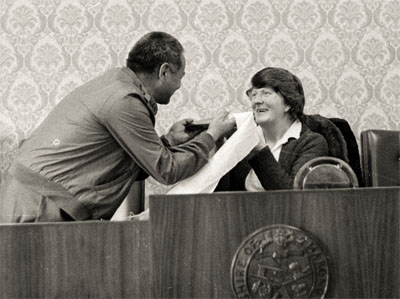 Elizabeth Eagleton, a student in Queensland, Australia, was advised by her teacher, Ven. Pende Hawter, to read the book Silent Mind, Holy Mind, a collection of talks by Lama Yeshe. Elizabeth later found the book on eBay, with a dedication for a local government official in central Victoria. Elizabeth writes, "To my delight it is a first edition of the text and has an inscription by Lama Yeshe himself. It also has a very old flower pressed in the back and I hope that Lama Yeshe might have held it at some time. I'm definitely rejoicing in my good fortune." Read more about Lama's visit to the Bendigo region and his plans for Atisha Centre and the Great Stupa of Universal Compassion, in Big Love, pp. 930–34.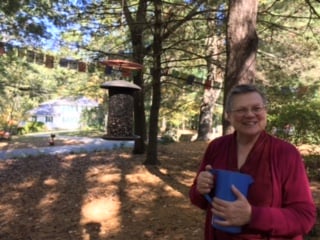 We also want to share with you that our hard-working and dedicated Office Manager, Ani Tenzin Desal, will be taking a well-deserved retreat starting in June. During that time, there may be fewer options for shipping, and we'll put any requests for larger orders on hold until she returns in July. We wish Ani Desal a joyful and relaxing retreat!
As always, thank you so much for your interest and support, which makes it all happen. If you would like to contribute to our forthcoming Lamrim Year web app during this special time, please make your donation here. And please let us know if there's anything that we can do for you.
Big love,

Nick Ribush
Director
THIS MONTH'S TEACHING: LAMA'S Concluding EEC1 Talk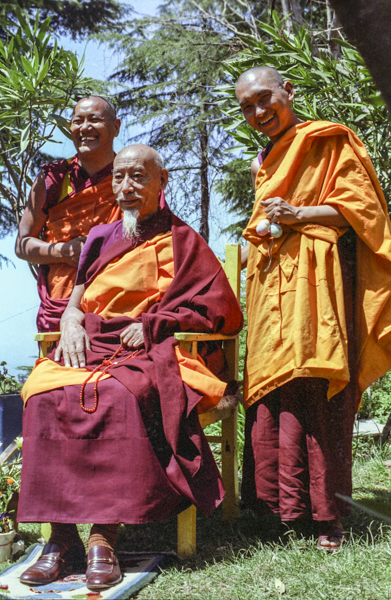 At the end of the first Enlightened Experience Celebration (EEC1), the students offered Lama Yeshe a long-life puja, at the conclusion of which Lama gave the following talk. After that, three students offered Lama a little Dharma pantomime.
As we conclude this Dharma Celebration [Enlightened Experience Celebration 1, EEC1], I'd like just to say a few words to thank you, all my Dharma brothers and sisters, so much for everything. I'm very satisfied with how you have all put your lives into the Dharma and I'm convinced that we are all working together to share the Dharma with the Western community, to bring Dharma to the West. We can do it, we should do it and, without hesitation, dedicate to that end. As a result of this Dharma Celebration, during which we have taken teachings from many profound holy gurus, I feel we have the strength and conviction to do it.
In particular, we know that what we're trying to do is not just some kind of trip: "Oh, we don't have anything better to do, so we're doing Dharma." We know that the Dharma is the way to lead all sentient beings to enlightenment, to bring satisfaction to all beings. We know that beyond any doubt or indecision.

And I'm not just thanking you for what you did. I'm emphasizing that now what we have to do is to bring the Dharma into the Western world. I want each of you to feel that that is your responsibility. Don't think that Tibetan monks are responsible. That's not true. I mean, you people organized this Dharma Celebration; you put it together, not me. All I did was show up, say a few words and then goodbye! That's what I always do. You people are the nuclear energy for the transmission of Dharma to the West and you shouldn't be reticent to do it. I want you to understand that. The Dharma we offer to the West is of incredible benefit and the need is so great. And don't think that Dharma can benefit only a few people. It's of benefit to all living beings in the universe. You know that.
Now, you are here, in India, but you can see what's going on in the Western world, can't you? Even though in the West we have some philosophy, religion and psychology, in many ways these disciplines are incomplete. I'm not putting them down, but they do not offer satisfaction from beginning to end. Buddhism, on the other hand, contains incredible explanations of the nature of life, from start to finish, and how human beings can be healthy, lead profound lives and serve society. Buddhism explains all this.
Dharma students should have the attitude that they are servants to society. I mean this in the practical sense. Otherwise, we are junk! We mouth, "for the benefit of all mother sentient beings, for the benefit of all mother sentient beings, for the benefit of all mother sentient beings, for the benefit of all mother sentient beings," but we don't help the people in front of us. If we leave out the people around us, then where are "all mother sentient beings"? Who are they? Tigers? Bears? Where are they? In the jungle? Is that your connotation of "all mother sentient beings"? But the people in your immediate surroundings are not mother sentient beings?

It's true that monks and nuns adopt a certain lifestyle. Our lives are different from those of laypeople. But that doesn't mean we're hiding. We're not hiding. We're working for mother sentient beings. Working for and serving other people is Dharma. Some people have the wrong conception that working, doing something, is not Dharma, that Dharma is just spacing out. Do you think that's the right understanding of Dharma? That's impractical, impractical. That's just intellectual philosophy; no practical application. Dharma should be practical. We in the Dharma community should serve each other. We have to act; we have to use our hands, not only our head. Spacing out is not enough.

Also, you have to judge the best way in which you can benefit others. I want you, not me or other lamas, to judge how you can best benefit others. I believe you know this already. In my case, I feel that I'm the only one who knows what I should do. I don't ask the oracle; I don't ask my lama. I know. How long have I been listening to my lama? I've been listening for many years and I know what he wants me to do. Are you communicating or not? You know what the Buddha wants you to do, right? Are you going to ask him, "Buddha, what do you want me to do?" That's wrong; really wrong. You should already know. You've been here listening to teachings for four months. You still don't have any answers? Phew! My goodness!

Do you remember what His Holiness Zong Rinpoche said? The first thing we rely on is the relative guru, our physical teacher. Then, go beyond the relative guru to the scriptures, which explain everything in detail. Research and rely on those. Finally, rely on the rang sem lama, your own mind guru. That's what His Holiness Zong Rinpoche advised. I think that was super. That tells you the complete truth: you are the guru; you are the buddha; you are the Dharma; you are the sangha. Actually, you know what you have to do. You should have confidence in yourself, that you know what to do.

I'm not saying you should never ask your guru anything. From time to time there will be certain things that you do need to ask about. But you know the principal things; through having studied the Buddha's teachings, you already know the main things that you have to do.

Anyway, now, thank you so much for your dedication, your sincere listening to teachings and the long-life puja you offered me, even though I'm not worthy of being requested to live long. I don't even know what's going to happen a minute from now! Nevertheless, you people asked sincerely, so I have to accept; I have no freedom not to, it's kind of a social obligation. But still, it's of benefit.
However, the real long-life offering is your getting yourselves together, serving other beings and organizing other people to serve. Even if we want to serve two people, we need to organize; if we want to serve three people, we need to organize more. We do need to organize. Therefore, serve the Dharma as much as you can by organizing in order to propagate the teachings. It's not that we're ambitious; it's that people's needs are so great. So be practical. Make the best use of your time and space to benefit others and don't waste your time. That's the best long-life offering you can make to me and any other lama. That's good enough. Be practical, be practical, be practical.

That's the way our gurus are. They serve us, the Buddhist community. In order for them to serve, they need to exist. For that to happen, we need to put in the energy by working together. But if everybody spaces out, if everybody does a Milarepa trip, it won't work. We won't be able to organize our working-class Buddhists to work together. For example, if the organizers of this Dharma Celebration had done a Milarepa trip, none of this would have happened. But because, instead, they expended their energy, we all had a good time and so many people benefited. That was the result of the kindness of those mother sentient beings and the energy they put into being practical.

Of course, some people can space out while others work, but then they have to switch around; we have to share the opportunities to both space out and work. In our organization, some people are always working and don't get the chance to retreat. That's wrong. That's a problem within our organization. On the other hand, some people never work. They constantly space out and spend all their time complaining, "Blah, blah, blah, blah, blah, blah." Therefore, we should compromise and share, with sympathy for one another. If there are people who haven't had a chance to retreat, offer to work for them so that they can get away and meditate for a while.

Be balanced; within our Dharma group we should be balanced. We are vajra brothers and sisters, so we should be kind to each other and live in harmony as much as possible. The most powerful nuclear energy in bringing Dharma to the West is harmony among the disciples. Members of a Dharma group must be harmonious. That's the most important thing. If there are good vibrations among the students, we can truly bring the Dharma to others. If the vibrations are bad, putting energy into even intellectual study is just a waste of time.

One more thing is that when you're involved in organizing with others, you should be ready to accept when you're wrong.  If somebody tells you you're wrong, you should immediately respond, "Yes, true. I'm wrong." If you don't have that kind of readiness, you're going to find it very hard to be harmonious with others. It's not possible. Thinking "I'm always right" is just your ego asserting itself. You have to be ready to admit that you're wrong. That's what the lamrim teaches, and you need that kind of attitude to progress in the Dharma or for any other kind of accomplishment or success. I call that a humanistic, healthy situation, and it's necessary for people working together in a Dharma group. It's the way to be happy, and I want you all to be happy. Work in happiness. If people are miserable, disharmonious and in conflict, it would be better that they not work together and instead become numb, like wood or iron.

So, that's my prayer for you. Of course, I know that because we're fundamentally dualistic we're going to have conflict. That's in the nature of samsara. Who amongst us doesn't experience conflict? But somehow, if we have an easy-going attitude and are ready to admit we're wrong, we're going to find harmony in our relationships. Please be harmonious. That's the best offering you can make to all the buddhas and bodhisattvas.

I'm not saying you're not, but when we do big things for the Dharma, difficulties can arise. The more people are involved, the more likely is it that there'll be disharmony because we all have big egos, right? But looking at the overall picture, I'm convinced that you people are working for the Dharma sincerely, offering your body, speech and mind in service to others. Nevertheless, I still want you to be aware of your motivation. That's important.

I think that's good enough. Thank you so much, and have a good evening. [Lama is requested to stay for a concluding performance.]
Lama Yeshe gave this talk at Tushita Meditation Centre, Dharamsala, April 28, 1982. The story of this event can be found in Big Love, pp. 1021–27. Edited by Nicholas Ribush.