Dear Friends,
Thanks again for all your support in helping to make our 2021 year-end appeal a great success. I know we've told you this before but we really can't do this without you!
This month we bring you a new video, a new podcast, new teachings on our website, more advice from Lama Zopa Rinpoche and a new free audiobook to share with you. Please feel free to share our monthly eletter everywhere!
And if you haven't taken advantage yet of our discounted special offer on Big Love: The Life and Teachings of Lama Yeshe you have until January 31, 2022 to do so. Don't miss out on this great price! We want Big Love available everywhere to everyone who wants a copy, so please check in with your friends, family and Dharma centers and help us to spread Big Love everywhere! See below for more details.
From the LYWA Video Archive: The Light of Purpose & The Power of Tonglen
This month from the video archive we bring you Lama Zopa Rinpoche explaining how shifting our perspective from self to others brings light to our day, peace to our heart and purpose to our lives. As an example of serving others, Rinpoche describes the practice of taking and giving, also known as tonglen. Rinpoche illustrates this practice as done by a student who ended up curing themself during tonglen due to the power of their selfless compassion. This video is an excerpt from teachings given by Lama Zopa Rinpoche during a retreat hosted by Thubten Kunga Ling Center in Boca Raton, Florida in November, 1998.
Visit and subscribe to the LYWA YouTube channel to view more videos freely available from our archive. See also the FPMT YouTube channel for many more videos of Lama Zopa Rinpoche's teachings.
This month on the LYWA Podcast: The Long-Life Mantra of White Tara
Those sentient beings who accumulate merit, especially the sentient beings who know how to accumulate merit, if they have long life, you see, then the longer they live then they are able to make their life more meaningful. They are able to create more cause of happiness, so there is sense in living long.
  - Lama Zopa Rinpoche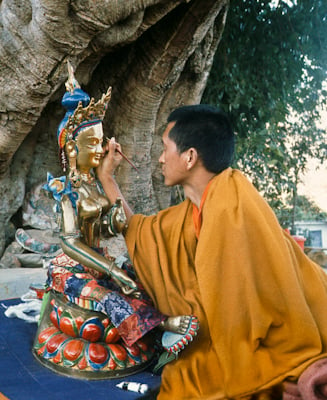 This month on the LYWA podcast, Lama Zopa Rinpoche gives an oral transmission of the mantra of White Tara and then leads us in an extended recitation of this precious mantra. Rinpoche dedicates the recitation by refreshing the visualization, proposing objects of practice and by pointing out that the purpose of living a long life is even more important for those who are accumulating merit in this life for the sake of others. May all beings receive the undying realization! These instructions were given by Rinpoche at the Fourteenth Kopan Meditation Course in 1981. You can read the transcript of Rinpoche's instructions here.
The LYWA podcast contains hundreds of hours of audio, each with links to the accompanying lightly edited transcripts. See the LYWA podcast page to search or browse the entire collection by topic or date, and for easy instructions on how to subscribe.
WHAT'S NEW ON OUR WEBSITE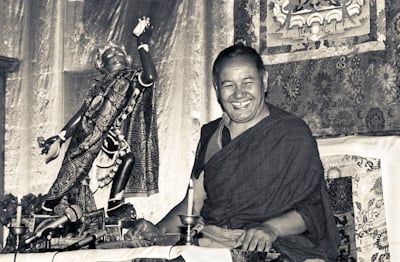 This month we have posted three discourses from an Introduction to a Vajrayogini Commentary given by Lama Yeshe in September, 1979 at Chenrezig Institute in Australia. In these introductory discourses, Lama addressed the topics of renunciation, bodhicitta and emptiness, the preliminary meditations needed for practicing tantric yoga. The transcript, kept largely in Lama Yeshe's original words, is lightly edited by Nicholas Ribush.
For individuals initiated in Heruka or Vajrayogini Highest Yoga Tantra, the entire commentary is available as a pdf file for purchase on our website. You can also find an excerpt from the first discourse on renunciation and bodhicitta in our monthly teaching below.
Every month we share new advices for Lama Zopa Rinpoche's Online Advice Book, adding more than 100 new entries every year on a variety of topics. There are now more than 2,200 of Rinpoche's precious advices online.
You can always find a list of all the newly posted advices from Lama Zopa Rinpoche on our website.
LYWA community News & Offerings: new Free Audiobook & Lamrim Year Challenge
We are happy to offer you another free audiobook this month. We hope you gain a different and deeper understanding of these vast and profound teachings by listening with your ear senses to Freedom Through Understanding as narrated by Michelle. This brings our audiobook catalog to five free titles and counting!
And in case you missed it, here are the four free audiobooks we offered to the LYWA community last month: Virtue and Reality, Essence of Tibetan Buddhism, The Joy of Compassion, and The Peaceful Stillness of the Silent Mind. You can listen to the audiobooks on your smartphone and tablet by installing the Google Play Books app for Android and iPad/iPhone or you can listen to them on your computer's web browser. This is a new initiative so please let us know what you think.
Don't miss out on an opportunity to practice the lamrim in 2022. Amitabha Buddhist Centre (ABC) is launching a Lamrim Year Discussion Group and they are inviting more pledges to make 2022 a Lamrim Year. You can find out more about this initiative by joining an upcoming Zoom call with Alison Murdoch, editor of Lamrim Year, on February 8, 2022. We'd like to support this initiative by offering a free Lamrim Year ebook to anyone interested in making this pledge. If you are interested, please send us an email with your pledge.
Spreading BIG LOVE EVERYWHERE
We are delighted to share with you the wonderful feedback from readers who have been sending tributes, observations and thanks to the author, editors and others who have contributed to the production of Big Love. Here are a few that warmed our hearts:
This book reminds me of the early times, the mid-70s. In those times Kopan was not very materially advanced but there was great inner richness in the students, in their dedication, and in their devotion to the lineage. Now all of us are getting old! Somehow this book really connects the early 1970's and the 21st century, and shows us how, due to this dedication and devotion to the spiritual path, to the lineage, to Lama Yeshe and to Lama Zopa Rinpoche, one is able to look beyond the material world to something powerful and profound. This book is a great cause for all of us to rejoice in everything we have done, and in the accomplishments of our own paths, and this lineage, and to dedicate. I think it's really wonderful.
– Yangsi Rinpoche

What do I think of Big Love? Well, what I think is that you [Adele]—and Peter! And Nick! And Connie! Everyone! —have done a stupendous job. The writing does sing: all that reading bore fruit! The editing, the structure, the continuity: beautiful. I love the back matter: all the details. The photos, the paper, the binding, the slip case: all gorgeous.
– Ven. Robina Courtin

Thank you so much for Big Love, which arrived yesterday. It is a truly beautiful expression of the big love of Lama Yeshe's students for him and of his big love for all beings.
– Dr. B. Alan Wallace
Finally, we want to remind you that our special offer of Big Love is ending January 31, 2022. So don't miss your chance to get your discounted copy before the end of the month!
If you donate $125 or more to LYWA, we will send you or any person or center you designate a copy of the epic Big Love: The Life and Teachings of Lama Yeshe.
If you would simply like to buy a copy of Big Love, from now until the end of January 31, 2022, we are offering it for only $48 plus shipping and handling. That's a $37 discount!
As always, we appreciate your interest and support. Together we make all of this possible.
Big love,

Nick Ribush
Director
THIS MONTH'S TEACHING: Acting in the Middle Path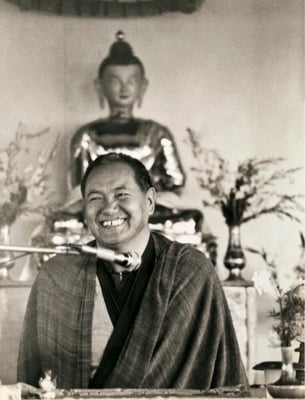 Now, renunciation. The renunciation of samsara is an extremely essential, fundamental thing for all of us. Because if we don't have renunciation of samsara, what happens is that we totally rely, our attitude is to totally rely, on sense objects, such as this flower, for our pleasure—the relationship pleasure of this flower.
So if we don't have renunciation of samsara, our attitude contains some kind of deeper trust, preconception idea, that, "I trust you [this flower] completely—you are the source of my happiness therefore I love you, you should love me." This kind of attitude, unreasonable, overestimating attitude, to temporal phenomena is too extreme. Such grasping attitude toward temporal pleasures, unreasonable, overestimating attitude is painful; its nature is painful. 
So we should have strong impression, impression to convince ourselves, "Yes, this is good at the moment; OK, it helps something, it gives some pleasure, temporal pleasure. OK, I accept that. But I should not expect more than that." So there is less tension in this relationship. Just as this example, for the whole existent phenomena, all Australian pleasure is the same thing—transitory, no solidity. We should accept when this disappears, without any miserable reaction. Who cares? This is time to disappear, disappear. So that all the pleasure, what we consider as sense world, disappear, disappear; come, come. The thing is that renunciation of samsara makes you flexible; at least flexible. 
There's no strong reaction: this disappears, my heart shakes. Why? The nature of this is to disappear. My nature is to disappear, so what? We have to accept, without uptight and fear or tension, and without holding such unrealistic idea on the reality of any existent pleasure or pain.
Buddhism teaches your mind to act in the middle path, by avoiding extreme views. If I make an example, in Australia, boys worry about their girlfriend and girls worry about their boyfriend—losing these things. That's the samsaric mind, not having renunciation of samsara. Instead of crying day, day, and night, night, better meditate on renunciation of samsara! Well, that's why Buddhist philosophy is so simple, so practical—it deals directly with everyday life. Philosophy is not some kind of ancient history—it's the philosophy of the scientific reality involving what is happy and what is not happy.
Now, bodhicitta is understanding that all universal living beings have the problem of attachment and the symptoms of ego and feeling sympathetic; more universal levels sympathetic rather than only the small view of oneself, extreme sensitivity looking me, only seeing me. Me is the most horrible, I am, look at all that. From the point of view of the great vehicle, Mahayana, that is still a neurotic attitude even though it has some good quality. It's true—when we look more at the world, how sentient beings are suffering, your pain is nothing, your pain becomes almost nothing, so that psychologically you have room, there is room.
Besides that, taking responsibility, that it's possible if I can develop myself kind of perfectly, totality, actually I can do, I can lead all these sentient beings into perfection, or liberation, or enlightenment. It's possible. And feeling that I can take the responsibility myself; it's possible seeing also the potential.
When we think about it, we might say, "Oh, that is just a joke; that is just a Mahayana joke, Buddhist joke. There are too many insects, mosquitoes; so many sentient beings. And how many days are there in one year, in my life, how many days?" We make these things up, we make time up. Time—day and night—is our interpretation. These things are not self-existent. We have such incredible idea that time is very short and Buddhism says things that way how can I possibly do it.
We kind of suffocate ourselves, "Oh Buddhism has such incredible ideas—the ideas put me like this. [Lama demonstrates being suffocated] I am here, therefore I can't." Then the question is that your measurement of life and time, and day and night, months and year is nothing; you have just made it up, human beings make it up, make pressure.
In other words, who made it? First of all the nineteenth century, what we made is when it starts, so human beings made it up, decided from time of Jesus, blah, blah, blah, and these centuries, dah, dah, dah, dah, and before that … we do that one and everybody announces A.D. That's all isn't it.
So we believe, "Oh, A.D., yes, day, night, June, July, August, September." And we make incredible packet like this—June here, July here; kind of difficult, so difficult. In reality, all these things have been made up by the garbage mind, to become garbage. So we are in difficulty.
The bodhicitta attitude is, as I mentioned, taking responsibility for all universal sentient beings. For countless lives because of attachment, the neurotic ego, they have been made to suffer. Actually, this is not absolutely existent within me, nor in them either. The release of this bondage, extinguishing this bondage, is liberation.
So compassion starts that way, compassion. Even though the bondage of ego and attachment are not the absolute nature of beings, the strong wind and many big waves come and cause turbulence. Therefore, it's possible. The word bodhicitta is Sanskrit—it is, literally, an opened heart. The opened heart is bodhicitta.
Excerpted from Vajrayogini teachings given by Lama Yeshe at Chenrezig Institute, Australia, in September 1979. The transcript is lightly edited by Nicholas Ribush and kept largely in Lama Yeshe's original words. You can continue reading this teaching, and find additional introductory discourses on this topic, here on our website.