Dear Friends,
Thanks so much for your interest in and support of the Lama Yeshe Wisdom Archive. Please feel free to share our monthly eletter everywhere!
Our latest free publication, The Nectar of Bodhicitta: Motivations for the Awakening Mind, is now being shipped to everyone who has requested a copy! This book presents Lama Zopa Rinpoche's teachings on bodhicitta, the mind of enlightenment, with verses and commentary on two inspiring texts, The Jewel Lamp: A Praise of Bodhicitta by Khunu Lama Rinpoche and A Guide to the Bodhisattva's Way of Life by Shantideva. If you would like a copy in either print or ebook format, please order here!
We are offering a copy, with free shipping, to all IMI monks and nuns who want it. Please email [email protected] with your preference of either print or ebook format. If you want a print copy of the book, please include your address and contact phone number, and also mention if you are part of an IMI community. Thank you!
We are also happy to send boxes of The Nectar of Bodhicitta (44 copies per box) to FPMT centers who want them. Centers will only need to cover the cost of shipping. If you'd like to request a box for your center, please email [email protected].
Thank you to everyone who helped to support this project. Your contributions made a difference!
ON THE LYWA PODCAST: Making This Precious Human Rebirth Meaningful
Be very clever: "I should be very skillful with my life from now on. I should be very careful with my life. I must make it, without wasting the precious human body which I have received now, without wasting it, I must make it meaningful, highly meaningful as much as I can."
  —Lama Zopa Rinpoche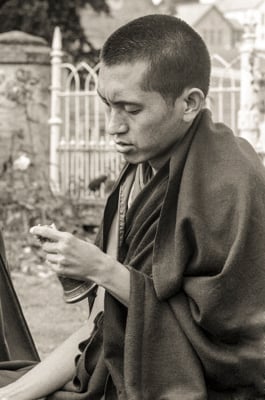 This month on the LYWA podcast we invite you to listen to foundational teachings from Lama Zopa Rinpoche on the great preciousness of our perfect human rebirth. Rinpoche gave these teachings in August, 1979 in Cumbria, England. Read along with the transcript here.
The LYWA podcast contains hundreds of hours of audio, each with links to the accompanying lightly edited transcripts. See the LYWA podcast page to search or browse the entire collection by topic or date, and for easy instructions on how to subscribe.
From the Video Archive: How to Cut the Root of Samsara
This month from the video archive Lama Zopa Rinpoche explains what binds us to samsara from lifetime to lifetime and encourages us to take advantage of this understanding for the sake of all beings. Rinpoche explains that in order to cut the root of samsara, we must first clearly and correctly identify its cause. These teachings were given by Rinpoche at Kurukulla Center in Boston, Massachusetts in September, 1990.
Visit and subscribe to the LYWA YouTube channel to view dozens more videos freely available from our archive. See also the FPMT YouTube channel for many more videos of Lama Zopa Rinpoche's teachings.
WHAT'S NEW ON OUR WEBSITE