Dear Friends,
Thank you so much for your interest in the Lama Yeshe Wisdom Archive and for subscribing to our monthly eletter. Please feel free to share it with others.
A big thank you to everyone who donated to us over Lhabab Duchen. Your generosity and support is greatly appreciated!
In this month's issue we have updates on our year-end appeal, a new Lama Yeshe video, a podcast teaching by Lama Zopa Rinpoche, a new free audiobook offering, new Russian and Hebrew translations, and parenting advice by Rinpoche. Read on and enjoy!
LYWA Year-End Appeal: keep the dharma flowing freely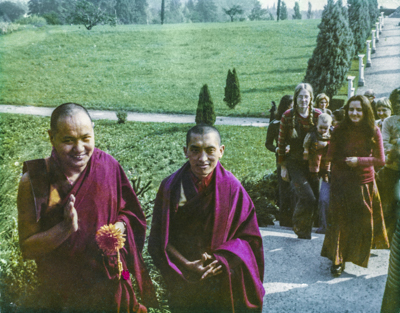 As some of you already know, we launched our year-end appeal, aiming to raise $60,000 by December 31 to help us close out the year on a positive note and get 2023 off to a great start. Speaking of a good start to next year, your contributions allow us to publish amazing free books like the forthcoming Knowledge-Wisdom, which is being printed right now! Thank you to everyone that has donated so far. We have raised $7,000 toward our goal.
We endeavor to make the Dharma accessible in as many ways as possible. So, in addition to the books in print that you all know and love, we are reaching interested seekers through our website, ebooks, video, podcasts, multimedia presentations and now free audiobooks (see below for our latest offer)! Please help us to keep the Dharma flowing freely by making a donation toward our year-end appeal.
And for those of you who choose to shop on Amazon this holiday season, you can create the cause of Amazon donating 0.5% of your purchases to LYWA. Thank you so much to the 108 folks who have caused Amazon to donate $2,585 to date! [Note: The AmazonSmile customer donation program on February 20, 2023.]
From the Video Archive: Refuge and the Eight Worldly Concerns
This month from the video archive, Lama Yeshe explains how the eight worldly concerns can distract us from taking refuge in the Dharma. These teachings were hosted by Maitreya Instituut in Naarden, the Netherlands in October, 1980.

Visit and subscribe to the LYWA YouTube channel to view more videos freely available from our archive. See also the FPMT YouTube channel for many more videos of Lama Zopa Rinpoche's teachings.
On the LYWA Podcast: Let Go of Suffering for the Sake of Others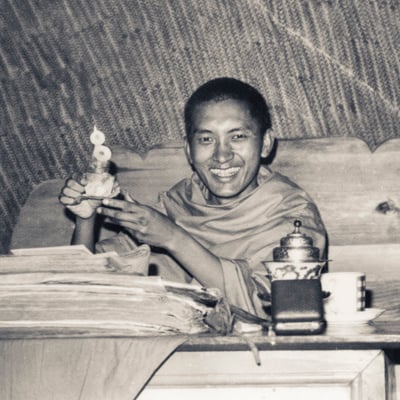 As long as you don't drop the burning fire, the fire that burns your hand, the burning cannot be stopped. So like that, as long as one doesn't abandon the self, the I, one cannot abandon suffering, one cannot be free from the suffering.
-Lama Zopa Rinpoche
 
This month on the LYWA Podcast, Lama Zopa Rinpoche guides us through the preciousness of our perfect human rebirth and explains how abandoning the self is the path to freedom from suffering for ourselves and all sentient beings. These teachings were given at Root Institute, Bodhgaya, in December 2003. Follow along with the transcript on our website.
The LYWA podcast contains hundreds of hours of audio, each with links to the accompanying lightly edited transcripts. See the LYWA podcast page to search or browse the entire collection by topic or date, and for easy instructions on how to subscribe.
WHAT'S NEW ON OUR WEBSITE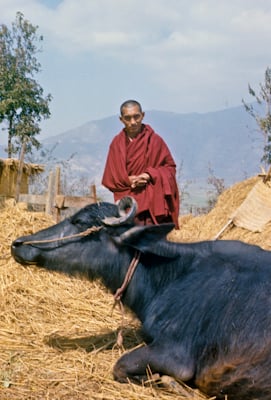 This month we have posted a Twenty-One Taras text, which includes the Praises, a commentary, a critique of the various translations, and images of the Twenty-One Taras according to both the Suryagupta and the Nagarjuna-Atisha lineages. Compiled and edited by Hermes Brandt. This text can be found on our EEC1 page.
Enjoy Life Liberated from the Inner Prison has now been translated into Russian and is freely available as a PDF file. This book presents Lama Zopa Rinpoche's advice to prison inmates, drawn from letters he has written to prisoners over the years. Translation by Diana Voronina. Commissioning editor Maya Malygina. A print copy of the Russian translation of this book is imminent and 200 copies will be distributed to prisons in Kalmykia, with thanks to FPMT Russia for taking on this translation project. You can find links to this book and many other Russian translations here on our website.
Every month we share new advices for Lama Zopa Rinpoche's Online Advice Book, adding more than 100 new entries every year on a variety of topics. There are now more than 2,200 of Rinpoche's precious advices online.
What Makes Life Meaningful: This poem about working to benefit others was composed by Lama Zopa Rinpoche and transcribed by Ven. Roger Kunsang.
 
Parenthood and How to Benefit Children: This detailed advice was given to a student who had asked Rinpoche how she could benefit her children. Rinpoche advised how to bring children up in the best possible way by teaching them to be kind, patient and humble. You can read an excerpt of this advice below in our monthly teaching.
 
Follow Great Compassion: In this letter, Rinpoche explains that we need to dedicate our lives to sentient beings, to free them from suffering and bring them to enlightenment.
 
How to Help Cows and All Sentient Beings: Rinpoche sent this advice to a student whose daughter was concerned about cows and how they were being harmed.
You can always find a list of all the newly posted advices from Lama Zopa Rinpoche on our website.
free new Audiobook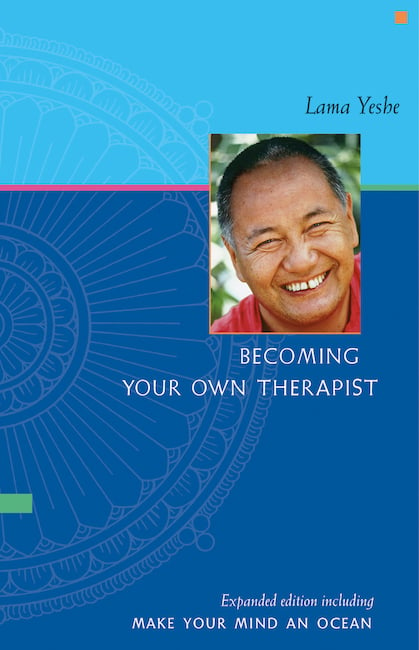 We have a new free audiobook to share with you, Becoming Your Own Therapist & Make Your Mind an Ocean by Lama Yeshe. It's now available for listening on the LYWA Youtube channel. You can also find more popular titles here on the LYWA YouTube channel.
You can also check out the entire LYWA audiobook catalog here, which includes some of our most popular books by Lama Yeshe and Lama Zopa Rinpoche, now available as free audiobooks from Google Play and titles for purchase from Audible.
As always, we thank you for all your support and interest. We couldn't do it without you! And please consider supporting our year-end appeal by making a donation today and help us to keep the Dharma flowing freely. Thank you.
Big love,

Nick Ribush
Director
This Month's Teaching: ALL BEINGS ARE PRECIOUS, SO TOO IS YOUR CHILD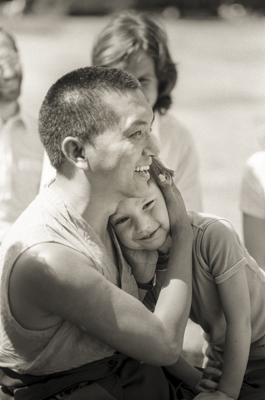 Every hell being, every hungry ghost, every animal, every human being, every sura being, every asura being and every intermediate state being has been kind to us. Every animal, for example, means the smallest sentient beings in the ocean that we can only see with a microscope, the worms living under the earth, the smallest flies and insects in the bushes and trees, the microorganisms living in the human body and in animal bodies, and the ants—scientifically mentioned there are twelve or thirteen thousand different kinds of ants—and mosquitoes. From every single one of them, we receive all our past, present and future happiness, including enlightenment. Therefore, everyone is most precious, most kind, most dear and wish-fulfilling, in that they fulfill all our wishes for happiness. Because of this, it is the most important thing for us and we are most happy if we are able to do them a little service and cause them even a little pleasure. That, in turn, depends on us refraining from harming them.
Now, it is exactly same with your child. It is, therefore, most important to offer them service, to stop giving them even a small harm and to give them even a small pleasure. It is the most important thing to do, it is the most fulfilling and it makes you most happy. You can rejoice, thinking you are so lucky that with your body, speech and mind you are able to offer service to and benefit this child. The thought that you should have in your everyday life is how to make your hands and legs beneficial and how to make your body, speech and mind beneficial to this child. That is what you should think every day, in the morning, afternoon and evening. Especially when you are exhausted, tired or bored, you should think of the kindness of your child.
Your attitude and your way of taking care of your child should be like this. It is totally different from the self-cherishing thought and attachment to your own happiness. In this case, you are not thinking, "This is my child," which is attachment to I and attachment to mine, due to which you renounce other sentient beings, develop attachment and anger, and spend your whole life creating negative karma. That attitude only brings suffering, not happiness. Instead, you should always feel that your child is precious and that you are fortunate to have them in your life. Then, with a pure motivation you should serve and take care of your child. In this way, you will have happiness and satisfaction all the time.
Extracted from advice Lama Zopa Rinpoche gave to a student who asked Rinpoche how to benefit her children. Edited by Ven. Joan Nicell. You can read the entire advice here on our website. You can also find more parenting advice by Rinpoche in Joyful Parents, Successful Children.