Dear Friends,
Thank you so much for your interest in and support of the Lama Yeshe Wisdom Archive.
Thanks to everyone who made our Chotrül Düchen, Day of Miracles, appeal a success. We appreciate all your support and commitment to our work!
Also, as most of you know, thanks to a kind and generous benefactor, we have 200 sets of Big Love available at the incredibly low price of $35 (normally $85), plus shipping, and these are flying off the shelves! So don't delay.
Here's what Ösel Hita says about Lama Yeshe and Big Love: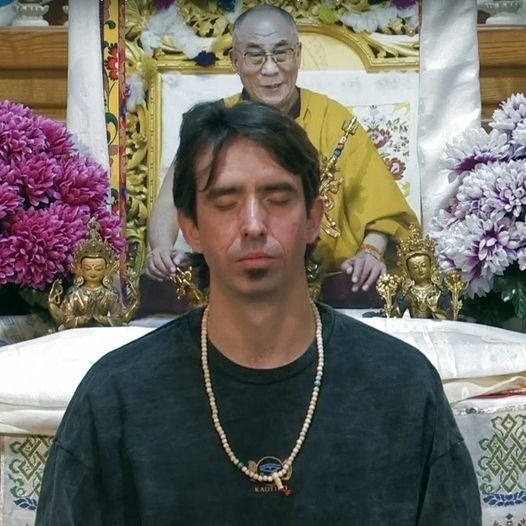 Of course, Lama Yeshe in those fifteen years [of teaching Westerners] accomplished everything that is still alive today and you can read it in the book called Big Love. So it's funny but it took longer to write the book than the actual fifteen years. If you want to really know about Lama Yeshe's life and his hard work, then I would recommend you read that book. It's very thick and intense, but it's really amazing, amazing to see who Lama Yeshe was. And I said who he was, but I also want to say who he is, because right now Lama Yeshe is still alive in many people.… I am really grateful to Lama Yeshe and also, I am very inspired by Lama Yeshe. And if I can at least maybe do one percent of what he accomplished, then for me that would be more than enough in my lifetime.
—Tenzin Ösel Hita
You can read more and watch the video here.
On the LYWA Podcast: There is No Enlightenment Button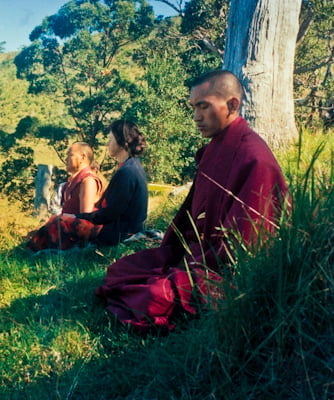 You can't attain the path just by knowing the words. You have to practice.
— Lama Zopa Rinpoche
This month on the LYWA podcast, Lama Zopa Rinpoche reminds us that we can't expect to just press a button, say a few words and become enlightened. After all we have accumulated countless causes of suffering during countless lives over countless eons. Even Shakyamuni Buddha himself demonstrated facing many hardships for the sake of enlightenment. We must also expect hardships and still practice Dharma with all our heart. Rinpoche gave these teachings in June 2008 at the White Eagle Conference Center in Crestone, Colorado. Read along with the transcript on our website.
The LYWA podcast contains hundreds of hours of audio, each with links to the accompanying lightly edited transcripts. See the LYWA podcast page to search or browse the entire collection by topic or date, and for easy instructions on how to subscribe.
From the Video Archive: The Practice of the Good Heart
This month from the LYWA video archive, Lama Zopa Rinpoche explains the great benefit of going beyond words and practicing the good heart. Like being pummeled by a waterfall, we are being held under by the self-cherishing mind. Words are not enough; we must transform our minds to escape the deluge. Living for others lifts all ego-driven obstacles, all danger and brings peace on earth. With the good heart, there is no need for guns or bombs. This practice is the answer to all our problems on every level. These teachings were given by Rinpoche and hosted by the Kurukulla Center in Boston, Massachusetts, September 1990.
Visit and subscribe to the LYWA YouTube channel to view more videos freely available from our archive. See also the FPMT YouTube channel for many more videos of Lama Zopa Rinpoche's teachings.
WHAT'S NEW ON OUR WEBSITE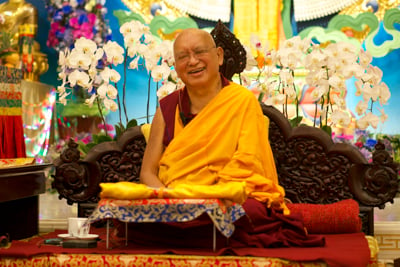 This month we have posted a teaching from Lama Zopa Rinpoche on Correctly Following the Guru. In this advice, Rinpoche explains why we need a guru, how to check the qualities of the guru and how to correctly devote to the guru with thought and action. Rinpoche cites the examples of Milarepa and Naropa, who followed their guru's instructions perfectly and attained enlightenment in one brief lifetime. This extensive advice, along with many quotations, was given to students of the Masters Program in Italy. Edited by Ven. Ailsa Cameron. You can find a short excerpt in the monthly eletter teaching below.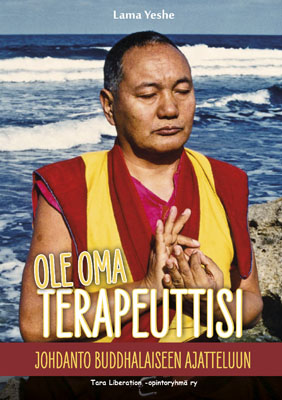 We have a new Finnish translation to share with you, Becoming Your Own Therapist (Ole oma terapeuttisi) by Lama Yeshe. First published in 1998, this booklet contains three public talks on Buddhism. Translated into Finnish by Maria Suominen for the Tara Liberation FPMT Study Group. Freely available for download as a PDF file.
We also have the latest free addition to the LYWA audiobook catalog to share with you. Ego, Attachment and Liberation presents a five-day meditation course led by Lama Yeshe in which Lama explains the nine-round breathing, equanimity and many other practices in his uniquely clean clear way. If it's been a while since you read this gem, we hope that listening to it will reveal even more meaning to your mind and powerfully enhance your daily practice.
MP3 Audiobooks for LYWA Members: We are now offering a selection of free audiobooks to LYWA Members in MP3 format. This means Members can listen offline to the audiobooks on any MP3 player. The audiobooks are auto-narrated by a digital voice, however, you can choose between two narrators and select the narration style which appeals to you most. Visit our Membership page to find out more about becoming a member and to find links to the Members Area library of ebooks and audiobooks.
Every month we share new advices for Lama Zopa Rinpoche's Online Advice Book, adding more than 100 new entries every year on a variety of topics. There are now more than 2,200 of Rinpoche's precious advices online.
Let Go of Attachment: Rinpoche sent this long letter to a person who had just been released from prison after being incarcerated for eighteen years.

The Buddha Manifests in Ordinary Form: A teenage student had doubts about how buddhas can exist when we can't see them, and whether prayers, pujas and mantras work. The student also felt anxious and fearful, and asked Rinpoche how they could overcome their doubts and fears.

Spirit Possession Causing Suicide: This advice was given to a family whose father had committed suicide. Rinpoche said the advice should be made available to anybody in the world who needs it.
You can always find a list of all the newly posted advices from Lama Zopa Rinpoche on our website.
You also may like to read the FPMT International Office Annual Review 2021: Sharing and Preserving the Dharma in a Changing World.
Thank you again for your interest and support. We couldn't do it without you!
Big love,

Nick Ribush
Director
This Month's Teaching: Qualities of the Guru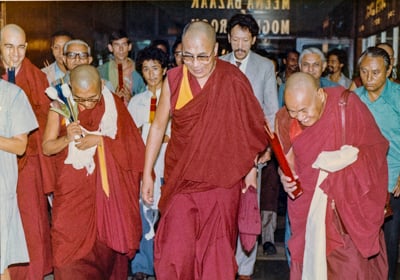 The qualities you look for when searching for a guru are expressed in Requests Recalling the Guru's Qualities in Lama Chöpa. These verses (vv. 43-52) express the different levels of qualities of the guru, so I don't have to repeat them here. There are the qualities of the three higher trainings to reveal the Lesser Vehicle path, then there are the ten qualities to reveal the Mahayana teachings. Even if the guru doesn't have all ten, it is mentioned that they should have eight or even four of the qualities.
Having five qualities is also mentioned: great compassion; stable, unwavering faith in the Mahayana; learned in the common teachings and in the particular teaching (tantra); expert in leading the disciple in the path; and a subdued, or controlled, mind.
Another set of ten qualities is mentioned there in that Lama Chöpa prayer. Within that it talks about ten outer and inner (sometimes called secret) qualities. The first set, the outer, is to reveal the lower tantras; and the inner is to reveal highest tantra. The other way to understand is the five qualities of a tantric guru mentioned above. However, the essence is that one who reveals tantra should be able to explain the practice of pure appearance and pure concept, and on the basis of that, the generation stage, which involves utilizing death, intermediate state and rebirth in the path to the three kayas, and then the five completion stages.
At least, the guru should be someone who emphasizes cherishing others more than the self, who emphasizes dedicating the life for others. Without that, the disciple can't practice the Mahayana (Great Vehicle) path to achieve enlightenment. Then, the guru should be someone who emphasizes achieving nirvana, true cessation of suffering, liberation from samsara, rather than being in samsara. The guru should emphasize being free from samsara, which is suffering in nature; otherwise, the disciple cannot be free from samsara.
Then, the guru should be someone who emphasizes letting go of, or renouncing, the attachment to this life, from where all the hundreds, the thousands, of problems of this life come, one after another. If the teacher doesn't emphasize freeing oneself from all those sufferings of this life caused by attachment, then the disciple cannot practice Dharma. Then, it is not only that all the actions of the disciple's body, speech and mind do not become Dharma, but they become only the causes of suffering, because everything is done with delusion, particularly with attachment to this life.
Excerpted from advice given by Lama Zopa Rinpoche on how to correctly devote to the guru, given to students of the Masters Program, Istituto Lama Tzong Khapa, Pomaia, Italy. Edited by Ven. Ailsa Cameron. You can find more advice here on our website.