Dear Friends,
Thank you so much for your interest in and support of the Lama Yeshe Wisdom Archive. Thanks to all of you, our community of supporters, our year-end appeal is going really well and we are humbled by your support and generosity. If you have not yet given and would like to, please contribute here.
Today, December 29, we are celebrating Lama Tsongkhapa Day, or Ganden Ngamchoe, a celebration of the anniversary of Lama Tsongkhapa's parinirvana. Every year it is celebrated on the 25th day of the 10th month of the Tibetan calendar. Lama Tsongkhapa (1357-1419) is one of the most significant Tibetan Buddhist masters, whose studies and meditations in all the major schools of Tibetan Buddhism resulted in the founding of the Gelug lineage. Lama Zopa Rinpoche encourages students to engage in a variety of practices on Ganden Ngamchoe to celebrate and create merit, including making light offerings. Please visit here to find out more about what practices to do on this auspicious day.
Little Free Libraries
Little Free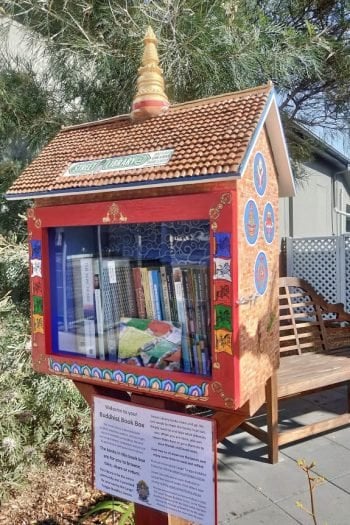 Libraries are part of a worldwide movement to create places for books to be read and shared in local communities. We recently sent Scott Snibbe a large box of assorted LYWA books for the one he built for his neighborhood in Berkeley, California. And Langri Tangpa Centre in Australia also created a Little Free Library outside of their center in Brisbane. You can find out more about their project here at FPMT Community: Stories & News.
From Scott Snibbe:
Over the years I have accumulated many duplicates of LYWA books. We recently built a Little Free Library in front of our house and one day I decided to put all these extras inside. I was surprised (and delighted!) that they disappeared in less than an hour. I was also feeling pleased to be a small part of leading our neighborhood incrementally toward enlightenment :)
If you run a Little Free Library and would like a selection of free LYWA books, please let us know. It's a great thing to do! All we ask is that you cover the cost of shipping the books to you. Find out more about the Little Free Library project to create one in your community or for your Dharma Center. 
FROM THE LYWA VIDEO ARCHIVE: Preserving the Archive for the Future
In case you missed it in our previous year-end mailing, here's an inspiring video capturing the history and work of LYWA and how we plan to preserve it for the future. In 2016, LYWA and FPMT joined forces to merge our collections into a single digital asset management system called AssetBank. This new system will ensure that the entire Archive collection along with all the precious digital assets generated by the FPMT's education and other departments can be safely preserved and easily managed for many years into the future. You can learn more about the AssetBank project here on our website.
Visit and subscribe to the LYWA YouTube channel to view more videos freely available from our archive. See also the FPMT YouTube channel for many more videos of Lama Zopa Rinpoche's teachings.
WHAT'S NEW ON OUR WEBSITE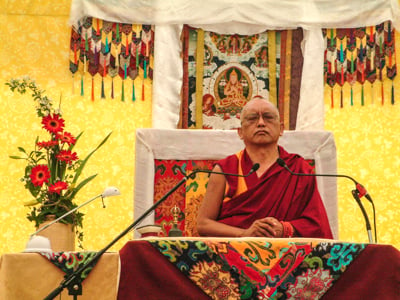 This month we have posted three more lectures from Teachings at the Kadampa Deities Retreat held at Institut Vajra Yogini, France, in April-May 2003. In Lectures 13 and 14, Rinpoche explains that Guru Puja is the heart practice highly recommended by Pabongka Dechen Nyingpo and other great lamas. In Lecture 15, Rinpoche advises us to learn and practice lamrim while we have this precious opportunity, and gives commentary on the prayer Calling the Guru from Afar.
Every month we share new advices for Lama Zopa Rinpoche's Online Advice Book, adding more than 100 new entries every year on a variety of topics. There are now more than 2,200 of Rinpoche's precious advices online.
You can always find a list of all the newly posted advices from Lama Zopa Rinpoche on our website.
Giving Thanks to the LYWA Community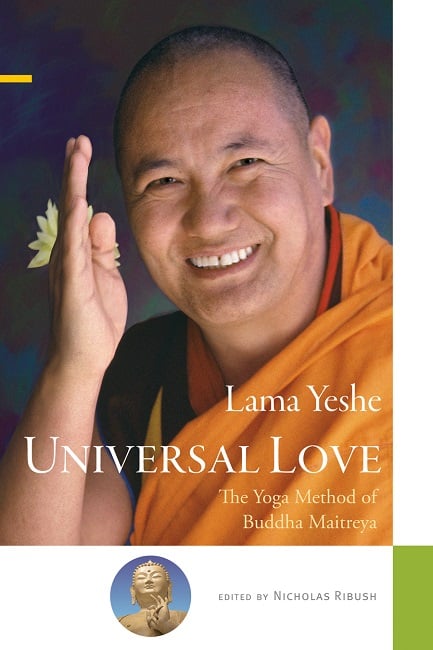 The Lama Yeshe Wisdom Archive is the definitive collection of teachings of Lama Yeshe and Lama Zopa Rinpoche—in essence, the life's work of both Lamas. For practitioners of Tibetan Buddhism in general, and students of Lama Yeshe and Lama Zopa Rinpoche in particular, the Lama Yeshe Wisdom Archive is an invaluable resource for authentic teachings from some of the greatest lamas of our time. And it is because of your interest, your practice and your support that we are able to sustain and keep the Archive alive and thriving. 
In gratitude of your support, you can download for a limited time the free ebook of Universal Love: The Yoga Method of Buddha Maitreya by Lama Yeshe at Smashwords. The offer is good through January 1, 2022.
On top of that, we are also offering the free audiobook for the Sadhana of Maitreya Buddha, found in Appendix 2 of Universal Love: The Yoga Method of Buddha Maitreya. The audiobook provides narration of the sadhana text and can be a great way to support your practice. Please read Universal Love for Lama's extensive commentary on the visualizations and meaning of this sadhana practice.
An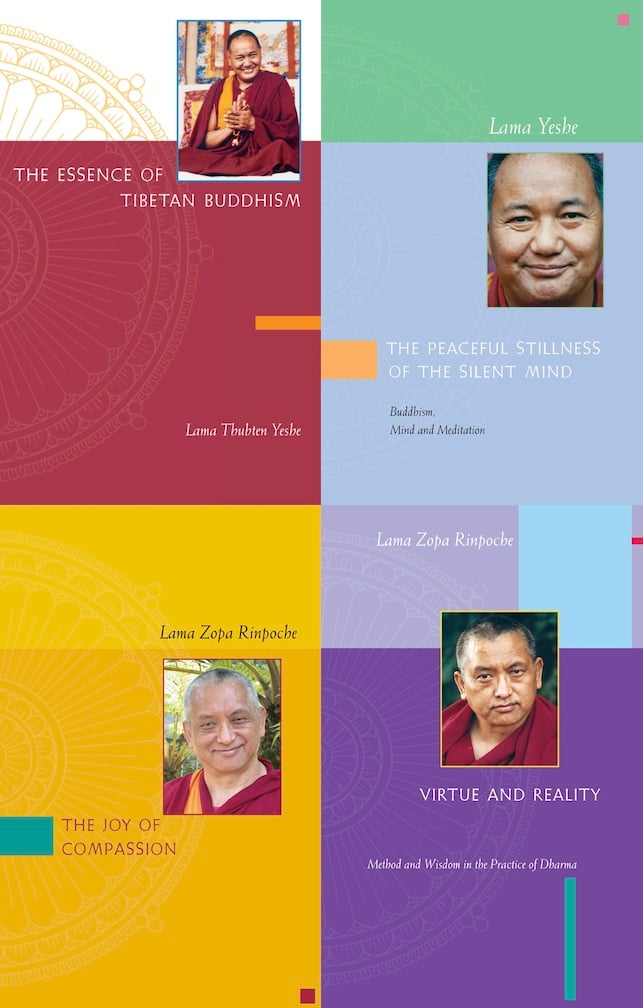 d we don't want you to forget about our previous offer of four free audiobooks of some of our favorite titles. Just click on the links below and start listening!
The Peaceful Stillness of the Silent Mind
You can listen to the audiobooks on your smartphone and tablet by installing the Google Play Books app for Android and iPad/iPhone or you can listen to them on your computer's web browser. This is a new initiative so please let us know what you think.
Finally don't forget about our ongoing special offer of Big Love:
If you contribute $125 or more to our year-end appeal, we will send you or any person or center you designate a copy of the epic Big Love: The Life and Teachings of Lama Yeshe.
If you would simply like to buy a copy of Big Love, from now until the end of the year we are offering it for only $48 plus shipping and handling. That's a $37 discount!
Please take advantage of this special offer and help us make our year-end appeal a success by making your donation here. Donations are tax-deductible in the USA.
Big love,

Nick Ribush
Director
THIS MONTH'S TEACHING: Medicine for the Emotional Mind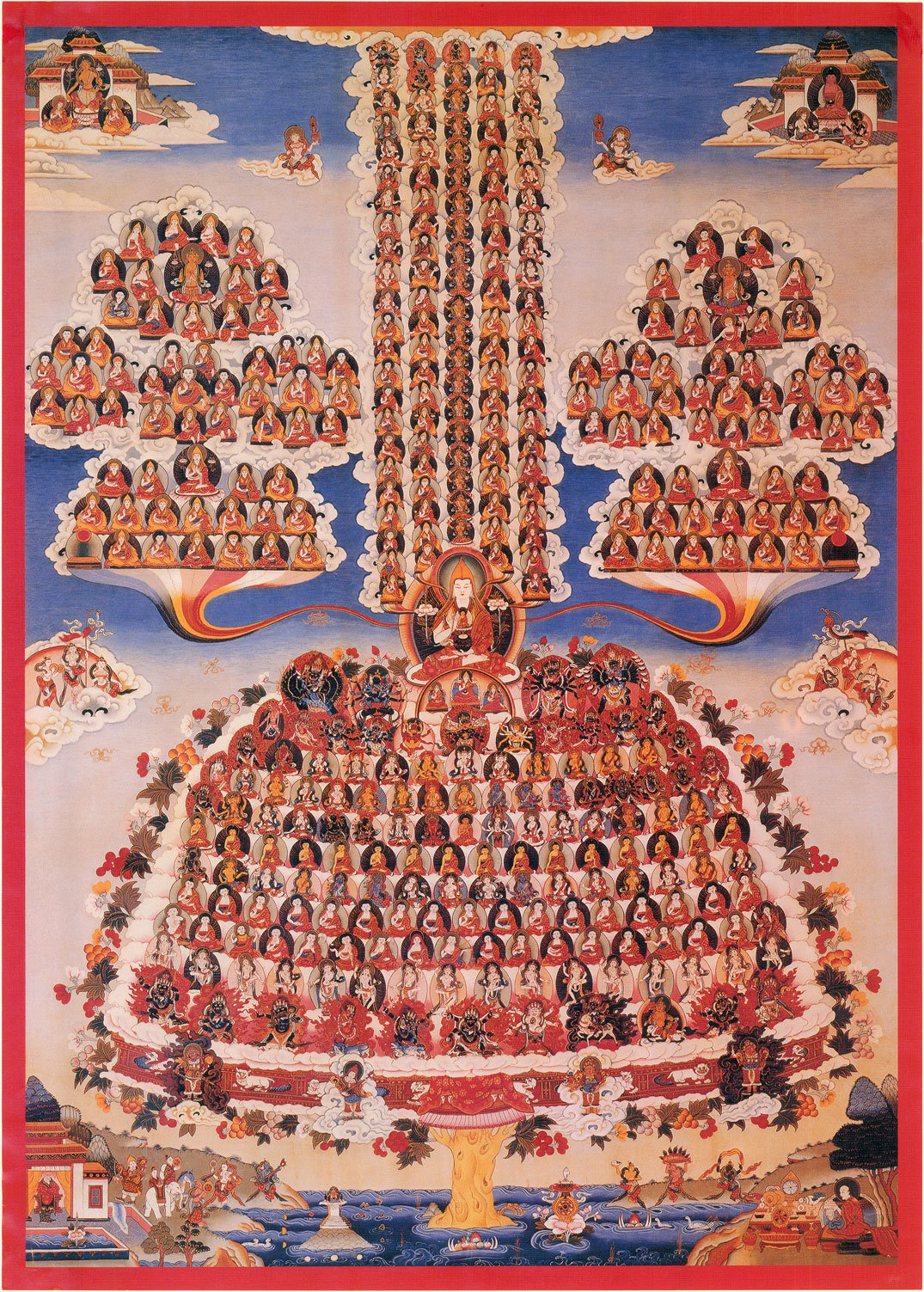 It's very important to stop when we come to rejoicing. We must stop there. I don't know about other times, for example, when we do the seven-limb practice, I tried to introduce this at the beginning when I led the prayer. Stop there and give a little bit of time to meditate on rejoicing. I think that's very important, because here we can collect limitless skies of merit so many times in every second. Within a minute we can collect limitless skies of merit so many times, and we can multiply the merits, ours and others.
If we don't get to meditate [on rejoicing]; if we just always recite the words and we don't meditate; I mean, while the prayers are being recited if we are meditating, of course no question, then the practice gets done, but if it's just words without meditation then we have lost all this. This is a greater loss than billions of dollars. For example, if we lost one hundred dollars we would feel such an incredible loss. If we had one hundred dollars and then it was gone, it disappeared, that would be an incredible loss. If we lost a billion dollars we would become crazy, we'd have a nervous breakdown and we would become crazy, suicidal.
So that great loss, a billion-dollar loss is nothing, it is hardly anything, it's nothing compared with the limitless skies of merit we collect by rejoicing. All the merit we collected from beginningless past lives, by rejoicing in our own merit it will double, so we collect limitless skies of merit. I'm not going to specify here. We collect limitless skies of merit by rejoicing in other sentient beings whose level of mind is higher than ours or especially if its lower than ours, and then rejoicing in a bodhisattva's merit is unbelievable, unbelievable.
Lama Tsongkhapa highly praised that merit we collect. Rejoicing is the easiest way to collect merit and the most extensive, and if we do it we collect the most extensive merit. A billion dollars is nothing; it's like one penny or something, it's nothing compared to all those merits. Even a zillion, trillion dollars is nothing. So we are losing an unbelievable opportunity if it becomes always just words.
Of course, when the prayer is led by others we do not have much choice. We do what we can. Within that time, we do what we can. If we can't do much, we do what we can. But when we do the prayer by ourselves, or in the organization, I think try to give a little bit of time to meditate. What happens if we don't do meditation when we do prayers, then it appears as just a ritual, that's one thing. If we don't do the meditation then that's what appears to people—it appears just like the Christians, what people think in the Christian temple, when they go to church, sorry, temple or church, anyway, so what the people believe—the ritual. It becomes boring and tiring without the meditation.
But when we do meditation; if we know the meditation and we do the meditation—two things, we know the meditation and we do the meditation—then the idea of ritual is not there. It's like medicine. It becomes medicine for our emotional mind or a less simple way to say this, we enjoy it and it's like going to the beach. We work so hard then we go to beach, so that's a great day! A great day, the essence of life, the real essence of life, the great day, the real essence of life, is going to the beach. We relax, lie down in the sun and ride the waves or go for a swim, so it's the essence of life, a great day!
Now here, this becomes a great day; by meditating it becomes a great day, but this great day is actualizing the whole path, making preparation in the mind. Every time we get closer [to enlightenment]. We are making preparation all the time, the essence, making preparation every time, every session, every time, we are making preparation. We are preparing ourselves all the time to liberate other sentient beings from the oceans of samsaric suffering and bring them to enlightenment. We are preparing ourselves every time to liberate numberless sentient beings from the oceans of samsaric suffering and bring them to full enlightenment. So that's what it is.
We should remember this each time we do sessions and meditation and normally when we do our prayers, our sadhanas and commitments, we should remember that. Of course, generally, any other activity we do, whatever we do, everything can be for that! Our aim is to liberate sentient beings from the oceans of samsaric suffering and bring them to enlightenment. Then it's like a bodhisattva's activity. Whatever we do, everything becomes the cause of achieving enlightenment because we are doing everything to benefit for sentient beings.
So I want to remind you of this again. Of course, at certain times there's no time to stop and do things, but usually we must do that, even if it's for such a short time. It reminds people and it gives us time to meditate as well as giving time to other people. It reminds other people why we stopped here, what we stopped here for. So then it reminds people to meditate. It gives so many people a chance to collect extensive merit.
This is just an example, talking about rejoicing, but it's similar for the other things—when we're doing prayers, we can do different meditations as much as possible.
Excerpted from teachings given by Lama Zopa Rinpoche at a retreat held at Institut Vajra Yogini, France, from 18 April to 11 May 2003. Lightly edited by Sandra Smith. You can find all fifteen discourses here on our website.