Dear Friends,
We are so grateful to all of you for the amazing support you offered on Lhabab Duchen. Thanks to your incredible generosity we have raised $9,500 toward our annual year-end appeal goal of $50,000. We are off to a good start!
If you haven't already donated, please consider making your year-end contribution today.
LYWA 2019 YEAR END APPEAL: DHARMA EVERY DAY
We'll all be busy over the next few months preparing for
Big Love
's arrival and arranging for distribution around the world. Nonetheless, the team at
the Archive continues our ongoing work of preserving, transcribing, editing and publishing the precious teachings of Lama Yeshe and Lama Zopa Rinpoche
, and focusing on the projects we look to complete over the next year.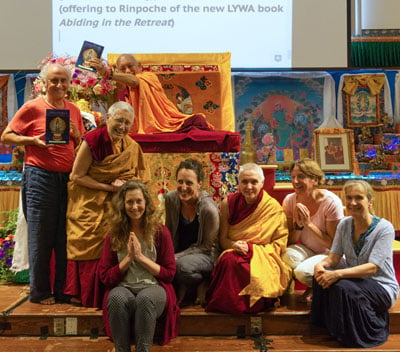 Our next big project is to publish Lamrim Year, a book of daily contemplations
drawn from the teachings of Lama Yeshe and Lama Zopa Rinpoche and based on the lamrim outline. Looking further ahead, we will turn our attention to completing the work on Lama Zopa Rinpoche's lamrim teachings, and editing and publishing more of Lama Yeshe's teachings.
Our epublishing and social media maven Megan Evart will be hard at work converting Big Love into ebook and multimedia versions. We will also be exploring options for creating an electronic version of Lamrim Year so that it can be an easily accessible tool for daily contemplation and study.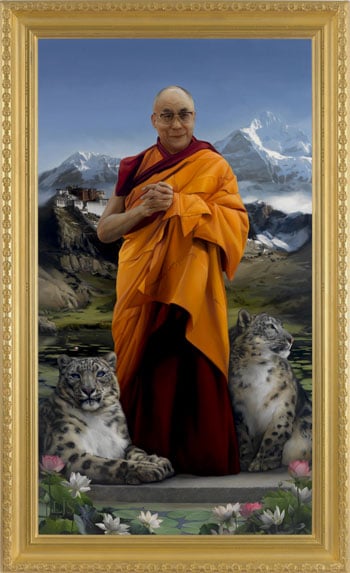 We couldn't do all this without your support of and commitment to our mission. As 2019 draws to a close, we invite you to
make your year-end contribution today
. Those who can offer US$1,500 or more will receive
Membership benefits
plus Lisa Sawlit's spectacular portrait of His Holiness the Dalai Lama. These limited edition prints are 36 x 22" (91.5 x 56 cm) in size, and have been numbered, signed and sealed by the artist. We only have seven portraits left! [Please note: As of 2020, the portrait is no longer available.]
Thank you so much for partnering with us as we embark on another year of bringing the precious teachings of Lama Yeshe and Lama Zopa Rinpoche to everyone, everywhere, every day.
On this Month's Podcast: The Power and Potential of the Mind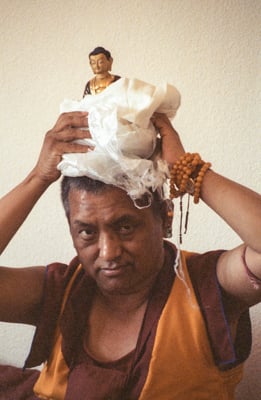 Our meeting the spiritual friend, the spiritual master, who reveals the right path, is like the stick that meets the gong.
   - Lama Zopa Rinpoche
In this month's podcast, Lama Zopa Rinpoche explains how the nature of our mind is the source of our freedom. It is simply a matter of gathering the causes and conditions to remove the temporary obscurations and reveal our mind of clear light. Like a stick hitting a gong, meeting a qualified teacher is essential to activate this potential for enlightenment. These teachings were given in Singapore in January 1993. You can listen to the podcast and read along with the transcript on our website.
The LYWA podcast contains hundreds of hours of audio, each with links to the accompanying lightly edited transcripts. See the LYWA podcast page to search or browse the entire collection by topic or date, and for easy instructions on how to subscribe.
WHAT'S NEW ON OUR WEBSITE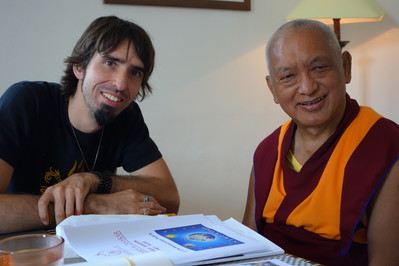 We have posted two new transcripts of talks by Tenzin Ösel Hita on Dharma in daily life. One talk was given during a course offered by Venerable Robina Courtin at the Institut Vajra Yogini in France on December 27, 2018. Ösel spoke to a wide range of topics including education, masculinity, patience, discipline, jealousy and how to avert anger before it ambushes us. You can find the transcript here and view the talk here on our YouTube channel.
More recently Ösel gave this talk on one big love and Dharma in daily life at the Ocean of Compassion Buddhist Center in California in August 2019 shortly after he lead a four-day residential retreat at the Land of Medicine Buddha FPMT Center in Santa Cruz, CA. Check out One Big Love to stay up-to-date on Ösel's activities and upcoming event schedule. 
BIG LOVE UPDATE
In case you missed them, we are sharing again
Big Love
author Adele Hulse's dramatic readings from the forthcoming
Big Love: The Life and Teachings of Lama Yeshe.
This reading is about the
Lamas' teachings at the Institute for Mental Physics
in Yucca Valley, California in 1977. You can also view Adele giving a reading of the
dramatic life story of Zina Rachevsky
, the first Western student of Lama Yeshe and Lama Zopa Rinpoche
here on the LYWA YouTube channel
.
If you are a project sponsor and are due to receive a copy of Big Love when it is published, you should have received an email about verifying your address. If you haven't confirmed your address with Jen, please send her an email with your mailing address for early 2020. For more information on project sponsorship or to sign up to be on the list to receive a notice when Big Love is ready to be ordered, please see our website.
Thank you so much for your incredible support!
Big love,

Nick Ribush
Director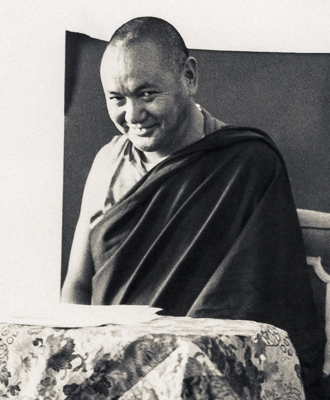 Lama Yeshe wanted his students to acquire a realistic understanding of tantra, a word much misunderstood in Western society. He began slowly:
For the next thirty minutes, just check up what you feel. I want you to meditate on your own experience. I don't want you to think about Buddhism, lamrim, tantra, yoga, lama or any idea. Just watch; check up on whatever you're experiencing.
Maybe you have pain. We generally feel the energy of pain as sort of concrete, but if you check up it is also like space energy, like light. I want you to just contemplate that experience, meditate on that. Or if you feel happy, check up in the same way. Just contemplate. Don't think that pain is bad, pleasure is good. Don't engage in such emotional reactions, good or bad. Just emphasize natural contemplation, concentration, without too much intellect.
Even if there is depression, just look at that depression in the mind. I want you to contemplate that depression, which is in the mind, not in the body. At a certain point, that pain becomes space; you become space. Pain becomes space; pleasure becomes space. You become space, like the sky. If you contemplate like that, without emotional involvement, eventually you can have this experience. And that is the time you should not be afraid. Just hold. Don't worry; I don't want you to worry. Just contemplate continuously without being afraid. And in that moment, you experience losing your ego.
Every sense object that we experience appears to us as a concrete entity. There is a kind of concreteness that appears from the object itself. Normally we say that whatever we perceive in the world is real. "Everything I see or hear or touch is true, true, true!" We never question this at all. But this is wrong.
So now we are checking philosophically. You might think that checking philosophically is difficult…right view, wrong view. It's not difficult; it's simple. Whatever appears to your eye, to your ear and so on…instead of accepting it, believing it, be skeptical. Don't accept how things appear at face value. Be a little suspicious, a little bit "I'm not sure." To find the right view, you don't need to look at space, you don't need to look at your lama's face or at Buddha's face. You need to look at the face of your normal way of looking at things, your normal view. If you observe your view you'll see that the right view isn't there. In other words, you find the wrong view in your normal way of looking at things. 
Don't think "The wrong view is in Italy but the right view is in the Himalayan Mountains." Don't think, "Buddha, Buddha, Buddha. Buddha has right view so if I always look at Buddha then somehow I'll discover right view." It's not like that. Right view is everywhere, anywhere! The beautiful face of shunyata is existent within all phenomena.
Of course, we understand that this concrete appearance of ego cannot be extinguished immediately; it takes a long time to eliminate it completely. There are gross levels and subtle levels to be purified. What we can do right now is to loosen our tight conception a little bit, our uptight view, little by little. Even though the concrete appearance is still there, by understanding how it is wrong, you loosen your tight conception that holds it to be true. "Of course it appears, but it's not true. It doesn't exist as it appears." 
So then you contemplate: what is my consciousness? Consciousness is not concrete. It is like a lake, having the ability to reflect. It is not form, not color, but it is always there. Even if you have a dull, dark experience, the consciousness perceiving that darkness still has the nature of clarity. I want you to contemplate that. When you observe your concrete experience, somehow it automatically disappears and the object is the clear consciousness again. When you observe that, it disappears; you should think that this disappearing is more real. This gives an injection to the mind.
So what I'm saying is that the clear energy of consciousness is with you twenty-four hours a day. Even when you are angry, clarity is there. It is basic fundamental human nature—pure, beautiful. Our consciousness is like the ocean. In that space is the potential for ego—whether positive, negative, good, bad, or ugly. It has the ability to reflect any kind of thing you want to see.
Tantra shows that human beings have the capacity for limitless enjoyment and at the same time the ability to be free from the grasping mind. I want you to understand that Buddha's teaching is not saying that human beings should not be happy or that they cannot have pleasure. The problem is that the unclear ego grasps at concrete entities, which are non-existent. If you didn't have this grasping, you would have as much enjoyment as possible—any kind of pleasure, any kind of bliss.
Lama Yeshe gave this teaching at Istituto Lama Tzong Khapa (ILTK), Pomaia, Italy, on July 12, 1979. This excerpt can be found on page 736 in the forthcoming Big Love: The Life and Teachings of Lama Yeshe.