Dear Friends,
Welcome to LYWA's 186th eletter. We've been sending these out to our friends and supporters for nearly sixteen years! Our eletters tell the story of everything we've accomplished together over the years, and
you can read them all on our website
. Each year we add over 2,000 new subscribers and we now have over 10,000 active recipients each month! We are very grateful for your support that has allowed us to benefit so many all over the world for more than 20 years.
To date we have raised $33,000 toward this year's target of $50,000. Thank you so much to those of you who have donated so far! If you haven't donated, please consider
helping us meet our goal
. Please read on to get a comprehensive overview of what we do.
LAMA YESHE WISDOM ARCHIVE 2018 YEAR END APPEAL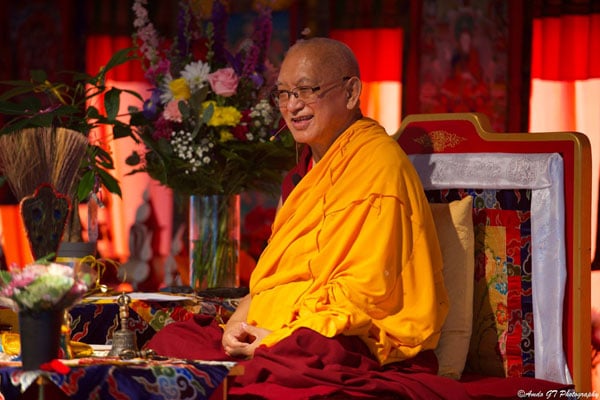 For more than twenty years we have excelled at fulfilling our twin missions of preserving the precious teachings of Lama Yeshe and Lama Zopa Rinpoche and making these teachings available to all. In this way we offer the Dharma, with its message of love, compassion and equanimity, to interested students and seekers the world over.
As Rinpoche explained this August at Kurukulla Center in Boston:
When the teachings materialize in a book they can go very far; they can go all over the world and reach people everywhere. Can you imagine? The benefits are really unbelievable. Of course, we can't travel that much but books can go everywhere. So this is one of the great activities of the FPMT. Through books we awaken people's minds from the deep sleep of ignorance.
LYWA materializes teachings not just in books but also on our website, in multimedia presentations, in audio books and ebooks. In these myriad ways we reach people in every corner of the world, helping them cultivate wisdom and peace in their minds so that they in turn can benefit as many beings as possible.
The Archive's book Publishing Activities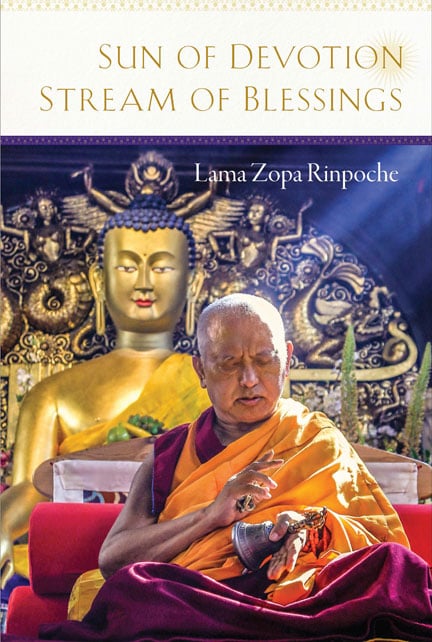 Over the past five years we have published more than twenty new print books, ebooks, audio books and print-on-demand titles, including Sun of Devotion: Stream of Blessings, Abiding in the Retreat, two ebooks drawn from Lama Zopa Rinpoche's teachings at Kopan courses and fully revised editions of Teachings from Tibet and Teachings from the Vajrasattva Retreat.
Next year we will publish Lama Yeshe's biography, Big Love: The Life and Teachings of Lama Yeshe. The design phase of the book is nearly complete and we are planning on printing it early 2019. Following that we will publish Lamrim Year, a book of daily contemplations drawn from the teachings of Lama Yeshe and Lama Zopa Rinpoche following the lamrim outline.
Over the past five years we have also reprinted more than 100,000 copies of our existing titles, bringing the number of Archive books in print to over 800,000. Furthermore, there are many tens of thousands of LYWA titles printed in languages other than English as well as reprints commissioned and printed by other FPMT centers.
The Archive's E-Publishing Activities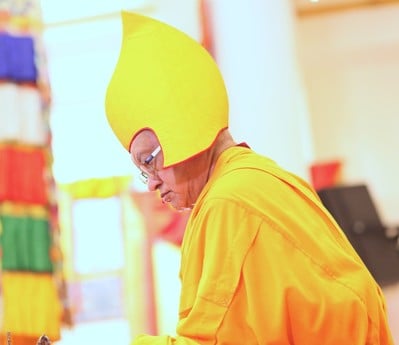 Our website remains the most complete source of all published transcripts from the Archive, with thousands of teachings freely available, all categorized, tagged, and fully searchable. Each month, the average number of unique visitors to our website tops 100,000.
Two years ago we launched a companion website, Teachings from Tibet, based upon the teachings in the LYWA publication of the same name. In addition to a selection of teachings from Lama Yeshe and Lama Zopa Rinpoche, this site features teachings from some of the most revered Tibetan teachers of our time.
Each year, 11,000 copies of our ebooks are downloaded from our online ebook vendors. Many thousands of website visitors also download pdfs of our free titles or read them online. And Lama Zopa Rinpoche's Online Advice book continues to grow with, on average, ten new advices posted to our website each month, bringing the total number of entries in the Online Advice Book to more than 2,000. Here are this month's new additions:
Multimedia and Social Media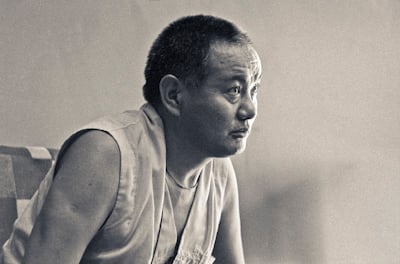 As our online audience has grown we have steadily increased our digital offerings to meet the demand. Our library of multimedia presentations—which complements transcripts with audio, video and images—has blossomed accordingly. We now have more than twenty multimedia titles freely available, including Life, Death and After Death, Freedom Through Understanding, Bodhisattva Attitude and Guru Puja is the Heart Practice.
The Archive maintains a vibrant social media community, sending out Dharma gems daily to the nearly 135,000 followers on Facebook and 15,000 more followers on other social media sites such as Twitter and Instagram.
Since we revamped our podcast two years ago, 46,000 audio episodes have been downloaded from our podcast page and website. And in recent years we have released sixty-five new videos on our YouTube channel to over 1,200 subscribers. In 2017, we had 130,000 views of videos on our YouTube. View our most recent uncovering of a precious Archive relic: Lama Yeshe teaching on death, bardo and rebirth at Manjushri Institute in England in 1982.
In this teaching, Lama gives an extensive explanation of how we move through the death process, including advice on how to remain healthy while alive. Lama also answers questions from the audience. 
The Archive's Reach is Extending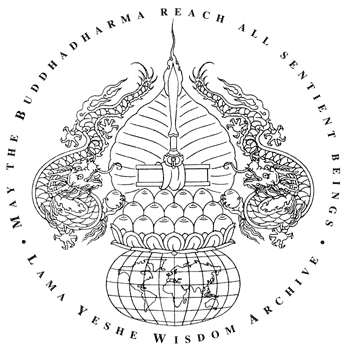 We can all rejoice that the efforts we have made together to offer the Dharma around the world have been so successful. Each month more than sixty new people contact the Archive to either order materials, make a donation or both. And our Membership program also continues to grow: we've added 130 new members donating $1,000 or more since 2014. Our members have free access to ebook and print versions of every book published of Lama Yeshe's and Lama Zopa Rinpoche's teachings, including those published by Wisdom Publications.
It's clear that every day our myriad activities—outlined above and supported by you, our precious contributors—continuously reach those newly interested in the Dharma and the teachings of Lama Yeshe and Lama Zopa Rinpoche, while at the same time serving current students and the entire FPMT family as well.
We cannot do all this without you. As we embark on another year of this important work, we invite you to join us in our mission to bring peace and happiness to the world, one mind at a time. Thank you so much!
Much love,


Nick Ribush
Director