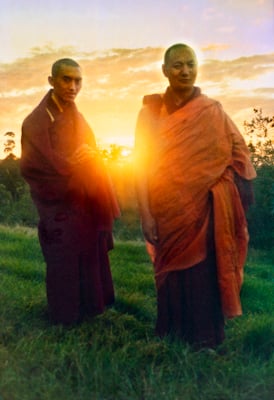 To donate any amount, simply type the desired whole-dollar amount (no decimals) into the quantity box on this page and click Add to Cart. You may also skip the shopping cart and donate any amount directly through PayPal.
Become a donor and help the Archive continue in our work of preserving, editing and publishing the teachings of Lama Yeshe and Lama Zopa Rinpoche, and other great teachers of our time. The support we receive from you makes it possible to fulfill our mission and enables you to share directly in this amazing work for the benefit of all.
With your donation of $50 or more, you are eligible to receive a free book. Donors at higher levels may be eligible for an FPMT practice booklet pdf and/or an Online Learning Center course. See here for a complete list of our donor benefits.
With your donation of $1,000 or more you are welcome to become a Member if you are not one already. You will enjoy all the amazing benefits that membership brings, including access to the entire LYWA library in digital format. Read more about our membership program here.
The Lama Yeshe Wisdom Archive is a 501(c)(3) tax-deductible, non-profit corporation dedicated to the welfare of all sentient beings and totally dependent upon your donations for its continued existence. The Archive was established with virtually no seed funding and has developed solely through the kindness of our many supporters.
Thank you so much for your support!