In 2010, artist Lisa Sawlit, together with Lama Yeshe Wisdom Archive, began work on a portrait of His Holiness the Dalai Lama. Ms. Sawlit spent years researching and designing the portrait digitally, before applying paint to the resulting outline. The result is a life-sized, and remarkably life-like, portrait of His Holiness.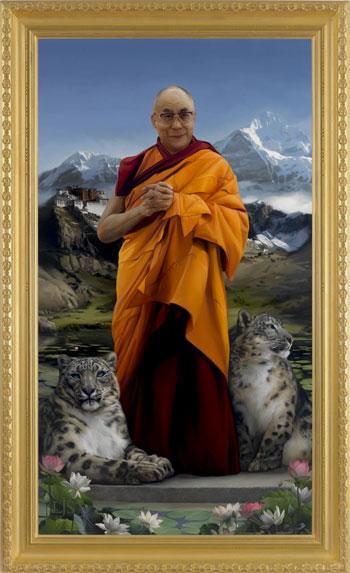 You can read an interview with the artist about this project which appeared in Nantucket Magazine on Lisa Sawlit's website. Lama Yeshe Wisdom Archive also commissioned a specially-designed frame, created by frame maker Troy Stafford.
Lisa Sawlit created limited edition prints of this portrait that are 36" x 22" (91.5 x 56 cm) in size, and that have been numbered, signed and sealed by the artist. Lama Yeshe Wisdom Archive is offering these prints—as well as smaller-sized matted photos—to supporters of the Archive. See our website for details.
The original portrait is for sale. If you are interested, please contact the artist.