On April 13, 2023, at 9.30 a.m. Nepal time, Lama Zopa Rinpoche, our most precious guru and spiritual director, showed the aspect of passing away. Rinpoche had been up in the mountains in the Tsum Valley and had to return urgently to Kathmandu as he was experiencing altitude sickness. On arrival back in Kathmandu, Rinpoche stopped breathing and entered his final meditation (tukdam). Rinpoche was taken back to his room at Kopan Monastery, where his clear light meditation continued until April 14 at 10 p.m. When Rinpoche had ended his meditation, the embalming process for the holy body began.
FPMT Resources
Find links here to all the latest FPMT updates and other resources regarding Lama Zopa Rinpoche's passing.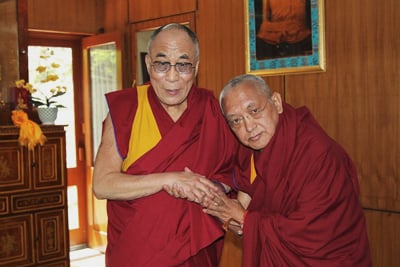 FPMT has also created a webpage with links to the many tributes, messages of condolence and prayers being offered by great lamas, friends, and monastery officials around the world.
Prayers for the Swift Return of Lama Zopa Rinpoche
Resources provided by FPMT include A Prayer for the Swift Return of Lama Zopa Rinpoche by His Holiness the Dalai Lama with additional prayers by other distinguished lamas (English and Tibetan). This booklet, now available for download from the FPMT Updates page, also includes prayers composed by Khandro Tseringma (Rangjung Neljorma Khadro Namsel Drönme), Khenzur Jhado Rinpoche and the 11th Lelung Rinpoche. Note that this booklet will be updated as FPMT receives new compositions.
These prayers for Rinpoche's swift return have now been reproduced by Piero Sirianni as a beautiful PDF file. You can download the PDF here, for viewing on your mobile device or computer.
Messages from Students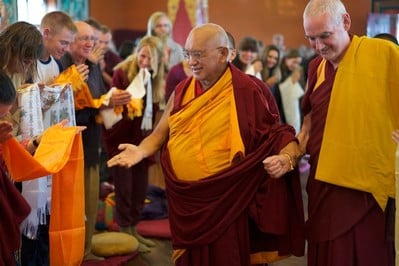 "It is with deep sadness to read about the passing of our dear Guru."
"For those who had a special connection will know that he will live in our hearts and mind so as to continually guide us."
"He would not abandon the little animals so for sure he will not also abandon his 'Dharma babies' like all of us."
"We pray for Rinpoche's quick return to us. Thank you for personally sharing the information on Rinpoche."
"Big loss but I am grateful to have known him. The two of them—Lama Yeshe and Lama Zopa—have been a constant presence in my life for fifty years. I don't think they fade away."
"This is so powerful and an incredible teaching from our dear Rinpoche. As always."
"May we live long enough to see him again soon."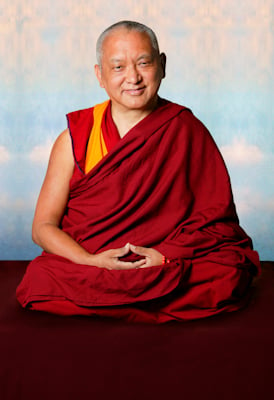 "While it is devastating that Zopa Rinpoche has departed in this way, the most important thing is that when he was with us, he made the precious mind of enlightenment the foundation of his practice, and so, if his followers who have been left behind properly emulate the Guru's life, it is exactly that which will definitely fulfill Rinpoche's wishes. Therefore, keep this in mind, and from now on also make requests to the Three Jewels and earnest dedication prayers."
– His Holiness the 14th Dalai Lama, Tenzin Gyatso, April 14, 2023