February 22, 2010
Dear Jennifer,

As Lama Zopa Rinpoche's visit to Singapore draws to a close, those of us who have had the great fortune to attend his teachings are exhilarated and exhausted at the same time. And I have been very happy to meet many old and new Dharma friends.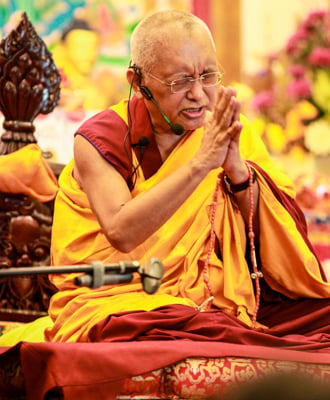 As Rinpoche said, "It is so important to serve sentient beings and alleviate their suffering. One sentient being's suffering is unbearable yet there are numberless sentient beings in each samsaric realm and if we don't help they will continue to suffer endlessly."
The only thing that can end their suffering is the Dharma, and the mission of the Lama Yeshe Wisdom Archive is to make the Dharma teachings of Lama Yeshe and Lama Zopa Rinpoche--our own precious gurus--as widely available as possible in print and on our website.

On February 5th I sent you a note that I would be here in Singapore and Malaysia (I go to KL on the 27th, return to Singapore on March 3 and leave for Boston on the 5th). This is what I said then, so I won't repeat it (see below).

Please join with us at LYWA to alleviate sentient beings' suffering by helping us raise the funds we need to accomplish our Publishing the FPMT Lineage project.
I would like to thank again all those who have offered me donations while I have been here. I know there are many calls on the Dharma dollar here. But we still have a long way to go.

My number in Singapore is 9893-2524. Please call! Thank you so much.

Much love,



Nick Ribush
Director
---
February 5, 2010
Dear Friends and LYWA Supporters,

I'll be in Singapore February 12 through March 5 with a quick visit to KL February 28 to March 3. It will be wonderful to be there for our precious teacher Lama Zopa Rinpoche's teachings and I also look forward to catching up with many of my old friends in the region. I would also welcome meeting some new friends!
The business purpose of my visit is to find support for the Lama Yeshe Wisdom Archive's Publishing the FPMT Lineage project. In short, we have been offered $500,000 toward our $1 million plan to edit and publish all of Kyabje Lama Zopa Rinpoche's lam-rim teachings. The terms of this wonderful contribution are that it's a matching grant—in other words, we have to match it dollar-for-dollar. Every dollar donated is doubled. If you offer $100 it becomes $200 and so forth. We have already raised about $150,000 and would love your help in raising the rest, either by contributing yourself or by helping us find donors.


Our plan is to publish all of Rinpoche's teachings, starting with his lam-rim teachings in particular. Rinpoche has given detailed explanations of the main steps of the path to enlightenment, including guru devotion, perfect human rebirth, impermanence and death, refuge, karma, bodhicitta, emptiness and so forth. Rinpoche's teachings will be compiled by topic and edited into a comprehensive set of volumes containing a detailed commentary on each step of the lam-rim. The Heart of the Path, which many of you so generously sponsored, was the first book in this lam-rim series. We also invite you to join us as a sponsor for the next book in the series, How to Practice Dharma: Abandoning the Eight Worldly Dharmas, and subsequent titles, which will come out twice a year or so.

If you would like to see more of Kyabje Lama Zopa Rinpoche's teachings in print and on the Web, please contact me so that we can meet while I'm there. I would welcome your interest and support.

Much love,



Nick Ribush
Director