Dear LYWA friends and supporters,
Thank you so much for your amazing support. We obviously couldn't do what we do without it.
The Year 2010
It has been a great year here at the Archive, highlighted by an inexpressibly kind benefactor's purchase of a house for us and Lama Zopa Rinpoche's subsequent visit and stay with us there.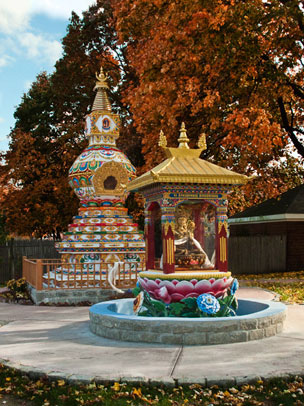 As readers of our monthly e-letter will know, for the past two years I have been director of the FPMT's Boston center, Kurukulla, as well as the Archive. My tenure at the Center has now come to an end but during that time, with the help of many LYWA supporters, we were able to complete the beautiful Kalachakra Stupa and Tara Pond, so I thank you all for that.
 Ongoing Book and Web Projects
Now I'm free to turn my full attention back to the Archive and we have some exciting projects coming up. Right now we are putting the finishing touches to our next free book, Lama Yeshe's Life, Death and After Death, a brief exploration of the death process and what happens next. It should be ready in December, and we will be sending it automatically to all our Members and Benefactors.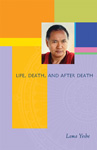 If you're not a Member or Benefactor, now could be just the right time to become one! Make your donation before the end of the year and you'll be shipped Lama Yeshe's new book as soon as it arrives.
Also well in the pipeline are the first products of our exciting Publishing the FPMT Lineage project: four books of Lama Zopa Rinpoche's lam-rim teachings on the perfect human rebirth, the eight worldly dharmas, the three lower realms and karma, all edited by Gordon McDougall. When these books are published, they are automatically sent to our Members.
Ven Ailsa Cameron, our senior editor, is now working on Rinpoche's Vajrayogini teachings and a small book on the nyung-nä practice. And Ven Connie Miller and Jon Landaw are working on Adele Hulse's incredible biography of Lama Yeshe, Big Love.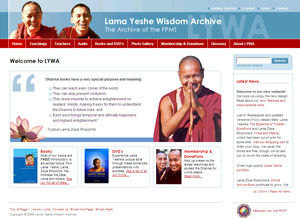 In the meantime, our website continues to grow by leaps and bounds! We now have nearly 25,000 pages of edited transcripts posted, almost all freely available. We have over 350 hours of audio recordings freely available, all with unedited transcripts to accompany the audio. And, our image archive project is progressing well, with tens of thousands of images now optimized and categorized in our image archive database, with the best of the images being posted to the Online Image Gallery.
The Essential Work of the Archive
In our recent survey of LYWA supporters, the activity that was identified as most important for the Archive was "Collecting and preserving the recordings of Lama Yeshe and Lama Zopa Rinpoche" -- even more important than publishing books. Survey respondents were right on in their analysis because, of course, without collecting and preserving the teachings there wouldn't be anything to publish. A large percentage of our operating costs are related to collecting and preserving the teachings, costs that are primarily supported by donations to our general fund. 
Every year our Archive grows by leaps and bounds. We now have nearly 850 Gb of audio recordings and 15,000 transcript files, but there is still much to be done. Of the 1,850 teachings events that we have in our archive, only half have been transcribed, as shown in the chart below: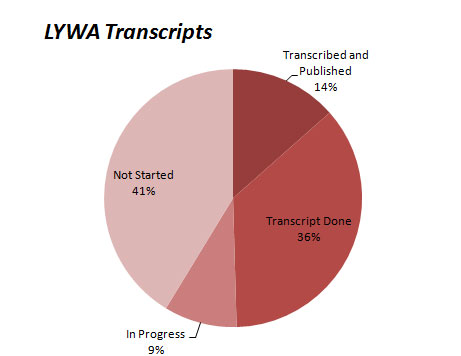 Included in the 14% published materials are about 25,000 pages of transcripts and over 350 hours of optimized audio recordings, all freely available on our website.
Obviously, there are so many more precious teachings that could be made available. We need your help! Please make your donation here. If you have benefitted from any of our books or resources on our website, please consider making a donation to support the continuation of our work.
And remember, your donation of $25 or more entitles you to automatically receive a copy of any free book we publish in the next year--including the forthcoming book of Lama Yeshe's teachings, Life, Death and After Death, due in January 2011.
Thank you so much! 
Much love,



Nick Ribush
Director