Dear Friends,
Thank you so much for your compassionate support of our activities. Your kindness has allowed us to grow the Archive, develop our Web site, and produce books for free distribution. We've been publishing our free books for more than ten years and after our current round of production, we'll have well over 400,000 titles in print. In the pipeline are Lama Yeshe's Universal Love: The Yoga Method of Buddha Maitreya and Lama Zopa Rinpoche's How Things Exist: Teachings on Emptiness and a reprint of his Making Life Meaningful. Lama's Universal Love, which was commissioned by the Maitreya Project will actually be for sale but will be sent free to our members and available at a discount on our Web site.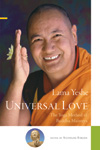 We constantly receive positive feedback from individuals, including hundreds of prison inmates, and Dharma centers telling us how useful our free books are and, in some cases, how they have changed this or that person's life. Not that we've ever really doubted it, but it is good to be reassured we're doing something that is extremely beneficial. And by generously supporting us, so are you.
As we all know, the first truth the Buddha taught was that of suffering; that all beings in cyclic existence experience suffering of suffering, suffering of change and pervasive suffering: hunger, thirst, heat, cold, pain, illness, injury, all kinds of mental suffering, fear, abuse, dissatisfaction, loss, lack of fulfillment, aging and death. And that's just a short list. Just being susceptible to suffering is itself suffering.
Since the principal cause of all this is delusion and karma, the only thing we can come back to is that Dharma is the only solution. We have to get out of samsara and take all other sentient beings with us. Ultimately, that means that we all have to practice Dharma.
To know how to practice Dharma we have to study and books are one of the greatest supports for that. That's why for more than ten years we've been publishing Dharma books and spreading them far and wide, all over the world.
But editing and publishing free Dharma books takes money and our supporters are an equal part of the equation. Please consider becoming a Member of the Archive with your donation of $1,000. The main purpose of this initiative is to help support editors who prepare for publication the ever-growing collection of audio and transcripts the Archive contains. More information about this plan and the benefits of membership are on our Web site.
If you are not able to become a Member at this time, please consider becoming a Benefactor of the Archive. If you contribute $20 or more you become a Benefactor for one year and all new free LYWA publications will be sent to you automatically during that time.
If you are already a Member or Benefactor (if you're not sure you can check for your name on our list of Members or list of Benefactors) we thank you so much for you kind and generous support. Please consider making an additional end-of-year contribution to help us start off the new year on a good note. If you have already done so, thank you very much.
You can make your donation online or you can mail us a check to the address below. As always, your contributions are fully tax-deductible. We welcome your support so that together we can bring free Dharma teachings to so many all over the world.
Thank you again for your great foresight and kindness.

Much love,



Nick Ribush
Director