Dear Friends,
Thank you so much for your interest in and support of the Lama Yeshe Wisdom Archive.
March 3rd is Tibetan New Year's Day (and you'll be hearing from us again just before it!), Thirty-eight years ago, March 3rd was also Tibetan New Year's Day. And that was the day our beloved Lama Yeshe passed away. At that time I was running Wisdom Publications in London and later that year we published a commemorative issue of the new Wisdom Magazine in honor of Lama. In my "From the Publisher," I wrote:
Lama Yeshe has gone. No more shall we see his smiling face or hear the familiar, 'Thank you so much, dear.' How much he accomplished in the fifteen short years among Westerners, his irrepressible energy lifting us out of our limited concepts to reach for the sky, his kindness melting thousands of hearts and awakening love, appreciation, devotion and admiration.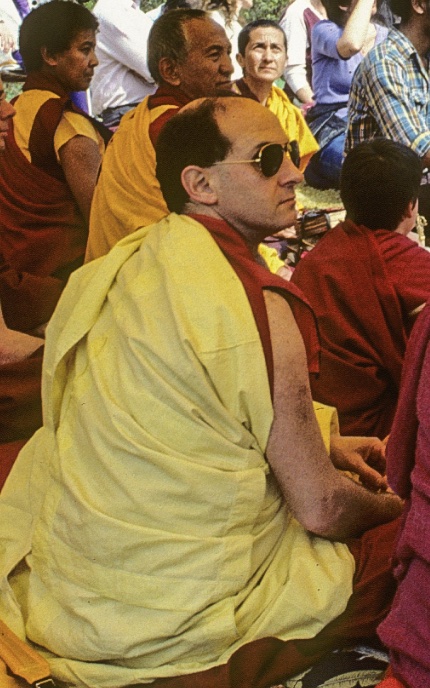 Yet he is still here. Such was his skill that much of his work was accomplished through his inspiration not his presence. He would drop in to whichever corner of the world his students were carrying out Dharma work—Nepal, India, Europe, America, Australia—and for a few joyous whirlwind days inspire us with teachings, encouragement, scoldings and personal advice. Then he would leave again for the next stop, the strong impression of these short visits sustaining us till we saw him again, new projects keeping everyone so busy that we would almost breathe sighs of relief that he'd gone before giving us even more to do! Certainly his presence was constantly felt, whether he was there in person or not—and it still is now.
And yes, all these decades later, Lama is still here, especially in his teachings, which we try to bring you every single day. And in our next mailing to you, in a few days' time, we will also bring you a scan of that unforgettable Wisdom Magazine so you can see what it looked like when we published it. The thirty pages of content celebrating Lama have been on our website for a while, but they don't really do justice to what we published at that time. Stay tuned!
This month on the LYWA Podcast: The King of the Superstitious Mind
The basic Buddhist philosophy is that everything comes from karma,
which comes from your mind, from you
r intention.
–Lama Zopa Rinpoche
This month on the LYWA podcast, Lama Zopa Rinpoche explains how imprints condition our mind to project karmic appearances upon everything we see, hear, smell, touch and taste. By changing our mind, we change our experience. This short teaching by Rinpoche is excerpted from Lecture 10 of the 41st Kopan Course held at Kopan Monastery, Nepal, in December 2008. Read along with the unedited transcript here on the LYWA website.
The LYWA podcast contains hundreds of hours of audio, each with links to the accompanying lightly edited transcripts. See the LYWA podcast page to search or browse the entire collection by topic or date, and for easy instructions on how to subscribe.
From the LYWA Video Archive: Protecting the Mind with Dharma
This month from the video archive, Lama Zopa Rinpoche begins by leading a recitation of the mantra of the Buddha of Compassion, OM MANI PADME HUM. Rinpoche then introduces the Heart Sutra, explains in detail the three types of suffering, and describes how our ignorant mind creates all suffering appearances. Rinpoche continues with a commentary on the Heart Sutra, explaining how we can protect our mind by using the Heart Sutra to negate our wrong view. This practice helps us to question the appearance of inherence and so deters us from creating more samsaric suffering by acting based on that appearance. This video is an excerpt from teachings given by Lama Zopa Rinpoche during a retreat hosted by Thubten Kunga Ling Center in Boca Raton, Florida in November, 1998.
Visit and subscribe to the LYWA YouTube channel to view more videos freely available from our archive. See also the FPMT YouTube channel for many more videos of Lama Zopa Rinpoche's teachings.
WHAT'S NEW ON OUR WEBSITE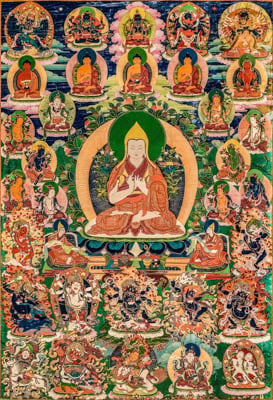 This month we have posted Lama Zopa Rinpoche's teachings from the 13th Kopan Meditation Course held at Kopan Monastery, Nepal, in Nov–Dec 1980. As well as discussing many essential lamrim topics, Rinpoche teaches extensively on Ganden Lha Gyäma, (Lama Tsongkhapa Guru Yoga) and Hymns of Experience, a condensed lamrim prayer composed by Lama Tsongkhapa. You can read these teachings online or download a PDF of the entire course. The transcript is lightly edited by Gordon McDougall.
The Nectar of Bodhicitta is now available to read online.This book presents Lama Zopa Rinpoche's teachings on bodhicitta, the mind of enlightenment, based on verses from two inspiring bodhicitta texts, The Jewel Lamp: A Praise of Bodhicitta, by Khunu Lama Rinpoche, and A Guide to the Bodhisattva's Way of Life, by Shantideva. You can also order a print version here on our website.
You can now find all our available audiobooks, including some of our most popular books by Lama Yeshe and Lama Zopa Rinpoche, here on our new LYWA audiobook catalog. You can find free audiobooks from Google Play and titles for purchase from Audible.
Check out the latest addition to our audiobook catalog: Joyful Parents, Successful Children. This book not only provides the Dharma context for how our children should be brought up but also contains many helpful suggestions of how we can introduce simple Dharma practices to our children.
Every month we share new advices for Lama Zopa Rinpoche's Online Advice Book, adding more than 100 new entries every year on a variety of topics. There are now more than 2,200 of Rinpoche's precious advices online.
You can always find a list of all the newly posted advices from Lama Zopa Rinpoche
on our website.
LYWA COMMUNITY NEWS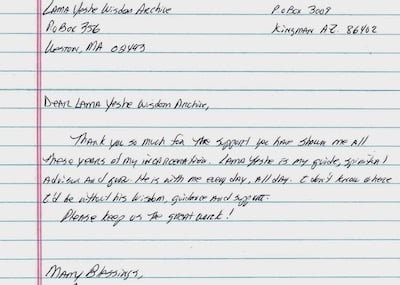 Every week we receive letters from prisoners all over the United States that write to us asking for Dharma books. We send these letters on to the Liberation Prison Project where they offer them spiritual advice and teachings, as well as Dharma books and materials.
Here's what a prisoner wrote about Lama Yeshe in a recent letter we received:
Thank you so much for the support you have shown me all these years of my incarceration. Lama Yeshe is my guide, spiritual advisor and guru. He is with me every day, all day. I don't know where I'd be without his wisdom, guidance and support.

Please keep up the great work!
​​​​​​You can read Lama Zopa Rinpoche's advice to prison inmates in our book Enjoy Life Liberated from the Inner Prison.
As we shared in our last eletter, Amitabha Buddhist Centre (ABC) in Singapore launched a Lamrim Year Discussion Group based on our book Lamrim Year, edited by Alison Murdoch. Watch Alison's talk "Finding Joy in Lamrim Practice" here on ABC's YouTube channel to get inspired on how to best use this book to reflect and meditate on the lamrim. 
FOR LYWA MEMBERS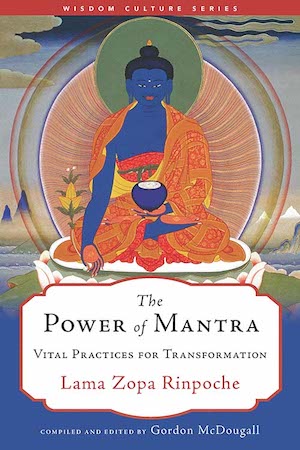 If you are a Member of Lama Yeshe Wisdom Archive, you are eligible to receive two new books from Wisdom Publications by Lama Zopa Rinpoche, edited and compiled by Gordon McDougall: The Power of Mantra and The Six Perfections.
If you would like to receive these books with shipping included, please email us here and let us know:
Would you like to receive a copy of The Power of Mantra or The Six Perfections or both?
Do you prefer the print version or the ebook version?
If you prefer print versions, please include a detailed shipping address with phone number.
Thank you again for your interest and support. We couldn't do it without you!
Big love,

Nick Ribush
Director
Monthly Teaching: Building a Stupa & The Generosity of Sister Max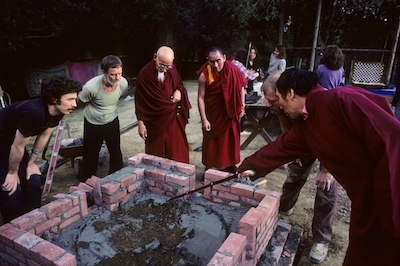 Up on the ridge, with ocean breezes and spectacular views of miles of open forest, John Jackson led a team building a cremation stupa. As usual, the atmosphere between them was one of perfect harmony and mutual support. The Vajrapani people were a real family. They cleared a spot and brought in bricks and other supplies. Zong Rinpoche came up three times to give instructions, and his attendant, Tenzin Wangchuk, gave specific directions regarding rules and measures. Stupa building is an exact science. Everyone worked hard, fast and late into the night, as the stupa had to be ready the following morning.
When Zong Rinpoche first came to Vajrapani in 1978 to bless the land, he had climbed to that same spot. "Zong Rinpoche orchestrated most things from the moment he arrived," said John Jackson. "Up on the ridge he scratched with his cane in the dirt, illustrating how big he wanted the stupa to be. We got to work. Sometimes he'd say, 'No, no,' and change something. We followed his instructions as closely as we could. He was also in charge of the self-initiations going on and the preparation of the ingredients for the fire puja. Because that's what it was—a fire puja with a body to burn."
Marty Widener turned up. Unable to drag himself away from the stupa site, he began carrying bricks and water. Andy Weber had some experience building stupas, so he and John Jackson became the chief bricklayers.
Carol Royce-Wilder was up on the ridge with a video camera. "It was mid-afternoon on a beautiful California day, warm and clear, the sun shining brightly with no rain in sight and none to follow. So when I saw a rainbow in that nearly flawless blue sky it was the last thing I expected. I had read that such things occurred at the birth and death of great beings, but easily dismissed that as the hallucinations of mystics or just plain propaganda. But in twentieth-century Boulder Creek there it was, and the video camera recorded it all."
Tenzin Wangchuk and Lori Cayton spent hours in the kitchen making tormas, while others washed grains and gathered ingredients for the fire puja.
John Jackson: "The retreaters did their sessions and between work, those who were qualified, who had done the retreats, did self-initiations into Heruka, Hayagriva, Vajrayogini and Yamantaka. No one had much sleep.
"It was interesting to see Sister Max's complete lack of concern for her future. She paid for all the lamas to come here and overall, we had 175 people. Station wagons were hired to pick them up, everybody ate for free during that whole week. Everything was offered. Max and some old students paid for everything. At every puja all the lamas were offered hundreds of dollars in white offering envelopes—not like the usual $20 donations. Zong Rinpoche was offered about $1,000 at each puja and the others about $300 each.
"We were making as many offerings as we could. We even drove through Santa Cruz offering money to hungry people on the street. The whole thing was under the advice of Zong Rinpoche and Lama Zopa, who was like his lieutenant. Sister Max eclipsed everybody. I didn't see what she put through on her credit card, but of the $100,000 or so that I handled, $70,000 came from her." It was Max, of course, who had unhesitatingly paid the $15,000 bill from Cedars-Sinai Hospital.
Peter Kedge: "Sister Max unreservedly supported Lama Yeshe financially in whatever he undertook or needed. From the day they met, Max held nothing back, unhesitatingly providing whatever Lama needed. Max offered literally everything she had with a pure heart and never a thought for herself. Every time Max received her salary cheque from Lincoln School it immediately went for Lama and the Mount Everest Centre one hundred percent. Later, when Max had funds from her business, it was the same. Whatever Lama needed Max provided. Max knew when Lama was exhausted and would take him away and look after him. Max would spend whatever it took, whether for a comfortable place to stay, a nice hotel, a break for retreat, a holiday, a heater, good food, school supplies, building materials, food for the school or whatever. Max was always five hundred percent there for Lama. The way Max took care of Lama was the definitive lesson in generosity and an extraordinary inspiration. No one could have done more, and Kopan would not have existed without her unstinting support."
Excerpted from Big Love: The Life and Teachings of Lama Yeshe, Volume 2, by Adele Hulse, pp. 1257–59.