Dear Friends,
Thank you so much for all your generous donations on Chotrul Duchen, the Day of Miracles! Infinite thanks to you for supporting the preservation of the teachings of Lama Yeshe and Lama Zopa Rinpoche and for helping to spread universal love to all corners of the world. In case you missed it, we want to remind you of the newly published images of Lama here on our online gallery. You will find many new amazing images of both Lama and Rinpoche like the one you see here.
This month on the LYWA Podcast: Fulfilling Life's Purpose
If we take care of others, work for their happiness, we are automatically taking care of ourselves. Trying to make others happy is the best way of loving ourselves.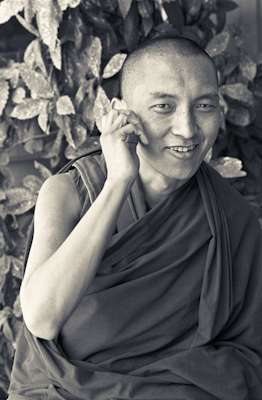 - Lama Zopa Rinpoche
Listen to this profound teaching by Lama Zopa Rinpoche on transforming everyday actions into the cause of enlightenment. Given during a four-day course at FPMT's Tilopa Center in Decatur, Illinois, August, 1997, these teachings detail practical methods for developing compassion and wisdom in our everyday lives. The teachings in this podcast were ultimately published as Chapter One in Virtue and Reality.
The LYWA podcast contains hundreds of hours of audio, each with links to the accompanying lightly edited transcripts. See the LYWA podcast page to search or browse the entire collection by topic or date, and for easy instructions on how to subscribe.
WHAT'S NEW ON OUR WEBSITE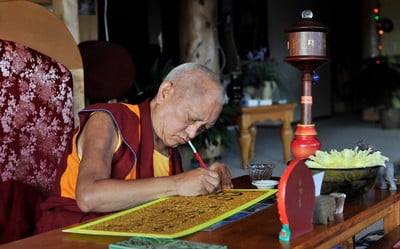 A transcript of lamrim teachings given by Lama Zopa Rinpoche at the 20th Kopan Meditation Course in 1987 is now available for download as a PDF file. The teachings were edited by Namdrol Adams, with a second light edit by Sandra Smith. Also included is a discourse on the bodhisattva vows by Khen Rinpoche Lama Lhundrup, late abbot of Kopan Monastery.
Check out this month's new additions to Lama Zopa Rinpoche's Online Advice Book include:
I'm not sure who to write to. I read Lama Zopa's replies to people looking for jobs, to read/copy Sanghata Sutra. I copied this advice for someone and within three months, she found a job! She was jobless for one year. The confidence and motivation this great news gave me is indescribable. Thank you, Lama Zopa and all who upkeep FPMT and the buddhas.
On our website, you can always find a list of all the newly-posted advices from Lama Zopa Rinpoche.
Last Chance for E-Frees
Because of the great response to our Day of Miracles efree offering and with great thanks for all the incredible support, we are delighted to extend the efree offering of the Kopan 24 series for another month. Please tell your friends!! The series includes four volumes of lamrim teachings given by Lama Zopa Rinpoche at the 24th Kopan meditation course, held at Kopan Monastery, Kathmandu, Nepal, in November 1991. All four volumes are designed to transmit the immediate, spontaneous and intimate quality of Rinpoche's teaching style. We hope that these teachings will convey the feeling of being in Nepal for the one-month Kopan course! You can download all four titles here on Smashwords. 
Also free until the end of February, Lama Yeshe's Universal Love - The Yoga Method of Buddha Maitreya. By pulling together some of Lama Yeshe's introductory teachings on Buddhism, meditation, compassion and emptiness, and combining them with the definitive explanation of tantra, this one valuable volume will inspire students to go more deeply into the Yoga Method of Buddha Maitreya–a tantric practice. Take advantage of this free offer and download Universal Love here on Smashwords.
And there's no deadline on our offer for free DVDs, but you might want to rush before they are all gone. 
Thank you and stay tuned!
I'd like to thank again all our amazing Chotrul Duchen donors for their wonderful contributions on that special, merit-multiplying day. We rejoice!
In the meantime, work on Big Love: The Life and Teachings of Lama Yeshe continues apace. The whole book has been designed and we are now proofreading it. We are currently looking at a spring publication date. It's going to be pantastic!
Much love,

Nick Ribush
Director
THIS MONTH'S TEACHING: Lama Yeshe on Vajrapani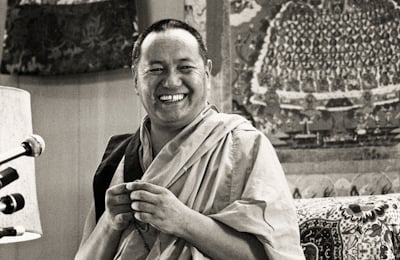 Every day, in every moment, underneath everything else, you have the thought, "I am this or that kind of person, this or that kind of deluded, impure person." It doesn't matter whether you are religious or non-religious in your attitudes, you all have some kind of ordinary idea of who and what you are. Consciously or unconsciously you also apply that projection to all the other people, the other sentient beings, surrounding you. This mistaken conception pervades everything that you see; it characterizes your fundamental neurosis, your basic mental illness.
When we practice guru yoga, we have a small experience of a unified living image of ourselves and others. Through that experience and by learning the essence of the guru, we can gradually transcend our mundane relationships with others; we can transcend our mistaken and neurotic mental concepts and the atmosphere they create within us and around us.
We are surrounded by living beings. We are constantly involved with each other, always interacting, relating. Most human problems arise through our interactions with other human beings due to our mistaken, ordinary concepts and the vibrations that we project onto others. From our neurotic and agitated state we tend to view other people as ordinary sense objects from which we try to gain some kind of sense gratification for our attachments rather than engaging others in an easy way with respect, seeing them positively. For example, perhaps it is possible to transcend such an ordinary view by transforming all sentient beings into the form of Vajrapani so that your mind is automatically energized with an attitude of loving kindness and wisdom. In this way, whenever you see another person your wisdom is energized, bringing greater control of your mind and blissful enjoyment into your life.
The purpose of practicing guru yoga and the yoga method of Vajrapani is to release all the impure, depressed, dissatisfied energy within you by visualizing and actualizing such a transcendental vision. The specific way that we practice the guru yoga of Vajrapani—the process of dissolving, sinking, unifying—enables us to purify the dualistic mind and discover total unity. This is its purpose. Our ordinary existence is rooted in separation. Everything is fragmented because of our mistaken and exaggerated conceptions. Even though we are so disconnected and living in the world of our projections, we have the strong impression that we are completely crowded. This crowded feeling needs to be released.
It is true. Many times the projections that we have are completely unreal, non-existent, but because we believe them we experience them as if they exist. A good example: sometimes when you are afraid and insecure, perhaps in a dark place, you imagine seeing something out there. You think, "Maybe somebody is out there." You look out into the dark at a clump of trees and see something moving there. Nothing is actually there but nonetheless you see something. Something seems to be there and it appears to be real, even though it is not. Just like that.
Another example is when we always think that there is something physically wrong with us, constantly saying, "This hurts, that hurts, this hurts, that hurts." Even if there isn't really anything wrong in all those places, pretty soon you start to actually have pain because you believe your projections.
Therefore, having such a unified, transcendental recognition of ourselves and others as the deity is so important. This is how we train our minds to perceive reality positively without our ordinary, agitated, negative vibrations. From the start of retreat, all students should see themselves in the vision of the radiating rainbow body of Vajrapani. Contemplate and be aware of this as much as possible, all the time. Observe closely. If you can do this, then your retreat becomes a transcendent process. Also, recite Vajrapani's mantra continuously. Reciting mantra is very important. Mantra has the kind of energy that brings your mind into single-pointedness from its usual fragmented and scattered state.
All existent energy has some kind of vibration, which can be positive or negative. You can feel this vibration. Our negative, egotistic, deluded minds can spread their negative vibrations into material things. However, mantra cannot be affected in this way by the deluded mind. Mantra has a kind of purity; it is pure from the beginning.
You do not necessarily have to be sitting when you recite mantra. When you walk, wherever you go or whatever you do—even when you go to the bathroom—you can recite mantra—even when you shop at the supermarket. You don't need to make a big show of it; just act naturally. You don't even have to recite verbally—you can recite mentally.
By integrating your mind into single-pointedness, mantra automatically energizes you with peace, bliss and joy. For example, the Vajrapani mantra is all the supreme beings' powerful energy transformed into mantra. Vajrapani's mantra is Vajrapani. It can cure any disease, but you need strength, meditation and the power of inspiration within you. Really, it is possible!
This teaching has been excerpted from Big Love and comes from a course that Lama Yeshe and Lama Zopa Rinpoche gave at the Institute for Mental Physics in Yucca Valley, California, in March, 1977.