Dear Friends,
Welcome to the September issue of our e-letter! This month we are pleased to share with you another of our ebook-only publications drawn from the ever-growing collection of Lama Zopa Rinpoche's teachings on the lamrim (path to enlightenment). We're also happy to share with you a new Lama Yeshe podcast, new teachings and advice on our website, and the latest about Lama Yeshe's biography, Big Love, which is in the final stages of copyedit and design. Thank you all for your incredible support, which helps to make all our archiving and publishing activities possible!
New eBook: The Path to Ultimate Happiness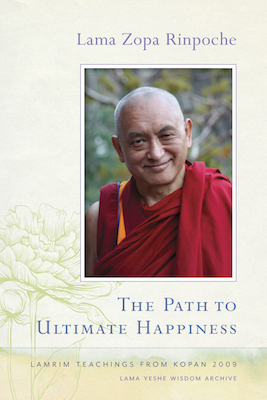 We have just published a new ebook of teachings given by Lama Zopa Rinpoche during the 42
nd
Kopan lamrim course in 2009, lightly edited by Gordon McDougall and Sandra Smith. In this book, Rinpoche discusses our potential to bring benefit and happiness, including full enlightenment, to all sentient beings.
Rinpoche explains the lamrim, the stages of the path to enlightenment, teaches extensively on emptiness and the good heart, and gives commentaries on sur practice, the Offering Cloud Mantra and other prayers and practices. The Path to Ultimate Happiness conveys the spontaneous and intimate quality of Rinpoche's teaching style and includes many anecdotes from his own experiences.
Visit our online store to order The Path to Ultimate Happiness from your favorite vendor. And it's only 99 cents! You can also read excerpts from this book online and in this month's e-letter teaching below. LYWA Members can download the ebook for free from the Members Area.
On the LYWA Podcast: The Departments of Ego and Attachment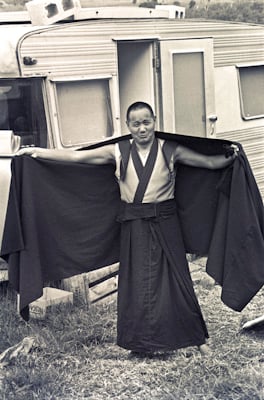 This month on the LYWA podcast Lama Yeshe explains in his uniquely skillful and powerful way how our mental bureaucracy, the departments of ego and attachment, are working together to confuse us and keep us from finding the mind of everlasting peace and happiness. Instead, these departments constantly divert us into thinking that everlasting happiness can be found by seeking and clinging to things that are only temporary and constantly changing.
This talk was given at a five-day meditation retreat in Australia in 1975 and is the basis for Chapter Four in the LYWA free book Ego, Attachment and Liberation. You can read along with the unedited transcript here.
The LYWA podcast contains hundreds of hours of audio, each with links to the accompanying lightly edited transcripts. See the LYWA podcast page to search or browse the entire collection by topic or date, and for easy instructions on how to subscribe.
New to the video archive: Dharma Action
In this video just posted to the LYWA YouTube channel, Tenzin Ösel Hita humbly helps us to understand and face our own lives by telling the story of how his life has transformed since becoming a father, and how the Dharma helps him inform and direct his actions going forward. This talk was given at FPMT center Land of Medicine Buddha in Soquel, California on September 4, 2018. Tenzin Ösel Hita is the recognized reincarnation of Lama Yeshe. You can learn more about Tenzin Ösel Hita by reading his biography on our website.
Visit and subscribe to the LYWA YouTube channel to view dozens more freely available videos from our archive.
WHAT IS NEW ON OUR WEBSITE
This month's new additions to Lama Zopa Rinpoche's Online Advice Book include:
How to Purify a Dog's Karma: A student asked what could be done to purify his dog's negative karma. Rinpoche gave this advice on practices which would leave a positive imprint on the dog's mind and plant the seed of enlightenment:
"Keep reciting the refuge prayer while visualizing the Buddha sending nectar out of his compassion and loving kindness, like sunlight, to yourself and your dog. It's like switching the light on in a dark room; it totally purifies the negative karma created since beginningless rebirths."
Medicine Buddha Meditation: A student asked Rinpoche for advice on how to help his grandmother who was very sick. Rinpoche recommended Medicine Buddha practice in order to benefit his grandmother and all sentient beings. 
Amoghapasha Mantra: Rinpoche gave this advice about the benefits of the Amoghapasha mantra to a new student whose husband had recently passed away.
As always, you can see a list of all the newly-posted advices on our website.
The latest on Big Love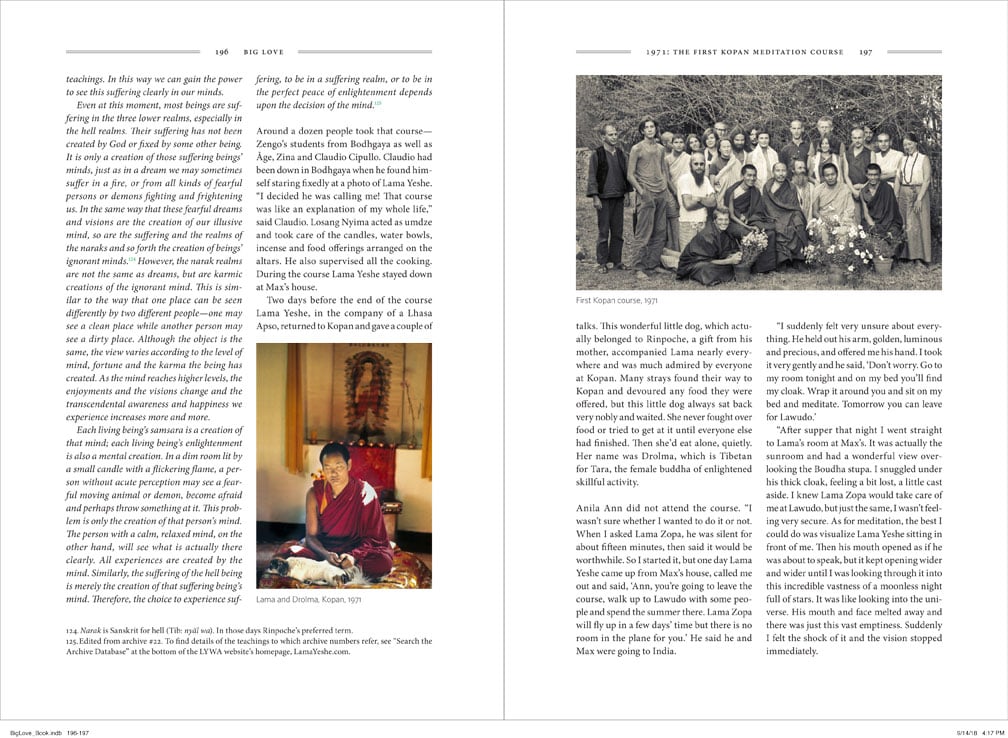 As we told you last month, Big Love: The Life and Teachings of Lama Yeshe, by Adele Hulse, is in production and on target to be published by the end of the year. As you know, this major project has been in the works for twenty-six years and it is amazing to see it nearly completed. At this point we are estimating two 750-page hardcover volumes in a slipcase with more than 1,550 photos, full color throughout.
Naturally, a book of this size and complexity is extremely expensive to produce and we would welcome your help. A donation of $250 ensures you'll be sent a set when the book becomes available. A donation of $1,500 or more will get you the book and a thank you gift of a small Kadam stupa containing some of Lama Yeshe's ashes from his cremation (while they last…there are not that many left). However, donations of any amount are welcome and we encourage you to be a part of this incredible undertaking. Thank you so much.
As always, we are so grateful to all of you who support our work and in doing so are partners in bringing these precious teachings to everyone everywhere.
Much love,

Nick Ribush
Director
THIS MONTH'S TEACHING: The Path to Ultimate Happiness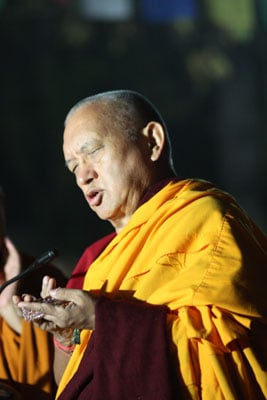 The things we can achieve, how we can use our life, how we can dedicate our life, not just for ourselves but to benefit numberless hell beings, numberless hungry ghosts, numberless animals, numberless suffering human beings, numberless suffering gods, demigods and intermediate state beings—that is unimaginable. We can't imagine how we can make our life so beneficial, so useful for these numberless sentient beings. Most amazing!
Therefore, we need to learn all this, to learn and hear and reflect and meditate on all these paths. By doing that correctly, all the realizations come. It's like a mirror covered by dust. The mirror already has the potential to reflect things back. That does not come from outside. The potential does not come from outside; it is there already. All that is needed is to remove the dust that covers the mirror, that obstructs the mirror from reflecting. All we need to do is clean the dust from the mirror. The cleaner we make it the more it can reflect back.
Our mind is exactly the same as the mirror. It has all the potential to achieve all those realizations I have just mentioned, to bring the most unbelievable benefit to all sentient beings and to cause them all happiness—the happiness of this life, the happiness of all the future lives, liberation from samsara and ultimate happiness, full enlightenment. We are just one person but we have that potential to cause all that happiness to numberless sentient beings, even full enlightenment, and we can do it quicker and quicker. All the potential is within our mind. Our mind is most amazing.
The more we learn the Dharma the more we know about our mind. The more we learn the Buddha's teachings, the deeper our understanding of our mind. It's most amazing what this mind can do. We can't see this mind. There's nothing to touch. It has no color, no shape; it's formless, colorless, shapeless, but what it can do—the happiness, the benefit it can offer to numberless sentient beings—is like the limitless sky. Can you imagine the benefit we can offer because of this mind?
There are skies of happiness and benefits we can offer others but if we close our mind, not learning, not reflecting, not meditating, we are fools. To cover the mirror with dust, there is nothing more foolish than that. An animal can't do anything because it's trapped inside an animal body. Because it doesn't have a human body, it can't communicate, it can't understand our words, it can't express itself. But we have a human body. That gives us the opportunity to take away the dirt from the mirror, to see all the reflections, to gain all the realizations and to have all the unimaginable qualities of the Buddha's holy body, the unimaginable qualities of the Buddha's holy speech and the unimaginable qualities of the Buddha's holy mind. All this comes from this mind, which is like a mirror. The more we clean the dirt from it, the more it can give a reflection back.
That's why I am saying how amazing our mind is, just amazing. We have to learn about the potential of our mind, that it can bring greater and greater happiness and peace, and especially ultimate peace and happiness for all sentient beings. This human body gives all that opportunity, so we can use the mind to benefit others, to offer all these skies of benefit to sentient beings. By having this human body we can use the mind, we can clean the mind, and then manifest all the realizations and benefit numberless sentient beings.
Therefore, while we have this human body and we can do this, if we don't do it there is nothing more foolish. If we were born as an insect that would be different, but while we're born as a human being we have this incredible human body that we can use in this capacity. We have this opportunity to purify our mind, like cleaning dirt from a mirror. By actualizing the remedy, by cleaning all the defilements, all these amazing, wonderful things come. Therefore, this human body is precious; it's rinpoche. In Tibetan "rinpoche" means precious. This human body we have is called "precious"—this precious human body.
This is an excerpt from a teaching given by Lama Zopa Rinpoche during the 42nd Kopan lamrim course in 2009. You can find this teaching and more in the new ebook The Path to Ultimate Happiness or here on our website.