Dear Friends,
It's amazing that we have another opportunity to share with you the incomparable teachings of Lama Yeshe and Lama Zopa Rinpoche. Because of your great devotion, enthusiasm to receive these teachings and generous support, we at LYWA are able to do the special work that we do and for that we are sincerely grateful.
LYWA Multimedia: Finding Peace in Everyday Life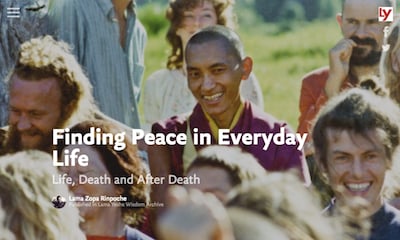 This month Finding Peace in Everyday Life is our newest offering from LYWA Multimedia. These teachings by Lama Zopa Rinpoche explore the path to happiness through the practice of patience, right here and right now. This multimedia presentation of these teachings serves to weave together video and images of Rinpoche with his practical words of wisdom. Rinpoche gave these introductory teachings in 1983 during Lama Yeshe's profound weekend seminar on the death process in Geneva, Switzerland during the lamas' last year of travel and teaching together before Lama passed away in 1984.
As with all our multimedia titles, the written teachings are accompanied by audio, video and images intended to help deepen your experience of and connection with these profound teachings. Please see our website to access links to all our multimedia titles.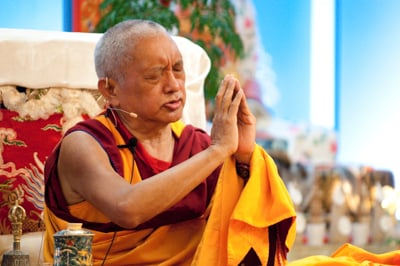 WHAT'S NEW ON OUR WEBSITE
We have posted an excerpt from Teachings at the Kadampa Deities Retreat. Lama Zopa Rinpoche taught on a broad range of lamrim topics during this retreat, which was held at Institut Vajra Yogini, France, in 2003. Read the first discourse, in which Rinpoche discusses universal responsibility, and how to transform our mind so that we can experience real peace and happiness.
This month's new additions to Lama Zopa Rinpoche's Online Advice Book include:
As always, you can view the list of the latest additions to the Advice Book on our website.
Talks by Osel: How to reduce egoism and develop compassion
Tenzin Ösel Hita gave this engaging talk on "easy ways to lessen egoism and develop compassion to increase true joy" at the Maitreya Instituut Nederland on January 25, 2017. Instituut director Paula de Wijs-Koolkin also shares an endearing story about Lama Yeshe during her introduction of Ösel. You can also read along with the unedited transcript on our website.
Be sure to follow us on YouTube to keep up with all the precious video of Lama Yeshe, Lama Zopa Rinpoche and Tenzin Ösel Hita that we are making available monthly from our video archive. 
NEW ON THE LYWA PODCAST: Make Your Mind an Ocean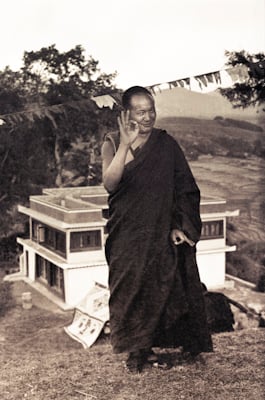 Listen to Lama Yeshe's original teaching which was first published in the free book Make Your Mind an Ocean, and is now included in Becoming Your Own Therapist. Listening to Lama deepens our understanding through the clarity and skill of Lama's teaching methods. In this talk, was given during Lama Yeshe's and Lama Zopa Rinpoche's second world teaching tour in 1975, Lama explores the topic of the true nature of the mind. You can also read along with the transcript.
The LYWA podcast features incredible selections from the hundreds of hours of audio recordings in our Archive of Lama Yeshe, Lama Zopa Rinpoche and now Tenzin Ösel Hita. All the podcasts provide links back to our website where you can listen to the podcast while reading along with a lightly edited transcript. You can download previous episodes and find out how to subscribe on our podcast page.
LHABAB DUCHEN: A MERITORIOUS HOLIDAY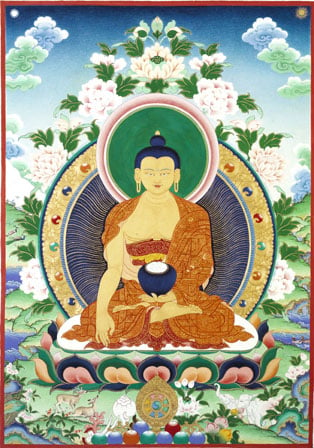 On Friday, November 10, we celebrate Lhabab Duchen, which commemorates Lord Buddha's actual descent from the Realm of Thirty-three. Like the other great Buddhist holidays, Lhabab Duchen is a very powerful time to accumulate merit. You can find Lama Zopa Rinpoche's recommended practices for these karmically powerful days on the FPMT website.
As cited by Rinpoche from the Vinaya text Treasure of Quotations and Logic, the merit created by actions done on these special days is multiplied by one hundred million. Therefore this is a great time to make offerings and we would humbly ask you to consider donating to the Lama Yeshe Wisdom Archive's publishing fund when November 10th arrives. Don't worry, we will remind you!
Life in Lincoln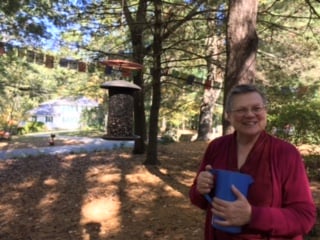 And finally, here is our Office Manager and Technical Archivist, Ven. Tenzin Desal, putting the teachings into practice at one of several bird feeders we have around LYWA. 
"…whatever roots of virtue I have created by generosity, even as little as giving just one mouthful of food to a being born in the animal realm."
–  Bodhisattva's Confession of Downfalls
"If merely a benevolent intention excels venerating the buddhas, then what need to mention striving to make all beings without exception happy?"
– Bodhicaryavatara, 1:27
"The most happy thing in my life, the most fulfilling thing, is to work for and to benefit sentient beings. Even just the mere thought to cause happiness for sentient beings, to benefit them, to free them from suffering—this is the best offering to all the buddhas and bodhisattvas, the best puja, this is what pleases their holy minds most."
– Lama Zopa Rinpoche
Thank you again for your incredible support, and please enjoy this precious praise offered by Merry Colony during a long life puja to Rinpoche at the 2017 Light of the Path retreat. 
Much love,

Nick Ribush
Director
THIS MONTH: In Praise of Rinpoche
On September 15, a long life puja was offered to Lama Zopa Rinpoche at the conclusion of the Light of the Path 2017 retreat, which was organized by Kadampa Center in North Carolina, US. During the puja, Merry Colony, a long-time student and current director of Milarepa Center, offered the following praise to Lama Zopa Rinpoche.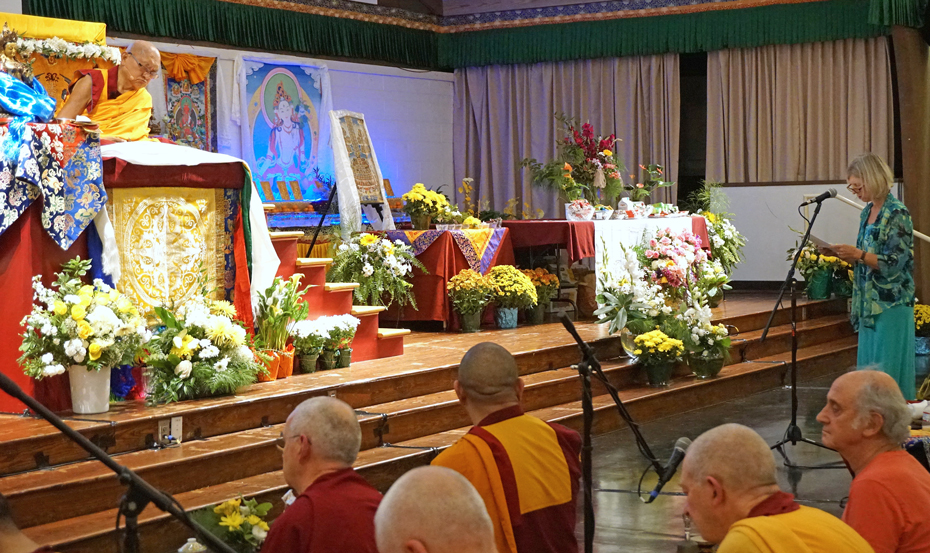 To Kyabje Lama Zopa Rinpoche,
From the vast sky of dharmakaya space, like a star appearing in the light of day, the most rare of fortunate events ripened when in the Himalayan village of Thangme, Nepal, you appeared in this human form. Before you could even walk, you showed all the signs of being the unmistaken incarnation of the great Lawudo Lama meditator, Kunzang Yeshe. What a great auspiciousness!
As a child you thought to go to Mindroling Monastery in Tibet, but instead your uncle Ngawang Gendun brought you to the monastery of Domo Geshe Rinpoche. Thus, you ended up in Buxa after fleeing Tibet. While in Buxa, the monk Chumbi brought you to the room of Lama Thubten Yeshe and a karmic bond that would come to shine a great light on the dark land of the West was rekindled. What a great auspiciousness!
When Zina [Rachevsky] first requested Lama to teach in Bodhgaya, it was you, Supreme One, who accepted the request. Inspired by Kachen Yeshe Gyaltsen, you taught the first five-day course, which quickly grew to become a biannual event at Kopan. Now, forty-five years later, you have given the keys to liberation and enlightenment to tens of thousands of students at Kopan alone. What a great auspiciousness!
When the world turned dark on Losar morning in 1984 and Lama Yeshe passed away, you immediately took the helm of the FPMT organization and then traveled without break for so many years, steering the fledgling group of forty centers to its current status of more than 160 centers, projects, and services. Impeccably following the advice of His Holiness, you protected the centers and students from danger, becoming the mother, father, and protector of us all. What a great auspiciousness!
As the organization grew, you invited the most highly educated of Sera geshes to teach so that students everywhere could learn the great philosophical texts, while always ensuring that practice and the heart of service remained at the core. Like this, you initiated FPMT's Basic Program and grew the Masters Program, paving the way for a new generation of well-educated and well-integrated teachers to serve the organization. What a great auspiciousness!
To help secure the longevity of the Sera monastic education, you established the Sera Je Food Fund, enabling the monks to focus on their studies and your students to create vast skies of merit. Likewise, you have overseen the continuous growth of Kopan Monastery and Khachoe Ghakyil Nunnery and have rebuilt monasteries vulnerable to degeneration in Mongolia, and in Tsum and Jailsa in Nepal, which are now flourishing. What a great auspiciousness!
Your vast vision to bring holy objects to every corner of the world is without equal. Exceeding the wishes of Lama Yeshe, two great statues of Maitreya Buddha will now be built in India, while great prayer wheels, stupas, Guru Rinpoche statues, giant thangkas, and other holy objects are going up around the world. Due to Rinpoche's limitless compassion, even the animals and those without faith can now create merit, helping to bring peace to the world and balance to the elements. What a great auspiciousness!
Due to Rinpoche's vision of benefiting sentient beings as vast as space, the Sanghata Sutra, the Sutra of Golden Light, the Vajra Cutter Sutra, and others are now recited regularly throughout the whole world; many thousands of nyung nä retreats have been completed; and many 100 million mani retreats and so many individual lamrim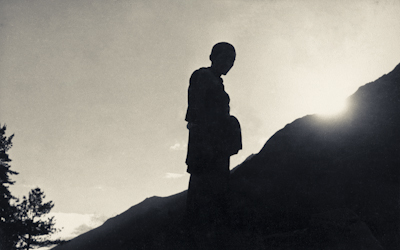 and deity retreats have been done. And due to Rinpoche's indescribable kindness and guidance, we now have everything we need to help ourselves and others at the critical time of death. What a great auspiciousness!
Your help for children, the poor, the sick, and the elderly manifests in an ever-expanding circle of schools, homes for the destitute, clinics, and an eye hospital in Tibet. For so many animals bound for slaughter, you have created safe havens. Most recently, due to your great concern for the elderly who have been left alone in your homeland, an old-age Dharma home will be built where Sherpas destitute of help can live out their lives with Dharma and in peace. What a great auspiciousness!
But greatest of all your holy deeds are the unmatched, unexcelled, and unending treasury of Dharma teachings that Rinpoche gives every moment, with every breath, and with every movement of your holy body, speech, and mind. Having crisscrossed the globe continuously for more than forty-five years, you have given teachings like no other on the heart of the path—how to correctly devote to the virtuous friend—so that we may receive the nectar blessings needed to actualize the path. You have shown us how to carry out all our practices in the most extensive way to create the most extensive merit of virtue and merit of wisdom. You have shown us how to meditate precisely on the subtle points of emptiness so that we may cut the root of our ignorance. And by your peerless faultless example, you have shown us perfectly how to take the essence from every moment of our unfathomably perfect rebirths and make our lives most beneficial for others. What an indescribable auspiciousness!
And yet, despite Rinpoche's atomic energy and passion to blast us out of samsara, we are still children often lost and confused, in need of your continual guidance and care. Guru Chenrezig, Vajradhara, hear the prayers of your disciple children. You are our sole refuge protector and savior, our light of the path. Don't ever leave us. Until we attain your enlightened state, hold us in your compassion and guide us.
Having shown us how to open the door of Dharma, we will work diligently to give up the meaningless affairs of this life. Having opened our hearts, we will work continuously to benefit living beings. Having opened our wisdom eye, we will persevere in our analysis of how things exist. Having saved our lives, we will dedicate ourselves to becoming most quickly like you so that our every action will be suffused with bodhichitta, our every breath most meaningful for others. May our pure practice be the cause for you to stay with us forever.
Guru Chenrezig, Vajradhara, hear the prayers of your disciple children. You are our sole refuge protector and savior, our light of the path. Don't ever leave us. Until we attain your enlightened state, hold us in your compassion and guide us. May all auspiciousness continue to ripen.
Written and read by the devoted disciple Merry Colony at the conclusion of the Light of the Path retreat in Black Mountain, North Carolina, September 15, 2017.