Dear Friend of LYWA,
We are pleased to announce the arrival of our latest book from Lama Zopa Rinpoche, Sun of Devotion, Stream of Blessings. 
Sun of Devotion, Stream of Blessings is the record of a remarkable series of powerful and clear Dharma teachings given by Kyabje Lama Zopa Rinpoche to students in Leeds and London, United Kingdom, in 2014. In this book, Rinpoche explains how to take care of the mind so that our happiness is in our own hands, gives profound teachings on the Buddhist philosophy of emptiness, and discusses the need for ethics and a solid refuge. He shows us how to cut the root of samsara, explores why practicing certain tantras is important and especially emphasizes how the guru is the most powerful object of our Dharma practice. There are also chapters on the great qualities of Khadro-la and the shortcomings of practicing Dolgyal.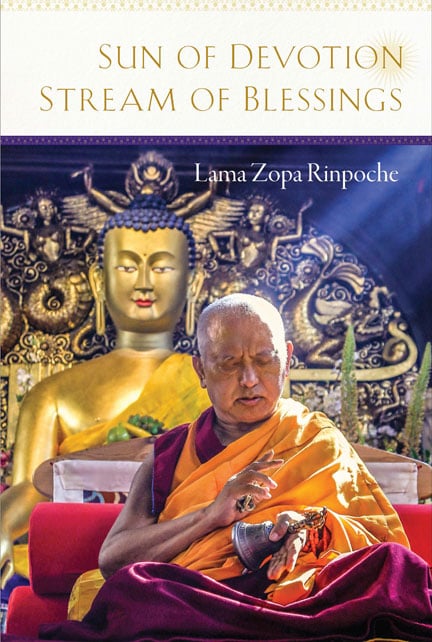 This is the latest in our series of free Dharma books. With this title, we now have nearly 750,000 free books in print, not to mention the countless times our free books are downloaded as ebooks or read online. We are grateful to our many supporters over the years who have partnered with us to bring these precious teachings to readers all over the world.
Sun of Devotion, Stream of Blessings can be downloaded as a pdf for free from our website. You can also order a print copy from our website (we only ask that you pay the cost of shipping it to you) or order an ebook version from a variety of ebook vendors. LYWA Members will automatically receive a copy of the book. And, if you have donated $50 or more in the past 2 years and have not already requested a Gift for Benefactor, then please reply to this email and request your free copy.
You can read two chapters of this book on our website. The remainder is forthcoming.
LYWA Podcast Redesigned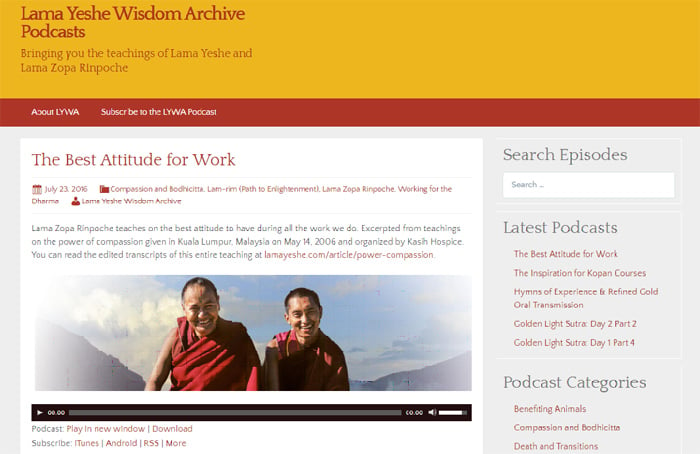 The LYWA Podcast has been reborn! Our Social Media and Epublishing Manager Megan Evart has set up our podcast on a new service, and we will start releasing new podcasts regularly. You can browse podcasts by date and topic and subscribe for updates via iTunes or Android through links on our podcast page.
The LYWA podcast features incredible selections from the hundreds of hours of archival audio teaching by Lama Yeshe and Lama Zopa Rinpoche.  All the podcasts provide links back to the full teaching from which they were drawn and you can also listen to the podcast while reading along with a lightly edited transcript.
And don't forget that you can also watch and listen to many other historic teachings from Lama Yeshe and Lama Zopa Rinpoche on our YouTube channel.
New Advice From Lama Zopa Rinpoche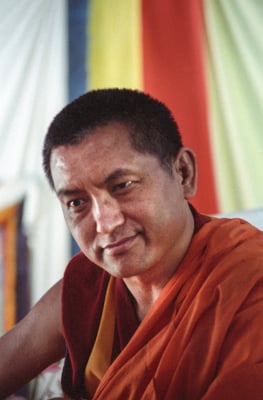 We have several new additions to Lama Zopa Rinpoche's Online Advice book, including:
As always, you can see all the latest advices on our View and Search Online Advice Book page.
Book Project Updates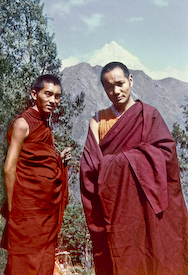 Over the years you have heard about our work on two projects: Lama Zopa Rinpoche's Heart Advice series, edited by Ven. Sarah Thresher, and the amazing biography of Lama Yeshe, Big Love, by Adele Hulse, and I wanted to provide you with an update. 
Our first Heart Advice series book, Bodhisattva Attitude, is now out of print but lives on as an ebook or online. Furthermore, each chapter has been recast in multimedia format, with video, audio and photographs accompanying the text. We think this is a revolution in presenting the Dharma and it is a wonderful development from the Heart Advice series. Finally, a new, slimmed-down print edition of Bodhisattva Attitude is in the final stages of editing and should be available soon. 
The next Heart Advice series title will be on refuge and bodhicitta. Editing of the text is well under way.
With respect to Big Love, the text is essentially set but photo selection is taking time. First, we have tens of thousands of photos in our historic archive (some of which you can see in our Online Image Gallery) and we have to consider each one. They have been grouped as best we can into years, as that is how the book is set up. There are also thousands more that we can't date but want to consider for the book. We are currently working on 1976, for which we have nearly 3,500 photos, out of which we have to make a short-list of 120 to 150. Most of the upcoming chapters will be similar. Without going into the details of how David Zinn, our digital imaging specialist, and I collaborate, it is painstaking work but we are doing everything we can to move it along while remaining true to doing the best job we can.
Be sure to take a look at our Big Love blog, where we are sharing excerpts from the book along with some of the images to be included in the text.
LYWA at LOP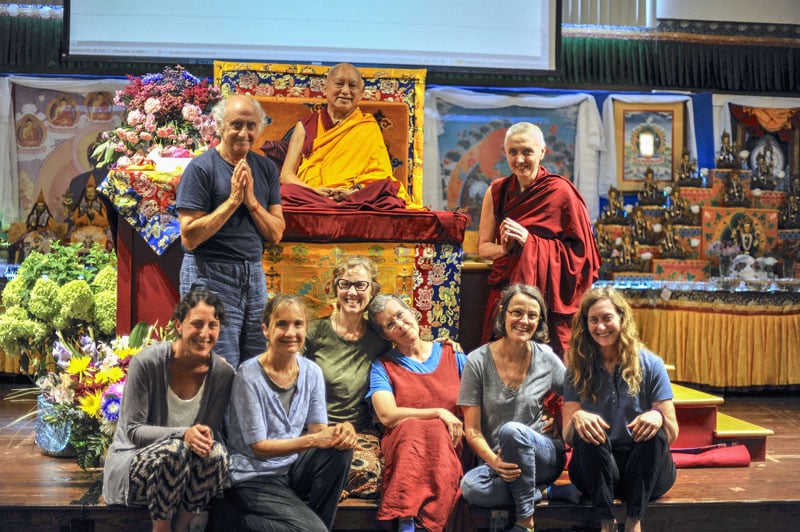 I was happy to be attending Rinpoche's Light of the Path retreat over the past two weeks, and had the precious opportunity to offer LYWA's latest publication to Rinpoche, as you can see in the picture above. I was joined at the retreat by a number of members of the LYWA family, pictured here: Ven Sarah Thresher and me next to Rinpoche along with Stacey Martin. Debra Thornburg, Wendy Cook, Megan Evart, Mer Stafford and Laura Haughey.
I was honored to be asked to write and deliver a praise of Rinpoche and request for him to live a long life, which I was very happy to do. Instead of a teaching this month we've decided to share that with you. 
If you haven't been to a Light of the Path retreat you really must try to get to one. And if you have been, I hope to see you again at the next!  Thank you so much for your amazing support of the Lama Yeshe Wisdom Archive. We couldn't do any of this without you.
 
Much Love,



Nick Ribush, Director
This Month: Praise and request to Kyabje Lama Zopa Rinpoche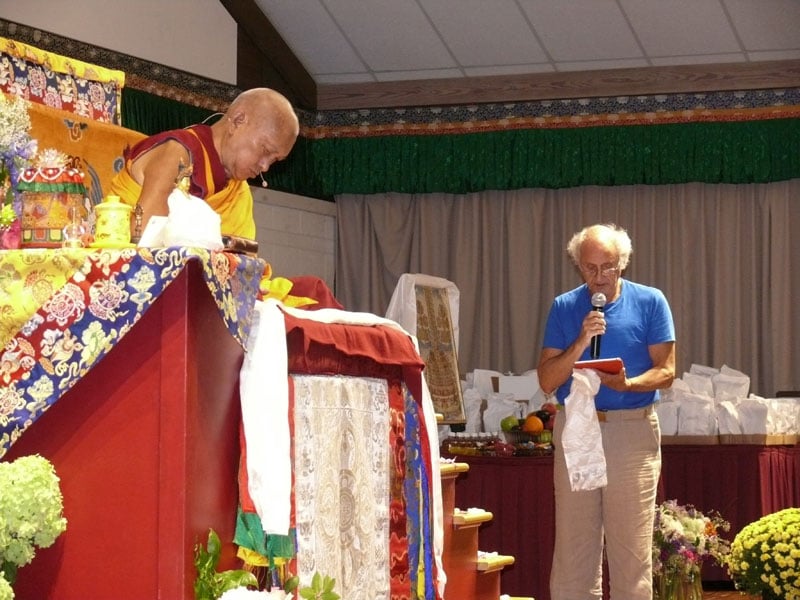 WE LOVE YOU, RINPOCHE
Rinpoche, we love you.
Out of your unfathomable, unbearable great compassion
You have manifested out of the infinite vastness of the dharmakaya
To guide those fortunate beings who have that rarest of rare karmas to meet you.
You appear in an ordinary body but are, in reality, all the buddhas of the past, present and future.
Yet you are kinder than all tathagatas together.
Please, please live long.
Rinpoche, we love you.
Because of your impeccable guidance in our previous lives,
We have been able to crawl out of the lower realms for this brief, lightning flash
Of a perfect human rebirth, where you can again teach us
How to extract its essence and make it meaningful in the three ways
By revealing the precious teachings on the nature of the mind.
Please, please live long.
Rinpoche, we love you.
If it were not for your teachings we would soon again
Find ourselves in the hell, hungry ghost or animal realms.
Even though death is definite and the time of death uncertain,
You refuse to let us go back down by explaining the inconceivable suffering experienced there
And teaching us mantras that preclude lower rebirth.
You are a perfect refuge. 
You give us protection and are an immaculate example of how to follow karma
And at least find rebirth as a happy transmigratory being.
Please, please live long.
Rinpoche, we love you.
Your brilliant explanations of all samsaric suffering
Allow us to deeply feel the horrors of cyclic existence and develop renunciation.
Your profound explanations of the four noble truths,
The twelve links and the emptiness of all phenomena
Allow us to clearly see reality, shake off the chains of conditioned existence
And escape this prison of torture and death forever.
Please, please live long.
Rinpoche, we love you.
Bodhicitta is the secret of the mind. 
You elucidate its importance over and over again, until perhaps we finally get it.
You describe in great detail the kindness of each and every sentient being
And how intolerable is the suffering they constantly undergo.
They all have been our mother and the happiness of each is far more important than our own.
Thus you show us how to develop the mind that strives day and night for their enlightenment,
Please, please live long.
Rinpoche, we love you.
That mother sentient beings have to suffer for even one second more is 
So unacceptable that we ourselves must attain buddhahood right now.
Fortunately, by some miracle we have found you, Vajradhara, the peerless vajra master, 
And the incomparable Mahayana tantra. In this degenerate age 
You give us initiations, vows and commentaries
So that in this brief lifetime, we can become buddhas ourselves.
Please, please live long.
Rinpoche, we love you.
Never stop leading us through the stages of the path to enlightenment.
Never abandon us to the dreaded sufferings of samsara.
Never leave us in the perfect peace of nirvana.
Always keep us close until we too enter your enlightened realm.
Please, please live long.
Please, please live long.
Please, please live long.
Written in haste from the bottom of the barrel by the ignorant Nicholas Ribush for the concluding Guru Puja at the Light of the Path retreat, Black Mountain, North Carolina, August 2016, at the request of Mer Stafford.