Amitayus Long Mantra and Practice Sadhana
In May 2006, we received a special request for Lama Zopa Rinpoche's students to recite 100,000 long Amitayus mantras to dispel obstacles to Lama Zopa Rinpoche's health. (See below for details.)
In June we received this update:  PLEASE REJOICE - KYABJE ZOPA RINPOCHE'S STUDENTS RECITE MORE THAN 510,342 AMITAYUS MANTRAS.
With sincere thanks to all the centers and study groups who motivated students to recite the long Amitayus mantra and dedicate that merit towards our precious Spiritual Director's good health, long life and the fulfillment of all Rinpoche's wishes.
We amassed more than 5 times the 100,000 mantras advised by Trulshig Rinpoche!
Let's rejoice strongly that we are able to make this offering to Rinpoche.
On the basis of thanking everyone Rinpoche would like to offer ice cream to all those who recited the mantras (also to those who didn't).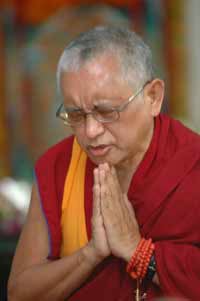 Ven. Roger on hearing of the total mantras recited said:
"This photo is for those who have done all the Amitayus mantras
- Rinpoche thanking them from the bottom of his heart."
AND A SPECIAL MESSAGE FROM KHEN RINPOCHE LAMA LHUNDRUP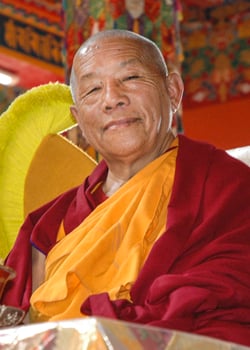 Dear all FPMT centres and great holy guru Lama Zopa Rinpoche's students,
How can we take care of Lama Zopa Rinpoche's wishes?
We should strongly pray every day for Lama Zopa Rinpoche's long life.
Then we should read and meditate on Lama Zopa Rinpoche's teachings and with devotion in the heart make strong connection. We can read more Lama Zopa Rinpoche's and Lama Yeshe's teachings and, of course, His Holiness Dalai Lama's teachings.
Especially those students who have been receiving teachings from Lama Zopa Rinpoche for a long time should think more deeply how to take care. If you understand a little bit and then you go away - that is wrong. Then you are never satisfied.
It is always very important to take more care of one's first guru, who you accepted in your heart as guru. Develop more faith and more devotion. If you lose faith in your first root guru then later you have other gurus but you don't get realisations. The first guru is very important.
So we all, FPMT centres and centre members, need to come together with Lama Zopa Rinpoche.
Thank you and many tashi delek.
Khen Rinpoche Lama Lhundrup
Abbot,
Kopan Monastery
Original Request
We recently received an email from the FPMT International Office with a message from Ven. Roger Kunsang, Lama Zopa Rinpoche's attendant. As you may know, every year Ven. Roger requests Rinpoche's gurus to check as to what practices might be beneficial for Rinpoche's long life and good health.

The message said that Lama Zopa Rinpoche is currently manifesting good health!

However, Trulshik Rinpoche, who is one of Rinpoche's gurus, has kindly advised that students should recite 100,000 long Amitayus mantras to dispel obstacles to Lama Zopa Rinpoche's health.
Students should dedicate specifically for Rinpoche's good health, long life and for the success of all Rinpoche's holy wishes—and of course make the usual Mahayana motivation and dedication prayers.
It would be wonderful if the Lama Yeshe Wisdom Archive could offer a minimum of 10,000 long Amitayus mantras to be recited by the end of May. If 20 people pledged to recite the mantra 21 times daily or if 60 people pledged 7 daily recitations, for the next 30 days, we will easily reach 10,000.

Reciting Amitayus mantra is not only beneficial for the long life of our teachers, it is also extremely beneficial for our own good health, long life and realizations!

The long mantra is below or you can download the full practice, which was translated by and includes commentary from Rinpoche, from the FPMT website. The full practice includes the list of all the benefits of reciting the mantra—which are extremely inspiring and joyful.

Please email Nick at nick@LamaYeshe.com to let us know about your Amitayus mantra pledge, and also let us know how many mantras you were able to recite at the end of the month. Thank you so much.
Long Mantra of Amitayus
NAMO RATNA TRA YAYA / OM NAMO BHAGAVATE / APARIMITA AYUR JÑANA / SUPINISH CHITATAYE / JORA JAYA / TATHAGATAYA / ARHATE SAMYAK SAM BUDDHAYA / TAD YA THA / OM PUNYE PUNYE / MAHA PUNYE / APARIMITA PUNYE / AYU PUNYE / MAHA PUNYE / AYUR JÑANA / SARVA RUPA SIDDHI / AYUR JÑANA / KE CHE BHRUM / OM BHRUM / AH BHRUM / SVA BHRUM / HA BHRUM / CHE BHRUM / OM SARVA SAMSKARA / PARI SHUDDHA DHARMATE / GAGANA SAMUDGATE / SVABHAVA VISHUDDHE / MAHA NAYA PARIVARA YE SVAHA
You can listen to a recording of this mantra, chanted by Wendy Cook; see the links above.
Amitayus Long Life Sutra
Lama Zopa Rinpoche recently completed a new translation of the Amitayus Long Life Sutra. A pdf of this can be found on the FPMT website. Rinpoche says about this sutra:
"The text is very precious and there is so much benefit in printing or writing it. I have one copy that was given to me in Mongolia, written with pearl, coral and other jewels. This is one of the texts that, if written in gold, mountains of negative karma get purified. Nalanda Monastery prints a certain number each week for the success of the projects, so imagine the benefits: each time they make one copy it is like copying all the 84,000 teachings of Buddha. It is also great purification. Especially, writing this collects most merit. You write it, not because someone needs the book, but just because it helps for long life and to collect merit.

"It's very good to print for people who have cancer, and for the success of activities and projects. If a business has difficulties, or is difficult to start, if you have difficulty finding a job, or the job is not going well, you can print many copies. You can print many copies, weekly or monthly, to make merit, not particularly for mundane success but generally to collect merit for realizations, conditions for Dharma practice. Then you can dedicate the merits of printing for all sentient beings. This is one solution for success and long life. Also, when you die you will get born in Amitabha's pure land."