Golden Light Sutra in Portland OR (Audio)
By Kyabje Lama Zopa Rinpoche
Portland, OR USA 2007 (Archive #1667)
Lama Zopa Rinpoche gave this commentary and partial oral transmission (lung, pronounced loong) of the Golden Light Sutra at Maitripa Institute, USA, over two days, November 2-3, 2007.
Rinpoche urges us to recite the Golden Light Sutra every day. In support of this advice the FPMT has created a web page dedicated to the Golden Light Sutra, with an explanation of the benefits of reciting the sutra, links to a dedication and translations, and a page for reporting your recitations.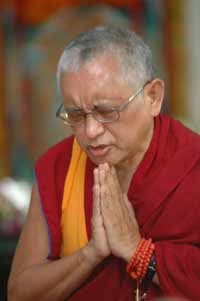 Friday, November 2nd: Part A - Opening prayers and introduction
A transcript of these teachings is forthcoming.