Teachings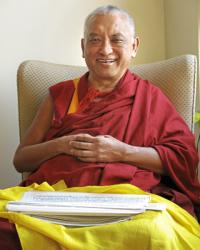 Lama Zopa Rinpoche's Online Advice Book
Advice on making offerings to the Three Rare Sublime Ones.
Verses to Inspire Offerings •

Offering to the Sangha •

Water Bowls Practice •

How to Generate Merit by Offering Music, such as Bell, Gong or Conch Shell •

Making Offerings to the Pretas •

Offerings to the Guru-Buddha •

Offering Incense •

Benefits of Offering Gold to Buddha Statues •

Take Care of the Flowers •

Water Bowl Offerings •

Flower Offering Card •

How to Dedicate a Money Offering •

Water Bowl Offerings as a Group Practice •

The Benefits of Supporting the Center and Sangha •

How to Think When Offering to Sangha •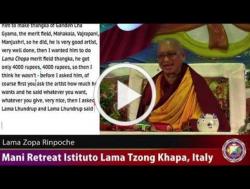 By Kyabje Lama Zopa Rinpoche in Instituto Lama Tsong Khapa, Pomaia, Italy
In this video, Lama Zopa Rinpoche explains the benefits of offering to holy objects. Even a small offering to the Buddha creates the cause for ultimate happiness, due to the power of the object.