Teachings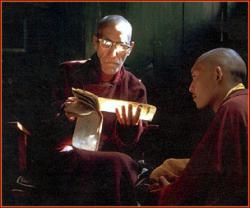 By Khunu Lama Rinpoche in Boudhanath, Nepal, 1975
A commentary on Atisha's text, given to Western monks and nuns in Boudhanath, Nepal, in 1975. The teaching is translated by Lama Zopa Rinpoche and edited by Nicholas Ribush.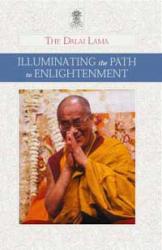 By His Holiness the Dalai Lama in Los Angeles, CA 2000
Commentary on two core lam-rim texts by Atisha and Lama Tsongkhapa.
Chapters:
Illuminating the Path to Enlightenment •
Illuminating the Path to Enlightenment: Foreword •
Illuminating the Path to Enlightenment: Prologue •
Chapter One: General Introduction •
Chapter Two: Features of the Lam-Rim Teachings •
Chapter Three: Relying on a Spiritual Teacher •
Chapter Four: Becoming inspired to practice Dharma •
Chapter Five: Refuge, Karma and Precepts •
Chapter Six: Seeking freedom from cyclic existence •
Chapter Seven: Cultivating the altruistic intention of Bodhicitta •
Chapter Eight: The ceremony for generating Bodhicitta •
Chapter Nine: Bodhisattva outlook and action •
Chapter Ten: The Perfection of Wisdom •
Appendix 1: A Lamp for the Path to Enlightenment •
Appendix 2: Lines of Experience •
Illuminating the Path to Enlightenment: Notes •