Teachings in Bodhgaya
In January Lama Yeshe and Lama Zopa left for Bodhgaya to attend His Holiness the Dalai Lama's annual teachings. Lama Lhundrup, Lama Pasang, Geshe Jampa Gyatso and a group of devoted students accompanied them, while Geshe Tsering remained at Kopan as acting abbot.
His Holiness taught in Tibetan for four hours every morning and every afternoon Alex Berzin translated it all into English. That took another four hours. The Westerners, seated behind thousands of Tibetans, didn't understand a word of the morning teachings, so one day during lunch a brave soul asked Lama Yeshe if it was necessary for them to sit through them. Garrey Foulkes recalled Lama's wrathful reaction. "It was one of the few times I ever saw him show anger. He couldn't believe that a student of his would ever think of missing an opportunity to sit in the presence of His Holiness. I felt a great relief that it wasn't me who had asked the question, because any of us could have."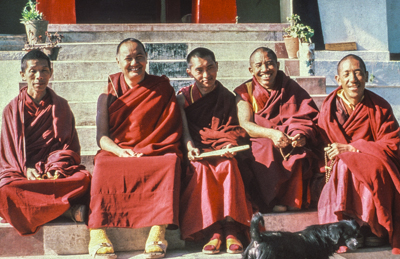 "Back then Westerners often sat for hours listening to teachings in Tibetan," said Peter Kedge. "We just sat there hoping somehow to absorb some blessings, which I'm sure we did. It certainly felt as though we did. But compared to teachings in the twenty-first century, where simultaneous multi-language translations are broadcast directly into headphones, or where you can pick up a copy of the teachings as you walk out the door, it was a different world back then." 
Bodhgaya was bustling with monks and Max Redlich watched everything going on around him. "His Holiness gave a talk under the Bodhi tree to all the geshes and I saw how they packed themselves so tightly into such a small space. One geshe was asked a question and it appeared his answer was wrong. Afterwards I saw Lama walking along in his Dr. Scholl's sandals with that geshe, punching him in the shoulder and pushing him roughly in that typical debating style of theirs. It often looks as if they are about to have a knock-down fight, but of course they never do."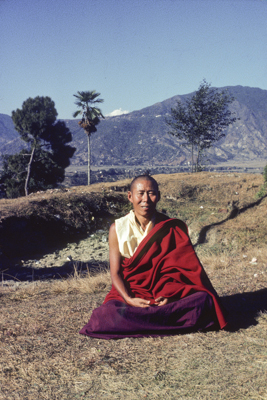 Back at Kopan Marcel still turned up for dinner every night, but with the export business rapidly expanding he came home later and later. By 1978 a slum suburb had sprung up behind the Boudha stupa between Boudha and Kopan, and it was through this area that he would walk, sometimes as late as midnight, often carrying large sums of money. It wasn't safe. Lama told Chombey to leave his job in Kopan's kitchen, become Marcel's manager and have his wife cook for them. Chombey rented a small house in Kathmandu and proved to be a very good manager.
"Lama told me to walk everywhere and to avoid taking rickshaws to save money," said Marcel, who did everything exactly as Lama instructed. Several Buddhist centers now regularly imported Tibetan incense, offering bowls and such through Marcel's business. Peter Stripes in Melbourne and another student in Florida imported Tibetan-style jackets, bags and bright boots with curled up toes. In Italy Massimo Corona imported the fashion garments that Susanna Parodi, a talented designer, produced for the Samsara label.
"Lama Yeshe was always giving me business advice," Marcel later recalled. "He started promoting the idea that he wanted a shop. I wasn't that interested so Lama said he was going to open it by himself, which demanded I get interested. Then when I was thoroughly involved, he told me he would give me this project of his, this shop. He was very clever with me.
"Our first shop was in the new Hotel Soaltee Oberoi, just outside Kathmandu. It lasted about eighteen months and although it didn't lose money the location was too quiet for us. Lama had bought much of the stock himself—mostly porcelain and never any very expensive items—during shopping trips to Hong Kong. The most he spent for something was around $200, but objects costing $10 or $20 were much more common. I often became thoroughly embarrassed because he never stopped bargaining and just ground the seller right down. Lama's sole purpose in business was to make a profit." Commerce has always been an important aspect of Tibetan culture and Tibetans are shrewd and obstinate traders.
"He was always worried I would sell things too cheaply," Marcel continued. "Sometimes he came into the shop to check up for himself. He'd scurry about putting the most ridiculous prices on things, then stubbornly refuse to let me lower them when the objects didn't sell. As a result the shop was always full of stuff no one would buy. If I reminded him of this he'd say, 'If people don't want to pay then I don't want to sell!' But in the end he'd soften up and we got rid of everything, eventually.
"Sometimes he asked me for money. For instance, he wanted an air conditioner for his room but made it clear he didn't want to pay for it out of his part of the profits. I was expected to give it to him as a present. What's more, it had to be a Western air conditioner, not a noisy one from India. Lama was not at all shy about any of this."
Neither Lama nor Rinpoche owned much personally. "I remember once when we were traveling I bought Rinpoche an electric shaver," said Peter Kedge. "By the time we got back to Kopan it was gone because Rinpoche had offered it to his teacher or some other lama. I bought him another one and the same thing happened—it disappeared. In a fairly short period of time I think I bought five shavers for him and he just gave them all away. It was pretty much the same with everything. Whatever the lamas had they either gave away or, in Lama's case, used for Mount Everest Centre. If while he was away Lama could get hold of a sleeping bag or two, he'd immediately give it to the young boys."
Lama Yeshe was also training Peter Kedge in business. "Lama called me up to his room one time," said Peter, "and produced a cloth bundle full of turquoise, which he called 'turkle.' 'Look! For this turkle I pay $1,000. How much do you think we can sell it for in Hong Kong?' he asked me. I said I had no idea. He told me to go to Hong Kong and sell it and to take Yeshe Khadro with me. It all looked pretty difficult.
"Even though we were both ordained, we wore lay clothes for this trip. We began by looking around jewelry stores in Hong Kong and immediately noticed that their turquoise was really shiny and clear, while ours was this gnarled blackened stuff. So we scrubbed it, begged some presentation boxes from a watch shop, put some of our better lumps in them and started taking them around. Well, people just didn't want to know because it was horrible low-quality stuff. After four very expensive days there we returned to Kathmandu and told Lama we'd been unable to sell it. This was awkward as money was so short and we'd spent a great deal on this hopeless venture.
"A couple of weeks later Lama and I were both in Delhi and I sold the entire batch of turquoise to a Tibetan dealer for 1,000 rupees. When I told Lama he said, 'Oh good! That's very good!' Of course he hadn't paid anywhere near $1,000 for it. He wasn't being dishonest; it was just Lama being Lama and teaching us at the same time."
In an ordinary context it might appear as if Lama Yeshe was being mischievous and deceptive, but his occasional shocking behavior was often designed to pull the rug out from under his students' expectations of what a "holy man" should be like.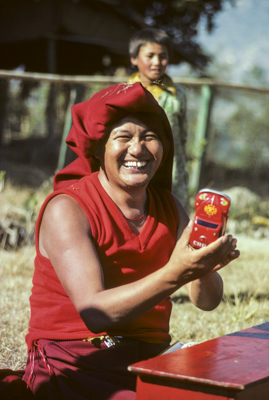 "Lama was fascinated by economics and always tried to find out as much as he could," Peter Kedge explained. "When he arrived somewhere new, one of the first questions he always asked someone was how the economic situation was there. Lama surprised me quite often, because he would observe how much construction was going on and know from that whether things were going well or not. Lama knew that if the price of gold went up, the value of the U.S. dollar went down and vice versa. In those days that was just a rule of thumb. I often wondered how Lama knew these things, but I suppose there was talk on the street among the Tibetans about such fundamental economic issues that were so important to a refugee community.
"Lama always wanted to know how the world economy functioned. He would read, discuss and ask questions about it, ever aware of the need to provide a sound economic base for the burgeoning Dharma activities. In the early days there was very little money apart from Max's salary, and Lama did his utmost to supplement that. He bought things wherever he went with a view to selling them somewhere else—which was often my job.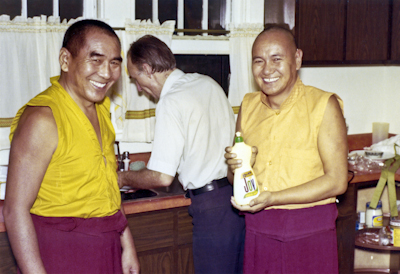 "We bought all manner of things, including duty-free items, which always went down well in India. We also brought in things like Chantilly lace saris, electric shavers, a new portable typewriter and calculators. Whenever we traveled out of India we took things like incense and khatas—not religious items, but things people were always happy to buy for the course. This too helped to cover some of our travel costs.
"Lama was adamant that no religious items should ever be bought or sold as a means of generating income. The only conditions under which Lama would permit us to buy and carry religious items, like dorjes and bells, which people needed in the emerging centers, was if whatever funds came back were used exclusively for the production of religious art, the printing of texts, or directly in the construction of Kopan Monastery. Whatever funds come from the sale of religious items should never be worn or eaten, but should be used only in the manufacture of another religious item.
"Lama had no formal economic, commercial or even mathematical training yet he was extraordinarily intuitive in this area. It was Lama's idea to invest the funds we began to accumulate for Mount Everest Centre in gold, which we did. Those were the days when inflation was emerging as a significant factor in the world economy and the price of gold was rising. In a modest way this investment was really successful.
"Lama was always interested in buying houses and property. When we were at courses in Australia, Lama would send me off to meet with realtors and look for property. This was at a time when houses on Queensland's Gold Coast were very cheap. Had we bought one or two back then it would have been very worthwhile in the long term."
An Italian tour group
Monastery life had been hard. Not long after Michael had been ordained Yorgo, accompanied by Michael's sister, Melina, came to visit him. Yorgo asked his son, "Do you know who I am?" and was disappointed to learn the little boy had barely given his family a thought. Yorgo was shocked by Michael's ragged, skinny appearance and had wanted to pull him out and place him in a good school in Europe. But after talking with the lamas and observing his son for some time he decided that Kopan was actually the best place for him.
"I was outrageously naughty. I often skipped classes, earning many beatings from Lama Pasang. Even though I had black hair and very dark eyes the other kids still called me 'yellow-head' and 'white-eye,' which are Sherpa terms for Westerners. As I got older they teased me for having body hair, which they didn't have. Sometimes I'd sneak in under the edge of the tent when the lamas were teaching the Injis. I understood English and knew that I too was an Inji, even though I belonged to the Tibetan side of the hill. But I never ever felt like I was a prisoner at Kopan.
"Lama Yeshe showed me a lot of affection when I was very small and I always took my problems to him. But after I was ordained he began to dismiss me, saying things like, 'All the boys have problems. Don't come to me any more with such small things.' He made me face up to things, deal with them on my own. He didn't want me to feel I was different from the others. By the time Wongmo's son, Daja, entered the school he was so Tibetanized he could no longer speak English. He also got better food than the rest of us. Our food was often pretty bad. He and I did not become natural friends until we had both grown up.
"The first contact I had with my mother's family was when a relative from Belgium visited Kathmandu. Somewhat later an elderly couple came to Nepal and took me out occasionally for wonderful meals. Then, when I was about seven, Olivia [Michael's mother] took me away, saying that we were going back to America. We went to Delhi and spent three months at the All India Radio Hostel. I turned into a real brat and wouldn't do a thing I was told. Lama Zopa Rinpoche came to visit us and I asked him to take me back to Kopan because I realized that was where I really wanted to be."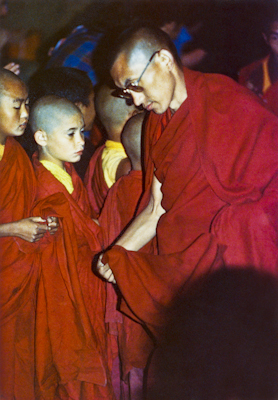 At this time Gyatso was in charge of shopping at Tushita Retreat Centre, but he wasn't especially good at bargaining. "One lovely day Lama came outside and said to me, 'I take you shopping!' He stood right out in the street and took over completely, ordering this and that and bargaining the price down hard every time. Everyone just stood around and watched him. You could see the sellers were really happy to do business with a real pro! He showed me that to get what you want you have to be strong."
That February, a foot of snow lay on the ground when a dozen Injis showed up to do a four-week Green Tara retreat. Among them was Sylvia Wetzel, the German feminist from Berlin. "Lama began doing a retreat of his own at the same time, yet every day he would check up on us, making sure we were not too tense, too silent, too uptight. Some evenings he came in with some chocolate and asked each one of us how we were doing, often recommending specific foods for certain people," said Sylvia.
Australian Robina Courtin, dressed in nuns' robes, had also arrived from Kopan to participate in the retreat, having received her rabjung vows from Lama Zopa Rinpoche at the beginning of February. Lama Yeshe then organized a getsul ordination ceremony for Robina and two others—Vicky from Sydney, Australia, and Stefano Piovella—which was to take place on March 9. As Robina recalled later, "Lama had requested Ling Rinpoche, His Holiness's senior tutor, whose house was a five-minute walk from Tushita, to run the ceremony but Rinpoche was busy, so Tarab Tulku gave us the vows. As it was a novice ordination, there needed to be at least five fully ordained monks [there were no fully ordained nuns in the Tibetan tradition at the time], so Lama and Rinpoche were two of the five. I was very glad they were there! Afterwards, out back near Tushita's kitchen, my friend Sylvia Wetzel grabbed her camera, handed me a rhododendron, which flourish in the area, and took a photo."
The Western monks and nuns not in retreat or living at centers often traveled around India in search of teachings and visas. "Tibetans were constantly asking me who my teachers were," recalled Pelgye (John Douthitt). "The mere mention of Lama Yeshe reduced some to fits of laughter, whereas hands were prayerfully folded when Lama Zopa's name was mentioned. I was kind of offended. When I told Kalu Rinpoche who my teachers were, his translator said, 'Very good. The students of Lama Yeshe and Lama Zopa are learning to subdue their minds.' One lama explained the reason Tibetan monks always laughed when someone mentioned Lama Yeshe was because they were reminded of his comical antics in debating sessions. He was able to make everyone smile.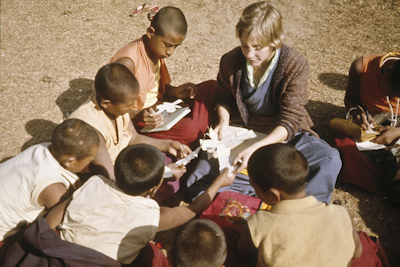 Pelgye went on. "One day at Kopan I witnessed Lama Yeshe swatting two young boys who had been caught playing hooky. He ordered them to bend over and brought this bamboo ski-pole whizzing down through the air. Crack! I was aghast. Catching my eye Lama gestured for me to come forward, bend over and get whacked too. I found the cane made a lot of noise but didn't really hurt; it was just a good show. I straightened up and thanked him politely. He gave me a fierce look and said, 'That's right. If I hit you, that's my trouble. If you get angry, that's your trouble.' I got the message. It seemed like a really core teaching on karma."
Lama Yeshe returned to Kopan briefly before it was time to go on tour again. Everyone lined up to bid him farewell, the boys running to the very top of the astrologer's hill to watch the Jeep disappear from sight and see the plane take off from Tribhuvan Airport.
 Thubten Monlam, the gompa housekeeper, suffered in Lama Yeshe's absence. "I had to work such long hard days. When the others were having their Saturday holidays I would look through the kitchen window at them playing and feel so black. It wasn't like that when Lama was around. I could always talk to him, tell him how I felt. One day while I was serving him, a big jet flew straight over the gompa. He turned to me and said, 'If you are a good boy, one day you will fly in one of those jets.' I just said, 'I don't know.' I didn't get excited about it."