January
The year 1973 began quietly at Kopan. Most of the students from the third course had left. Peter Kedge was in Dharamsala and an American, Dick Robinson, was now Kopan manager. Marcel Bertels was on his way to meditate in retreat at Tushita until he reached enlightenment. Nick Ribush and Yeshe Khadro had finished their one-week lam-rim retreats in the Sangha Houses and were living in Mummy Max's big old Rana house at Tintuli, traipsing up to Kopan every day to help out in various ways. The first thing they did was organize the Kopan library, such as it was: a haphazard collection of Zina's old books on theosophy and related topics and books left at the monastery by other students. In those days, very little on Tibetan Buddhism was available in English. The library was housed in what was called "Ann's house," a small, one-room brick building just down from the office. Nick had written to many of his medical colleagues and drug companies in Australia requesting donations of medicines and equipment, the idea being to establish a free medical clinic for the Kopan monks, local Nepali villagers and visiting Western students. Anila Ann was also around but no longer living in her house.
In early January, Lama Zopa Rinpoche went to Bodhgaya with Losang Nyima, Anila Ann and Ngawang Samten, Lama Zopa's sister, to attend Kyabjé Ling Rinpoche's Guru Puja commentary and Yamantaka initiation. The day before the initiation those in attendance were asked to check their dreams. Glenn Mullin knew nothing about Yamantaka, the wrathful buffalo-headed buddha of wisdom, but that night he dreamt he was reading a book that caused countless mandalas to dissolve into him. During his dream he thought to look for the name of the author of this book. Skipping to the colophon at the end, he read, "Composed by Lama Thubten Yeshe." "It was like meeting him for the second time," recalled Glenn.
In addition to attending Ling Rinpoche's teachings, several students from the third Kopan course, such as Marcel Bertels and Chris and Barbara Vautier, also took a ten-day vipassana course with Goenka at the Burmese Vihar.
Piero was in Bodhgaya as well. He had decided he didn't want to be a getsul, a novice monk, but wanted full ordination as a gelong instead. "I was proud," said Piero. "I thought getsul ordination was for children." Zopa Rinpoche relayed Piero's message to Lama Yeshe, who sent Marcel with his reply: "This time you become getsul with Kyabjé Ling Rinpoche. You are very fortunate." Thus Piero, now Thubten Donyo, was ordained, becoming Lama's third Western monk, after James and Jhampa Zangpo, and the first Italian to be ordained in the Tibetan Buddhist tradition.
Geshe Thubten Tashi was supposed to go from Lawudo to Kopan to teach the young Sherpa monks, but decided instead to go to Parphing, the holy Vajrayogini place near Kathmandu, to do a twelve-year retreat, so Lama Yeshe had to fill in as the boys' teacher. One of the things he did was to teach them how to chant. He had a very powerful chanting voice, although few were aware of its full range because he rarely, if ever, demonstrated this gift for anyone. However, he did manage a quick trip to Bodhgaya to attend some of Ling Rinpoche's teachings with Max, after which he returned to Kopan via Sarnath, where he visited Geshe Jampa Tegchok, who had moved there after finishing his retreat at Kopan.
On 30 January Lama wrote to the Solicks: 
Here at Kopan everything is okay. I am working with the Lawudo monks (with a strong wrathful aspect) in Thubten Zopa's absence. He is now in Bodhgaya and some students are arranging the next meditation course. It looks like we need much energy because we may have more than one hundred students.

I hope you realize that you need much inner communication to find inner wisdom Mother Tara, don't you. The divine equality of Mother White Tara1 offers more strength and energy to you, both physically and mentally, than all New York's material and medicine.

Now I have moved into the new gompa on the date of the Western New Year. That was a fantastic day of elemental manifestation, which I checked up astrologically. Things seem to be going smoothly now due to those magnificent vibrations.

Zina is still at Thubten Chöling. Maybe in May or April I shall go to see her and take her daughter with me, because before she went to the mountains she made me promise to bring her daughter, and I don't wish to break my promise to another sentient being.
Visit to Lumbini
After the Bodhgaya teachings, Lama Zopa Rinpoche decided to go to Lumbini,2 the birthplace of the Buddha, on pilgrimage and asked Piero to accompany him. He also wanted to visit the great Sakya lama Chobgyé Trichen Rinpoche, who lived there. Piero booked them into a cheap, dirty hotel room in nearby Bhairawa. The room was swarming with mosquitoes. Piero carefully hung a mosquito net for Rinpoche, but he just pushed it aside, saying, "Poor ones, they are so thirsty. We should help them." He spent the night sitting cross-legged on his bed, never lying down at all, with thousands of mosquitoes biting him.
As they had very little money and could not afford to rent a car, Piero went to hire bicycles but found only one available. "Why do we need two bikes?" asked Rinpoche. "I don't know how to ride one." So tiny Rinpoche propped himself on tall Piero's bicycle handlebars. Both of them fell off several times. "Once Rinpoche even landed on the ground cross-legged," said Piero. "He just sat there. It was so funny!" After a few days they returned to Kopan.
Lama Yeshe just couldn't do enough for the Injis. Some French friends of Zina's who were staying in Kathmandu had visited him at Kopan for tea. On the day they were leaving their hotel, waiting for a taxi with their bags packed, Lama suddenly turned up in the hotel lobby to bid them farewell, yet no one had told him where they were staying. When discussing this curious event later, each of them had different memories of what Lama Yeshe had said to them. "What is he? A buddha?" they asked each other.
Lama Pasang and Lama Lhundrup
Kopan was growing. The number of people attending the meditation courses was doubling and more local families wanted to send their sons to the lamas for a Buddhist education. Losang Nyima, Mummy Max and Anila Ann were working as hard as they could, but Lama clearly needed more help.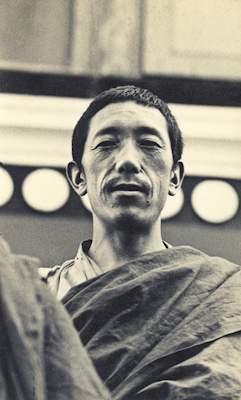 Pasang Tsering and Lhundrup Rigsel, Lama's students from Buxa, had spent two years clearing land and helping to build Sera Monastery in south India. By 1973 they were back at their studies and had more or less adjusted to the new climate. These two had kept in contact with Thubten Yeshe. Pasang Tsering had even written Lama a letter asking him to be his teacher. Now Lama Yeshe replied, "You and Lhundrup Rigsel come immediately to Kopan. Zopa Rinpoche and I are making a school here. We have no time, so please come and teach the boys for us." Pasang Tsering replied he would love to do so but had no money. Lama Yeshe promptly sent him some. Lhundrup Rigsel thought he might be able to teach the children the Tibetan alphabet.
Monastic protocol demanded that monks ask permission to leave their monasteries. In December 1972 Lhundrup Rigsel did so but was refused. However, he got permission to attend Ling Rinpoche's Yamantaka teachings in Bodhgaya and managed to get his leave extended to include a three-month stay at Kopan. He arrived there in early March.
Pasang Tsering sensibly waited until his abbot was away before asking permission of his deputy. "I didn't mention that I wanted to go to Nepal. Instead, I told him I needed to go to Dharamsala because I was sick and could get the medicine I needed there." A few months later Lama Yeshe sorted things out and permission was granted for these two to stay at Kopan.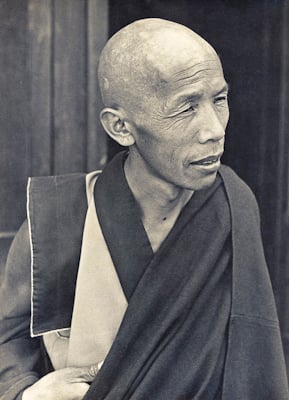 Lhundrup Rigsel was born in Tibet in 1939, the only child of a woman who became a wandering nun. He was raised by his grandmother and entered Sera Jé at the age of thirteen, where he proved to be an excellent debater. In 1959 he fled from the invading Chinese to Assam and was forced to spend nine months working on various road gangs before gaining a place at Buxa. By the time he arrived at Kopan, just a few months before Pasang Tsering, Lhundrup Rigsel had completed more than half the classes needed for his geshe degree. Lama Lhundrup Rigsel and Kopan fit each other perfectly. The little monks quickly came to love him like a mother, clinging to his robes, their tiny brown arms draped comfortably around his neck when he sat amongst them.
Lama Pasang Tsering became the quintessential manager at Kopan. He oversaw everything practical and physical around the monastery, taking care of the road, the monastery vehicles, building and construction, maintenance, gardening, shopping and anything else that needed doing.
The fourth Kopan meditation course
The fourth course began March 18. The all-inclusive cost for the full month was still only 300 rupees, which in those days was roughly equivalent to US$45. Whereas fifty-four people had attended the third course, about 120 showed up for this one.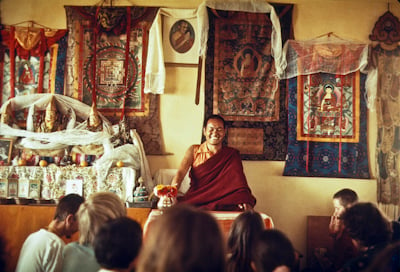 Concerning the students who volunteered to help out by doing work at Kopan, Lama Yeshe's policy was that those who had money were expected to pay, while those who didn't received assistance from the Kopan office. Dick Robinson, Nick Ribush and Marie Obst worked around the clock between the courses, Marie in the office and Nick helping to make Rinpoche's Wish-Fulfilling Golden Sun into a more comprehensive book.
Once again, interested people—young and old, but mostly young—made their way up the track to Kopan hill. Among them was Ursula Bernis. She had lived in Japan for some years where she had purchased a very rare Shingon3 mala. Ursula knew a lot about such artifacts. Arriving in India and having read Lama Govinda's The Way of the White Clouds, she gave this mala to the very first monk she met. One week before the course started, Ursula arrived at Kopan. Mummy Max took her to meet Lama Yeshe. "He was standing on the flat roof and in his hands was my Japanese mala. I recognized it immediately. I later discovered Max had bought it for him, so I assume the monk I gave it to must have sold it almost immediately. I didn't say anything about it though. I was too shy," said Ursula.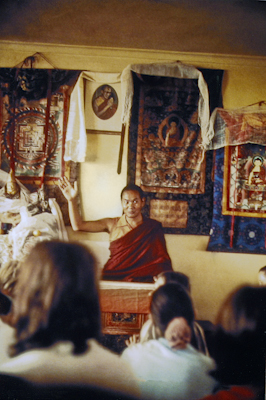 Another good-sized crowd turned up for the course, leaving their hash pipes and Crosby, Stills, Nash and Young tapes packed away in various Kathmandu hotels. Among the new arrivals were twenty Australian friends of Nick Ribush, including his mother, Bea. Nick had been enormously changed by his experiences with the lamas and had launched a campaign to persuade his friends to join him at Kopan. During his lam-rim retreat, he had bombarded many of them with enthusiastic letters.
The first letter he wrote to his mother was thirteen pages long. A few days later he sent an eighteen-page one. "It was hard to comprehend the change in him because he'd always been so hedonistic," said Bea Ribush. "I thought he was sun-struck or poisoned. Here he was imploring me to join him in Kopan, insisting I should check things out for myself. He claimed it was the only way he could possibly repay my kindness to him. I was worried."
Most of Nick's friends in Melbourne and Brisbane knew each other. They swapped his letters and debated their contents. It all sounded rather appealing. Travel to the East was on their agenda anyway so it wasn't too hard to imagine spending a month at Kopan. Little did these dope-smokers and party-goers imagine then that Tibetan Buddhism would become established in Australia through their efforts and close links with one another.
Initially, Nick's friends were rather shocked by his new and uncharacteristic piety. Nor did they fancy the trend among some of the more seasoned Kopan students to adopt the superficial trappings of the Tibetans among whom they were living: dressing in chubas (traditional Tibetan dress), raving about mo-mos (Tibetan dumplings), swilling butter tea, and exclaiming Ah-lay!4 like old Tibetans.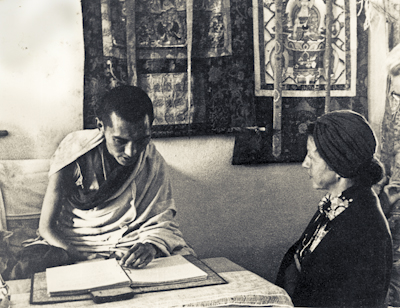 Bea Ribush sat in the back row in the gompa. "I didn't like it at first—the flies, the smells and the food were all horrible. Nick took me to meet Lama Yeshe when I arrived. He was so warm, young and pleasant, but after a week I'd had enough. Nick and Marie went to great lengths to convince me to stay, which I did. I even began to listen and the logic of what was being said began to penetrate. I started to identify with some of it," said Bea.
During the course one young woman became very emotionally attached to Lama Zopa. Her grandmother, an aristocratic and highly educated English woman, came all the way to Nepal to ask these strange monks what they had done to make her granddaughter become so unstable. This young woman happened to be extremely wealthy – were they kidnapping her? Ursula Bernis happened to be on the flat roof with Lama Yeshe when the old lady marched up. "She was furious, you could see that," said Ursula. "Lama just beamed love at her, and before she could speak he was murmuring, 'Yes, dear, yes, dear.' He put an apple in one of her hands and some cookies in the other. Suddenly, there was this formidable woman with both hands full and rendered speechless. Lama just completely won her over in two seconds. He explained to her that he was busy just now, but perhaps she might care to take tea with him and they could talk later. She turned around and walked away, totally transformed," said Ursula. The woman even stayed on for the fourth meditation course. 
Lama Zopa taught the fourth Kopan meditation course in his usual rigorous style, concentrating on the basic Buddhist teachings on the purpose of being human, impermanence and death, suffering, refuge and karma. He also taught on the eight worldly concerns (also referred to as the eight worldly dharmas). These especially sticky preoccupations are rooted in our mental afflictions of attachment, anger and ignorance and motivate us to commit negative actions, ultimately keeping us bound in the conditioning of samsara. They are presented in four pairs: attachment to receiving and possessing gifts and material things, and aversion to not receiving or losing material things; attachment to having a good reputation and aversion to a bad reputation; attachment to praise and nice words and aversion to blame and criticism; attachment to pleasure and aversion to problems. Rinpoche explained the importance of giving up the eight worldly concerns:
Freedom from the eight worldly concerns creates real peace; therefore, we have to renounce them. Renunciation is a mental action arising from a decision. It is difficult; it is harder to change mental actions than physical ones. To do so requires a positive mind and not allowing it to happen comes from the negative mind. Our problems are not the objects we encounter or the pleasures we experience but the desires themselves, the mind—suffering is created by the mind. We must know how this works beyond having just an intellectual understanding of it.

Craving desires and other negative minds have caused us to be reborn continuously in the six realms of samsara since beginningless time. From the smallest animal to the biggest, from the beggar to the king, those whose lives are not focused on the practice of Dharma are concerned only with present momentary problems, not with future suffering, and they lack understanding of the nature of suffering. Their greatest mistake is to always create the cause for greater sufferings while trying to stop or cure the temporary ones; they do not understand the nature of suffering or its cause. Therefore they do not recognize true happiness. They try to stop temporal problems by applying temporal solutions, unaware that that is the actual cause to experience more problems in the future.

How do we stop doing this? First we have to recognize our mistakes. It is important to know this essential Dharma point: temporal methods never help—if we check up we will see that such methods only create the cause for the continual arising of future suffering. The reason for this is that these methods come mostly from following the eight worldly concerns, from doing whatever the negative mind of greed wants. Greed is attached to the eight temporal needs; all eight can be seen in the light of greed. They all depend on greed and work for it, like servants working for a master. We are the same. Most of us have been working for greed: check up your own actions even now. Ask, "What am I doing this action for?" We can discover how to stop temporal problems by asking, "Is this what greed needs?" The more we look the more we will discover greed underlying our actions. The result of actions done with the three negative minds of greed, ignorance and hatred is always suffering and problems.

Greed is the creator of samsara. Love mixed with greed is love created by ignorance and causes us to remain in samsara. This love is not the same as real love and its results have to be experienced in the three lower and three upper realms. Why doesn't it bring peace? Because the principal cause is the unsubdued, untamed mind; the root mind is confused, a wrong mind, because the three negative minds always see their object in the wrong way and not in the way it actually exists. They see their object in a way that the enlightened mind sees as false. Just as somebody with a dirty face can't expect to see a clean face in the mirror, it is impossible for peace to arise from those three negative minds. So all the problems we experience are their fault. All methods done out of greed for temporal needs are negative actions. We engage in such negative actions to try to solve the problems that were created by a previous life's karma, but that method of following the eight worldly concerns causes problems in this and future lives. It is just a cycle: to stop that which was created by previous negative karma we use a method similar to that used before, and so it continues.

That method doesn't really take care of all temporal problems, the physical and mental sufferings—they are not completely ceased. Furthermore, this method creates negative karma—simply in order to take care of this life one is creating the cause of suffering, creating bad karma to stop bad karma—an impossible thing. This is no one's fault, but one will have to suffer in a future life and so it always circles round. To stop suffering on the temporal level one creates the cause of suffering for the animals that are killed.

Buddhadharma, the antidote to the eight worldly concerns, has no definite form. Any action can be either Dharma or non-Dharma—eating, writing, playing, dancing and so forth. No matter what it looks like, any action done without involvement in the eight worldly concerns and with bodhicitta motivation is a Mahayana action and any action done with attachment and greed for the eight worldly concerns is a non-Dharma action. The method that avoids the eight desires is a method to stop the continuity of bad karma and leads to freedom from suffering and to enlightenment. This is a perfect, true method.

What makes an action Buddhadharma? Positive actions avoid and oppose the eight worldly concerns; they counter greed and attachment. Such actions create good karma and bring happiness in this and future lives, human rebirths with better conditions and the opportunity to lead a Dharma life and achieve bodhicitta, perfect peace and enlightenment.5  
"Oh my God," thought a married man who happened to be there with a young girlfriend. "I've left my wife and children behind to come here with her!" In an urgent interview with Lama Yeshe he received only kindness and a woodblock print of Tara. "I thought I'd get a lecture, but he just explained to me that Tara's left leg was bent to signify she could control sexual energy. He gave me a mantra to say all the way home and told me everything would be all right."
Every afternoon Anila Ann led a discussion group during which she and Nick faced a daily barrage of crazy questions and criticisms of the place, and of the toilets in particular. These consisted of roughly constructed stalls with boards laid over a fairly ghastly long drop, but they had wonderful views of the Kathmandu Valley and the surrounding mountains. Lama Yeshe made use of them by planting tomatoes nearby. 
One hot day Bea Ribush, who was sitting in front of one of the big low gompa windows, suddenly fainted. Out of nowhere Lama Yeshe appeared at the window, helped her up, walked her back to Mummy Max's little brick house where she was staying, gave her aspirin, rubbed her back and generally pampered her for two hours. "It was much more than I would have done," said Nick rather ruefully, "and I was the doctor—and her son."
When teaching, Lama Zopa never took much notice of time and sometimes it seemed like he went on and on for hours. For many of those sitting in the tent, concepts like shunyata (emptiness), bodhicitta, naraks (hells), pretas (hungry ghosts), great countless eons and the concept of all sentient beings seemed strange; understanding the teachings was definitely a challenge. Perhaps they were annoyed by Rinpoche's poor English and halting delivery, maybe the subject was too confusing; whatever the reason, people started missing lectures. They sulked and complained until there was a real build-up of dissatisfaction, the usual cue for Lama Yeshe to come and give a talk. Everyone piled into the gompa for it, including the slackers and dissenters. They waited and waited, but he never turned up. Instead, he sent Nick who, seemingly empowered by Lama, did a fantastic job of bringing everyone together and ironing out the tension.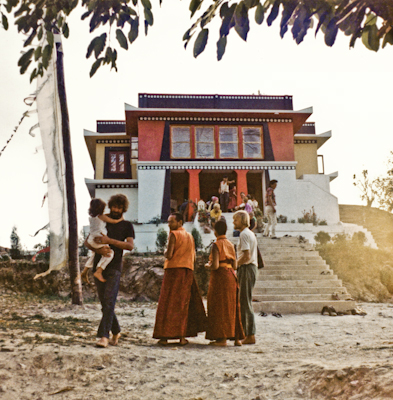 Among those to whom Nick had sent letters were his friends Max Feldmann and Max's partner, Maggie. Maggie didn't like the meditation course at all. "I was desperately unhappy and full of Catholic hang-ups. I went to see Lama, who told me, 'Just have trust.' It did help, although I often ran away to Kathmandu for the day. Somehow I always bumped into Lama Yeshe there. I'd walk into a restaurant and he'd turn around and say, 'Hello, dear,' as though he was expecting me. Another time he waved at me from across the street, and once he jumped right into my taxi as I was returning to Boudha. Obviously I was not going to be able to escape this guy!"
There were three small children at the course, including Adam, the young son of Australians Bill and Gloria Searle. "Lama always kept an eye on Adam," said Gloria. "One day he told me to feed him meat, insisting that Adam needed it. I was impressed because Nick had said Lama knew a lot about Tibetan medicine. Sometimes Lama teased us, saying we should leave Adam with him at Mount Everest Centre. One day he said to Adam in front of us, 'You must take care of yourself, Adam. You are reckless.' He was very serious."
Chris and Lise Kolb returned to Kopan with their small son Thor. They were expecting a second child by this time. "Despite all this, I was now sure I wanted to be a monk," said Chris. "Lama Yeshe even offered to ordain me. Lise wasn't too happy about it and everyone else thought I was nuts. But the feeling just got stronger and stronger. It was around that time I realized Lama Yeshe was free, that he didn't ever need to smoke dope or take acid because when he got up every morning, he was already exactly as high as he could get," said Chris.
One Australian young man had a very personal encounter with Lama Yeshe. "For ten days I became what is known as priapic—I had an erection that simply would not go away. It was painful, bewildering and embarrassing. I had to leap out of my sleeping bag in the freezing cold to ejaculate uncontrollably. There was no one I could talk to about it so I decided to try Lama Yeshe.
"I started hanging around where he was supervising the young monks carting rocks for the next building project. He always beamed and said hello and asked how I was, so I decided to tell him. 'Are you thinking of someone in particular, dear?' he asked. I lied and said I wasn't. He then adopted a very campy posture, hands to the side of his cheek, eyelashes fluttering as he said in this coquettish voice, 'Oh, really?' But I wouldn't admit it. He dropped the pose, rolled his eyes and said in a weary voice, 'You look for the answer within, dear.'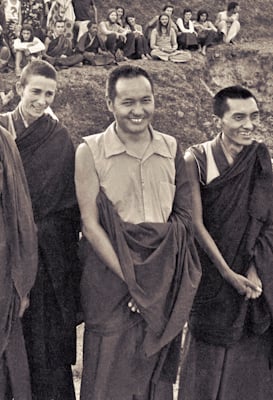 "A few days later I was sitting under the Bodhi tree in front of the gompa feeling utterly wretched when I felt a tap on the head. I looked up to see Lama mincing past. He looked over his shoulder, winked at my crotch and said, 'Still in the lower chakras, dear?'6 Then he walked off, chanting the Guru Shakyamuni mantra, in staccato: 'TA YA THA OM MUNÉ MUNÉ MAHA MUNAYÉ SOHA! Con…trol…con…trol…great…con…trol!' all the while looking first over his right shoulder, then over the left with each silly step. I thought, 'Thanks a lot, pal.' But that night the problem passed."
One hundred and eight people completed the fourth Kopan course—and for once, everyone paid. One hundred and eight is an auspicious number relating to the 108 volumes of the Kangyur, the collection of the words of the Buddha. There is a popular Tibetan Buddhist prayer entitled One Hundred and Eight Verses in Praise of Great Compassion7 and there are also commonly 108 beads on a Buddhist mala. 
Near the end of the course Lama Yeshe gave a talk on refuge and precepts which left everybody weak with laughter and filled with enthusiasm for living a different kind of life. As usual, a number of those in attendance opted not to take the precept to abstain from taking intoxicants. Hash was still just too much fun for some. 
From Lama Yeshe's talk on the lay precepts from the fourth course:
There are some people here who want to take the five precepts. Ordination is beneficial for oneself and for sentient beings. The lamas' experience is that before taking and giving these precepts we should have some understanding of what they are and why we take them. It is not just a samsaric custom.

We all want perfect peace, happiness, everlasting satisfaction and liberation. Since that's our goal, we should head in that direction. Otherwise we're just hypocrites—we say we want, we want, but act completely opposite to our desire. A simple example: In the West, people with severe psychological problems are put into mental hospitals, which is pretty radical treatment. What they need is soft, peaceful treatment. Putting someone in jail is wrathful treatment, neither soft nor peaceful. Lama's rule is that mental hospitals are okay, but they should be peaceful and the patients should be treated with understanding. They should come to understand themselves slowly, slowly, not by force.

By constraining ourselves with ordination we can gradually develop our mind. We are not ready for immediate development by forced meditation and so forth. We need to create peaceful conditions for ourselves so that our mind will develop in a certain way and gradually become more stable, not up and down. From there it can be liberated without having to come down into the samsaric world.

So ordination is the method of achieving this. Lord Buddha never said we have to follow any rule without knowing its purpose. He said that if you keep this kind of precept it will give you this kind of mental feeling, safety from certain problems. The five precepts are not killing, not lying, not stealing, not becoming intoxicated and not engaging in sexual misconduct. Lord Buddha never said, "Don't do these five things." Rather he explained what kind of mind, what kind of confused mental attitude, engages in killing and so forth; what kind of selfish motivation causes us to engage in such actions.

Before taking the five precepts our mind is dissatisfied, kind of berserk. Lord Buddha said this confused mental attitude brings conflict. If we're in control of our mind, actions such as killing, lying and so forth, never bring the reaction of conflict in our mind. He never said, "Stop doing that forever." He just said that avoiding it is useful for your mind. When we reach enlightenment we don't need ordination rules. For example, small children are told not to touch electricity—their mothers make a kind of rule against it—but older children don't need such rules; they already know. It's the same thing for the higher consciousness, the liberated, stable consciousness. It doesn't need that rule as it is already free from that condition. "If you have an uncontrolled, deluded motivation, do not do such actions." That's all Lord Buddha said.

Ordination is helpful not just because a lama gives it to us but because we take it ourselves. If we have great determination, if we understand the nature of the samsaric mind and the way the wrong-concept mind reacts and take the ordination with great psychic mental determination—not just ignorantly saying, "I want this," but having perfect determination through understanding—then that mental power can lead us in a positive direction for a long time. Samsara comes from the power of the mind, as does the result of liberation. The whole thing is mental attitude; the whole thing is really simple.

Lord Buddha also asked, "What do we need to be qualified to take ordination?" And gave the answer, "Renunciation of samsara." It's nothing external, such as robes and so forth. However, we all have a different idea of what renunciation is. My connotation is that renunciation is on a mental level. It means not to give something with mental attachment, not to give an object with the mind still in it, such as when we think, "I wish I hadn't given that." This way of thinking only gives trouble. We can renounce lunch but still eat it—renunciation is in the mental attitude.

It's difficult but possible, it varies from person to person, but some people have very high consciousness; they have control over negativity and problems, and at the same time act in unity with phenomena. But others, when they touch electricity they get burnt. Similarly, some experience suffering when they contact the negative mind—we can call it karma, mental reaction, karmic result of action, causation, mental attitude, or movement of the mind. How can we develop our consciousness? If we always put our mind into unconscious situations, we cannot develop higher consciousness. We make it possible by putting our mind into a peaceful atmosphere through ordination. Then we can realize how our mind tricks us. "I thought I was like this but now I see I'm like that."

Ordination is like a test. For example, perhaps we have no idea and always think, "I am perfect, pure; I don't tell lies," but when we put ourselves into a situation where we are always aware, we realize that our negative mind is very much involved in what we are doing. When we lie, we are trying to change another's mental attitude. Although we don't say the words, "I am always right," our mental attitude says that we are. Until we can trust ourselves there is no truth at all. For example, we can have an experience, a flash, in meditation, but that doesn't mean we have found the truth.

Also, keeping precepts is basic, fundamental to samadhi meditation, because when we live in ordination our body, speech and mind are already in a positive, relaxed atmosphere. Out of this basic atmosphere we can guide our mind into the peaceful path of liberation. If somebody is agitating us all the time, it's an impossible situation for developing control. Therefore, cut the agitated situation and create the atmosphere you want.

I'm not pushing people to take ordination; pushing people is not the Buddhist way. We don't care if people become Buddhists or not. But those who want to should understand why and how. If you don't want to take precepts then it's better that you don't.8 
At the end of the course everyone posed for a group photo.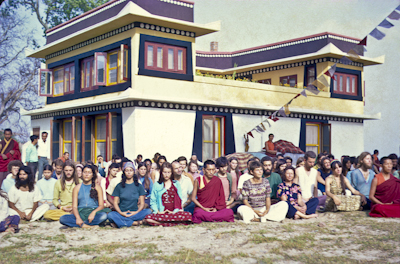 * * *
The next day Lama Zopa gave an initiation into the practice of Chenrezig, the buddha of compassion, attended by nearly everyone still at Kopan. During the last couple of weeks of the course many of the students had spent their lunchtimes up on the gompa balcony making Chenrezig tsa-tsas9 for the occasion.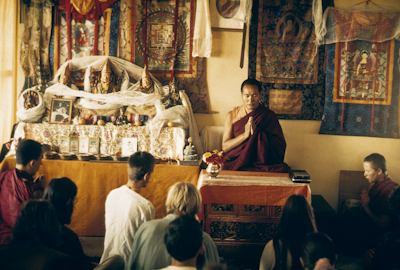 Lama Yeshe also offered bodhisattva vows to those who felt ready to take them. At one point during the ceremony Lama said, "Now after the third repetition when I click my fingers, think you are receiving the vows—as in a flash of lightning." Just as he snapped his fingers, a great flash of lightning appeared in the sky. One moment it was bright and sunny, the next moment it was dark and pouring rain. Brian Beresford was on the gompa porch at the time and saw the lightning flash in the very same instant that Lama snapped his fingers.
Then it was time for everyone to go home. A New Zealand couple, Ecie and William Hursthouse, had been very deeply moved by the course. When they went to say goodbye to Lama Zopa, he confidently declared, "I'll see you again."
"What?" they thought. "Where?"
Zina has visitors at Thubten Chöling
Now that he had extra help at Kopan, Lama Yeshe's first task after the fourth course was to visit Zina. But all flights to Paphlu, the closest airport to Junbesi, were fully booked. He had Mummy Max take him to Kathmandu's Tribhuvan Airport at 5:00 a.m. for four mornings in a row. Finally, he just marched through the lines of waiting people and "frightened" his way onto the plane. He simply had to see Zina.
It had originally been arranged for Zina to spend one year in retreat, but now that her time was up she wanted to stay on. Lama Yeshe and Zina spent a week together at Thubten Chöling, during which a solicitous Trulshik Rinpoche, who knew about Lama Yeshe's weak heart, lent him a horse to get around the steep rocky countryside. He was later astonished to see Lama chose to put Zina on the horse while he walked alongside. At the end of the week, Lama Yeshe returned to Kathmandu alone.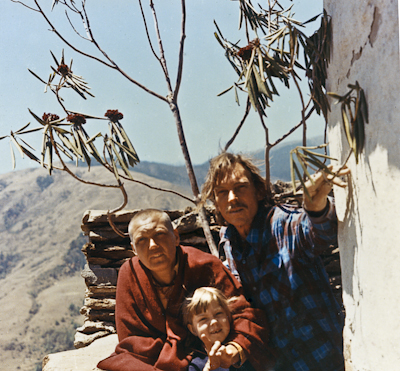 Old Nepal hands Tom Laird and Mimi Church decided to visit Junbesi in April. They flew in on the same plane as Bill Barker, Zina's second husband, and Zina's daughter Rhea.
"Bill opened up his aluminum trunk and happily showed us a chocolate cake they had brought up for Zina's birthday," Tom Laird recalled. "Rhea was the cutest little blonde imp—you could see her mother's earlier beauty in her. She spoke fluent Nepali and got a porter for us. Bill and Rhea went directly to Thubten Chöling but Mimi and I stayed in Junbesi for a few days. There was no tourism up in the mountains then. In the following year, 1974, only 250 trekking permits were issued for the whole of Solu Khumbu. By 1996 25,000 permits were issued. We were among just a hundred people who trekked in during that spring season and Zina was one of about only twenty Westerners to have ever lived in such a remote part of Nepal.
"From Junbesi to Thubten Chöling is only a forty-minute walk, but we had a Sherpa guide lead us through a deep dark forest on the way. That entire forest is gone now. We walked through a wild valley alongside a rushing river with irises growing all along the banks and stones carved with mantras everywhere. We thought we were in Shangri-la. We could see Thubten Chöling in the distance. The guide led us there around the back way—right past the stinking filthy toilets.
"We stood on the north slope of this steep valley and saw a group of monks standing around these toilets. One of them, a big white monk, really stood out. There was no way of telling that 'he' was actually a woman, let alone a famous beauty of my generation. When we went over, the entire monastery came out to have a look at us.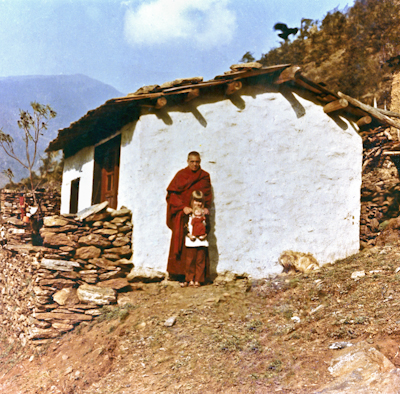 "Zina invited us into her little house. Her main room was 6 x 12 feet, with space to sleep and an altar with pictures of Lama Yeshe and Lama Zopa, water bowls and all the other traditional things. Paintings covered the walls and ceiling and she had a little window facing south. When we mentioned we'd arrived on the same plane with Bill, she said, 'He brought me this stupid chocolate cake. I haven't touched it, you can eat it. I came all the way up here to get away from the West and he brings me a chocolate cake!' It was like, 'How dare he!' She didn't want anything to do with it.
"All her food came directly from Trulshik Rinpoche's own kitchen. He was taking great care of her. I learned later that he was rigorous about the cleanliness of his food, the purity of his water, milk and butter. I asked her how she was able to receive teachings from him since there were no translators and she spoke no Tibetan. 'I'm in telepathic communication with him,' she said. Mimi and I exchanged looks and thought to ourselves she'd been there too long. But her relationship with her teachers really was straight from the heart.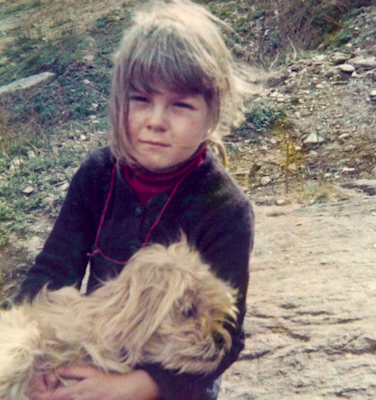 "Visitors were not that welcome at Thubten Chöling, but Rhea soon had the run of the place. She used to dash into the room with this wild grin on her face and dash out again. Bill had just dropped her and the cake off and left. We only stayed for a few hours and then we went back to Junbesi."
Chris Kolb also called in on Zina again on his way up to Lawudo. This time, he was traveling alone. Chris was a tough guy, unafraid of isolation or physical discomfort, which was perhaps a result of his American Indian heritage. "I noticed Zina was much calmer and clearer. She was able to walk in the mountain meadows looking at wild flowers with real delight, something she had never been seen to do before. I complimented her on that and also told her how much clearer I thought her writings were. I moved in for a few days with her and Rhea. We talked Dharma for close to sixteen hours a day. A Western monk whom I knew was living in a tent nearby but we didn't see much of him. Zina told me she thought I had a karmic connection with Trulshik Rinpoche. Before I left she cooked me lunch," recounted Chris.
On the path Chris ran into another American, Steven Levy. They had never met before but Chris suggested Steven also pay Zina a visit. "I went to see this Trulshik Rinpoche guy," said Steven. "He was a big, heavyset lama who never smiled at me once, just grunted a few times. I realized I was in the presence of spiritual royalty. A nun showed me to Zina's little white stone house. Zina offered me tea and said at 5:00 p.m. that day she was going back into retreat so I was probably the last Westerner she was going to see for some time.
"She talked and talked and was so strange and wonderful. Her house was a little gem of a place. It had a small walled garden and was very well decorated with interesting rugs and little objects around. She told me to go and find Lama Yeshe and Lama Zopa and said they would teach me anything I needed to know. At 4:30 that afternoon I left her and set out walking again."
It was getting close to the very end of trekking season and starting to turn cold. When Steven left Zina and Thubten Chöling, he headed toward Lukla, Namché Bazar and Lawudo, which Chris had also told him to visit.
Lama goes to Dharamsala
After returning from his visit to Zina, Lama immediately got ready to travel to Dharamsala. With great excitement he held up some bags of Cheezies (most likely bought by Max from the American Commissary) and said to Anila Ann, "Look, I'm going to offer these to my guru, Ling Rinpoche!"
"Come on, Lama, you're not really going to offer him that plastic junk food?" Ann asked.
But Lama Yeshe turned on her and snapped, "What do you know! You can offer anything and everything to your guru all the time. This is how you do it!" He made her pick up all the bags and hold them up as an offering while visualizing herself as Vajrasattva and the Cheezies as glorious amrita, the nectar of the gods. The Tibetan cook sniggered in the background. "What are you laughing at!" bellowed Lama Yeshe. He made the cook do the same. 
Renovating Tushita Retreat Centre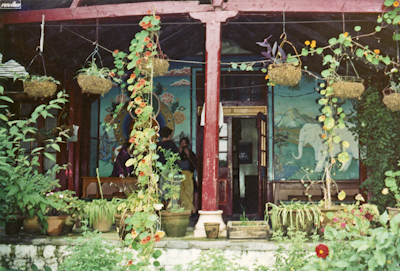 At Tushita in Dharamsala, Peter Kedge had never worked so hard in his life. The day after the Kopan Christmas puja he flew from Kathmandu to Bhairawa (near the Nepal-India border) in a DC3 airplane, crossed the Indian border at Sunauli by rickshaw and took a bus to Gorakhpur. It was freezing cold. He then got another bus to Lucknow, a train to Chakki Bank, in the Punjab, another rickshaw to Pathankot, a bus to Dharamsala and finally the bus to McLeod Ganj, where he arrived late one evening and had to make his way up the hill to Tushita through heavy snow. The whole journey took about three days. "It was quite a daunting trip," Peter said. He was greeted by Jhampa Zangpo, Tushita's first manager, who left soon after.
Over the course of the next six months, using Tibetan and Indian masons, carpenters, plumbers and electricians, Peter managed to replace the entire slate roof, build retaining walls, paint the walls of every room, lay water pipes and install toilets. While doing all this, he also did the shopping and cooking, served the retreaters already accommodated there, cleaned the place and managed the workers who arrived every morning.
"Building supplies were very difficult to come by," Peter recalled. "Cement was especially precious and one usually had to travel to either Pathankot or Kangra, both some hours away, then bring it back to McLeod Ganj either by truck or on the top of a bus.  From McLeod Ganj it had to be carried by donkey train up to Tushita. A husband-and-wife team came to cut down some of the deodar pine trees on the property and over the course of four or five days they sawed all the lumber into lengths we then had carried down the hill to a sawmill by coolies, to be cut to size. Afterwards the planks had to be carried back up to Tushita.
"A small wiry man called Chunda Ram came each day with one small axe, a sledge hammer and some chisels. He'd chop down a big oak tree and have the whole thing split into firewood within a few days. All I ever saw him eat were the three small chapattis [Indian flat bread] he brought with him wrapped in a piece of cloth. I marveled at the skills of the people who worked with us in those days. The stonecutters showed up with only hammers and chisels but from the big boulders on the place they make beautiful piles of stones of equal size, ready for use.
"There was another man—a gardener at His Holiness's palace—who lived in a nearby village and often passed through Tushita's property on his way home. He offered to sell us some plants, swearing on his honor they were not from the palace gardens.
"One of the workers who stood out was a young woman called Tsering Tsamchö, who carried her crippled mother around Dharamsala on her back. While working on road gangs, Tsering had carried away enough stones to build her own house, but after she'd been at Tushita for several months she fell ill with tuberculosis. We bought injections and vitamins and treated her at Tushita. I had never given injections before but became quite good at it. After some time, she recovered completely.
"Tushita was truly a place for retreat, with Ling Rinpoche and Geshe Rabten as neighbors and other geshes engaged in retreats for years at a time living on the property itself. These yogis, for that's what they truly were, came to collect water from the tap near the kitchen. Others came to visit or make puja. It was Lama's foresight to provide such a facility where teachings could be internalized and this remains true even today. Rinpoche has said that many of us have received more teachings and initiations than most geshes in Tibet ever did. What we need is to do retreat in order to integrate and internalize all we have been given. This is the essential purpose of Tushita Retreat Centre."
Peter went on. "One of my duties as manager was to ensure that everyone on the property was doing proper retreat. Lama Yeshe insisted I go around to everyone, both the Westerners and these great Tibetan yogis, with a register. I was supposed to ask them what the subject of their retreat was and to explain that they were not allowed to go down to town to do pujas. I felt rather awkward doing this, but all the yogis were extremely kind. They took my queries very seriously and told me they were meditating on the lam-rim."
Marcel Bertels had arrived from Bodhgaya at the end of January and was in solitary retreat, having decided to try to achieve single-pointed concentration. In hindsight, he later realized he was not at all ready for such an endeavor. Later in the year Lama visited Marcel in retreat. Marcel couldn't recall the details of the instructions Lama gave him but he remembers one particular piece of advice: "From time to time, when you meditate on the meditation object, make it smaller and smaller until it disappears. Then sleep on that, instead of sleeping in an ordinary way." Marcel tried to follow this advice as best he could for some time, but after experiencing no success he quite soon went back to the ordinary way of sleeping.
"I'm sure Lama had done many retreats," recounted Marcel, "but he regularly referred to what I assumed had been a longish retreat in which he developed deep realizations. I had the distinct impression that this had taken place in India, not long after he left Buxa but before meeting Zina. Lama spoke about how he liked to do his own cooking rather than have someone come in and cook for him. He said that after living in silence for many months, having to speak again and make human sounds had felt gross and uncomfortable. In comparison, silence was blissful. He told me about going for a walk during one of his retreats and coming to a poor farm house. By means of gestures the elderly Indian couple living there invited him in to have lunch. From Lama's recounting of this story I could really feel how touched and pleased he was by this simple and sincere offering."
Peter continued, "I hadn't discussed finances with Lama at all. Of course, the income from those engaging in retreat was certainly not enough to cover replacing the roof, building toilets, bringing in water and building yet another retaining wall to stop the front garden from sliding away in the monsoon. I was constantly under the impression Lama Yeshe was going to arrive at any moment, so I borrowed money wherever I could, having spent all of mine. First I borrowed from Marcel, who was in long retreat—I used to pass his food through a small hatch into his room—and then I borrowed from others. Finally I took a loan from Ling Rinpoche's manager, who was happy to extend credit on the basis of Lama Yeshe's imminent arrival. This went on for three months. I had to go back to Ling Rinpoche's manager several times for more. It was incredibly stressful. One day I found I had only two rupees left and nobody else to borrow from. I spent those rupees on a bus ticket to Dharamsala and at the State Bank of India found that my good friend Harvey Horrocks had sent me $150 from Australia. It was always a struggle, but somehow it always worked."
One day, when Peter was just about at the end of his tether, he received a telegram from Lama Yeshe that read, "You come a long way, baby, but you still got long way to go!" Lama had adapted this expression from a well-known advertisement for Virginia Slims cigarettes. In later years Lama would often simply utter, "Long way, baby!"
"That telegram was a huge relief," Peter recalled. "I knew then, as I had experienced before with Lama Zopa Rinpoche, that Lama Yeshe knew exactly what I was going through, even though he was in Nepal at the time.
"Eventually, Lama arrived with Max and everything got taken care of." 
One of the first things Lama and Peter did was to go down to the courts in Lower Dharamsala on May 14 and create a Trust Deed, which assumed the ownership of Tushita. "Lama had his own lawyer there," said Peter, "an elderly man called Metta Kishore Chand, a true gentleman of the old school who was Kiplingesque in his black linen coat and stiff collar. He lived in a bungalow opposite the courts and always asked us to join him there for tea after doing business.
"Later, as centers developed around the world, Lama always insisted they be structured in a manner that ensured they would outlast both himself and Rinpoche, as well as any other individuals. Lama was always encouraging us to think far into the future, beyond ourselves. He had tremendous concern for the Mount Everest Centre school at Kopan. During those early days, whatever offerings Lama or Rinpoche received were gathered and put into an account designated by Lama for the support of Mount Everest Centre. Neither Lama nor Rinpoche personally owned anything."  
Suzanne Lee
Suzanne Lee had attended the third Kopan meditation course and wanted more. "I wanted to be like Lama Yeshe. I was so mentally scattered I thought that if I took robes like his I'd be able to focus on a subject below the surface and tap into the potential of my own heart. I went to see him and said I'd like to become a nun. 'Oh, that's just another trip, isn't it,' he said. 'It's just another costume for you. You go away and check your motivation for six months. Really check. Why can't you practice out of robes? What do you think the benefit of robes is?'
"I shaved my head anyway and went back to the UK to visit my family. They were horrified by my appearance and made me wear little hats all the time. But I really did examine why I wanted to be a nun. When I returned to Nepal, I told Lama I was now one hundred percent sure it was the way for me and asked if he would ordain me. He said he'd take me to his teacher, Geshe Rabten, in Dharamsala.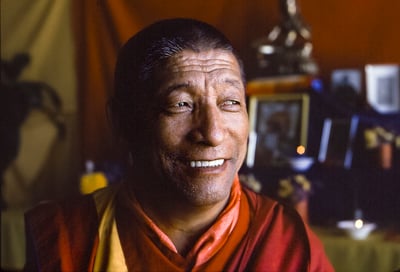 "We went there together in May. I helped out around Tushita for a while and met Geshe Rabten. Everyone used to call him 'the enlightened truck driver,' because he was so earthy. They called some yogis down from the mountains and so I was ordained as Jampa Chözom. I felt so fresh and alive that day—tears just poured down my face.
      "Back in Nepal I stayed at Kopan for a while, but when more and more people started to appear I decided I needed a bit of solitude. I found a little hermitage about an hour's walk from Swayambhu and made myself at home there, doing retreat, seeing nobody and only going out to buy food. Out of the blue a message came from Lama Yeshe asking me to come to Kopan and give a talk. Oh dear, I wasn't really into public talks and besides, I didn't think I knew anything. I decided he could find someone who knew more than I did.
"Then another message came, 'Lama Yeshe wants you to give a public talk this Sunday.' I still didn't go, but when a third message arrived I knew I couldn't ignore him any longer. I dragged myself away and went up to Kopan to see him. 'Next Sunday you give a talk,' he ordered. I started to say I didn't know anything but he was not to be deterred and repeated the order. I ended up giving the talk that Sunday. I spoke about the life I'd led before becoming a nun. I was convinced I'd made an awful job of it and was determined to never give another talk. But when it was over, Lama said, 'You give another talk next week.' I tried to explain how I felt, but he repeated the order. I just said I didn't want to be a hypocrite and left.
"As I was going downstairs to sit in the gompa, something suddenly happened to my eyes. I couldn't see a thing. They were streaming with tears and I was in such pain I couldn't open them. I had to ask someone to help me back upstairs to Lama Yeshe's room. 'What's happening to me?' I asked him. 'This is what happens when you go against my protectors,' he said. I was devastated. What did this mean? I went to see Lama Zopa, who told me to leave Kopan and go stay with Geshe Rabten, that it was more beneficial for me in India. When I told Lama Yeshe what Rinpoche had suggested, he said, 'Okay, good, good!' Over the next few days my eyes slowly got better, and the following week I went to Dharamsala.
"I slowly came to realize just how egotistical I was, and my sole reaction to Lama Yeshe's request had been to think only of myself. Lama didn't cause that eye problem—nothing outside oneself causes anything. But I was afraid of his 'protectors,' that's for sure. I became close to Lama Zopa and told him I hoped Lama Yeshe would forgive me for going against him. Rinpoche told me, 'Just circumambulate holy objects with a big chocolate cake.'"
In later years another dedicated student also experienced eye problems. Lama Yeshe said this was a result of meditating "too externally," of not bringing the practice deep inside the mind where the changes were needed.
Helly Pelaez ordained
Helly Pelaez had been profoundly affected by Lama Zopa's teachings at the third and fourth courses and was thinking of becoming a nun. One day when Lama Yeshe had left for Tushita Retreat Centre in Dharamsala, she sat down before Lama Zopa without uttering a single word. After a while he simply said, "Yes, we can do."
 Helly went immediately to Dharamsala, climbing the hill to Tushita in driving rain. Lama Yeshe was in his room with Suzanne Lee, who had been ordained that morning. "I was totally soaked so Lama gave me this red wool dress to wear. I was finally able to tell him I wanted to become a nun," said Helly. "'Oh, very good, very good,' Lama said, and from that moment on he took care of all the arrangements. He took me to Geshe Rabten, lent me money and bought my robes. On 20 May 1973 I was ordained and received the name Jampa Chökyi. Afterwards he put me on a bus with another young woman whom he asked to look after me. I went back to Kopan and then on to Lawudo." 
Chris and Barbara Vautier
After the third course Lama had asked the Swiss architect Chris Vautier if he would come to Tushita after Tibetan New Year to help build some retreat huts, so after their vipassana retreat Chris and Barbara gradually made their way to Dharamsala. Expecting Lama to arrive in March, they had to wait until May for him. Barbara remembered some A-frame houses she'd seen in northern California and when Chris suggested building this style of hut, Lama readily accepted. 
"Lama couldn't read building plans so I made him a model A-frame and told him what materials we'd need," recalled Chris. "That's when I had an argument with him. He told me to cut down just any tree, but I said I preferred to buy the wood we needed from a lumber mill. 'These trees are straight enough,' was Lama's view. We did end up cutting down some trees, but during the summer the green wood shrank and we had to reline the huts.
"Lama also wanted these little houses to have Western toilets. I explained they needed running water in order to work. I had some difficulty working out how much I could resist my guru, but he was insistent that he wanted a comfortable Western look. We ended up putting in little toilets, which were very expensive. Glass was also very expensive up there. Lama wanted the whole front wall of the A-frames made of glass. He said the houses should be uplifting but I was concerned they would become hot boxes.

"I also built a stone house there for Piero and Claudio, which they paid for. It was shaped like a dorje, with two rooms coming off a central kitchen."

Just how many flushing toilets—in tourist hotels, in embassies, in some Western-style houses in India—had Lama seen? Not many, but clearly he wanted his Western students to have standard Western amenities, no matter what the cost. Lama was never impressed with hippie dreams of "roughing it." Simply being in India was generally rough enough.
 
While Chris walked around outside with Lama Yeshe, his wife Barbara wrestled with the mud stove in Tushita's dark kitchen. "When Lama cooked he could get this stove to do things no one else could," Barbara recalled. "He'd get flames roaring out of every opening and could crank an amazing amount of heat out of it, but nothing ever got burnt. The regular cook could never get anywhere near as much heat out of the stove. Lama helped me wash the lettuce and spinach. He was meticulous, carefully and gently washing every leaf perfectly. I'm the impatient type—every third leaf was good enough for me, but not for Lama. Of course, he was looking for tiny insects and grubs that might get killed. One day, he suddenly banned me from the kitchen. I was debilitated from hepatitis and very thin and weak. He just said, 'You go out from there!'
"There was no money around then and the food was absolutely minimal, right down to eating rice with boiled fern fronds. One night Philippe Camus, who had sponsored the Lawudo roof, came to dinner. Lama cooked that night. No one could work out where all the food came from as we simply didn't have that amount of food. Yet every time we turned around, Lama came out of the kitchen with another full pot, offering everyone more and more food. Right at the end, he produced a big bowl of strawberries, which were extremely rare up there. He took them over to Philippe and said, 'Eat this, this is my blood!'
"Another day I walked into the dining room to find him wearing a red woolen woman's dress someone had left behind. It had a zipper up the back, a tapered waist, long sleeves and a long skirt. It actually fit him rather nicely. 'This is very good quality, dear. No point in wasting,' he told me. The message I got was that everything is useful and we shouldn't let our preconceptions get in the way.
"One time, Lama's half-sister, Chozom, whom he called Achela [which is Tibetan for sister], came to visit him there. They laughed all night long. The next day I said something to him about how happy he must have been to see her. He just snorted and said, 'Hmph! My sister, your sister.' It was as if he was saying, 'Don't get caught up in such things.'

"Another day a student from New York came to see him and smoked a cigarette in front of him. I was shocked and said, 'Lama, he doesn't know who you are.' Lama turned and said, 'If anyone asks you who is Thubten Yeshe, you just tell them Thubten Yeshe is nobody. He is nothing!' All my teachings from Lama came like this—in little powerful moments rather than during long courses."

Physically, Barbara had become extremely weak. While shopping down in Dharamsala one day, she found herself wishing Lama would show up, because he would have the Jeep and then she could get a lift back up the long, steep hill to Tushita. "Suddenly someone slapped me on the head with a rolled up newspaper. It was Lama! 'The psychic telephone is working very well, dear,' he said to me.

"I was with Suzanne Lee that day, who was about to become ordained," Barbara continued. "We mentioned that we'd had an audience with His Holiness the Dalai Lama that morning. Lama turned around in the Jeep as we drove up the hill and with the full spread of the Himalayas behind him, beamed at us and said, 'You have seen your mother and your father.' I have never forgotten that moment."

Around this time Geshe Rabten came to visit Tushita Retreat Centre and at Lama's behest the students chanted Guru Puja (Lama Chöpa) in English, which was the first time this traditional practice had ever been chanted in that language. "It really didn't go very well," recalled Barbara. "We couldn't figure out how to do it, the tunes, the rhythm and so forth. But we tried!"

Pete Northend, a young builder from Leeds, attended that puja and was completely bowled over by his first sight of Lama Yeshe. Pete, who had a great sense of fun and wore his blonde hair quite long, was bursting with energy. When Peter Kedge discovered Pete was a skilled carpenter he asked for his help. "He was such a straight guy, this Peter Kedge, so conservative in his Indian pyjama pants and perfect English manners. I hadn't seen such a straight guy in years," said Pete Northend.  He wasn't that straight, Peter Kedge had been at Woodstock with Harvey Horrocks.
He started work immediately and with great enthusiasm, helping Chris Vautier build the A-frames and also making a beautiful curved dining table and benches out of deodar pine that had been cut on Tushita's land. He made the table curved so all the people sitting around it could see Lama at the straight end. Pete worked at Tushita until the fall, when at Sister Max's request he went to help out at Kopan just before the fifth course.
Leaving Tushita
Around the end of May, Lama Yeshe and Max left to go back to Nepal. Peter Kedge traveled with them to Pathankot. Max then said to Peter, "Honey, why don't you come with us to Delhi?"

"So," Peter recalled, "on the spur of the moment, instead of buying the supplies like steel reinforcing rods, porcelain toilet bowls, bathroom fittings and so forth I had intended to take back up, I went on the train with them to Delhi. We stayed in Connaught Circus at the York Hotel, which was owned by Lama's sister and her husband, Mr. Wong. I wasn't feeling too good and Max looked at me and said, 'Your eyes are yellow. You've got hepatitis.' It was blazing hot and I felt like death, but somehow I dragged myself back up to Tushita. When I finally got back, all I could do was lie on Tushita's balcony and look at the view. Tsering Tsamchö looked after me the whole time.
"Although it doesn't seem like much money these days, I think the weight of the debt I had racked up contributed to my falling ill, but the other thing I remember is that after almost three years in Asia I had become over-confident and one blistering hot day, while looking for cement in Pathankot, I ate an ice cream I'd bought on the street. I was sick for six months. I thought I'd never get well."
Another trek to Lawudo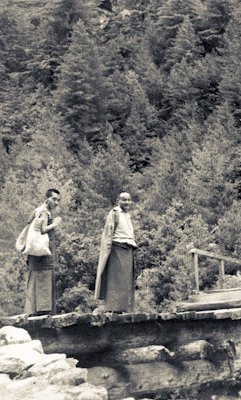 Lama and Max arrived back at Kopan. Trekking season took the Mount Everest Centre monks back up to Lawudo. The bigger boys, accompanied by Losang Nyima, made the two-week walk all the way to Lawudo from Jiri.10 The younger ones went by plane and were accompanied by a number of Injis who had been encouraged to do retreat at Lawudo. Among them were Yeshe Khadro, Dick Robinson and Gareth Sparham, all of whom had done the third and fourth Kopan courses. Jampa Chökyi was already there. Since provisions for everyone had to be flown in to one of the Solu Khumbu airstrips (Lukla or Syangboché) and then carried up to Lawudo, it was quite an expensive operation. Mummy Max paid for everything for everyone except the Westerners.
Nick was to accompany Lama Yeshe and Lama Zopa Rinpoche by plane a couple of days later. Over the course of a week more than thirty pieces of luggage, drums of food and other provisions were collected at Max's Rana house and on the day of departure ferried by van to Tribhuvan Airport. Included was a large trunk of medicine and other supplies Nick's friends had brought over before the fourth course. The sky was clearest in the early morning , but by afternoon monsoon clouds had gathered and flights were cancelled. Would-be passengers waited and waited and in the end, nobody flew. When it was obvious there would be no more flights that day, the lamas went back to Kopan and all the stuff was loaded onto the van and taken back to the Rana house. The next day the same thing happened, so Lama decided that rather than keep ferrying everything back and forth, Nick should stay at the airport with the luggage until they could get a flight. Fortunately, on the third day they flew.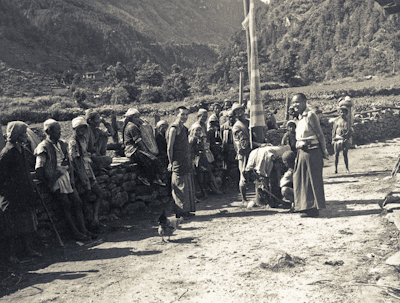 Nick took care of bargaining with the Sherpa porters at Lukla and the trio set off for Namché Bazar, Lama purposefully leading the way. "That night," Nick recalled, "we stayed at a Sherpa family's house near the foot of the mountain upon which Namché is situated and the next morning climbed the three hours to the town. We had lunch at a restaurant owned by the family of one of the young Kopan monks, Thubten Yeshe, and then set out on the additional three-hour walk to Lawudo. All along the path surprised and awed Sherpas prostrated and made fumbling offerings to one of the great masters of that area, who was after all, the Lawudo Lama."
"When we got to the foot of the mountain below Lawudo," Nick continued, "Lama suddenly turned to me and said, 'You and Zopa go that way,' pointing left to a ridge that gradually ascended to Mendé, a small flat area below the Lawudo Gompa, 'I'm going this way,' and wheeled off to the right. I found out later that the path Lama had chosen was extremely steep. When we got to Mendé, Rinpoche's mother and sister were there with incense, khatas and a thermos of hot tea and we slowly climbed the rest of the path to Lawudo. When we arrived I was surprised to find Lama already sitting comfortably in his room." Nick surmised that as Lawudo was Rinpoche's domain, Lama had chosen to arrive quietly, leaving his pupil free to be welcomed with full ceremony without having to defer to his teacher.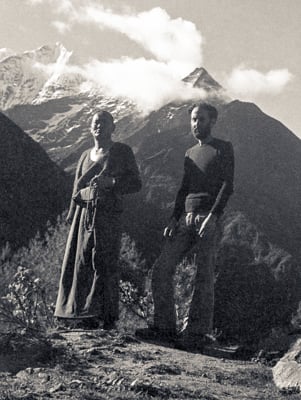 When Steven Levy eventually walked into Lawudo, he found everyone there jumping with anticipation as Lama Yeshe and, more importantly for the locals, Lama Zopa Rinpoche, the Lawudo Lama, were about to arrive. "An hour after I got there Lama Yeshe arrived, laughing and talking to everyone," said Steven. "As he passed me, he brushed my arm with his hand and bowed. He was like an orange-gold tornado and he really did glow. Then he disappeared into his room above the gompa. I decided I wanted to talk to him but some other students told me it wasn't possible. I just plunked myself down anyway outside his door and waited for him to come out. As it got darker I was told I should get going as it was dangerous to be on the trails at night. But I said, 'No, I'm waiting for Lama Yeshe.'"
Steven went on. "Finally, he came out and I talked with him. He suggested that I attend the meditation course in November. Then he asked me if I knew anything about gardening. I really didn't know anything at all, but I said I did. 'Okay, the course is in November. You come in September and we'll talk.' And with that he whirled away."
Chris Kolb's ordination, to which Lama Yeshe had finally agreed, was conducted in May by Trulshik Rinpoche at Tengboché Monastery, where he was visiting, giving initiations and conducting pujas. "A Sherpa shaved my head beforehand with a butter knife sharpened on stone. It was brutal," said Chris. He received the ordination name Ngawang Chötak and Lama Zopa instructed him to go to Khumjung and seek out Gomchen Khampala.11 "I did retreat at Charok12 for a couple of months and then went. I was the first Westerner Gomchen Khampala had ever seen," said Chötak. He subsequently spent a whole year in the mountains, leaving his pregnant wife behind at Kopan.
Lama was only staying at Lawudo for a few days. Marie Obst, who had started to use her refuge name, Yeshe Khadro (or YK, for short), had come up earlier with most of the other Westerners and really wanted to speak with him. She wanted to do a Tara retreat but no sadhanas  had yet been translated from the Tibetan and no one could tell her what to do. Lama was seeing people around the clock so she waited outside his room from early morning until late that night. "It was around midnight when I finally got to talk to him," said Yeshe Khadro. "He spent two hours explaining how to set up the retreat and then told me he was leaving Lawudo at 5:00 a.m." 
Suddenly word arrived that Rinpoche's mother, who lived nearby at Thangmé, had fallen ill. There and then, Lama Yeshe decided to make a mad dash through the night, detouring to see her en route to the Lukla airfield. It was always an emotional event when the lamas left to go away and this new drama found everyone unprepared. As Lama Yeshe turned to go, one of the little monks charged at him, burying his head in Lama's chest and sobbing. "Now who is this?" said Lama gently, taking the little face in his hands. Only after everyone had settled down again could he leave. Rinpoche's mother recovered.
The day Lama Yeshe returned to Kathmandu, Pasang Tsering arrived in Nepal. That very afternoon Mummy Max bought him a sleeping bag and a seat on a charter flight that left the next day for Lukla, from where he could join the boys at Lawudo. There he quickly established himself as a strict disciplinarian.
"One day I was sitting waiting for patients in the upstairs room of the Lawudo Gompa that Yeshe Khadro and I had established as a medical clinic when there was a terrible commotion in the classroom next door," recalled Nick. "The next thing I knew, a crying Charok Lama came in, his shirt off and angry red mala bead marks all down his back. I don't know what he'd done but Lama Pasang certainly didn't like it!" I rubbed some ointment into his wounds and sent him back in.
Holiday in Mussoorie and Chöphel recruited
When Lama Zopa came down from the mountains a week or so later, Lama Yeshe wanted to take him away for a month to give them a break from the incessant demands of an increasing number of students and the growing responsibilities at Kopan. Mummy Max rented a house for them in Mussoorie in the Indian Himalayas, an idyllic town known for its scenic beauty and peaceful atmosphere.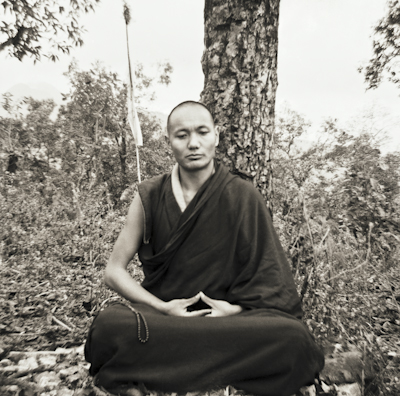 "When we got there Lama Yeshe didn't like the house because it was on the damp side of the hill, so we moved to a big new concrete hotel on the dry side," said Max. "I rented a car and we drove around a lot because Lama thought it might be a good idea to buy land around there. We also made a trip to Palampur and walked around the land that had originally been offered to the Tibetans. Lama talked about starting up a mushroom farm. He was always thinking of ways to support Kopan but nothing came of that particular idea." While they were in the area Lama Yeshe called his old friend Chöphel (known among both Tibetans and Westerners as Chombey), who was now living in Simla with a wife, three small children and a nice little business. "Come and cook for us at Kopan," Lama Yeshe asked him. "I will look after your family for you." Chombey was feeling guilty. The last time he had seen Lama Yeshe was when he had left Buxa to be ordained as a gelong and vowed with a text on his head that he would return one day. Instead, he had disrobed, married and had children. "Now my guru was asking me to do something and I couldn't refuse him. The only way I could purify the bad karma I had created was to follow him," said Chombey. He gave up his business and moved to Kopan with his family.
Philippe and Linda Camus were living further up the mountain in Manali and invited Lama Yeshe to visit. Philippe was an unconventional fellow, as was his cousin François, who was staying with them at the time. "We were sitting around chatting in the garden," said François Camus. "Lama Yeshe was talking to Philippe, with his back to me. I was thinking, 'This is a man in authority. I don't like authority.' Then in a flash he turned around and looked into me so deeply no words can describe it. But he said nothing."
Back to Tushita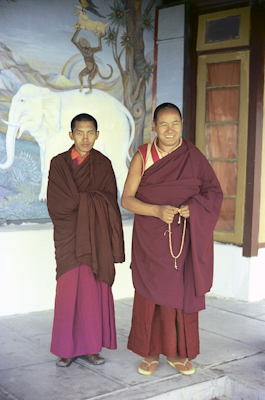 "When Lama Yeshe eventually returned in July, accompanied by Rinpoche and Max," Peter recounted, "he sat with me in the evenings while I lay sick and I remember him saying to me on one such occasion, 'It's so sad the way in samsara everything is impermanent and everything changes.' Lama spent a lot of time with me through that period. That year was the happiest of my life. The air was pristine and the view over the rolling foothills of the Himalayas was spectacular. The best time that year was in the winter when most of the Tibetan community left to sell sweaters on the plains, retreaters stopped coming and the mountain was quiet and still. Although I didn't have time to study at the Tibetan Library as most of the other Westerners did, and didn't have much time to meditate, still my mind was light and exhilarated."
Lama Yeshe's room at the left front corner of the building was quite large. It was always littered with projects, papers and open texts. Rinpoche's, on the other hand, was the rather small room at the right front corner of the building. While Lama was always busy, Rinpoche generally spent his time sitting perfectly still. The largest room in the house, across the front corridor from Lama's, was used as a gompa where everyone gathered on the prescribed days every month to chant pujas together.
Jhampa Zangpo was back at Tushita and Lama Yeshe and Lama Zopa Rinpoche invited the young Canadian monk to join them in a monsoon retreat. "They both sat on the window seat in Lama's big room," said Jhampa. "I sat on the floor and watched Lama Zopa. He'd pick up his offering bowl and hold it up in the air with his arm rigid. With his other hand he reached into the bowl to take a little nectar on his fingertip, then rubbed it on his forehead. He did this repeatedly, as if in a trance. Lama Yeshe and I exchanged glances, but he seemed very happy about the whole thing. Rinpoche was just in another world."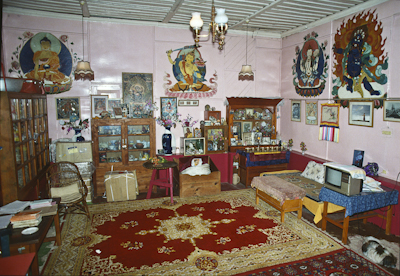 Tushita was not the only place in Dharamsala where Westerners came to study the Dharma. Further down the hill at the Library of Tibetan Works and Archives, Geshe Ngawang Dhargyey was giving regular teachings. These were attended by Glenn Mullin, Jon Landaw Jim Dougherty and a host of others, and soon they were joined by a young woman from the United States named Feather Meston. Olivia de Haulleville also turned up. She and Feather had much to share as they both had young children. Even though Feather had a small son, she was thinking of becoming a nun. Olivia told Feather that her own son, Michael, was living at Kopan. When Feather asked Geshe Dhargyey about wanting to become ordained, he told her she must first ask permission of both her husband and her son.
A few days later, bearing a jar of honey as a gift, Feather met Lama Yeshe. He was sitting inside one of the newly completed A-frames. "Come in and sit down, dear," he said. She did, while Lama sat in complete silence with his eyes rolled back into his head. Finally he opened them, looked at her and said, "Yesssss?" She told him all her troubles with her eccentric husband, her small son, about wanting to renounce drugs, wanting to have an affair with another man and wanting to renounce it all and become a nun. Lama didn't respond for some time. He rolled his eyes back again and then told her, "I have a nun meditating in the mountains of Nepal. You are going to be like her. Go slowly with your husband—women go faster than men but men are more stable. Be kind. Don't shock him. Use more wisdom and less emotion, dear."
Feather had never heard anyone talk that way before. "When I walked out of that A-frame my feet seemed to not be touching the ground. I have never experienced such a feeling of floating before or since—not even on LSD," she said.
The meeting left her feeling considerably calmer and more clear-headed. A few days later she returned to her husband and asked permission to build an A-frame on Tushita land. When she told Lama Yeshe he took her by the hand and said, "Oh yes, dear!" She was stunned. She never imagined a lama would ever touch a woman, let alone take her hand so warmly and comfortably. Her husband, Lawrence, who was also an artist, painted a mural depicting the four harmonious friends13 on the wall of the front porch at Tushita, to the right of the main door.
At the same time Wim, the Dutch artist, who had painted the walls of Lawudo Gompa the year before, arrived at Tushita and began painting a mural of Guru Shakyamuni Buddha on the wall of the front to the left of the main door, while a nun called Ani Jampa painted deities on the walls of Lama Yeshe's big room. (Lama Zopa Rinpoche later painted the face of Shakyamuni Buddha in the wall mural.) Later in the year Wim also painted a vibrant red Yama, the Lord of Death, on the doors of the Kopan gompa.
Around this time the Indian government decided to conduct a visa purge. Citizens from Commonwealth countries had previously been able to remain in India indefinitely, but now required visas.  In the case of other Europeans and Americans, requirements were tightened.  Many of the young Westerners who had been hanging around McLeod Ganj for as long as they could, legally or illegally, were thrown out. Marcel returned to Nepal. The Vautiers went back to Switzerland. Feather, Lawrence and several of the other Americans studying at the Library decided to go to Kopan for the fifth Kopan meditation course. Among them was Jim Dougherty, the American football player. He had met Chris Kolb at Tengboché just before Chris's ordination and had subsequently gone to Dharamsala to study. They eventually grew to be great friends.
Zina Rachevsky dies
"Khumjung, where Rinpoche had sent me to find Gomchen-la, is in the last wave of mountains before Mount Everest," Chötak recalled. "During the monsoon the mornings are usually clear, but then it rains solidly for the rest of the day. The first three days I was there it rained non-stop and when the sun broke through, there was a huge rainbow in front of an extraordinary sunset of glowing fire. I fed two crows there and they 'talked' to me. Whenever someone was coming along the path, they'd land on my roof with a big thud to let me know. They were right every time.
"One day the crows started making a big fuss on the roof. I looked down the valley and in the distance I could see Trulshik Rinpoche coming along with his entourage. The Sherpas burnt piles of fragrant juniper along the way and you could hear his deep puja voice reverberating for miles. When he arrived, his attendant told me I had to speak to him. By then I could speak just enough Tibetan to get by.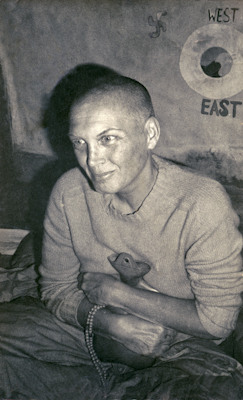 "Rinpoche took me by the arm and told me a runner had come up from Thubten Chöling to Tengboché to tell him Zina had died three days ago. He said he had known she was dead before the runner came. He told me that as he was getting up on the first morning of those three days of endless rain, he was meant to read the text for that day but then changed his plans and decided to meditate instead. He said to me, 'I stayed in my room and meditated all that day, all that night, all the next day and night, and all the next day as well. At sunset on the third day I stopped.'
"Then he looked me in the eye and told me he had done powa14 for Zina and transferred her consciousness. He said the signs were good, the sky auspicious and the weather had broken to reveal double rainbows. However, he was worried about Rhea, who was still at Thubten Chöling. He said she was a very special girl and he wanted me to get down to Thubten Chöling as soon as possible before they sent someone to take her away.
"Zina had died just at the time of that incredible sunset—pink-tinged neon turquoise over white snow peaks. I'll never forget that sunset. Trulshik Rinpoche said Lama Yeshe had told him Zina would die soon and that she was the cooperative cause for the existence of Kopan and his whole trip of teaching Westerners.
"I ran all the way down to Thubten Chöling, all night along the black, narrow paths. I even hired a Sherpa to carry my pack. It took me two and a half days, but I didn't get there in time. I walked into Junbesi the day after Zina had been cremated. Trulshik Rinpoche didn't want to kidnap Rhea, he just wanted to see her and talk to her guardian. Conrad Rooks, Zina's ex-husband, was in Kathmandu, having recently finished making the movie Siddhartha, so he came up and took her away. Mummy Max had passed him a message that had been sent to Kopan saying Zina was seriously ill. She was dead by the time he arrived."
There were all sorts of rumors as to the cause of Zina's death. Apparently her stomach had swollen up like a basketball. She had had terrible cramps and was no longer able to fold her legs but had sat with them stretched out in front while she continued reciting mantras until she died. Some said her illness lasted five days and on the morning of the fifth day she had sat up, announced she was going to die and then resumed saying mantras. Then there were rumors she had been poisoned by a primitive Sherpa tribe that believed it was possible to take over another person's power by killing them. Apparently the previous incarnation of the young Kopan tulku Gelek Gyatso, who had lived in the Junbesi area of Solu, was thought to have died that way. Others said she had inadvertently poisoned herself by mistaking a local poisonous bulb for garlic; that she had died of amoebic dysentery; that she had died from eating another poisonous plant, datura; that she had died from untreated appendicitis.
Clive Giboire was in his Kathmandu apartment when General Kiran, who'd rented his house to Zina's mother, telephoned on an army radio. "He told me he had been radioed from Solu with the news that Zina was dead. He didn't know who to contact so he called me," said Clive. At the time Harriet, Zina's mother, was in New York with Rhea's Aunt Louise.
"Zina's death was very traumatic for Rhea, who went to the United States soon afterwards. All her grandmother's family were devout Catholics, so she was subsequently raised a Catholic. Years later she showed a friend of mine a charming little storybook her mother had written and drawn for her. But she was not prepared to talk about her mother's death at all. She isn't at all involved with Buddhist things."
Rhea and some nuns were present when Zina's head nodded forward and her consciousness left her body. It was said later that Rhea told Clive Giboire, "Mummy sat back and stopped counting prayers." She had just turned eight years old.
Piero Cerri was with Lama Yeshe in Tushita Retreat Centre when Lama said to him, "Zina is dying now." Lama went immediately into meditation. He told Piero later that he had transferred Zina's consciousness to Vajrayogini's pure land.
When a runner from Thubten Chöling arrived at Kopan with the news, Mummy Max immediately sent a telegram to Lama Yeshe at Tushita Retreat Centre. "One morning a runner came up to the house from the postal and telegraph office in Lower Dharamsala," said Peter Kedge. "He was carrying a telegram addressed to Lama Yeshe, from Nepal. I took the telegram to Lama who wouldn't take it from me. Not even looking at me he said, 'Open it and read without emotion.' I opened the telegram and read it to Lama. The news was that Zina had passed away in the mountains but clearly Lama was already fully aware of that fact."
Lama Yeshe went to a nearby nunnery where prayers were said for Zina throughout the day. When he returned that evening he was radiating energy. He told Massimo Zina had visited him in a dream the night before she died, saying she was going away and asking for his help. Her last letter to the lamas had just arrived at Tushita. It was unsigned.
Zina had kept a journal in which her daily practice schedule was written out through mid-September. The last journal entry was made on 18 August, the writing weak and barely legible. The most likely date of her death appears to be 20 August 1973.
Only Mummy Max and Losang Nyima were at Kopan when the news arrived. On Lama's instructions Max sent Losang Nyima up to Thubten Chöling, but once again the weather was bad and his flight was delayed. He missed Zina's cremation, which was held one day after her death. But he did gather some more news. It seemed Zina had suffered uncontrollable diarrhea and vomiting for several days. The day she died she was unable even to drink tea. She had said she knew she would die that day and had reached out and taken Rhea's hand. The monastery had organized her cremation and many prayers were said for her fortunate rebirth. Her more valuable possessions were given to Conrad Rooks and the rest distributed among the community, her robes going to the other nuns, as was the custom.
Less than a year after her death Tom Laird, who had visited Zina in April together with his friend Mimi, was back at Thubten Chöling and asked Trulshik Rinpoche what had happened to Zina. "This time there was a translator," said Tom. "He told us Zina had had 'a very good death,' that she had died in meditation and her daughter had been there and had lit her funeral pyre. I also heard that a doctor at the Hillary Hospital at Paphlu had tested her fecal matter and said she had died of cholera. Indeed, there had been a cholera outbreak in that valley during that summer and several people had died."
Lama Zopa said Zina knew she was going to die, that the signs in the weather during her cremation were very good, and Trulshik Rinpoche had said she was in Vajrayogini's pure land. Some time after this Zopa Rinpoche asked Zong Rinpoche where Zina had taken rebirth; Zong Rinpoche also said Zina had been reborn in a pure land.
A visit with Lama
Jon Landaw, who had seen Lama Yeshe only once, in Bodhgaya in early 1971, arrived at Tushita for an interview with him.
"This meeting in Tushita was very important to me," Jon related many years later, "because it convinced me the powerful impression I had had of Lama when I first arrived in India had not been a fluke, the product perhaps of a 'romantic' infatuation. If it had been a figment of my imagination two and a half years previously, then here I was imagining it again. We talked politely for a while then Lama stood up on his bed, held my hand in his, and right before my eyes his face suddenly transformed. As you can see in photos of him, Lama's face was noticeably asymmetrical, but now it became perfectly symmetrical, making me think of the buddha-image hanging on the wall of my room. As this was happening, I felt as though he was pouring something into me. The whole experience was overwhelming.
"I stepped outside and was greeted by a huge orange sun sitting poised on the western horizon, reminding me of Amitabha Buddha. As if floating on air, I somehow made my way down the hill to McLeod Ganj. Part way down the hill I had a strange encounter. Turning a corner of the path I came across a little house where some Tibetans lived. Standing outside was a very beautiful young Tibetan woman who smiled enticingly at me and beckoned me to come inside. I thought it strange, but as if under a spell I stepped toward the gate to follow her.
"Several Lhasa Apso dogs came charging out, yapping at me noisily until an old crone suddenly appeared and chased them away. Once inside, the young woman pointed to a faded old thangka hanging there, indicating she wanted to sell it. I wasn't interested in it, so I said goodbye and continued on my way.
"After I left, I was struck by the thought that perhaps this surreal dream-like episode hadn't actually happened at all. Afterwards, every time I went up to Tushita I kept my eyes peeled but I never saw that young woman or the crone again. I still do not fully understand what happened to me that day but it seemed to have something to do with having just visited Lama Yeshe and having entered, however briefly, into his magical space.
"Lama Yeshe had certain unusual qualities I also noticed about His Holiness the Dalai Lama. For example, there were occasions when both of them seemed to change size. Sometimes they might appear rather small while at other times they seemed huge. It was as if their true essence, their essential being, was formless and their physical body was just an afterthought, something they manifested for our sake. They often appeared to be more fluid than solid." 
Return to Lawudo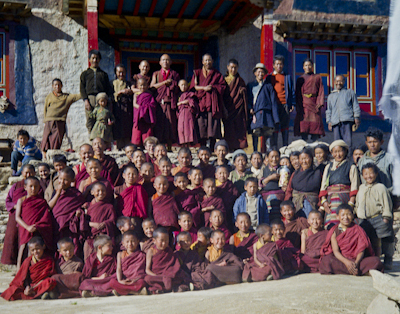 Pasang Tsering was sick the day Lama Yeshe arrived back at Lawudo. Lama looked him over and said, "You are not really sick, your mind is sick." The next day he was hale and hearty again. "My guru came so I got better," he told Anila Ann. Pasang Tsering and Lhundrup Rigsel were quickly renamed "Lama Pasang" and "Lama Lhundrup" by the Injis. As with "Lama Yeshe" and "Lama Zopa," only Tibetans ever used their full names.
By the age of seven Michael Losang Yeshe, Olivia de Haulleville's son, was already an old Lawudo hand. "The food there was very poor," Michael recounted. "We ate only tsampa with hot water and a few watery vegetables and potatoes. The locals made chang, so there were barrels of sweet fermenting grain mash around. I ate handfuls of it until Lama Zopa discovered what I was doing. Of course, it was alcoholic. Once, my mother came up and made a puja offering. She gave every child a piece of cheese but they took one bite and threw it away—they didn't know what cheese made from cows' milk was," said Michael. Cheese from the milk of a dri, or female yak, is an entirely different thing and is usually eaten dried.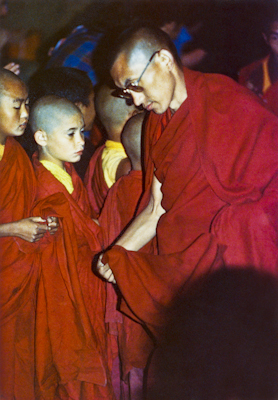 When it was time to go back down to the valley again, Lama Yeshe walked out with Anila Ann, the artist Wim and a number of boys who had newly enrolled in Mount Everest Centre. One of these was Thubten Monlam, whose mother had worked on the construction of the Lawudo gompa. "I was excited and a bit scared, but I knew all the boys who were going so it wasn't too bad," he said.
Also among the new boys was a young Sherpa tulku, Tenzin Norbu from Namché Bazar, who had been enthroned that summer at Lawudo. He had been given the name Thubten Zopa Rinpoche, so everyone called him Thubten Zopa Small. Tenzin Dorje from Thangmé, who came to be known as Charok Lama, and Gelek Gyatso from Paphlu, who came to be known as Lama Babu, were the other two young Sherpa tulkus already among Mount Everest Centre's students.15
Anila Ann: "We started walking out in the middle of the night. Halfway down the hill we were met by Sherpa families offering tea and more little boys ready to join the school. It took us almost a day to get to Lukla. You can only walk single file on those paths and must keep a sharp eye out for falling rocks, loose gravel and precarious edges. I was about fifty yards behind Lama and Wim, who were talking together. I presumed they were talking about Dharma, so I got really sulky because I loved it when Lama talked about Dharma. All we ever seemed to talk about was money, building projects or the weather.
"I had been asking him to tell us something about the Kalachakra empowerment the Dalai Lama was going to give in Bodhgaya the next January. Everyone at Kopan was planning to go. So there I was sulking away when suddenly Lama stopped and called back to me, 'What did you say?' So I caught up with him and said I wanted to join in the Dharma conversation, too. He gave me a great big golden smile and started talking about Kalachakra.16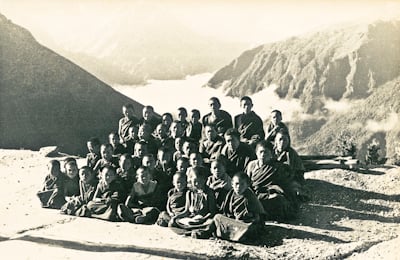 "By the time we got to Lukla, we had collected ten more kids. It was clear the plane we had booked was not going to be big enough and also that it would be well nigh impossible to get another. Everything was the usual chaos at the airstrip. There were tents all over the place and big European tour groups waiting for charters. The RNAC (Royal Nepal Airlines Corporation) office was like a campaign tent. Lama and I went in there to see if they had a bigger plane. They didn't. We were stuck with the little seven-seat Pilatus Porter plane we had ordered. Lama gathered the little boys around him and tried to convince the RNAC people we could fit them all in because they were so tiny. They didn't buy it.
"Then a twenty-one-seat Twin Otter plane arrived. I happened to get a look at the waybill for the packages on it. It said Annapurna Tours. Then one of the staff lost the waybill and they couldn't work out whose plane it was. I whispered to Lama, 'It's Annapurna Tours' plane but they can't prove it.' 'Then we'll take it!' he said. He went straight over to the counter, slapped a pile of money down and said, 'I'll take that charter—you don't know whose it is and I have the money for it right here, so give it to me.'
"The plane was out there revving its engines ready to take off. Not knowing what else to do, the guy at the counter took Lama's money and it was our plane. The staff looked worried but Lama just waved his receipt at them. We ended up with more seats than we needed so I had great fun yelling out from the plane's steps to the hippies trying to get down to the valley, 'Two hundred rupees a seat! Who wants to go down?'
"When the plane landed at Kathmandu, Lama got out and walked calmly across the tarmac with all these little red robed kids following behind like little chickens. The men from Annapurna Tours couldn't believe their eyes. 'This is our charter! What are you doing on our plane?' But Lama just waved his papers at them and said, 'I paid for that plane,' and walked right on. He really had some nerve."
Mount Everest Centre at Kopan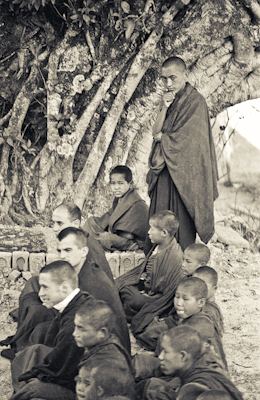 There were now thirty small monks at Kopan. "Oh dear," thought Mummy Max, "how am I going to pay for all this?" She bought them toothbrushes, soap and towels, none of which they had ever seen before or even heard of. Then they all got sick because of the bacteria at lower altitudes. The Sherpa boys were a grubby little bunch, accustomed to defecating on open ground. The kind of personal hygiene Westerners took for granted was completely foreign to them. "Oh lord," thought Max again, "they're all going to die. Their parents will go berserk and we'll all end up in jail!" But they soon got better. "At meals the boys all sat on the floor, so I had tables and benches made for them. I even bought tablecloths which lasted exactly one day," she said.
Ever since the Chinese takeover of Tibet there had been nowhere for Nepal's Sherpas and other Himalayan peoples, who are primarily Buddhist, to educate their children within their own spiritual tradition. Word of Mount Everest Centre spread fast. Parents turned up from all over Nepal, eager to enroll their sons. Although the mountaineer Sir Edmund Hillary had already built around two dozen fine schools in Solu Khumbu, they were focused on a primarily Western secular model of reading, writing and arithmetic. For many Sherpas and other Himalayan ethnic groups it was vital that their sons, and later their daughters, receive a traditional monastic education. Lama Yeshe's educational design also ensured that all the monks at Mount Everest Centre had an opportunity to help with building construction, gardening, cooking in the kitchen and administrative duties in the office. Westerners staying at Kopan were asked to teach the monks English, which would be a passport to an altogether new life. As a result, they gained a well-rounded education.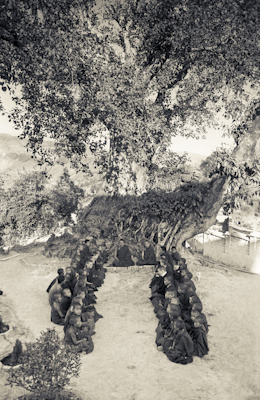 For the boys, meal times were special times with Lama. He patrolled up and down their neat little rows of tables and benches in the dining room during almost every meal, barking orders at the cooks and treating the children like royalty. The food was very plain. Then again at bedtime he did the rounds, making sure they were all tucked in and their increasingly cramped rooms kept clean and orderly. If their rooms were messy, the boys had to tidy them. "Lama is Tara," said the boys, possibly referring to the maternal nature of Lama's attentions. The female buddha Tara is also referred to as the mother of all buddhas. The three little rinpoches slept in a room together and had a few small privileges, such as being exempt from having to help prepare the vegetables in the kitchen or do certain other chores.
Some Western students told their parents all about the little monks. Suitcases of red and yellow t-shirts, socks and sweaters lovingly knitted by mothers and grandmothers began to arrive.
Work at Kopan
Before going to Kopan as suggested, Steven Levy had called in to see Lama Yeshe at Tushita in August to make sure Lama still wanted a gardener.
"He reached under his little meditation table and pulled out a gardening trowel," Steven recalled. "'You know how to use this? We'll talk more when you come to Nepal,' he said. I was amazed he even remembered me. When I got to the monastery, Yeshe Khadro was in the office. I told her that Lama had told me to come but I didn't have any money. She told me I had to work for my keep and could sleep in the storeroom. It was pretty awful.
"Then Lama showed up. Every day Max returned from Kathmandu with her Jeep full of plants. When Lama came downstairs after breakfast, he was all business. It was always, 'What are you doing? Why did you do that? Where are Mummy's plants? Where do you think this one should go? What about this tree? Lama is busy now, see you later!' I'd be left wandering around trying to work out where to put things. I'd dig a hole and then he would suddenly show up again, demanding, 'You think this is good place? Are you sure?' The minute he said that, I'd say, 'Weeellll…' and he'd immediately jump on me. 'You're not sure? When you are sure, Lama will come back!'
"Every time I planted something he'd ask if I was sure. When I said I was, he'd say, 'But are you sure you are sure?' And we'd both crack up laughing. That laugh of Lama's was so infectious! It was like sonar, laser. I'd like to have a tape of Lama's laugh to listen to forever. But he was heavy, too. I would dig a dozen holes for some plants. 'Why are you putting that plant there?' I'd remind him that some hours earlier we had both agreed on the spot. 'Do you think Lama doesn't know what he said? Put the plant over here!' I'd move it back and forth, back and forth, and then he'd want it back in the original position. It seemed like he was testing me, seeing how far he could push me. He'd say, 'Let's dig here!' I'd say, 'No, I'll dig that,' and he'd give me a firm, loving shove with his shoulder, grab the shovel and say, 'No, Lama will dig!' I was thirty-two years old and he was only six years older, but he was like a father or even a grandfather. I felt like a child. He was ageless. His male mothering fed so many neglected, untouched, unloved places within me."
Anila Ann watched how Lama interacted with everyone. "He climbed into our skins to find out what made us tick and mimicked our body language and mannerisms. He was just hilarious. If I was unhappy and feeling low, he'd find some way to make me feel valued. When he'd fixed me up, he'd turn to the next needy person and maybe do exactly the same thing with them, while I was still there. He'd flick an eye over at me to make sure I was getting it. Lama was just as skillful in showing us our negative traits as our positive qualities.
"He seemed to know intuitively when people were arriving and what had happened to them. I read his mail for him and he often knew what it contained before being told. Or he'd say to me, 'Marcel is here—I can always tell when Marcel is here.' I'd look out the window and there would be Marcel, coming out of his retreat hut. 'Magic' is the only word I have for it.
"Another example: We were always late getting to the airport with no time to spare at all, the other cars having already gone and Lama not quite ready every time. Finally, Lama would climbed into the rotten little Nepali taxi while the driver pumped the ignition but it wouldn't start! Lama couldn't drive at all, but he'd lean over and turn the key and it would start right up, every time. 'Okay, let's go!' he'd say, precluding any kind of conversation about what he'd just done."
Lama also kept his eye on the money and gave Yeshe Khadro the job of accountant. "He was very astute," she remembered. "He checked every transaction. When the tiny building I used as an office was pulled down and Pete Northend began building a big new kitchen/dining room complex in 1974, it was assumed the larger of the two spare rooms would be the office. But no, Lama said it had to become a coffee shop. Shops make money, he told us, not offices." And Lama Yeshe needed money. How else was he going to feed and support the growing number of young monks?
Money was always a big subject. Once when Anila Ann and Lama Lhundrup were greeting Lama Yeshe at Kathmandu airport, some American tourists came over and took their photos. Then they admired the lamas' malas. "They aren't for sale, are they?" They most certainly were and an excellent price was obtained. While they were haggling, however, Anila Ann drifted out of sight. She was sentimentally attached to her mala and had no intention of selling it.
Lama Pasang took care of all the shopping for Kopan's food and supplies in Kathmandu. Trained in the ways of the Buxa markets, he always drove a hard bargain. He loaded everything onto a rickshaw and took it to the house Mummy Max was renting not far from the Royal Palace in Kathmandu, where it was all loaded into her Jeep for transport up to Kopan. Lama Pasang had a favorite rickshaw boy, Kancha, a young fourteen-year-old Nepali orphan who was desperately poor. Lama Pasang soon brought Kancha up to Kopan, where he began working as a kitchen boy. Kancha was very intelligent. He soon began learning how to read Tibetan and could eventually be found sitting on his bed in the kitchen storeroom reciting prayers in Tibetan from his prayer book.
Lama Yeshe regularly conducted thorough inspections of everything in the kitchen. He checked the hygiene, tasted the food to make sure it was not too spicy or greasy for the young monks and occasionally whacked Chombey with a stick. Chombey didn't mind—it was the Tibetan way. The standard Nepali meal of dhal bhaat was often augmented by Tibetan momos—steamed, not fried. Lama Yeshe wouldn't let the cooks fry them. "Too greasy," he said. He also insisted the monks be served a salad every day. Fresh salad was not a part of the Tibetan diet but was something Lama had picked up from the Injis. "Bake brown bread rolls," Lama told Chombey. "Injis think brown bread is much better than white." Chombey did as he was told but he also noticed the white bread rolls always disappeared first. "They don't always do as they say, you know," he told Lama. The quality of food at Kopan varied greatly during the year according to what vegetables and other foods were available. During monsoon season only cauliflower, Swiss chard and potatoes were available, for everyone.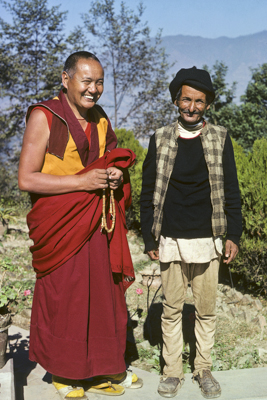 Almost from Kopan's inception, Lama Yeshe's faithful friend Chowkidhar quietly and tactfully smoothed out many a local dispute, including one involving access to the spring at the bottom of the hill. Among Nepalis, springs were considered to be sacred Hindu sites. Sometimes angry Nepali women threw water at the hippie Inji girls who splashed about immodestly. In Nepal every spring is regarded by both Hindus and Buddhists as under the control of serpent-like beings called nagas and such disrespectful behavior is regarded as both offensive and highly inappropriate. 
"Lama scolded Chowkidhar all the time," recalled Peter Kedge. "Every morning Chowkidhar came up to Kopan bringing fresh buffalo milk for Lama. He was always dressed in exactly the same clothes and had this extraordinarily weather-beaten face. Lama would harangue him in a bit of Hindi and a bit of Nepali all mixed together and Chowkidhar would just smile and quietly respond. The more Lama shouted and yelled at Chowkidhar, the more the old man smiled. Lama often told his students we don't know who has realizations and who doesn't, adding that maybe Chowkidhar had higher realizations than Lama himself had.
"Lama was always sending Chowkidhar off to scout for new pieces of land to buy. Lama was buying up every ropani17 he could get and it was Chowkidhar's job to discover who was willing to sell. Most of the plots were very small. Chowkidhar would come back with a price and Lama would say it was too much and send him back to try again. Chowkidhar set off again with a smile. Their exchanges always ended with the two of them sauntering off arm in arm to inspect the vegetable gardens. One of Lama's running jokes with Chowkidhar was that he would bring him up to Kopan one day, shave his head and make him a monk."
The fifth Kopan meditation course
Kopan was preparing for the fifth course, which began on 16 November 1973. Once more the number of those enrolled almost doubled over the attendance of the previous course. Once it became clear that nearly two hundred people would be attending and would never fit into the gompa, a huge tent with burlap walls, a straw floor covered in new jute mats and a tall wooden teaching throne was erected behind the gompa. Mummy Max bought hundreds of meters of colored bunting and the tent was decorated with thangkas and flowers. Lama Yeshe ran around in an old worn-out shemtab, the monk's skirt, directing everything and everybody. Chombey ran the smoke-blackened kitchen, stirring his great pots on two enormous mud and stone wood-burning stoves.
Out shopping in Kathmandu one day, Lama Yeshe felt a tug on his robe. Once again, there behind him was Geshe Lama Konchog. He had left his cave in the remote area of Tsum, close to the Tibetan border, and had suddenly shown up in the capital city.
Lama took Geshe-la back to Kopan, where they debated Dharma until three in the morning. "We never talked about ordinary things," said Geshe Konchog. "When we debated we never thought about food or drink or noticed the time passing. It was just as if we were back in Tibet. Lama Yeshe told me then he would build me a house at Kopan one day." Some years later, Tenpa Chöden, one of the Mount Everest Centre monks, was present when Lama Yeshe asked Geshe Lama Konchog if he would come and teach at Kopan. "Geshe-la didn't answer," said Tenpa Chöden.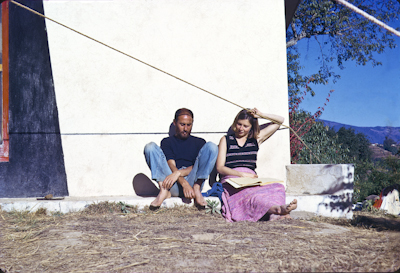 That autumn, a BBC film crew turned up wanting to feature Western hippies in a documentary about Buddhism in Nepal, the title of which was to be The Roaring Silence. Lama Yeshe wasn't interested. Neither he nor Zopa Rinpoche appeared in it, but Anila Ann, Nick Ribush, Yeshe Khadro and some other students did. 
During the summer in Lawudo Nick had decided he wanted to become a monk. While there, he had even gone so far as to buy the robes of a deceased nun. When he returned to Kopan and told Lama Yeshe of his wish, Lama fell about on his bed laughing but eventually said, "Okay, we think about." Yeshe Khadro offered to move out of their shared room but Lama told her to stay. "I was a bit shocked," she said, "but I learned later that if you separate before you are really ready to do so, attachment lingers. Continuing to live with each other in celibacy meant it became a very natural and complete separation. I didn't have time to think about getting ordained myself because I was too busy in the office," she said.
While in Lawudo, Nick came down with hepatitis. "I'd made the mistake of smoking a farewell joint with some jaundiced Australian friends six weeks earlier, just before leaving for the mountains. I thought they were post-infectious. They weren't. So while YK, Gareth, Dick and the others went over to the gompa to do their various jobs—running the clinic, teaching the boys English, doing maintenance work and so forth, I had to stay home in the house Rinpoche had bought at Genupa, about fifteen minutes away. I'd brought Brian Beresford's notes with me and my own notes from the third and fourth courses, so during the couple of months of my convalescence I edited them into a commentary to The Wish-fulfilling Golden Sun.
"It was doing this work that made me want to become a monk. I also realized that by simply taking notes we were missing much of what Rinpoche was teaching, so I decided that at the next course, the fifth, I would take down every word. When it began I plonked myself right down in front of the throne and proceeded to write down every word in my best medical scrawl, making up abbreviations as I went along. The amazing thing is that afterwards, YK could read it better than I could and was able to type up a 400-page manuscript, which I then edited. We published this and the commentary I'd edited at Lawudo early the next year. All this was pretty much the beginning of publishing in the FPMT."
Right through the fifth course Nick and Yeshe Khadro rose at dawn every day and took the eight Mahayana precepts. They spent the rest of every day working hard. Then, every night, after Lama had dined with Mummy Max, they attended a staff meeting called by Lama at around 10:00 p.m.  They retired after the staff meeting and then pretty soon it was time to get up and take precepts again.
Everyone sat in the big tent before the teaching throne and altars built of wonderfully draped packing cases. It looked just beautiful.
"I don't have any experience, realizations," said Rinpoche in his first lecture. "I don't know anything about Dharma, but maybe the Dharma recognizes and knows me well. My understanding of Dharma is like one atom of this universe. Therefore, I don't have any hope that this meditation course can benefit you. But I'm happy to talk about a new subject with a new mind—a new subject and a new thought. As you and I are human beings for such a short time, I think it is fortunate to talk about such a holy thing."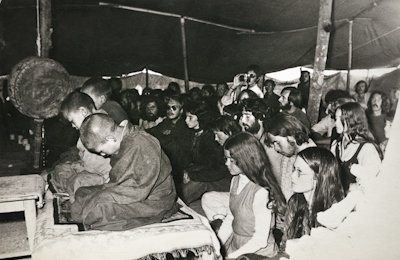 Lama Yeshe asked Jon Landaw to lead a discussion group. It was Jon's first Kopan course, but he had been studying with Geshe Ngawang Dhargyey at the Tibetan Library in Dharamsala for some time and Lama thought that gave him enough background to help out a bit with the new students. "I felt unqualified to answer anyone's questions but was unable to refuse Lama's request. People started telling me all this personal stuff about their lives and wanted me to say something helpful, but what did I know? So I took a break from myself and just focused my mind on Lama Yeshe really strongly. I asked for inspiration and beneficial responses just came to me. That was really my first teaching from him.
"I didn't see very much of him during that course, but over the next ten years while preparing his teachings for publication I remembered that experience and tried my best to get out of the way and allow him to speak through me."
 
Some people had extraordinary personal relationships with Lama Yeshe. Ken Meece, an American college graduate in psychology, and a friend were making their first trip to Kopan. Lama Yeshe sent Anila Ann down to meet them.
"He said he had been waiting and watching for us for days," recalled Ken. "We got the information about enrolling in the course, then he asked if I would visit him daily to talk about psychology. I agreed and worked out an outline of topics in response to his many questions. He was particularly interested in depression and psychosis, which he'd observed among some of his Western students. He told me some had attempted suicide and he was surprised at the listless doldrums in which so many young Western people seemed to live.
"I told him I was interested in learning to meditate so I could spend seven years in a cave, but he just laughed at me. I also asked him about the Christian imagery that kept entering my meditations. I wondered what I could do about this distraction. Lama looked at me for a moment then burst out laughing, rocking about and holding his sides. I felt rather ashamed. Then he stopped, glared at me and said in a slow measured voice, punctuating every word, 'You Americans are so stupid! You come here halfway around the world to have a spiritual experience, then when you have one you call it a distraction! So many are running away from their homes and religious traditions. So we teach them Dharma. When they are not so attached, they can go home and be Christians and Jews again. You cannot be a Buddhist while running away from home. Negative attachment is still attachment.'" 
The young English woman who had become fixated on Rinpoche continued to be a problem during the course. Her behavior became increasingly unpredictable. Once she burst into Lama Zopa's room and took her clothes off. He responded by pouring water over her. Another time, while Rinpoche was sitting on the floor in front of his teaching throne leading the two hundred students in meditation, she climbed up and sat on it, a breach of etiquette that shocked everybody except Rinpoche. Finally, Lama Yeshe banned her from Kopan, an order she ignored. Her disruptive behavior continued.
One day when she was raging around the place Lama Yeshe instructed Anila Ann to make her leave. "Hit her with a stick," he shouted from his balcony. The only stick at hand was a six-foot plank. As Ann grabbed one end of it, the English girl grabbed the other end and a tug of war ensued. Ann was worried—she didn't want to hurt her. But Lama Yeshe looked down on the scene and roared with laughter. He laughed and laughed and laughed, that special cosmic laughter that had affected so many people at Kopan and elsewhere. Under the spell of this extraordinary sound the disturbed young woman suddenly dropped the wood and quietly walked off down the hill.
She later reappeared when Ken Meece and Lama Yeshe were having one of their psychology classes. "Suddenly she was upstairs on the flat roof, crying and howling," Ken recalled. "It was obvious she was a soul in deep distress. Lama Yeshe jumped up and asked me to go with him to deal with her. He bent over her saying nothing, his face full of concern. When he had her full attention, he thanked her for being there. 'She is here to help me,' he told me. 'She is here out of compassion.' When she began to wail and weep again, collapsed in a heap on the floor, Lama said to her, 'Thank you for being here, for helping me. You have come to take all my suffering upon yourself. Thank you, thank you, thank you!'
"He kept this up for a good ten minutes. Then, as if to convince her his suffering had really been removed, he began to appear more and more joyful until he was dancing around her. She continued to howl, though occasionally she looked up through her tears at Lama cavorting. Gradually she began to quieten. As she calmed down so did he, all the while giving her full credit for his happiness. 'You have such compassion,' he told her, 'I am healed, my suffering is gone. You have taken it away!' There was no trace of condescension or irony. He appeared to be genuinely grateful. Eventually she wiped her face and thanked him, too. Then she got up and left. I told him I thought he had healed her. 'My joy in being relieved of suffering was her joy as well,' he replied.
"Lama Yeshe was very interested in the 'talking cures' of psychotherapy, particularly in how this might work for suicidal people. He said performing pujas for them wasn't enough. He was intrigued by Jung's archetypal psychology and how people might cross the cultural divide between East and West. He was very interested in the theory that a 'splitting' taking place in the psyche during early childhood might explain the development of psychosis in later life."
Despite Lama's ministrations, the English girl had not recovered. Once more when she was shrieking and yelling around the hill, Lama Yeshe ordered a bucket of water be tossed over her. She instantly went limp and quietly returned to Boudha.
Not long after, Lama Yeshe told Ken Meece it was time for him to go home. "He was kicking me out! The next day I went to him at our regular hour and he told me I already had a guru, that Jesus was my guru. 'Look,' he said, and pulled the robe away from his neck to reveal a small gold cross on a chain. 'See? I am also a Christian,' he said. During our remaining classes he asked me to teach him about Christianity, which I did, using Carl Jung's book Answer to Job18 as my inspiration.
"Lama also told me he could remember something of his six previous incarnations. He explained these were not normal memories but had come to him in meditation. 'I also know about your previous lives. Do you want to know?' he asked me. I told him I didn't.
"At our last meeting he told me to never stop meditating, stressing that he felt the main problem for Christians and Jews in the West was they were not taught to meditate. 'When people teach doctrines, remember always that every doctrine was at one time someone's direct experience of the truth. So always check up what you are told or hear through your own meditation,' he warned me." 
During the second two weeks of the course the students took the eight Mahayana precepts before dawn every day and kept silence until lunchtime. Steaming mugs of soy coffee or tea were served after the first dawn-time session of the day. By lunchtime everyone was starving, ate huge amounts and then tried to take a nap for an hour on their bedrolls. Afternoon tea and supper each consisted of another mug of tea.
One day Lama Yeshe decided the students needed a treat so he cooked macaroni and cheese for lunch, using ingredients Mummy Max had bought at the American Commissary. Chombey and Kancha were both on hand to help, but Lama chose the recipe and stirred the pot, Max tying an apron around him so he wouldn't mess his robes. He served the dish himself, fussing over everyone, the consummate host.
Pete Northend, the builder from Leeds, was also participating in that course. Pete was the cheerful type and made friends easily. Early on in the course he noticed a young man who seemed to be having problems adjusting. Suddenly this young man was gone, leaving his passport and money behind in the office. He had told others he was "hitch-hiking to England." Pete decided to tell the lamas about it.
"Well, when I told them, they just rolled around on the carpet laughing," Pete recounted. "They asked me if I intended to search the Himalayas for him and then said the best thing I could do was to go back to the tent and learn to meditate. They said not to worry, because during the session they would do a puja for him. It would pick him up from wherever he was, bring him back to Kopan and place him right under the Bodhi tree.
"So I went back to the tent and sat there listening to the lamas ringing their bells, chanting and stuff. When I walked outside at the end, there was the guy sitting under the Bodhi tree. What's more, he was covered in wet mud while Kopan was as dry as dust. It hadn't rained for ages. I asked him where he had been and how he had got here. He said he didn't know, so I told him to go upstairs and see the lamas.
"A short time afterwards he left again, this time with his passport and money. I never could bring myself to ask the lamas what they had done. It was all too much for me."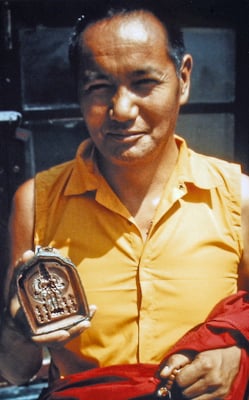 The time had come for Lama Yeshe to come and give a talk to those doing the course. He was to give refuge and precepts on December 6, so on the previous day he gave a preliminary talk about them to everyone. "He's not like Rinpoche," the old hands told the new ones. "He makes you laugh, makes you feel like you can do anything, that you're wonderful and definitely going to become enlightened, rather than remaining absolutely hopeless and going straight to hell!"
Lama Yeshe entered the tent in his best robes. As he climbed up onto the throne he snapped his finger and thumb, a customary gesture. Once a teacher is seated it is usual for those attending the teaching to respectfully prostrate three times. To some this finger snap seemed a rather haughty signal to everyone to make their prostrations. Lama Yeshe later explained this finger snap was actually a special prayer. "I am not a throne lama so this is not my place. So I snap to remember impermanence," he said. "It's an antidote to pride."
His talk had its usual effect. Everyone relaxed, cried with laughter, forgot for a time their anxieties and sorrows and felt inspired to practice Dharma—to be of infinite service to others until the day they died. And all this took place while Lama Yeshe, in his unique brand of English, was saying things never before heard, such as, "Your berserky mind preak out!" Many European students who were there also spoke little English, but everyone could understand Lama Yeshe. Later they discussed his talk among themselves. Some had heard one thing emphasized, others had heard something else.
From Lama Yeshe's talk on refuge and precepts on December 5:
Anila Ann told me that some people wanted to take refuge and the five precepts but before doing so it's necessary to understand why you're doing so, how to do so and what the benefits are. That's very important. If you don't know all this, your practice becomes less powerful and you can start to have doubts about it rather than feeling comfortable with it. You need to know what you are doing. Therefore I'm going to give you a short introduction.

Actually, I don't need to tell you much because you've had teachings on refuge and karma during the course and in meditation have already checked beyond the words. This is actually the perfect introduction.

Taking refuge means having a continuously enthusiastic feeling for discovering the pure energy and omniscient wisdom that we call "buddha." It doesn't really matter what we call it; there are so many words. Actually it means perfect wisdom, understanding wisdom, and how seeking this is beneficial for our life rather than living with the empty, cold feelings that we often experience. Taking refuge brings a warm feeling into our heart and the continuous wish to grow and develop instead of thinking, "Oh, I'm hopeless, I can't do anything," the kind of thinking that brings you down.

By discovering, as Lama Zopa has been telling you, that human ability is great and wanting to make the most of the opportunity of being human is wonderful.  You have thought about the perfect qualities of Buddha, Dharma and Sangha and realized that you too can acquire those qualities and are no longer under the illusion that Buddha and Jesus Christ are way up there in the sky somewhere and you are down here, nothing. Thinking that you are nothing, that you're just like an animal, is totally the wrong way to think. You're putting yourself down, completely underestimating your ability. You have the incredible potential to develop in exactly the same way that Lord Buddha and Jesus did. They both appeared on earth and passed away—their physical atoms don't exist here any more, do they? But even today we still enjoy their wisdom light, power and compassion.

When Lord Buddha was here, his body was not an ordinary body. Through the power of his bodhicitta, to use Buddhist terminology, whenever people saw his body they gained higher realizations, such as single-pointed concentration. But when he was finished on the physical level, his knowledge, the power of his wisdom, lived on such that we can still feel it today. This is the result of the wisdom and true compassion of his bodhicitta mind. So I'm saying that discovering that you have the ability or potential to develop that within you, that you can grow continuously without stopping, no matter what happens to your physical body, your mind can be completely relaxed. Even though you get old, changing, changing, changing, on the mental level you can continuously develop and better understand your own nature and no matter that the external world goes up and down, your internal world is always supported by your understanding. You are supported by your wisdom in the middle way rather than falling this way or that.

We talk about eternal happiness, eternal bliss, eternal joy—these qualities last forever, unlike the momentary, transient pleasures of samsara. And they arise from knowledge-wisdom. So taking refuge in Buddha, Dharma and Sangha means you are taking refuge in Lord Buddha's ultimate wisdom, true compassion and everlasting bliss.

Think what a fantastic state of mind that is. Just imagining it brings you energy. I mean, you haven't yet attained it but just visualizing the omniscient mind, thinking about it, brings its reflection into your mind. You feel more peaceful and relaxed. A sensation of happiness comes into your mind; a warm feeling, a really warm feeling. By discovering that such qualities lie within you makes you also respect other sentient beings' abilities and stops you from putting them down, too: "You can't do anything; you're hopeless." That's not right. By discovering your own abilities you respect others and generate warm feelings toward them rather than hatred. It's so simple."19
* * *
Lama Yeshe's words had the power to change peoples' lives, among them Dieter Kratzer's. "I sat throughout his talk in full lotus posture," Dieter explained. "This was something I had never been able to do until then. I closed my eyes and during the whole two hours of that talk I just trembled and cried. 'Come on Dieter,' I told myself. 'You're German, male, rational, not a slave to your emotions.' But I couldn't stop. Afterwards I made an appointment to see Lama. He told me, 'I have a feeling we have known each other before some time in the past.' At the next teaching I not only sat without any pain in my legs at all, but for the very first time I understood every word Lama Zopa was saying. It was all absolutely crystal clear."
Another highlight of Lama Yeshe's talks was question-and-answer time. Some students liked to ask complex questions, designed perhaps to parade their intellectual skills. Lama Yeshe's answers always seemed tailored to each type of person. First he listened with eyes closed, rocking slowly back and forth. Then came a period of intense silence. When he finally answered, the words seemed to come from somewhere very deep within him. They cut sharply through cleverness, encouraged the timid and exposed logical flaws. Many people tried to nail Lama with Western science but he always won—and in the simplest language, which everyone could understand.
* * *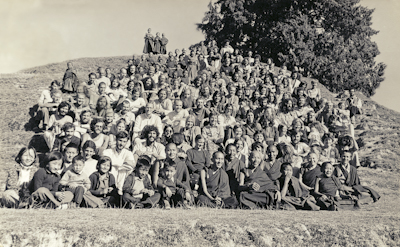 The fifth course ended on December 14 with bodhisattva vows from Lama Yeshe, a celebratory puja and an initiation into the thousand-armed aspect of Chenrezig. This included a commitment to say the long Chenrezig mantra, approximately 140 syllables, but this little detail was communicated only at the end of the initiation. Shocked, some students complained to Lama Yeshe, claiming it took too long to say the mantra and they had been tricked into making the commitment. A little reluctantly, Lama gave them permission to say the short six-syllable mantra instead: OM MANI PADMÉ HUM.
At the conclusion of the course, some students wanted nothing more than to run down the hill as fast as they could, back to Kathmandu and the nearest chillum of hashish. Others desired a hot bath, a steak and a soft comfortable bed. Back to the real world! Where on earth had they been? The month at Kopan seemed to vanish like a dream. As usual, a few students left the course expressing varying degrees of disappointment, and possibly fear, about what it meant to live one's life the way Rinpoche recommended. Still others felt so inspired and grateful after the course that all they wanted was to stay at Kopan, to continue studying with like-minded people, work around the place and help out.
There were many students who seemed to find something new and precious in their lives during their time at Kopan. One such student was the son of a foreign diplomat living in Kathmandu. "My mother was a very sick alcoholic. I went up to see Lama Yeshe and told him how I sometimes concentrated all my energy on the whisky glass in her hand, praying for it to shatter. 'You can't do that,' he said, and laughed his famous laugh. He invited my mother up to Kopan after the course. She came up with her driver and Lama took her into his room. Half an hour later she emerged in floods of tears. That night she barricaded herself in the kitchen and drank, but after that she slowed down and within a few years stopped drinking altogether. I never knew what they talked about that day, what he said to her, but she always had great respect for Lama Yeshe and for my Buddhist practice," he said.
Tom Vichta, Nick Ribush's friend from Australia, who had been at the fourth course with his wife, Kathy, returned a little before the fifth course. Tom and Kathy lived in a geodesic dome they had built on their farm at Mooloolah, Queensland, so now Tom and Pete Northend built a small dome just below Lama's room and the Sangha houses. Lama then sent Tom to Tushita to do a short retreat, after which he traveled with Peter Kedge to Bodhgaya for the Kalachakra in January. While there he invited Lama Yeshe and Lama Zopa Rinpoche to Queensland to give a four-week course later in the year. "Sure," Lama said. "Just send me a ticket."
Ordination plans
For the little monks of Mount Everest Centre, the mob of crazy Injis was the dream. For them, life at Kopan returned to normal when the course ended and most of the Westerners left in mid-December. December weather in the Kathmandu Valley was generally cold, clear, and windy—perfect for flying kites, a very popular pastime among children in Nepal, especially boys.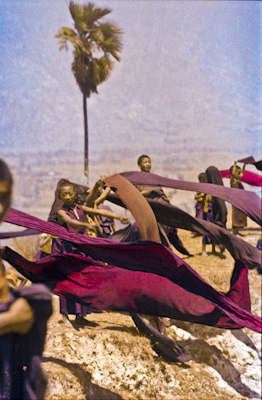 The Kopan monks often scampered up the gompa steps and jumped off the high retaining walls at the side of the building, their zens held out like sails. The wind caught them, buoying them up in the air a little. Seconds later, shrieking with glee, they crashed to the ground. Coming from the high Himalayas, most of these children were born to cold and wind.
After the fifth Kopan meditation course, several Western students were seriously thinking about taking ordination, among them Marcel Bertels, who had been in silent retreat for months. Then there were Dr. Nick, Yeshe Khadro and Ursula Bernis. New Yorker Linda Grossman had attended some of Lama Yeshe's 1970–71 talks on Wednesdays and Sundays and then returned for the fifth course. Now she wanted to become a nun. Nineteen-year-old Debra Livingston, known as Spring, also wanted to be a nun, as did Feather Meston. When Nicole Couture added her name to the list, Lama Yeshe told her, "You have been a nun a long time in your heart."
Ngawang Chötak had come down from the mountains where he had made friends with big Jim Dougherty, the American football player. Jim had decided he too wanted to become a monk. "I hadn't spoken with Lama Yeshe before this, but I had written down everything I wanted to discuss with him. I'd weighed up all the pros and cons until I was absolutely sure the only way I could live my life was as a monk. I was a bit worried about money, but Lama mentioned something about benefactors, which sounded encouraging. I ended up going to a special meeting he held for all those who wanted to be ordained."
Finally, there was Gareth Sparham, who had attended the third, fourth, and fifth meditation courses and spent the summer teaching the young monks English and doing retreat at Lawudo. He also wanted to take ordination. So now they were a group of ten. Lama Yeshe gathered these prospective monks and nuns in his room together with five or six of his students who were already ordained and talked frankly with them about the nature of monastic ordination, its importance, and how to support one another.
From Lama Yeshe's first talk to his Western Sangha:
Just because you're a monk or nun does not mean that you have reached enlightenment. It simply means that you have gained an understanding of the nature of samsara and have decided to work continuously to develop within yourself the everlasting peaceful path of liberation. That's all.

The Sangha had much support in Tibet. For us, it's not like that. We have to take more responsibility for ourselves. We need to somehow put our Western lifestyle and Dharma together. If you need coffee, have coffee! If you need cake, maybe eat cake! You have certain habits, a particular heritage. You have been raised in a particular way. We can't tell you to eat only tsampa, drink only Tibetan tea. You don't need such external changes. You don't need to be focused on cutting out various kinds of food, giving up things that you are used to. Renunciation should be more in the mind than on the physical level. 'I want to give up my wallet! Please, somebody take it!' Thinking that way just makes things more difficult, dear.

We have to introduce some kind of discipline when creating a Sangha community. For example, when you become a monk or nun, you're not allowed to stay in situations that are too samsaric, such as places where there's a lot of dancing and drinking. Bringing your deluded mind to samsaric places is like bringing a piece of paper close to a fire. [Lama brings a piece of paper closer and closer to the candle on his table until it bursts into flames.] You're okay at a distance, but if you get too close to the fire you'll get burned. Flammable materials should be kept away from fire and we beginners should stay away from dangerous situations.

For us beginners, the desire to attain everlasting peaceful liberation is just like a flower seed. A flower seed needs to be cared for, watered, kept warm, fertilized—many things are necessary. Water alone is not enough, it needs fertilizer. Similarly, we need Dharma teachings. If we get teachings and retreat, we can wake up fantastically; enthusiastic energy always comes. Otherwise, we're like flowers that have been given only a few drops of water; when problems arise, we will find it difficult to deal with them. Our minds are just like flowers; we have to take good care of them.

My feeling is that it would be much better if the Sangha were to stay together, communicating with each other, rather than people getting ordained and then going off on their own. If you do go off on your own, worldly conditions will make your life difficult; it will be much harder for you to practice Dharma. Therefore, we need to develop strong togetherness energy instead of allowing the Sangha to split up and go their own way.

I think we should create a community specifically for Western Sangha. If monks and nuns have difficulty just keeping their physical lives together, how will they ever get the chance to study and retreat? The strength of the Sangha community is that it ensures that everybody has a chance to take teachings and retreat; it makes sure that everybody is okay, and minimizes the external conditions that cause one to lose mental discipline. I think this is really worthwhile. It helps a lot. There's a Sangha vibration, you see; when you look at each other, there's a vibration that automatically helps you control your energy. You should check this for yourselves.

But don't think I'm just talking about the fifteen of you in this room. You can imagine what's going to happen. Now we have this many Sangha; after the next meditation course there will be more. Then after the next one, more again. After some time we might become 100,000 strong! It's possible! The strength of the Sangha community lies in ensuring that everyone is okay and minimizing the external conditions that cause one to lose mental discipline. If you as Western monks and nuns have a good attitude, behave well, and develop a strong Sangha community with group togetherness, Western people will respect you. They'll feel that Westerners becoming Sangha is worthwhile. They might even want to help you.

You should discuss among yourselves how to create strong Sangha togetherness. Don't think that I'm attached to keeping you at Kopan. It doesn't matter to me where you live, as long as you maintain good Sangha togetherness. Think with wisdom, and be strong.20
* * *
Having made up her mind, Yeshe Khadro (now known to most as YK), had her long hair cut short but not shaved. "Lama Zopa hung out his window and laughed and laughed at me when I walked past. I scribed Lama Yeshe's letters so I had quite a bit of contact with him. He gave me a bit of a hard time. It's hard to say, but I felt he was pushing me to be more decisive as well as more spontaneous. I had always been the 'good' girl," said Yeshe Khadro.
"I also saw Lama give Rinpoche a hard time. Lama Zopa was always sitting on his bed studying or meditating. He sat for so long he got bedsores and he hardly ever ate anything. He sat at dinner with Lama and Mummy Max but spent all his time blessing the food instead of eating it. Lama made him get up and go for walks around the hill every evening and scolded him for not eating. 'These people get up at five o'clock in the morning to bring you breakfast. They put hot cereal in front of you and I come in an hour later and you're still meditating and you haven't touched it! You are ungrateful!' What's more, Lama said it in English so we could all understand," said Yeshe Khadro.
One day, Ursula Bernis was in Zopa Rinpoche's room working on some translations with him when Lama Yeshe, wearing heavy hiking boots, burst in and ordered his holiest disciple around in very brisk Tibetan. "How can he treat my precious guru like that?" thought Ursula. While some students saw Lama as all sweetness and light and regarded Rinpoche as strict and reserved, there were times when their roles reversed and it was Rinpoche who was all kindness and compassion while Lama Yeshe was the one manifesting a fierce aspect. But one thing seems certain: Lama Yeshe intended to keep Zopa Rinpoche alive and to protect him in whatever ways were necessary. He knew better than anyone what an incredible practitioner he was. Once after Rinpoche had completed a retreat, Lama said to Max, "Mummy, I think we have a real baby buddha now!"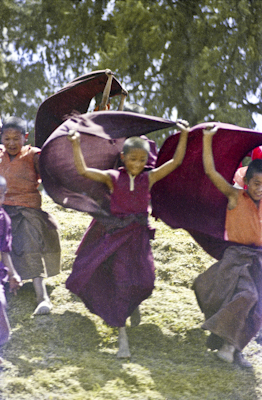 ---
Notes
1  White Tara is the long life form of the female buddha Tara. [Return to text]
2  Lumbini lies in the Terai region in southwestern Nepal. It is where Shakyamuni Buddha is said to have been born in the sixth or seventh century B.C. when the area was owned by the Shakya and Kolia clans. The Buddha's father, King Shuddhodana, was king of the Shakya dynasty. According to tradition, Queen Mayadevi was on her way to her parents' home in Devadaha, close to Kapilavastu, when she began to experience labor pains. She grabbed hold of a lower branch of a shade tree (probably a sal tree) and gave birth to Siddhartha Gautama, who would later become Shakyamuni Buddha. As he was born, the child is said to have announced, "This is my final birth." He then took seven steps, under each of which a lotus blossom bloomed. [Return to text]
3  Shingon is Japanese esoteric Buddhism, which includes certain aspects of the practice of Vajrayana. Shingon is the Japanese translation of the Chinese word for mantra. [Return to text]
4  In Tibetan, ah-lay is like saying "Aha!" or "I get it!" or "Is that so!" in English. [Return to text]
5  Excerpted and edited from archive #022. [Return to text]
6  The Sanskrit term chakra means energy wheel. Chakras are focal points of energy along the central vertical axis of the human body. The main chakras are located at the crown, throat, heart, navel, and genital area. [Return to text]
7  Composed by the Mongolian Lama Lobsang Tayang. [Return to text]
8  Excerpted and edited from archive #022. [Return to text]
9  Small clay images of buddhas, stupas, or other holy objects. [Return to text]
10  Jiri is the trailhead of the trekking path to Solu Khumbu. It is located at the end of the driveable road that heads east from Kathmandu. [Return to text]
11  Gomchen Khampala, also called Gomchen Rinpoche (ca. 1901–1985), was a renowned old meditator who lived in the mountains of Solu Khumbu. He was known to be the incarnation of the famous Thangtong Gyalpo, a great yogi, physician, blacksmith, architect and civil engineer who lived in the late fourteenth and early fifteenth centuries. [Return to text]
12  Charok is a cave close to Lawudo and was the home and retreat site of the Charok Lama, another revered meditator of this region. One of the young incarnate lamas who would come to live and study at Kopan, Tenzin Dorje Rinpoche, was known to be an incarnation of the Charok Lama. [Return to text]
13  The story of the four harmonious friends was a tale recounted by the Buddha story to illustrate how to live in peace, harmony and friendship by respecting one's elders. It is retold in the Vinayasutra as well as in the Jataka tales that tell of the past lives of the Buddha. The illustration to the fable depicts a bird standing on a rabbit who is standing on a monkey who is standing on an elephant. All are standing next to a large tree. [Return to text]
14  Powa, or the transference of consciousness, is a meditative practice whereby a qualified practitioner can influence the rebirth of a person at the time of their death, helping them to receive a higher rebirth instead of a rebirth in the suffering lower realms. [Return to text]
15  Tenzin Norbu Rinpoche was recognized as the incarnation of a lama from Shugtö Gompa in Tibet. Tenzin Dorje, who was born around 1960, was recognized as the incarnation of the Charok Gelong Ngawang Samten who had meditated in a cave at Charok, just around the corner from Lawudo, for the last twenty years of his life until he died in the 1950s. Gelek Gyatso, born in 1962, was recognized as the tulku of Togden Ngawang Tsultrim of Shedrub Tharling Monastery in Solu. [Return to text]
16  Kalachakra (Skt.) refers both to a highest yoga tantra meditational deity and to the teachings and meditation practices in the Kalachakra Tantra and its many commentaries. [Return to text]
17  A ropani is a measurement of land used in Nepal equaling 508.72 square meters. [Return to text]
18  Answer to Job is a book by Carl Gustav Jung addressing the moral, mythological, and psychological issues raised in the Bible's Book of Job in which God is criticized by Job for the suffering experienced in the world. Published in 1952 it is considered by some to be Jung's most important work. [Return to text]
19  Excerpted and edited from archive #027030. [Return to text]
20 Excerpted from Advice for Monks and Nuns. [Return to text]