The lamas went down to Bodhgaya with Ann, Massimo and Carol to hear Kyabjé Ling Rinpoche's teaching on Tsongkhapa's Great Treatise on the Stages of the Path to Enlightenment (Lamrim Chenmo).1 With few other Westerners around, the Coronas were given front row seats and amused to see young tulkus flicking rubber bands at each other during the teachings.
Massimo was becoming increasingly devoted to Lama Yeshe. The Coronas were now living at Ram's house near Kopan, on the back side of the hill and beside Laxman's house where Robbie and Randy had lived for almost a year. One night their baby daughter, Maitri Dolma, would not stop crying. Desperate, Massimo and Carol took her to Lama. "He looked at her for a few moments then reached over and pulled out a thorn lodged in the back of her knee. She stopped crying immediately," said Massimo. "I loved being around Lama Yeshe. I loved the sweet smell that just flowed from him."
Lama gave both Massimo and Carol the bodhisattva vows with a short puja and dedication, at the end of which Massimo urged him to eat some of the mountain of offerings they had brought him. He took only one cashew nut, murmuring, "It's too much, dear, too much."
Building Kopan gompa
Now it was winter, the track that passed for a road up to Kopan was dry, so supplies could get through and it was time to start building Kopan's gompa. Åge made a beautiful little architectural model of the proposed design. Monks from the newly re-established Gyuto Tantric College2 in Dalhousie happened to be in Boudhanath to bless the stupa, which had been under repair for many years after having been struck by lightning. Lama requested them to come and bless Kopan. The monks came up and sat around the hill, smiling at Åge's little model. They had never seen anything like it before.
Together with Lama Yeshe and Lama Zopa they performed a solemn puja, harmonic multiphonic single-voice chords echoing around the valley as they called on all the buddhas, bodhisattvas, Dharma protectors and landlord spirits to bless the hill and the building to be erected there. Lama Yeshe told his students that every place has its own specific landlord spirits. The gompa at Kopan was given the name Ogmin Jangchub Chöling,3 which means Unsurpassed Dharma Land of Enlightenment.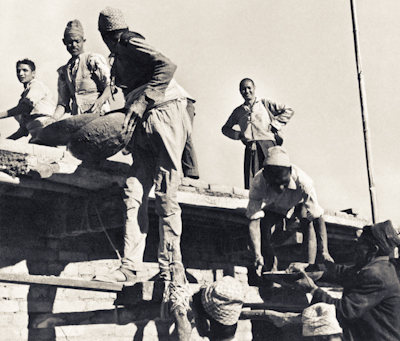 Afterwards, Ann asked Lama what he had prayed for during the puja. "I prayed that if this gompa is going to be really beneficial and benefit countless beings, then may it be built right away without any obstructions, because I don't have much time and I don't want to waste my life. But things look good. During such pujas, we look for auspicious signs. Did you see the two horses galloping up the hill during the puja? One of them was white. That is a very auspicious sign!" he told her.
Construction began with Lama Yeshe taking the role of foreman. He supervised everything. His students had donated the funds to build this gompa, and he wasn't going to waste one penny. Max spent every spare moment of her time purchasing building materials—and ferrying them up the hill.  The Nepali contractors left everything at the bottom of the hill, refusing to even attempt the terrible Kopan road. Fortunately, Max had recently bought a small Jeep through a contact at the King's Palace.
Steve's tower
An American student, Steve Malasky, returned to Kopan with some money he had received from a health insurance payout. He wanted to use it to build a Tibetan tower at one end of the Kopan land. Lama Yeshe approved the plan and design and gave him permission to go ahead and build his fantasy. "First of all I had to find enough rock," said Steve. "One day Lama Zopa came over, pointed to a particular spot and said, 'Dig there!' The Nepali crew I'd hired dug down and found this immense granite boulder. When cut and chiseled it provided just enough blocks for the tower walls."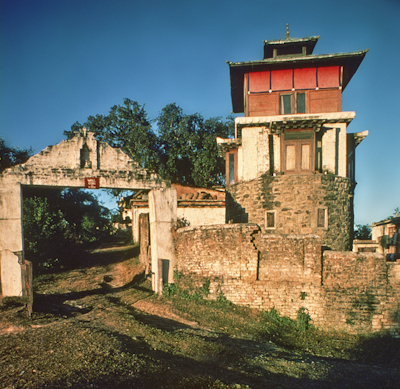 Steve had first met Lama Yeshe some months before in Kathmandu when he was housesitting the Swayambhu flat of an artist. He had invited Lama to a late dinner and taken him to a cheap Swayambhu restaurant. "At the time, I didn't know anything about who this person was. I just liked him a great deal," recalled Steve later. When dinner was over, it was quite late at night, and since there was no transportation back to Boudha at night, no taxis or mini-buses, Steve suggested that Lama pass the night at the flat where he was staying. This accommodation was quite sparse. Apart from the couch where Steve ordinarily slept, there was just an old car seat from a van that had been brought into the flat so visitors could sit on it. Steve offered the car seat to Lama and this was where, wrapped up in his zen, he spent the entire night. "Lama gave me a hard time about that incident for many years!" Steve said.
Tibetans weren't able to pronounce Steve's name correctly so at Kopan he was always called "Esteeb."4 Steve then went traveling, returning to Kathmandu with hepatitis. Lama Yeshe had recommended a Tibetan doctor who quickly cured him. Tibetan medicine (and Ayurvedic medicine from which Tibetan medicine was in part derived) are both particularly effective in the treatment of hepatitis and other liver ailments.
Soon afterwards Steve began to realize something of Lama Yeshe's power. "When he was giving me directions on how to get to the doctor, he held up his hand," said Steve. "I was into palmistry in those days and noticed a rare line that indicated intuition. When he realized I had noticed this, he dropped his hand and grinned at me. When I recovered, I knew I should go and thank him for the help he had given me, but I held off because I knew that if I saw him again my life would change."
Steve continued, "Some time later I was selling woodblock prints. I heard that Lama Yeshe wanted some, so I took a taxi to Max's house that evening. She put me in his room to wait for him. I watched a wonderful sunset from the picture window, then sat in the dark meditating. Next thing I heard, 'What can I do for you?' I thanked him for fixing my body and said I was wondering what he could do for my mind. He didn't answer. We just sat there in complete silence in the dark while I felt this incredible warm glow seep through me. I was just blown away."
Two small huts were also built at Kopan, one for Max and Åge moved into the other. The gompa itself included rooms for the lamas. Then there was "Esteeb's tower." "Lama never stopped teasing me about that tower. It ended up costing more than the gompa!" said Steve.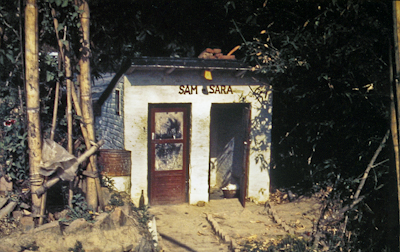 Lama Yeshe's next project was a little row of retreat rooms. While these were in the planning stage, Ann asked Lama how big they should be. He lay down on the ground indicating that she should draw a line, one at the top of his head and another at the soles of his feet. That was enough room for anybody, he said. Lama Yeshe was not a tall man.
A two-stall Indian-style toilet was constructed next to the retreat rooms and painted white. Åge carefully painted "Sam" and "Sara" over the doors—an Inji play on samsara, the Sanskrit term for suffering existence, and a cause of many smiles among Kopan's Western visitors over the years.
The second Kopan meditation course
Word spread that Lama Zopa was about to give a second meditation course in March 1972. More students arrived at Kopan, among them two English engineers from the Rolls-Royce aeronautical division, Peter Kedge and a friend.
Peter Kedge: "With our friend, fellow engineer Harvey Horrocks, and another friend we had spent six months driving a Land Rover from Britain to Nepal, with many adventures on the way. One morning in Afghanistan, after setting up camp in complete darkness, we awoke to find that we had stopped right in front of the huge buddha statues carved into the cliffs at Bamiyan, the same statues that were destroyed by the Taliban in 2001.
"Contact with Tibetans from one of the refugee camps in Pokhara awoke my interest in spirituality and some friends introduced us to what became for a time my personal bible, Ram Dass's Be Here Now. One night on a trek in the Solu Khumbu Everest region of Nepal, I sat in a freezing cold Sherpa lodge and by candlelight tried a practice someone had told me to try. This was to visualize Guru Rinpoche (which I mispronounced as Rinposh) sitting on a lotus in the middle of a lake and basically inhale white light and exhale all physical and mental negativities in the form of black fog. It seemed really strange.
"After ten days in that area, where everywhere one looks there are prayer flags, mani stones,5 monasteries and ascetics' caves, we returned to Kathmandu and heard about a meditation course in English and a Canadian nun at this place called Kopan. One of the guys I was with and I decided to go there while Harvey went on to Australia and our other friend went back to England.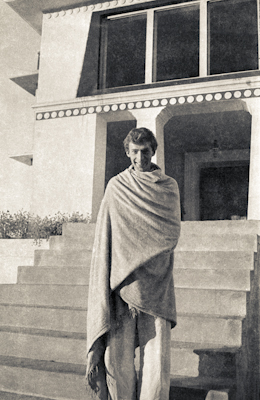 "We arrived on the first day of the course, just in time for thirty minutes of full-length prostrations led by Anila Ann. We threw ourselves on the floor in front of a huge appliqué thangka of Buddha Avalokiteshvara, the one with a thousand arms, all amid billowing clouds of incense smoke.
"There were about a dozen people there. When I saw them assembled at the first breakfast, I remember thinking that compared with my colleague and me, who were pretty conservative, they looked like very seasoned travelers in their Indian, Nepali and Afghan clothes, long braided hair, beards and so forth. I do remember feeling at the time that I didn't belong there, but that feeling changed."
The ground floor of the new gompa was completed just before the course began, which was held in the old gompa, the original astrologer's house. Lama Yeshe stayed at Kopan this time, keeping one eye on the construction team and the other on the meditators. Losang Nyima ran the kitchen and Anila Ann rushed about typing up the most recent text translations on an ancient typewriter someone had found in Kathmandu, checking up on the builders, and attending Rinpoche's lectures.
Besides Peter, others attending the course included Massimo and Carol Corona, Åge, "Esteeb" Malasky, and Jhampa Zangpo (a.k.a. Mark Shaneman), Englishman Harry Luke, and a young woman called Lolly Smith who had been trekking with Peter and Harvey. Chris Kolb had permission to attend only the morning sessions, as Lise had just had a baby boy, whom they named Thor. There was also a young man, Ron Brooks, who wore his hair tied up into a bun on top which he covered with a small cloth, like a Sikh. He later took ordination from Trulshik Rinpoche and came to be known by his ordination name, Ngawang Khedup. Others attended occasionally, such as an austere French girl called Dominique, whom Max sponsored. Dominique spent a lot of time in retreat up at Nagi Gompa, the small monastery associated with Tulku Urgyen Rinpoche that is located on Mount Shivapuri behind Kopan.
Lise Lotte came to the teachings once and Zina came for just one afternoon. "I turned around in the gompa to see who had come in late and made brief eye contact with Zina," said Peter Kedge. "My impression was that this was someone quite heavy."
On 14 March 1972, Lama Yeshe wrote to Robbie and Randy Solick:
For the last two months I have given no lessons and have been construction Lama. Every day I get up at 7:00 am and work with Nepalese to build a center for my golden flower students. All day I supervise the workers until 6:00 pm, then I retreat and work on books until bedtime. Now we have just about finished the gompa and we have finished nine small retreat houses and the outhouse. Soon at the halfway of April, Zopa and I will go to the gompa and open it to students and after two weeks I will continue my teachings.

Now Zopa is giving a month-long meditation course to about twenty students. It will end at the end of March.

I am so glad you are continually taking teachings with lamas, putting your mind into the true path. Dharma is most truthful, more than external development. Lord Buddha shows unlimited method by unlimited sentient mind. So I also pray for you to realize in a most psychic true nature, your own psychic. Give my regards and true love to my daughter Losang Chökyi [Jan Willis's Tibetan refuge name]. I am now Swiss banking Lama—I have a bank account in Geneva, as His Holiness the Dalai Lama suggested to Thubten Zopa Rinpoche.

Don't worry about my health. Limited knowledge of doctors cannot give right prediction of subject. Anyway I don't believe as they say. I would like to come to America but only if I can be of benefit to mother sentient beings. If an arrangement with an ashram or a center could be made so that I could lecture, or a lecture tour of universities could be made, it would be very good. Anyway we have lots of time to speak again about this subject. Slowly slowly.
Zopa Rinpoche added a typically self-deprecating note:
I am so sorry for my long silence because I have been sleeping all the time so I did not want to make mistake or write dreams.
* * *
Zopa Rinpoche's teaching style demanded patience. Rinpoche's vocabulary was still quite limited and he coughed and repeated himself interminably.  Massimo could follow better than most because he had spent time with Rinpoche before the course, helping him put together a thirty-page booklet in English. This did not prevent him from occasionally viewing Rinpoche with some skepticism. In an aside during one session, Massimo mumbled, "What does he know?" Rinpoche looked straight at Massimo and said, "Because I have realized these teachings." No one had ever heard him say anything so direct before about his spiritual accomplishments and—according to common knowledge—he has never been heard to repeat anything like it ever again.
Peter Kedge: "We were given two or three mimeographed6 sheets with information on them. I just couldn't understand why this young monk, Zopa as we called him, would close his eyes and talk through the first ringing of the lunch bell, the second ringing of the lunch bell, the third ringing of the lunch bell, until it seemed we'd get no lunch at all. To me, we had the information on these sheets, it was time for lunch and that was it!
"On one such occasion I was leaning back against the wall of the gompa and really getting very annoyed and feeling quite rebellious, having heard the lunch bell call us for at least the third time. Then Zopa opened his eyes and looking directly at me, asked if I had been the one to make the altar and put the flower offering there that morning. And yes, it had been me—it was my turn on the roster. I suddenly realized that Zopa wasn't just a monk but someone extraordinary, with insights I had never experienced.
"Over the next few days I came to realize this was a person who lived what he was explaining 100 percent. It came as a shock to realize that actually, I was sitting in front of a modern-day saint. I had always thought of saints as an extinct species. Spending time with Zopa like this, and later with Lama Yeshe, made me realize that saints really exist."
During this meditation course, the focus had been on Zopa Rinpoche, and for a long time Peter wasn't aware there was another lama on the hill. "One day during the lunch break I was sunbathing on the steps leading to one of the rooms in the old house," Peter recalled. "A monk came out and said, 'Excuse me,' as he needed to pass. I said, 'Sure,' and moved a little. He said, 'Thank you so much.' I couldn't imagine why he was really thanking me, but he beamed and I felt a radiance from him. That was Lama Yeshe. A few days later, Anila Ann, who was in many ways my mentor during that course, and subsequently, said to me, 'You have to have a meeting with Lama Yeshe. You know, Lama Yeshe is the guru here. Lama Zopa is Lama Yeshe's disciple.' And so the first pieces were beginning to fall into place.
"During the course I heard talk of another nun, an American, but hadn't seen one. I just knew that every evening a blue Volkswagen beetle came up the hill and a black American woman, often wearing a purple trouser suit, would get out and that her name was Max. I soon realized Max was the American nun and it was her American International School salary that went 100 percent to supporting the lamas and the school Lama Zopa had recently started in order to provide Sherpa children with a traditional monastic education."
The planned month-long course lasted only ten days. Suddenly, Zopa Rinpoche announced that Geshe Rabten had sent a telegram. He and Lama Yeshe were to go to Dharamsala immediately for a teaching by Kyabjé Trijang Rinpoche on the Six Yogas of Naropa. Half an hour later the lamas left in a taxi and it was up to the two ordained people on the hill—Anila Ann and Jhampa Zangpo—to keep things going.
"But that's how it was with the lamas," said Ann. "You never knew what was going to happen next. Once I thought I'd write a book called Life with Lama, but it took me three days just to write down what happened in one day so I gave up."
The day after the lamas left, a film crew from the American television newsmagazine 60 Minutes turned up. They were doing a feature on American hippies' favorite overseas haunts, and Kathmandu was naturally at the top of the list. The director was keen to get the people who were wearing monks' robes on film. "They wanted us to prostrate to the sun on top of the hill and a whole lot of other ridiculous things, so we decided not to go along with them at all," said Ann. "I told the reporter he might like to ask the Dalai Lama some questions instead of looking for sensational extremes."
Zina leaves for retreat in the mountains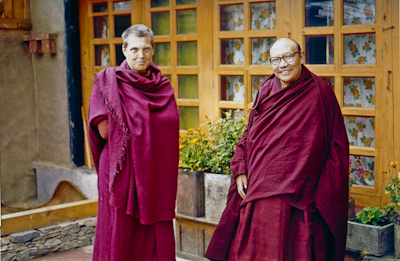 Zina was becoming increasingly worried about her visa and other practicalities as she prepared to go into a long retreat. Ann offered to take over the day-to-day running of Kopan and offered Zina the use of her tower room at the Rana house—but that was never going to work as there were too many distractions. Trulshik Rinpoche, whom Zina had met on several occasions, gave permission for her to come to his monastery, Thubten Chöling, in the lower Solu region of Solu Khumbu near Junbesi. His monastery was home to both monks and nuns. Zina began preparing for her departure and now spent most of her time with Harriet and Rhea in Kathmandu. Max began to spend time at Kopan.
Soon it was time for Zina to leave. Rhea was safe with Harriet, who had just enough servants to keep her happy. She also had the company of her sister, Louise. Lama Yeshe lunched with them at least once a week. Zina had already done several short retreats, including three months in a house in Boudha, returning to Kopan each time radiantly beautiful and very happy. However, within two weeks of completing her retreats she was screaming and yelling and had everything in the kitchen rearranged—twice. Nevertheless, she was a serious student and had several interviews with Trulshik Rinpoche, who recognized her qualities and gave her permission to do the longed-for retreat at his monastery. Zina knew life in the mountains would be hard and that there was no room for dilettantes at Thubten Chöling.
She was rather nervous. "It's so frightening what's happening to me now, you know," Zina told Olivia de Haulleville. "I'm going both ways at once." She knew she needed to calm right down and integrate the teachings she had received.
Zina went up to Junbesi just before monsoon began. She left with blessings from Geshe Thubten Tashi, as the lamas were in Dharamsala again. Arrangements were made for Ann to collect Zina's monthly stipend from Conrad Rooks for her.
After a week in the pure, silent mountains Zina wrote to Lama Yeshe:
Oh my beloved Lama. Do not be angry with me for taking this precious time to be with you on paper. From my hole in the ground where I can hardly stand up straight I cannot help thinking of those who suffer: Aunt Louise, who is afflicted with two of the worst sorrows on earth—separation and death. She will not admit it but one knows. Please Lama-la, help her. I can do nothing now and maybe later will be too late. Help her find a little more peace before she returns to the Wheel.

Only five days have passed since I arrived at the top of this golden mountain and so much mist has cleared—can so much clear in such a short space of time? Each day I manage to meditate for two hours before lunch, undisturbed and completely still after my prayers. And five hours in the gompa in the afternoon, two of them completely centered—or as centered as that center is for the moment!

I have suddenly and quite clearly realized what we are heading for: the gaining of a consciousness which shall not again be broken, over which death shall have no power, a consciousness that is continuous and unbroken. A self-consciousness gained and never again lost or clouded.

But yet I am only at the threshold, but I seem to have been traveling from such a great distance Lama-ji. Leagues away, I seem to have come and still have so far to go. But now I am conscious of the four great initiations that open the doors to the palace of no return. I am only at the entrance to the second initiation. I prostrate myself to you and the Three Jewels, most honorable and wise one.

Suddenly I see more clearly those around me, measure more accurately the distance that separates. In this light I look upon the great hierarchy of beings who are in Shambhala. I see how far I am, how measureless my ignorance in the light of your perfect knowledge. The task that remains is so gigantic, but dearest Lama, were it not for you and the host of lamas I could not see my faults and how to surmount them.

I pray, I meditate on the Three Jewels to help me conquer all evils of irritation. Never to be irritated by the faults of others or to be thrown off balance by the common events of everyday life. To have harnessed my temper, to have it completely under control. Never again to feel anger rather than compassion if someone injures me. All my irritations and impatience will be replaced by an abundance of patience and tolerance—tolerance in the sense of not forgetting the weakness one has conquered. Lama Geshe-la, may this all be so, said and done. Acted out through Body, Speech and Mind. Otherwise words will not be pearls but stones—mere intellectualism rather than realization.

My body, speech and mind I offer to you. How I love you all so deeply, great Beings of Heaven!

Palmo
Lama Yeshe kept that letter all his life. A month later he wrote back to her on local rice paper decorated with Christian motifs and Bible quotes.
Tuesday June 6th 1972

Dear Holy Mother Palmo,

I am so glad you have gone to the Himalayas to retreat in isolation mentally and physically. I want you very much to retreat into the yogic method of Vajrasattva and do the mantra again 100,000 times, which is the right condition for now. Please sit always in the same place until finished completely. Do not communicate with foreigners about any samsaric experience and actualize the true path beyond words. Westerners think knowing words is education, but words are nothing.

I have so many good thoughts about your Dharma life and I think of you always. Never come down from the transcendental vision and divine oneness of Vajrasattva. In the dualistic view of ignorance there is no lasting enjoyment. You always have absolute true guru with you within your consciousness, so he can teach you and show you the true path always. I have something I want to tell you very much for your meditation retreat but it is too difficult for words to convey.

After the retreat is successful, perhaps another retreat can be made at Dharamsala around so many holy gurus.

I am always with you. When I came back from Dharamsala I saw your mother and daughter and everything is perfect, there is no problem. Continuously I watching them and I got your message. If impermanence allows I will bring Rhea to the mountains as you asked. Please don't possess Rhea too much in your ego's mind. My health is very good, please don't worry. Perhaps I am going to Dharamsala again during monsoon time. I am awaiting some information. If not, I'm going to retreat here.

With true love,

love from your Lama Yeshe

Please relax as you work hard. If any problem comes, please let us know if we can help. Here also many people are doing retreat, so you are not alone.

Thubten Yeshe
Ann McNeil supervises construction and does retreat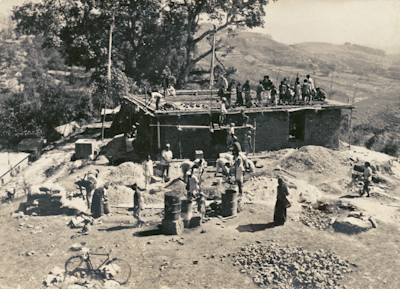 Anila Ann took over supervision of the Kopan building site. When the lamas returned from Dharamsala she went down to Kathmandu to do the banking, a day's work on its own. "I asked Lama Yeshe if he'd keep track of the workers' hours for me that day so I knew what to pay them," she said. "They were all paid daily because they were very poor and we never knew exactly how many workers we would need each day. That night when I asked Lama for the pay book I saw he'd only put down two figures and the rest was just scribble. Well, this just blew my mind! How was I going to pay these people now? 'Don't worry,' said Lama, 'I'll work it all out with them tomorrow.' But I was upset and said that even the Buddha would have kept track! It was the worst thing I could think of saying. With that I marched off to my room. Twenty minutes later there was a tap on the door. It was Lama with a glass of lemonade," said Ann.
Ann then went into a retreat, during which she grew very miserable and lost her appetite—not a safe thing to do in Nepal under any circumstances but especially because she was already extremely lean. But the mind that rises in retreat is not always blissful and may focus on precisely the mental habit most painful to the ego—such as jealousy or anger. Lama Yeshe began eating his supper with her, treating her as if she were a toddler. He made excited noises about how delicious the food was and tried to tempt her to take a few spoonfuls. "I was finally able to see how belligerent I'd become and was able to unhook that feeling and get my appetite back," she said.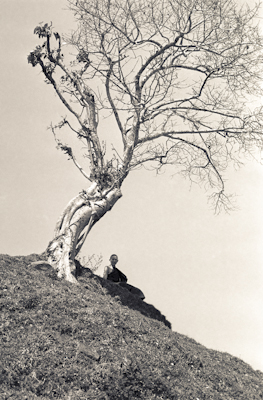 Toward the end of her retreat Lama Yeshe was due to return to Dharamsala, but first he gave Ann a Vajrasattva thangka he had commissioned for her. "We stood there looking at it together and I noticed he was 'beaming' again—the unearthly golden glow that sometimes emanated from him. I looked back at the thangka, then at him again. Each time he looked even more radiant and so shiny. I just stared and stared.
"He was always so subtle with me. During that business at Kathmandu airport with the hand-painted text, I developed what I can only call a very hot ear. It went blazing red for a while and felt so hot. That experience came to herald some form of communication from Lama Yeshe. I'd get a hot ear at 2:00 am and think, 'Lama wants something.' I'd go to his room and he was never surprised to see me. It was always, 'Oh yes, Anila, I have something for you to do!'
"Lama encouraged all kinds of awareness in us. He often gave us spoonfuls of the dutsi [Skt. amrita, blessed nectar] he kept on his altar. It was made of crushed blessed pills, honey, and alcohol. We'd sit there like little kids with outstretched palms, licking the stuff off. He'd roll his eyes back into his head and just beam."
Peter Kedge, coolie and engineer
While Ann was in retreat, Peter Kedge took over her work. "Suddenly I found myself in charge of Kopan hill," said Peter. "The monsoon really hit during the first couple of nights Ann was in retreat. It rained continuously and the hill began to crumble and wash away to within a few feet of the new gompa wall. The weight of responsibility suddenly became very heavy. With the help of Ram and some other locals we built quite a sophisticated retaining wall that lasted almost thirty years, until the next new gompa was built."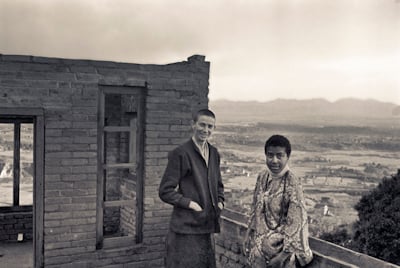 Max moved into Kopan. When she returned from Lincoln School in the evenings, she pitched right in with hauling bricks up from the bottom of the hill in the Jeep. "Without Peter, things would never have gotten done," said Max. "We had our problems. Sometimes we'd just sit there and look out over the valley and ask, 'Why us? Why can't we sit in the gompa and do retreat? How come we are the ones who have to do all this hard, dirty work?'"
Lama Yeshe began creating a garden at Kopan. He'd walk around with Max planting the many fruit trees and bulbs she brought up in the Jeep, pointing out which piece of land he wanted to buy next and telling her what he wanted to build on it.
More money was needed because Lama wanted to buy his guru Trijang Rinpoche's old house in Dharamsala. He still spent days in downtown Kathmandu wheeling and dealing with Jampa Trinley and learning about money. Max's 1932 candy-apple red Hudson with the big headlights hadn't been driven for several years; she also had a blue Volkswagen she had acquired in exchange for some Russian art. Peter Kedge expressed an interest in staying around and Ann and Max asked him if he could repair the Hudson.
Peter Kedge: "It was languishing at the old Rana house, where Max sometimes still stayed. I was given board and lodging there and spent the next three months competing with the chickens, which had made the car their home, and getting it back into working order. Subsequently, I really enjoyed driving it around Kathmandu for a while.
"During that summer the school began operating in Lawudo. It became my job to go to Kathmandu airport every morning around 6:00 am with sacks of rice, sugar and flour and tins of kerosene and other supplies I had to try and talk onto the Twin Otter aircraft that flew up to Lukla, below Lawudo, every morning, if the weather was suitable. Many mornings during that monsoon I'd go to the airport and wait while the airport staff waited to see if there would be a break in the weather and if the plane could leave. Next morning I'd go back and do the same thing, in the hope of sending some of it up to Lukla and then by porter to Lawudo.
"Then Max got a message from Lawudo that money had completely run out. That was a crisis. Luckily, the Hudson was working. One of the Americans working at the American Embassy agreed to buy it, and within one or two days it was sold. The $2,000 or so Max received was immediately converted into rupees and sent up to Lawudo. So the crisis was over, for the time being."
Max had a moment's sentimentality over selling the car. "Marty proposed to me in it," she sniffed. But she was prepared to do anything to help Lama Yeshe. Not long after the Hudson was sold, Peter Kedge cleaned up Max's blue Volkswagen, boot-polished the tires, made the inside smell like new leather, and sold that, too. That money went straight to Kopan to help pay for construction.
Besides pouring money into Kopan and Mount Everest Centre and supporting the lamas, Max also opened her house in Boudha to a variety of students. There were almost always at least half a dozen staying there, some for several months. Twice, Max sponsored four-month-long summer retreats for some fifteen monks from Samten Ling and paid school fees for various children. She never drew attention to what she did for others, nor did she ever seem to expect anything in return.
Kopan's new retreat rooms were filling up. The first two occupants were Robbie and Randy Solick. They were thrilled to be back. "How's Piero?" they asked Lama Yeshe. He screwed up his face and answered sadly, "Piero's dead!" Of course, they were stunned, shaken and grief-stricken. Lama let them wallow in that for a few minutes, then burst out laughing. Hadn't they been studying impermanence?
Jan Willis was back, too. During a long interview with him she burst into tears with frustration over some obstacles she had encountered while doing her Ph.D. in Buddhist studies. Suddenly, she lay the blame at Lama Yeshe's door. "His reaction was so quick, so strong," said Jan. "He started rubbing his mala up and down my back, saying Mahakala7 mantras. 'Don't blame Lama for this,' he told me. He didn't want me to mess up my karma with him. My problems were always academic and intellectual, but he had a way of making them so simple," she said.
Paula Koolkin
As trekking season approached, Matti de Wys came back to Kopan with a new American girlfriend, Paula Koolkin. Lama Yeshe immediately ordered lunch for them, which was served by Anila Ann. Paula, fresh from the San Francisco hippie scene, had never seen a Buddhist nun before. She stared and stared. She and Matti rented a house nearby.
Paula quietly observed Lama Yeshe. "I began to realize how intelligent, perceptive and wise he was—and so nice. Every time I asked a question, I received an answer I could work with. Everyone else was meditating and I didn't know how, so I was bored. I asked him for a mantra and a visualization so I too could experience what they were after—they called it a 'realization.'
"He sat quite still for a while before saying, "I want you to go home and think about your life before now, going backward until before you were born. Do that twice a day for at least twenty minutes, then come back and tell me what you have found." I was so disappointed. It wasn't what I thought of as meditation but I did what I was told. Going back over my life made me realize a lot of unpleasant things about myself. After a week, I went back and told him I was shocked to find I had an enormous amount of pride. He sat there with his eyes closed and said, "Very good, dear. You go back and do that for one more week and come again." That was all.
"The following week I got deeper into observing how I functioned with my parents, boyfriends and friends, and realized I had caused them a lot of pain. I cried a lot that week, then went back to see Lama Yeshe again. I told him I'd realized that the only person I'd ever considered was myself. He gave me a small visualization and the mantra from the Heart Sutra: TA YA TAA GATÉ GATÉ PARAGATÉ PARA SAMGATÉ BODHI SOHA [which can be roughly translated as GONE, GONE, GONE BEYOND, GONE COMPLETELY BEYOND, ENLIGHTENED!] I thought it must be a beginner's mantra. I didn't know it was actually the essence of Buddha's most profound wisdom teachings. 'This will stop you from suffering,' he said.
"He went away for a while after that and I missed him badly. Then one day I sensed he was back. I went up to Kopan in the pouring rain and sure enough, there he was. Everyone was having dinner when suddenly, and without making it in any way obvious, he put his hand on mine and said, 'You came to see me, dear? You have something to talk about?' I told him I wanted to take refuge8 and precepts, something Carol Corona had explained to me. He thought for a while then said, 'No dear, you go to Lawudo. You take refuge from Lama Zopa up there.' I said I didn't know Lama Zopa. I was actually a little scared of what I'd heard about him. Such an ascetic! But apparently Lama Yeshe wanted me to have my refuge connection with Zopa Rinpoche, so I would have a strong connection with both of them."
From Lama Yeshe's teachings:
Taking refuge isn't something new. We have all taken refuge since we were born right up until now. When we are children we cry "Mama!" That means we are taking refuge in her. You understand? When you cry, you are taking refuge. You are saying something: "I'm not happy!" You know this whether you know language or not. We take refuge in wealth, in friends, in each other. We take refuge for security, for happiness. That means all the time we're doing the best we can for ourselves in order to be happy. Taking refuge in Buddha means we consider the words of the Buddha to be totally developed, honest wisdom. Light rather than darkness.9
The Lawudo Gompa School opens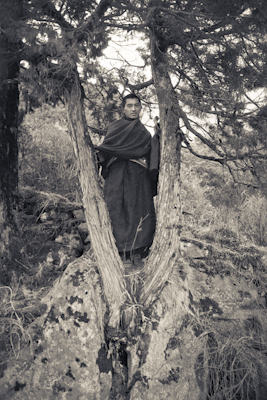 In May 1972 Zopa Rinpoche returned to Lawudo. The walls were built and glass windows had been laboriously hauled up and installed. Now a roof was needed. Along came Philippe Camus. Once a member of the French Foreign Legion, Philippe was from a wealthy French family. He wanted to make some sort of reparation for some of the actions he had done during his military service and spent hours closeted with Lama Yeshe, who called him "my father." He offered to fund the roof at Lawudo.
Philippe possessed enormous drive and charm and needed every ounce of it to persuade pilots to fly building materials up to Lukla. Losang Nyima went too, organizing porters to carry 130 sheets of corrugated iron. They were able to complete the roof just before the monsoon rains came. Philippe Camus employed that charm once again when he managed to persuade his mother to donate the interest on one of her Swiss bank accounts to the lamas.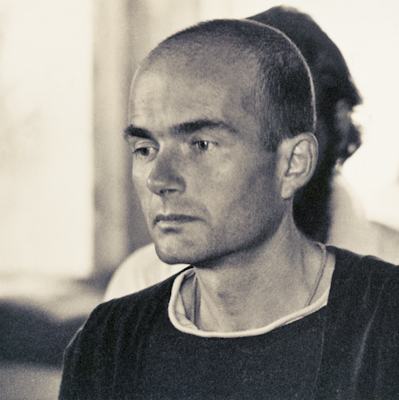 Lama Yeshe arrived in time for the formal opening of the Lawudo Gompa school, now called Mount Everest Centre for Buddhist Studies, the name chosen by Lama Zopa Rinpoche. The first boys to be enrolled when the project was announced numbered an auspicious five, which made everybody very happy as it was the same number as the Buddha's first disciples. That year, 1972, nearly thirty boys took rabjung ordination10 from Geshe Thubten Tashi. Sherpa children are quite small but their parents are very practical, so they provided their boys with robes far too big for them. The young monks often wore them folded over, allowing for plenty of room to grow.
By this time Michael Cassapidis was living with his mother at the All India Radio Hostel in Delhi, but wanted to go back to Kopan. Matti de Wys and Paula Koolkin visited them in Delhi and after checking with Domo Geshe Rinpoche, took Michael back to Nepal with them. By now he was six years old. "Matti had raised money in the Netherlands for the school Lama Zopa Rinpoche was opening, but when we arrived at Kopan, we found that Rinpoche had already left for Lawudo," said Paula. Matti and Michael traveled to Lawudo with Massimo, where Michael was ordained. His ordination name was Losang Yeshe and he soon became known as Michael Losang Yeshe, a name that remained with him all his life.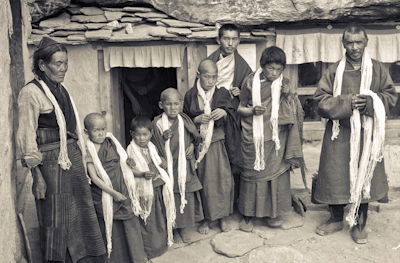 When the monsoon was over, Paula and Carol, with her baby daughter Maitri Dolma, went up to Lawudo. Lama Yeshe invited Massimo to sponsor a tantric puja at the small nunnery at Thamo, a village just below Lawudo. "I sat on the side and watched Lama turn himself into a marble statue," said Massimo. "He was utterly still. Afterwards, he thanked me for sponsoring the puja and said, 'Did you see? During the puja Lama is gone. Lama is not there! One day, dear, you will learn that the real guru is inside you.'
"In a few words, Lama cut so deep," Massimo continued. "Tantra was just an exciting word we had picked up, but we knew nothing about it. 'Tantra is like a spaceship; sutra is like a bicycle, dear,' Lama told us."
The Injis spent the summer up at Lawudo, teaching the boys English and doing retreat. Åge Delbanco spent months translating Milarepa's songs into Danish, and Chris Kolb lived in a primitive hermitage eating only the most basic foods. Lama Yeshe went back down to the valley and returned again in September, distinctively attired in a pair of pink rubber galoshes and a white parka.
"Young Sherpa boys lined the paths with white khatas, having seen us below in the potato fields," said Robbie Solick who was in Lama's party. Having asked Lama's permission to leave retreat, Robbie got the last seat on the plane to Lukla. "We spent about eight days there and brought supplies of powdered paint for a Dutch artist, Wim, who came up later to paint the walls." Lama, Robbie and Jhampa Zangpo left after two weeks.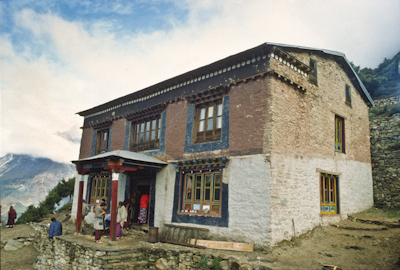 Zopa Rinpoche, Geshe Tashi, Losang Nyima, the other Westerners and the young monks left at the beginning of October. The walk from Lawudo to Kathmandu usually took about two weeks, although a very fit Sherpa could do it in about five days. However, this group traveled by airplane. So it must have been with some considerable trepidation that these Sherpa children, stumbling along in their oversized robes, followed their new teacher down to Lukla airfield, climbed into airplanes Max had chartered and flew to Kathmandu. In the Kathmandu Valley they saw cars and trucks, electricity, heard radios, ate strange foods—all sorts of incomprehensible things and experiences, for the first time. One of these monks, Thubten Sherab, told Westerners later that he thought the valley where he grew up and the surrounding mountains were the entire world and there was nothing beyond.
"These boys need a mother," Lama told Max, when they arrived at Kopan. "You are their Mummy Max." Max had received the name Lobsang Yeshe Drölma at her ordination. Lobsang means good heart or good mind, yeshe means primordial wisdom, and drölma is the Tibetan name for Tara. Nevertheless, she was known as "Mummy Max," by the lamas and everyone else for many years.
Chris Kolb visits Zina
Over at Thubten Chöling,11 Zina was digging in for her first winter. She continued to write long letters to the lamas. "I could not understand many of her letters," said Lama Zopa later. "She did Yamantaka retreat and Vajrayogini retreat and had incredible experiences. She made a lot of paintings of Vajrayogini. Lama had sent her there with a huge mantra commitment and some teachings."
On their way up to Lawudo, Chris Kolb and Åge called in to see her.
Chris Kolb: "We took a whole bunch of psilocybin mushrooms with us and walked up through pouring rain, tripping out of our heads. That was the last time I ever took psychedelics. Thubten Chöling was a very heavy place. I walked into the kitchen and a huge Tibetan mastiff was onto me in a second. I was terrified but the Tibetans didn't give a damn. Trulshik Rinpoche's name means precious annihilator and he was very heavy, very tough, very beautiful.
"A monk took us to Zina, who was installed in their guest house. She was having a hard time and seemed pretty pleased to see us. Thubten Chöling operated as though it was still 800 years ago and Trulshik Rinpoche didn't alter the routine one iota for Zina. Now she had to put her money where her mouth was. We stayed with her for two days, sleeping in her room while she read to me from her journal.
"From there we went to Lawudo, where I had the great pleasure of seeing the old Lawudo Lama's trousers. He had been a little guy and wore these sheepskin trousers turned inside out and hadn't taken them off for twenty years. By this time I had decided to give up smoking dope and that meditation was the true path."
Paula Koolkin also called in on her way back from Lawudo. "Zina's retreat house was a gem. It had a little walled garden and was beautifully painted with murals inside. It was very comfortable and she seemed very happy there, though she was concerned about how her mother was caring for Rhea. She told me that when she had a question for Trulshik Rinpoche, she wrote him a note and he replied in her dreams."
Lama Yeshe buys his guru's old house in Dharamsala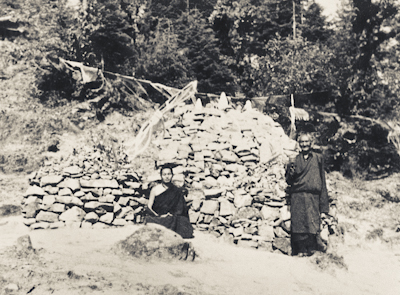 Back in March, Lama Yeshe had left the meditation course at Kopan suddenly to go to Dharamsala to take teachings from Trijang Rinpoche. While in Dharamsala that time, he also bought a house. When he left Nepal, Lama had flown to Delhi with Jhampa Zangpo where they took rooms in a hotel close to the airport. "Lama was carrying $5,000 in American banknotes, donated by Piero Cerri," said Jhampa. "We went to see the money-changers, who told us to meet them on the street outside the hotel. A taxi pulled up and we got in and drove down the street a bit. The money-changers gave me a wad of rupees and I gave them a wad of dollars and we started counting. Lama was muttering mantras and laughing, being his usual self, as I counted this huge pile of rupees. Eventually, I finished and they drove off, leaving us on the street six blocks from the hotel with all this money.
"The next morning we took a taxi to the bus depot, and after a long hard twelve-hour bus ride to Dharamsala went straight to Nowrojee Villa, or Nowrojee Kotee, as the house was called," said Jhampa Zangpo.
The four-acre property had previously been the temporary home of Kyabjé Trijang Rinpoche after the Indian government had allowed the Tibetan government-in-exile to move from Mussoorie to Dharamsala in late April 1960. Just below Nowrojee Kotee was a building known as the Old Palace, where His Holiness the Dalai Lama had stayed while his permanent residence was being built. Geshe Rabten had also stayed in a small house close by and Kyabjé Ling Rinpoche's house was just a few hundred yards away on the other side of the hill.
Lama could think of nothing more wonderful than buying his guru's old house. "Oh Lord, what a run-down old house!" thought Max when he brought her there for the first time. "But Lama just loved the place, which was on a good piece of land. He had a senior lawyer in Dharamsala and negotiated the whole deal himself," said Max.
The house was owned by an old Parsee family, the Nowrojees, who owned and ran the general store beside the bus stop in McLeod Ganj. Mrs. Nowrojee was a consummate businesswoman and the deal did not come cheap. Lama registered the new owner of the house as His Holiness the Dalai Lama, as no entity yet existed to hold the property and Lama did not wish to have it in his own name.12
Piero, Claudio, Massimo, Carol and some other students were already staying at Nowrojee Kotee, renamed Tushita Retreat Centre, when Lama arrived in October to fill the silent, pine-scented nights with his glorious laughter. Grabbing one student by the arm, he led him round the property and described what he intended to build and where: retreat houses here and here, a stupa over there. He declared that many people would come to meditate, transform their minds and eventually be of benefit to all sentient beings.
"The front room is perfect for meditation," said Lama Yeshe. "You need an expansive view for that. We can make some heavy dark curtains so there is no distraction." He wanted his students to have a different kind of expansive view. There was also a big room that had been Trijang Rinpoche's own room. Lama took that for himself.
Around this time Lama Yeshe gave Massimo and Carol a private Vajrasattva initiation at Tushita. "He had given it to us before," said Massimo, "but this time it felt so strong and powerful. We were in Lama's big room and he placed tormas on our heads as we sat in silence with our eyes closed. Then he said, 'Okay, now think, Massimo, Massimo, where is Massimo? Just think deeply and when you feel "Massimo" is there in your mind, just check that.' He said it very slowly, with a lot of pauses. I had heard this kind of thing before, but this time, when he said, 'Okay, this "Massimo" that you see—it is nothing!' suddenly I felt that what I'd always thought was 'me' was now gone. I experienced a real emptiness."
Lama Yeshe teaches at the Tibetan Library
Tushita Retreat Centre was up a very steep track on one side of the small town of McLeod Ganj. On the other side of the town and down a steep hill lay the Library of Tibetan Works and Archives, which had been founded the year before, in 1971, by His Holiness the Dalai Lama. The Library was part of the official enclave of the Tibetan government-in-exile, called Gangchen Kyishong. Geshe Ngawang Dhargyey began teaching Buddhism to Westerners there in 1972, assisted by two graduates of the Young Lamas' Home School, Khamlung Tulku and Sharpa Tulku. Both these rinpoches had studied with Geshe Sopa in America.
When it was learned that Trijang Rinpoche had requested a visiting monk from Nepal to speak to the Injis at the Library, the entire foreign population of the town turned up, about fifty people in all.
Among them was a Canadian, Glenn Mullin: "The door opened and we saw a small elf-like creature with a wide, mischievous smile and twinkling eyes. He looked tiny. Then the next minute he seemed huge, filling the doorway. I had the impression that he looked exclusively at me, but later learned that each one of us had thought the same thing. He half shuffled, half glided toward the throne and once seated, began to chant the mantra of Guru Shakyamuni Buddha, TA YA TAA OM MUNÉ MUNÉ MAHA MUNAYÉ SOHA. Each clearly defined syllable he uttered was as explosive as a firecracker. As he continued chanting, my body started shaking so much I thought there had been an earthquake—they were common in the region. I wanted to shout an alarm but then I looked at the water bowls and saw they were utterly still. I looked back at Lama Yeshe. His eyes were like suns blazing across a thousand universes and I thought, 'So this is what Lama Tsongkhapa meant when he said that on meeting the guru, some clutch their breasts in fear.'"
A football player from a Wisconsin college, Jim Dougherty, was seated in the front row at that teaching. "I'd heard stories about gurus who just put their finger on you and immediately you experienced samadhi. I was waiting for something like that to happen to me. At first I saw him as all humble and bent over, but once on the throne, he suddenly grew huge. He went into some deep meditation but his face was all movement, his tongue rolling in his mouth. He was sort of swallowing and puffing and I swear, growing by inches. I was thinking, 'Is he gonna blow up?' When he opened his eyes, the pupils were all rolled back. He said nothing. When the director of the Library introduced him, he smiled graciously in reply but still said nothing.
"When he finally spoke, it was to criticize us for our lack of practice and our purely intellectual approach to the Dharma. He said that to put the Dharma into practice we must change our lives: 'You can't get Dharma just from reading books, going to lectures, filling notebooks, and memorizing Tibetan!' 'Aha,' I thought, 'this is "the coach"!' He was just what I was looking for. It was as if he knew all about our witty Dharma conversations in the tea shops. 'You're not changing at all, just wasting Geshe Ngawang Dhargyey's precious time and the efforts of His Holiness the Dalai Lama who specifically set up these teachings at the Library for you,' he told us."
Before catching the bus back to Delhi, Lama Yeshe installed Jhampa Zangpo as the first manager of Tushita Retreat Centre, with instructions to set up the place for retreat. Then he went to inform the local police he was leaving town, a strict requirement for all Tibetans moving from one place to another. In the pouring rain some students gathered at Nowrojee's store to see him off. The bus was about to leave but Lama was nowhere to be seen. Suddenly, they spied a "red arrow" shooting towards them. It was Lama Yeshe, zen tied down over his head within the loop of his mala, Arab style, splashing along in those pink rubber galoshes. He was laughing and smiling all over his face. It had been a very successful trip.
The third Kopan meditation course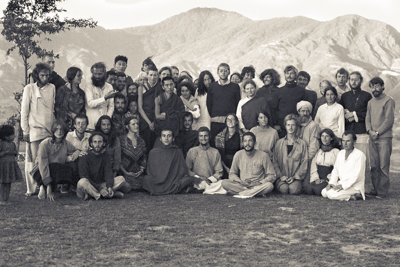 In November 1972 Zopa Rinpoche taught his third meditation course. Around fifty people attended, including Massimo Corona and his brother Luca, Piero and Claudio, Paula Koolkin and Peter Kedge. Advertising flyers appeared in Kathmandu cafes such as the Camp Hotel where Marcel Bertels, a serious Dutch lad from a conservative Catholic family, had just met a French-Canadian, Nicole Couture. They both decided to do "the course," as it was now called.
An Australian couple—Nick Ribush, a doctor, and Marie Obst, a nurse—also heard about the course and went up to Kopan to check things out. On the notice board they found advertisements for Lama Zopa's month-long course, costing 300 rupees, as well as the Burmese teacher Goenka's ten-day vipassana meditation course, for 100 rupees. "Let's do the short one," said Marie. After a full Catholic upbringing she was more interested in shedding religion than acquiring an alternative one. But Nick was "looking" and they booked into the longer one.
Twenty-six-year-old law graduate Helly Pelaez, the only child of a prominent Spanish cardiologist from Granada, was definitely looking. Running into Steve Malasky and his mother in Amala's, Boudhanath's only restaurant, she heard about the course and subsequently attended an early group interview with Lama Yeshe. "Why do you want to do the course?" Lama asked.
"I said I didn't know if I could even do it," said Helly. "According to him, everybody could, even animals. I thought him strange and was glad he wasn't the one teaching.
"While I was walking back down to my room in Boudha, I started to feel funny, like someone was with me in my mind, working on it, stronger and stronger. Back in my room I then spent the two most horrible days of my life. I cried non-stop. The fact is I'd had lots of fights with my parents and led a very unstable life. Coming to India was a last resort for me. I had decided that if this course didn't change things for me, I was going to kill myself. A week before it began, I moved up to Kopan. Lama Yeshe had gone to Dharamsala and I thought, 'Good, I don't want to see him.'"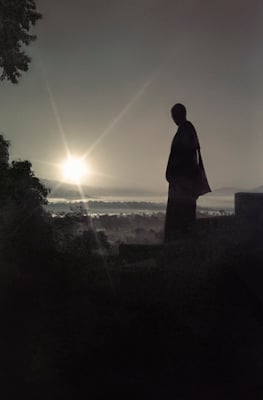 Nick, Marie, Helly and an English girl, Suzanne Lee, walked up to Kopan together. On the way they encountered Anila Ann—bald, robes tied round her long skinny flanks, working like a ditch digger at a trouble spot in the road. From the hill they were able to look down into a magical valley carved into terraced rice paddies with two-storey ochre-colored houses hedged with roses. Chickens clucked in attics, chilies dried on roofs and were laid out in neatly swept forecourts. Dogs barked incessantly and children called across the fields: "Babuuuuuuuuuu! Didiiiiiiiiiii!"13 Hindu puja bells tinkled, incense wafted on the air and old men puffed on bidis in the shade of ancient trees. Winding through this scene ran a rutted dirt road that became a rough track, from which branched little paths like rivulets, some of which led to the top of Kopan hill.
Here they came, the fortunate traveling children of the world's middle classes, toting their backpacks, super-down sleeping bags, toilet paper and patented antibiotic medicines. They carried copies of Hermann Hesse's Siddhartha, Baba Ram Dass's Be Here Now, and well-thumbed copies of Lama Govinda's The Way of the White Clouds. The Kopan course was becoming the place to be, even though Kopan had no electricity and all the monastery's water had to be carried up the hill from a spring 150 feet below the gompa in two big Nepali biscuit tins dangling from a yoke balanced across the coolies' shoulders. The chief water carrier was a cheery Nepali, Bir Bahadur.
Hashish was still legal in Nepal, but while some occasionally slipped down the hill for a chillum or two, most did the course straight from beginning to end. Blotting paper tabs of LSD were carefully tucked away.
Everyone was given a copy of the cyclostyled notes that Massimo Corona, Anila Ann and others had prepared from the first two courses. These were now neatly arranged into a folder and given an extensive title similar in length to those of the traditional Sanskrit and Tibetan scriptures: The Wish-Fulfilling Golden Sun of the Mahayana Thought Training: Directing in the Shortcut Path to Enlightenment. This was one of the first lamrim (or stages of the path) teachings to appear in English.
The popular view that Buddhism was not really a religion was somewhat undermined by Lama Zopa Rinpoche's monastic demeanor and the fact that quite a few prayers were recited, regularly. Nevertheless, the principles of lamrim are universal and adjustable to any society at any time. This is, perhaps, their most magical and fascinating characteristic. The following prayer, translated into English by Lama Zopa Rinpoche, contains every step in the lamrim and is therefore a very good illustration of the teachings underpinning the Kopan courses, which continue to this day.14
The Teachings of the Direct Meditations:
A prayer including the salient points of the graduated path

Refuge
I take refuge in the holy guru, the essence of all buddhas, the originator of the granting of all holy teachings (realizations and holy words, orders of the Buddha), and the lord of all supreme beings.

Prayer for success in Dharma practice and in following the Guru Buddha
Please, all you guru buddhas, bestow upon me the ability to transform my mind into the Dharma and to be successful in practicing the Dharma for receiving the graduated path. May no hindrance occur in receiving the path.

Prayer of the being of lower intelligence
Please bless me to realize that I have received a perfect human rebirth, which is highly meaningful, for many reasons difficult to obtain, but perishable, transient, and fragile, decaying in the shortest second because of its changeable nature. Thus, my death is definite but its actual time is most indefinite, and after death I am far more likely to be reborn in the lower suffering realms, having created infinitely more negative than positive karma in this and all previous lifetimes.

Please bless me to comprehend how incredibly unendurable is the suffering of the three lower realms so that I might take refuge in Buddha, Dharma, and Sangha with all my heart, and to realize the evolution of karma in its profundity that I might perform only virtuous actions and abandon all negative creations.

Prayer of the being of medium intelligence
By practicing in this way I might be reborn in the upper realms but would still have to experience unlimited samsaric suffering because of uncontrolled delusion and karma.

Please bestow upon me the ability to realize fully the evolution of samsara, from uncontrolled rebirth to death to rebirth, and to be able to follow, night and day, the three higher practices of the path—higher conduct, higher concentration and higher wisdom—which are the main methods to release me from samsara.

Prayer of the being of higher intelligence to achieve the sutra path (Paramitayana)
As each sentient being has been my mother, and as most of them are in extreme suffering, please grant me blessings to bring success to all by renouncing the perfect happiness of self (nirvana, or personal liberation) and by practicing the bodhisattvas' deeds of the six paramitas with a bodhisattva's mind (exchanging oneself with others) on the basis of the equilibrium meditation.

Thus shall I have no sorrow in experiencing the samsaric sufferings of all other sentient beings for no matter how long, having trained my mind in the general path.

Prayer of the being of higher intelligence to achieve the tantric path (Vajrayana or Mantrayana)
Please, grant me blessings to be able to follow the quick Vajrayana teachings, by feeling sentient beings' suffering—very unimaginably unbearable for even the shortest second—as my own, and to be able to achieve the attainment of Guru Shakyamuni immediately, at this very moment, by keeping the ordinations and orders of the guru with the best and highest care in life.

For all these reasons shall I meditate on the graduated path.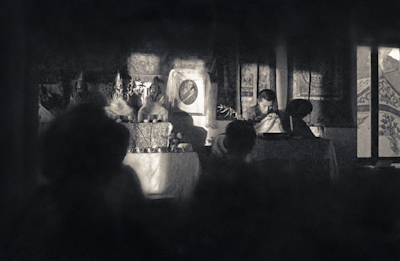 Zopa Rinpoche's teaching plan during this course was to concentrate on the hell realms. On and on, day after day there was talk of hell realms and still more hell realms, all in Rinpoche's halting English, punctuated by frequent pauses and long silences. It is no coincidence that Rinpoche's name, zopa, means patience.
Most of the students present did not realize that during those long silences Rinpoche meditated deeply. When he did speak, to the untrained ear Rinpoche sounded as though he were simply repeating himself. In actuality, each time he addressed his subject matter he did so from a slightly different angle, thereby allowing his listeners to enter more and more deeply into the experience he was describing. Westerners were used to receiving information in a more linear fashion and were often looking for something pre-packaged, some spiritual insight they could swallow whole. Rinpoche's style required them to stop, listen and turn over in their minds what they were hearing. Those who related to Rinpoche's teachings as if they were listening to a university lecturer could easily become frustrated by his seemingly endless repetitions. However, those who followed what he was saying as if they were being led through a guided meditation—which they were—found his style of teaching remarkably effective for their minds and often deeply moving.
A few students escaped the course on a full moon night to attend the legendary acid parties at Swayambhu. One New Yorker returned the next day literally trembling, having experienced hell realms during his acid trip in all the vivid detail Lama Zopa had just spent several days describing.
Lama Yeshe teaching on the hell realms to his students in 1978:
All human beings have positive and negative characteristics; these traits exist simultaneously within us all. Extreme negative energy can lead to the experience of what is called in Sanskrit the naraks, or in English, the hells. Every religion describes hell realms. We can experience hell in the human realm as well. The sufferings of the Jews in Nazi concentration camps during World War II are an example of experiencing hell as a human being. This is considered to be an experience of hell because it is beyond our normal human experience, beyond our human imagination. The sufferings of hell are beyond the natural sufferings of human beings. In Tibetan Buddhism, this is the meaning of hell.

Hell does not mean that we have to go to some specific place, somewhere other than where we are now. Hell is not a place, some place that is waiting for us to go there. Hell is a mental state, a state of mind. It is consciousness. The hell realm environment manifests from our consciousness, from our negative projections. This is why we feel it is a reality. There is no hell out there that is waiting for you. There is no such thing. When the condition of your consciousness, your psychological state, is ready, then the hell environment simultaneously appears like that! in a finger snap.

The experience of hell can happen in this very lifetime. We have all experienced hell to some extent. Sometimes you feel completely closed in, depressed and imprisoned, as if the sky is pressing down on you and you cannot move. To feel this way, that is hell. The sky isn't actually pressing down on you. You are here on the earth and the sky is still up there. But your state of mind gives you this hellish experience. This is why Buddhism says that dissatisfaction and psychological suffering are much more painful for human beings than the physical pain of cutting one's nose or leg or arm. This is why there is so much emphasis in Buddhism on meditation, paying attention to our state of mind, because our experience arises from our mind, our consciousness.15
Some who attended were irritated by the course, others inspired. Marcel Bertels took to it like a duck to water and was soon meditating even during the session breaks. College graduates happily prostrated themselves over and over and chanted mantras as if they had been saying them all their lives. The more excitable claimed they saw lights and had visions. Maybe they did. During the breaks, everyone except Marcel chatted and gossiped. During the lectures that followed, Zopa Rinpoche told them what they had been talking about. They were convinced he was clairvoyant. The whole experience felt very close, magical and powerful.
Once again Lama Yeshe returned quietly to Kopan sometime around the middle of the meditation course. None of the new students even knew he existed, until one day Anila Ann asked Nick Ribush if he would attend to his leg. A cut had become infected. "I was told he had a heart problem, so I thought it best to give him a penicillin shot," said Nick. "However, I hadn't tightened the syringe properly and the stuff shot out all over the place. 'It's okay, dear,' he told me, 'maybe we try again tomorrow.' So they got more penicillin and I gave him the shot, then visited every day to change the dressings." From then on everyone called him Dr. Nick.
Lama Zopa had been telling everyone it was harder for a woman to become enlightened than for a man, which upset all the women. Marie asked Nick to seek Lama Yeshe's opinion. When they came to learn that he'd told Nick, "Of course women can get enlightened!" Lama Yeshe instantly became their hero. As it turns out, this disagreement between the lamas was more apparent than real. In talking about the additional difficulties women faced in becoming enlightened, Lama Zopa was addressing in part the unfortunate, but very real, obstacles that women—especially those in patriarchal societies—must overcome if they dare to defy cultural expectations in their desire to pursue a solitary life of contemplation. Lama Yeshe addressed the issue from a different perspective. His response—that men and women had the same spiritual capacity—focused on the fact that everyone, whether male or female, equally possesses buddha-nature: the potential to achieve full enlightenment. From this point of view, there is absolutely no difference between the sexes.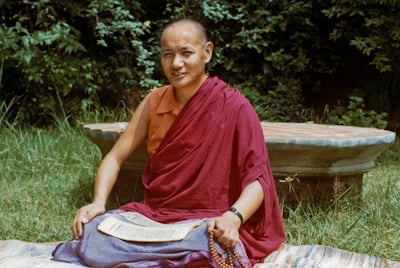 At the very end of the course, Lama Yeshe gave a talk. By this time many students had heard of him, although few had seen him. It didn't take long to work out that here was the real power behind Kopan. Before actually conferring refuge and lay precepts, Lama Yeshe spoke to the course students about the meaning of taking refuge and committing to taking any number of the five lay precepts. While he spoke, Rinpoche sat in the back of the room writing out "refuge names" in Tibetan. At the end of the refuge ceremony, Marie received the name Yeshe Khadro, a name she kept for life. As for Nick, he received the name Thubten Zopa, but out of his great respect for Rinpoche never used it. In any case, everyone was already calling him Dr. Nick, so Dr. Nick he remained. Both were very happy they had chosen to do the long course.
Lama Yeshe on refuge:
Buddhist refuge is a process of turning inward that begins with our discovery of our own unlimited potential as human beings. This discovery generates tremendous zeal for the development of our own inborn wisdom-energy. Complete, perfect wisdom is buddhhood. Perhaps the word "buddha" conjures up a remote and rather oriental image. But "buddha" is just a word, and it means totally opened mind, an "opened lotus." When we finally realize our human potential and arrive at this total openness of mind, we become buddhas.

However, at the outset we feel hopeless, helpless and incapable of self-improvement. Buddha seems to be somewhere in the sky, completely out of reach, and we are nothing. But this is not true; we should not underestimate ourselves. Shakyamuni, the historic buddha, was once even more confused than we are, but by discovering his own latent wisdom-energy he attained enlightenment. There are countless buddhas, and all living beings have the innate capacity to unify their minds with the unsurpassable clarity of enlightenment.16
Twelve students also took the five lay precepts from Lama Yeshe. They vowed not to kill, steal, lie, engage in sexual misconduct or become intoxicated. An American, Barbara Vautier, was present with her Swiss husband, Chris. "Up until then I hadn't thought of myself as the sort of person who would ever take vows," said Barbara. "But everything Lama Yeshe said made such perfect sense. To hear that incredible laughter from the lamas' rooms at night was kind of a message about what that mental state they described might be like."
After the refuge ceremony, everyone gathered for a Green Tara initiation, which was also attended by some monks visiting from Boudhanath. Max provided the focal offering, a huge layer cake covered in green icing, from the American Commissary. The gompa was beautifully decorated and the celebration a splendid affair.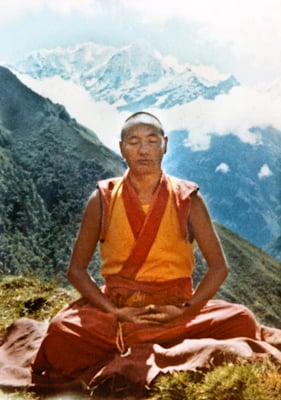 When the course was over a few raced back to Kathmandu for a steak (Kopan meals were vegetarian and very basic) or perhaps a joint or six. Others, encouraged by Lama Yeshe to consolidate what they had learned, went into retreat. Helly spent her retreat in tears and then on the advice of the lamas went to Bodhgaya and did 100,000 prostrations.
Intent on pursuing his meditation on lamrim, Marcel Bertels rented a room on the first floor of a farm house about one kilometer from Kopan. "It belonged to Vishnu, Ram's brother," said Marcel. "The weather was extremely cold and I had a hard time staying warm. When I visited Nick and Marie, who were staying in another farmhouse just a few meters away, I found they had no problem with the cold because their room was above the stables. The two water buffalo downstairs proved to be very efficient heaters and kept their room nice and warm. I must admit I was a little jealous.
"During the last two weeks of Rinpoche's course we had all taken the eight Mahayana precepts, and a few of us who stayed on after the course continued with this practice."
"The system was very simple," Marcel continued. "At about 5:30 am, two or three of us walked up to Kopan and gathered outside Rinpoche's room. We then lightly scratched the fly-screen on Rinpoche's door and opened it slightly. This woke Rinpoche out of the deep meditation we always found him in. The person who gives the eight Mahayana precepts must first take them himself, so Rinpoche would get up, wash, and spend a few minutes taking the precepts. Then he gave them to us.
"When the others dropped out, I went a number of times by myself. Rinpoche never showed any sign of displeasure or concern about the interruption of his meditation session, or for being then obliged to only eat one meal that day. Only Rinpoche's dog, Drölma, who slept on his bed, seemed slightly irritated with our arrival from time to time.
"It was the most incredible example of selfless action. It was as if this high being was just waiting there for you and making himself available in case you wanted to create merit. This was human behavior of a kind I had never experienced before."
"Marie and I had both decided we really wanted to stay at Kopan. That's when I started writing letters to all my friends in Australia," said Nick Ribush. Max noted Nick's enthusiasm and when their retreat (in two of the new retreat rooms) was over, she offered them a room at the Rana house. They walked up to Kopan each day—Nick to help Lama Zopa rewrite his lamrim text and Marie to assist Lama Yeshe with his growing correspondence.
Marcel had an interview with Lama Yeshe. "I had written down some questions I wanted to ask him but he just rolled his eyes and acted bored. When I left for Tushita to do a Goenka course, he gave me a letter to take to Peter there. It was unsealed so I read it. 'Please give Marcel a room at Tushita and let him stay as long as he likes. I think he is a real searcher for truth,' Lama had written."
One student, who had come to Nepal looking for hashish but ended up doing the course instead, complained to Lama Yeshe afterwards that hash just wasn't as much fun anymore. "You won't ever smoke it again, will you dear?" said Lama. He did not, but again, Lama had different advice for different people, depending on what he considered most beneficial for them at that stage in their lives.
Piero had returned to Italy, declaring he would be back. "When you get to Italy, you will meet ladies!" Lama said to him. "Girls will come up to you and say, 'Piero, you have learned incredible things in India, so please teach me.' Then you will get involved with that girl. That's how it will be."
"I thought he was being a bit old-fashioned, but after one week in Italy I met a beautiful girl who came out with exactly this question," said Piero. He and his friend Claudio Cipullo both returned to Kopan to do the third meditation course.
Piero was a dedicated student but still very laid back. One day just before Christmas, Lama had a message delivered to him while he was enjoying some hashish in a cafe in town, telling him he was to be ordained the next day. Piero immediately went up to see him. "Tomorrow!" thundered Lama Yeshe, then promptly made arrangements for the ceremony to take place in Bodhgaya in January, which it did. One more instance of Lama Yeshe keeping a student on his toes!
But first there was Christmas. Lama Yeshe had great appreciation for the spirit of Christmas but not for the rampant consumerism and materialistic expectations that often came with it. Some of his students were also experiencing the difficulties of separating from the Christian tradition they grew up with as they established a connection with the Buddhist tradition they had just met. This confusion seemed to result in some feelings of aversion toward their Christian heritage and Christmas seemed an ideal time to talk with them about these mistaken attitudes.
From Lama Yeshe's Christmas talks:
When we see each other again on Christmas Eve for the celebration of holy Jesus's birth, let us do so in peace, with a good vibration and a happy mind. I think it would be wonderful! To attend the celebration with an angry disposition would be so sad. Come instead with a beautiful motivation and much love. Have no discrimination, but see everything as a golden flower, even your worst enemy. Then Christmas, which so often produces an agitated mind, will become so beautiful.

When you change your mental attitude, the external vision also changes. This is a true turning of the mind. There is no doubt about this. I am not special, but I have had experience doing this, and it works. You people are so intelligent so you can understand how the mind has this ability to change itself and its environment. There is no reason why this change cannot be for the better.

Some of you might think, "Oh, I want to have nothing to do with Jesus, nothing to do with the Bible." This is a very angry, emotional attitude to have toward Christianity. If you really understood, you would recognize that what Jesus said was, "Love!" It is as simple and as profound as that. When you have true love within you, I am sure that you will feel much more peaceful than you do now.

How do you normally think of love? Be honest. It is always involved with discrimination, isn't it? Just look around this room and see if anyone here is an object of your love. Why do you discriminate so sharply between friend and enemy? Why do you see such a big difference between yourself and others? In the Buddhist teachings, this falsely discriminating attitude is called dualism. Jesus said that such an attitude is the opposite of true love. Therefore, is there any one of us who has the pure love Jesus was talking about? If we do not, we should not criticize his teachings or feel that they are irrelevant to us. We are the ones who have misunderstood, perhaps knowing the words of his teachings but never acting upon them.

There are many beautiful sentences in the Bible, but I do not recall reading that Jesus ever said that without your doing anything whatsoever, without preparing yourself in the same way, the Holy Spirit will descend upon you—whoosh! If you do not act the way he said you should act, there is no Holy Spirit existent anywhere for you.

What I have read in the Bible has the same connotation as the Buddhist teachings on equilibrium, compassion, and changing one's ego-attachment into love for others. It may not be immediately obvious how to train your mind to develop these attitudes, but it is certainly possible to do so. Only our selfishness and closed-mindedness prevent us.

With true realizations, the mind is no longer egotistically concerned with only its own salvation. With true love, one no longer behaves dualistically, feeling very attached to some people, distant from others and totally indifferent to the rest. It is so simple. In the ordinary personality, the mind is always divided against itself, always fighting and disturbing its own peace.

The teachings on love are very practical. Do not put religion somewhere up in the sky and feel you are stuck down here on earth. If one's actions of body, speech, and mind are in accordance with loving kindness, then you automatically become a truly religious person. To be religious does not mean that you attend certain teachings. If you listen to teachings and misinterpret them, you are, in fact, the opposite of religious. And it is only because you do not understand a certain teaching that you abuse religion.

Lack of deep understanding leads to partisanship. The ego feels, "I am a Buddhist, therefore Christianity must be all wrong." This is very harmful to true religious feeling. You do not destroy a religion with bombs but with hatred. More importantly, you destroy the peacefulness of your own mind. It does not matter whether you express your hatred with words or not. Words do not mean anything. The mere thought of hatred automatically destroys your peace. Similarly, true love does not depend on physical expression. You should realize this. True love is a feeling deep within you. It is not just a matter of wearing a smile on your face and looking happy. Rather, it arises from a heartfelt understanding of every other being's suffering and radiates out to all of them indiscriminately. It does not favor a chosen few to the exclusion of everyone else. This is true love.17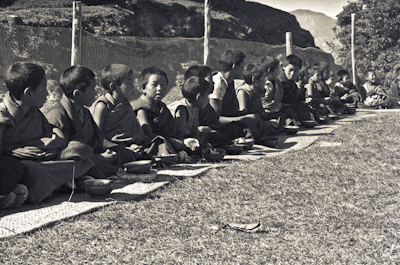 For the Mount Everest Centre boys, this was their first Christmas. Mummy Max shopped for them at the American Commissary, returning with a Christmas tree, American-style trimmings and plenty of chocolate goodies. They had lots of fun helping her decorate the tree, which was placed in the new gompa.
When Jampa Trinley complained that the gompa contained no statues yet, Lama Yeshe replied, "My monks are my buddha statues." Jampa Trinley laughed and promptly donated large statues of Lama Tsongkhapa and his two disciples.
Meanwhile, Geshe Jampa Tegchok, a classmate of Lama Yeshe's from Sera and Buxa, moved into Steve's tower to do some retreat.18
Lama Yeshe, Max and Peter met in the gompa to plan the rest of the year. "A few days earlier Max had sidled up to me and said that Lama had this new retreat place in Dharamsala and how nice it would be if I could go there and look after it while I did retreat," said Peter. "I thought that sounded very comfortable and made a plan to travel to India in a few days' time. But at this meeting in the gompa Lama ordered me to leave immediately, the following day, saying that sentient beings couldn't wait. He was so heavy and I had absolutely no choice, so by 6:00 am the next morning I was on my way."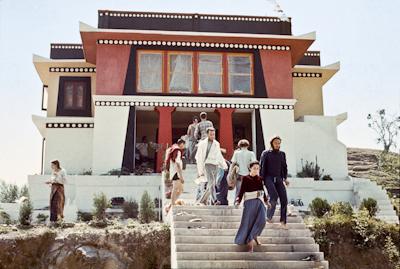 ---
Notes
1  A complete translation of this text was published in three volumes between 2000 and 2004 by Snow Lion Publications under the title The Great Treatise on the Stages of the Path to Enlightenment by Tsongkhapa. [Return to text]
2  There were two major Gelug tantric colleges in Tibet: Gyuto, or the Upper Tantric College, and Gyumé, or the Lower Tantric College, both of which were re-established in India. Monks who enter a tantric college study the major tantric practices of Guhyasamaja, Heruka Chakrasamvara and Vajrabhairava (Yamantaka), as well as tantric rituals, art, music and different types of chanting. They also do extensive tantric meditation retreats.  [Return to text]
3  The monastery name translates as follows: Ogmin (Akanishta in Sanskrit) translates as unsurpassed and is the name of one of the highest pure realms, a buddha-land free of suffering. Jangchub means enlightenment and chöling means Dharma land. Thus, Unsurpassed Dharma Land of Enlightenment.  [Return to text]
4  Some people have difficulty pronouncing words beginning with an initial 's' without adding an initial vowel sound, and Tibetans tend to pronounce the letter 'v' as 'b'. So Steve became "Esteeb." [Return to text] 
5  Mani stones are generally flat stones, both large and small, on which OM MANI PADME HUM has been written in Tibetan letters. [Return to text] 
6  Before the days of photocopying, mimeograph machines, also known as stencil duplicators or cyclostyle machines, were a low-cost duplicating method used for small numbers of copies. They worked by forcing ink through a stencil onto paper. It would be several years before Kopan would have its own duplicating machine. Around this time it's likely that Kopan's copies were being made by Mummy Max using the duplicating machine at Lincoln School. [Return to text]
7  Mahakala ("the great black one") is a wrathful male meditational deity and a Dharma protector who is sometimes understood to be the wrathful emanation of Avalokiteshvara, the buddha of compassion, and sometimes associated with Heruka Chakrasamvara. Mahakala is a Dharma protector favored by Lama Yeshe. [Return to text]
8  "Taking refuge" can be said to be the Buddhist equivalent of baptism. It is what enables a person to call him- or herself a Buddhist. By taking refuge in the Three Jewels of Buddha (the teacher), Dharma, (the teachings), and Sangha (the spiritual community), a person confirms his or her belief that the Buddhist path can be relied upon to bring one to happiness and fulfillment, and that person commits to following that path. [Return to text]
9  Excerpted and edited from archive #457. [Return to text]
10  Barma rabjung is the lowest level of monastic ordination. It involves ten vows and the permission to wear monks' robes. In Tibetan, the term rabjung refers generally to all monastic ordinations from barma rabjung through full ordination. For the sake of simplicity, however, the abbreviated term rabjung will be used throughout this book to refer to the barma rabjung level of ordination. All other ordinations will be referred to by their specific names—getsul, gelong, and so on. [Return to text]
11  The Nyingma monastery of Thubten Chöling is located in the lower Solu area of Solu Khumbu, in eastern Nepal on the Jiri–Everest Base Camp trekking route. Situated at an altitude of about 10,000 feet (3,000 meters), Thubten Chöling was founded by Trulshik Rinpoche after he fled Tibet and is admired throughout the Buddhist world as a center of serious, dedicated and sincere Buddhist practitioners.  [Return to text]
12  When the Dalai Lama first arrived at his new home in Dharamsala on 30 April 1960, it was an abandoned British hill station. Dharamsala is located one day's travel north of Delhi in Himachal Pradesh. Under British rule, a military cantonment had been established there, followed by the small town of McLeod Ganj created on a thin ridge facing the plains below, and later surrounded by numerous bungalows occupied by British families during the vacation seasons. After Indian independence and the departure of the British, the family of N. N. Nowrojee remained. The family is Parsee, having come to India originally as refugees in order to escape persecution in Persia. During the British Raj and afterwards they had been the proprietors of Nowrojee and Sons, the Europe Store, selling general merchandise to the community for more than five generations. Entrusted by default, after 1947, with caring for the community living in abandoned bungalows, this family was largely responsible, together with the Indian government, for making it possible for the Tibetans, the Dalai Lama and the Tibetan government-in-exile to come to Dharamsala and take up residence in 1960. [Return to text]
13  "Little brother! Big sister!" in Nepali. [Return to text]
14  This translation of this prayer was included in the introduction to The Wish-Fulfilling Golden Sun. The translation included here dates back to the 1970s and is relatively unedited. It is an example of Lama Zopa Rinpoche's translation style and the vocabulary and language used in the Kopan lamrim teachings in those days. The prayer translated here was composed by Dorje Chang Losang Jinpa Pälzangpo. [Return to text]
15  Excerpted and edited from archive #116. [Return to text]
16  Excerpted from archive #106. [Return to text]
17  Excerpted and lightly edited from Silent Mind, Holy Mind, pp. 21–4 (archive #085). [Return to text]
18  Geshe Tegchok eventually served as the abbot of Sera Jé Monastic University in south India. He became an extremely important and well-respected teacher in FPMT Dharma centers. [Return to text]