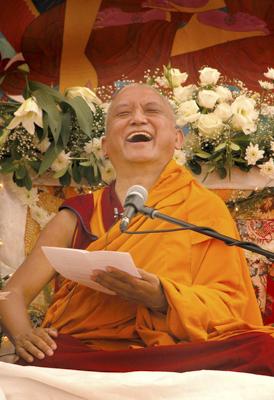 The core of the Lama Yeshe Wisdom Archive is the collection of audio recordings of Lama Yeshe and Lama Zopa Rinpoche, dating back to 1971. The recordings range in quality, but as we are able to prepare them for online publication we will make them available through our website.
Available recordings on our website can be found on our Teachings page. Simply click the box on the left that says "Teachings with audio." Where available, we have also included the unedited transcript for ease of listening.
All audio recordings are available in MP3 format. You can either download the file, or listen via "streaming" (listening without having to download the file). The "Audio" link at the top of a page that includes audio will launch an audio player that should work for you no matter what kind of computer you are using.
Information about our monthly podcast
A podcast is another way that LYWA publishes audio online. While the recordings found on our website pages are easy to download and listen to on your computer, podcasts enable you to do this and more.
Podcasts make it easy to download and listen to recordings on your portable device. iTunes, desktop software packages like Juice, and apps like Podbean, provide an easy way to search, organize and listen to podcasts.
If you subscribe to the Lama Yeshe Wisdom Archive podcast you will receive a new teaching about once a month. Our podcast is hosted at http://lamayeshewisdomarchive.blubrry.com. You will find information there about how to subscribe, or search for our podcast in your favorite podcast software or app. Lama Yeshe Wisdom Archive is listed on podcast services such as iTunes, Stitcher, Google Play Music Podcast Portal, TuneIn and others.
If you have questions about any of the above, please email the webmaster. Enjoy!