Kadampa Teachings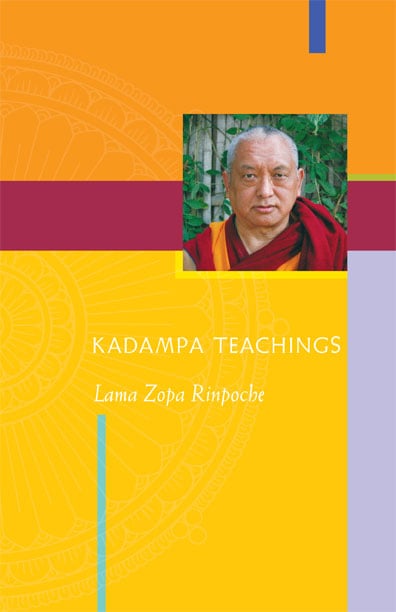 "The Kadampa geshes said,
Look far ahead.
Generate a vast mind.
Don't squeeze yourself.
"Since your objective is to achieve enlightenment, you have to look far ahead, just as when you're traveling to somewhere very distant, you have to generate a strong determination to go there. You have to look far ahead and generate a vast mind. The third advice is don't squeeze yourself. Don't allow yourself to become stressed out, thinking, "Oh, I have to do all this!" With a vast, brave mind, think, "I'm going to do all this. Even if it takes many, many years, I'm going to do it." When you do follow the advice "don't squeeze yourself," your mind naturally relaxes. Your mind is not stressed, not uptight, which causes lung, or wind disease.

"You should have a vast mind, planning to study and learn everything about the whole path to enlightenment, as well as to practice it and actualize all the realizations. While you have that plan, you also have a relaxed mind; you don't stress yourself. You think, "No matter how long it takes, I'm going to do it. I'm not going to give up." You have the plan inside your heart, but at the same time your mind is calm and relaxed.

"These are essential pieces of advice from the Kadampa geshes about how to go about achieving enlightenment. And if you follow these instructions you will definitely achieve enlightenment, even though you might think it's impossible. With a long-term plan to learn and to practice Dharma, your mind can completely change, and you can achieve realizations."
—Lama Zopa Rinpoche

In this book Lama Zopa Rinpoche explains how to practice Dharma the way the famous Kadampa geshes did. These lamas were exemplary practitioners of Buddhism in Tibet, renowned for their extreme asceticism and uncompromising practice of thought transformation in order to develop bodhicitta. Rinpoche, an exemplar of these practices himself, bases his teachings on Lama Atisha's wonderful text, The Bodhisattva's Jewel Garland. And, as ever, Rinpoche covers a vast amount of ground, teaching on many other topics as well.
Editor's Preface (Ailsa Cameron)
Editor's Preface (Ailsa Cameron)
Editor's Preface
Ven. Ailsa Cameron
In 1999 Lama Zopa Rinpoche asked Trisha Donnelly (now Venerable Thubten Labdron), the director of Root Institute, the FPMT center in Bodhgaya, India, to obtain statues of Lama Atisha, Dromtönpa, Geshe Potowa, Geshe Langri Tangpa and Geshe Chekawa. The beautiful life-size statues, made in Nepal, were installed in the Root Institute gompa in 2000 and have subsequently been blessed by both His Holiness the Dalai Lama and His Holiness Karmapa. While statues of Lama Atisha are often seen, it is unusual to see statues of the Kadampa geshes.
In January 2003, in the presence of this unique collection of statues, Rinpoche explained that he wished to go over the life stories and teachings of the Kadampa geshes. While he gave teachings on various other subjects during this visit, Rinpoche gave only a brief commentary to a verse of advice from the Kadampas and the oral transmissions of Lama Atisha's Lamp for the Path to Enlightenment, Thought Transformation Eliminating Obstacles and Geshe Langri Tangpa's Eight Verses of Thought Transformation.
On his return to Root Institute in December 2003, after giving a little of Lama Atisha's life story, Rinpoche proceeded to give the oral transmission of Lama Atisha's The Bodhisattva's Jewel Garland and an extensive commentary to its first two verses that also incorporated advice from Lama Tsongkhapa, Geshe Kharag Gomchung, Geshe Langri Tangpa and others.
While Rinpoche did not teach on the Kadampas during the Maitreya Buddha retreat held at Root Institute in December 2005, he did give further commentary to The Bodhisattva's Jewel Garland in December 2006, again concentrating on the first two verses and incorporating advice from Shantideva, Geshe Kharag Gomchung, Geshe Langri Tangpa and others.
In December 2007, after several discourses on the prayers preliminary to Dharma discourses, in his final teaching Rinpoche returned to the topic of Kadampa teachings in relation to Kachen Yeshe Gyaltsen's The Heart Advice of the Kadam Teachings: A Fine Vase of Nectar. However, the mention of Kachen Yeshe Gyaltsen reminded Rinpoche of how he was inspired to teach the Kopan courses by Kachen Yeshe Gyaltsen's text Great Thought Transformation. After a long story about how he came to obtain the text, with detours through Solu Khumbu, Tibet and India, Rinpoche had time to give only the oral transmission of the first chapter of The Heart Advice of the Kadam Teachings. However, a couple of days later, prior to a Chenrezig Initiation, Rinpoche taught briefly on the guru devotion section of the first chapter of The Heart Advice of the Kadam Teachings and extensively on dependent arising and emptiness.
This book—very much a work in progress—is published with the hope that it creates the cause for Rinpoche to continue his teachings on the Kadampas at Root Institute and that it eventually forms part of a comprehensive volume of Rinpoche's commentaries to many more Kadampa teachings.
My thanks to Ven. Wy Ostenfeld for transcribing the 2007 teachings; to Geshe Lobsang Jamyang and Yaki Platt for their help with the Tibetan terms; to Nick Ribush and all the other dedicated workers at LYWA for their support; to all the Root Institute directors, spiritual program coordinators and audio people for organizing and recording the teachings included in this book; and to Claire Atkins and Ven. Lhagsam for their continued generous support.
—Ven. Ailsa Cameron, Editor