LYWA Translations into Spanish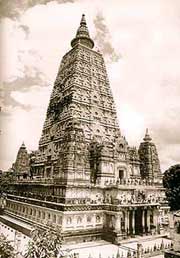 Mahabodhi temple, Bodhgaya.
The Eight Places of Buddhist Pilgrimage by Jeremy Russell has been translated into Spanish by FPMT affiliate, Ediciones Mahayana, 1 and is now available for download as a pdf file. This book describes the eight sites in northern India of special significance in the Buddha's life, and provides information and inspiration to pilgrims.
Ediciones Dharma, 2 has translated the following three LYWA books into Spanish. Note that these titles are only available as pdf files that can be downloaded from their free books page:
Becoming Your Own Therapist (Lama Yeshe)
Make Your Mind an Ocean (Lama Yeshe)
Virtue & Reality (Lama Zopa Rinpoche)
Ediciones Dharma has also published:
The following DVD has been translated into Spanish by Ediciones Dharma:
---
1 Ediciones Mahayana is a non-profit organization whose aim is to provide Spanish speakers with texts to study, meditate, and practice Buddhism. This publishing house specializes in the translation and publication of Buddhist meditation and practice books, including materials of the FPMT study programs. For more information, visit www.edicionesmahayana.es. [Return to text]
2 Ediciones Dharma is non-profit publisher founded in 1982 and located in Alicante, Spain. Ediciones Dharma specializes in Tibetan Buddhism, and has a backlist of more than 60 titles, including translations of books by Lama Yeshe and Lama Zopa Rinpoche published by Wisdom Publications. For more information, visit www.edicionesdharma.com or email xavi@edicionesdharma.com. [Return to text]