Chanting the Names of Manjushri (Manjushri-nama-samgiti) (Audio)
Chanting the Names of Manjushri (Manjushri-nama-samgiti)
Chanting the Names of Manjushri (Manjushri-nama-samgiti)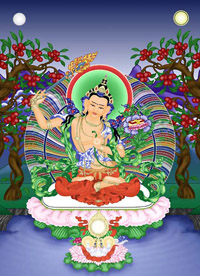 The Manjushri-nama-samgiti consists of 160 verses and mantra sentences, condensing an enormous tantric lore. Manjushri bodhisattva is the highest manifestation of being, the embodiment of all knowledge.
Lama Zopa Rinpoche gave this commentary and oral transmission (lung, pronounced loong) in the wee hours of the morning in September 2007 to one of his attendants. At times it is not easy to understand Rinpoche's words while giving the commentary; we hope to make a transcript available in the future.
Rinpoche asked for the recording of the lung to be made available for anyone to listen to while walking, driving a car, etc., playing it loud so that animals and others can hear it and thereby benefit from it as well.
Rinpoche also recorded the Manjushri-nama-samgiti commentary and lung, along with a variety of other prayers, in August 2006. These recordings can be listened to on the FPMT website.
There is also a translation booklet available from the FPMT Education Department.
Click on the links above to listen to these teachings.