Golden Light Sutra in New York City (Audio)
Golden Light Sutra in New York City (Audio)
Golden Light Sutra in New York City (Audio)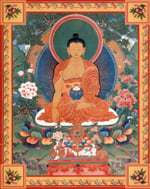 Lama Zopa Rinpoche gave this commentary and partial oral transmission (lung, pronounced loong) of the first seven chapters of the Golden Light Sutra at New York's Tibet House over two days, September 9th and September 16th 2007.
Rinpoche urges us to recite the Golden Light Sutra every day. In support of this advice the FPMT has created a web page dedicated to the Golden Light Sutra, with an explanation of the benefits of reciting the sutra, links to a dedication and translations, and a page for reporting your recitations.
Due to some technical difficulties, the recordings have come from different sources of varying quality. On the first evening of teachings, Part A comes from the Tibet House sound system, and the quality is excellent. The recording starts approximately 2 minutes after Rinpoche started speaking; Rinpoche begins by saying he will talk about the importance of the Golden Light Sutra.
Part B of the first evening was not professionally recorded and the quality is fair.
The recording of both Part A and Part B of the second evening are very good.
Click on the links above to listen to these teachings. Transcripts for all teachings are forthcoming.